Abstract
Mindfulness has been shown to improve mental health and well-being both in clinical populations and in healthy controls. However, while most mindfulness interventions have been assessed in a research context, demonstrating efficacy, the majority of mindfulness interventions in the public sphere are not assessed, and there has been little research examining the effectiveness of these interventions in the public context. As such, this study explored whether a public online mindfulness intervention providing 10-min daily guided meditations was associated with improvements in well-being, and whether these improvements were related to the number of days participants practiced mindfulness meditation. Two hundred and nineteen participants took part in the study. Participants were aged 22–75 (mean age 44.31, SD 12.40), and the majority of participants were female (199, 16.16%). The majority of participants undertook mindfulness practice on 25+ days (126 respondents of 219; 57.53%). Participants completed both baseline and post-intervention assessments of perceived stress, positive and negative affect, mindfulness, flourishing, and self-compassion. Results indicated that all measures improved from baseline to post-intervention and that number of days practiced predicted increased mindfulness, and increased mindfulness predicted improvements in positive affect. These results suggest that online mindfulness interventions may be effective at improving mental health in the general population.
This is a preview of subscription content, log in to check access.
Access options
Buy single article
Instant access to the full article PDF.
US$ 39.95
Price includes VAT for USA
Subscribe to journal
Immediate online access to all issues from 2019. Subscription will auto renew annually.
US$ 99
This is the net price. Taxes to be calculated in checkout.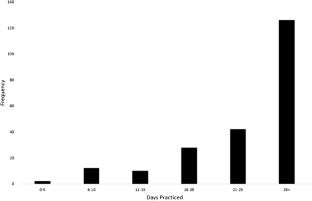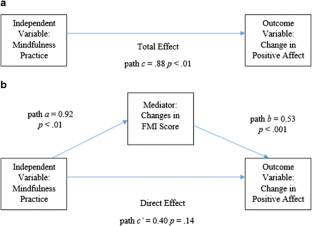 References
Aknin, L. B., Barrington-Leigh, C. P., Dunn, E. W., Helliwell, J. F., Burns, J., Biswas-Diener, R., et al. (2013). Prosocial spending and well-being: cross-cultural evidence for a psychological universal. Journal of Personality and Social Psychology, 104(4), 635–652.

Baron, R. M., & Kenny, D. A. (1986). The moderator–mediator variable distinction in social psychological research: Conceptual, strategic, and statistical considerations. Journal of Personality and Social Psychology, 51(6), 1173–1182.

Bodenlos, J. S., Strang, K., Gray-Bauer, R., Faherty, A., & Ashdown, B. K. (2017). Male representation in randomized clinical trials of mindfulness-based therapies. Mindfulness, 8(2), 259–265.

Bohlmeijer, E., Prenger, R., Taal, E., & Cuijpers, P. (2010). The effects of mindfulness-based stress reduction therapy on mental health of adults with a chronic medical disease: a meta-analysis. Journal of Psychosomatic Research, 68(6), 539–544.

Brown, K. W., Ryan, R. M., & Creswell, J. D. (2007). Mindfulness: theoretical foundations and evidence for its salutary effects. Psychological Inquiry, 18, 211–237.

Carmody, J., & Baer, R. A. (2008). Relationships between mindfulness practice and levels of mindfulness, medical and psychological symptoms and well-being in a mindfulness-based stress reduction program. Journal of Behavioral Medicine, 31(1), 23–33.

Carmody, J., & Baer, R. A. (2009). How long does a mindfulness-based stress reduction program need to be? A review of class contact hours and effect sizes for psychological distress. Journal of Clinical Psychology, 65(6), 627–638.

Cavanagh, K., Strauss, C., Cicconi, F., Griffiths, N., Wyper, A., & Jones, F. (2013). A randomised controlled trial of a brief online mindfulness-based intervention. Behaviour Research and Therapy, 51(9), 573–578.

Cavanagh, K., Strauss, C., Forder, I., & Jones, F. (2014). Can mindfulness and acceptance be learnt by self-help?: a systematic review and meta-analysis of mindfulness and acceptance-based self-help interventions. Clinical Psychology Review, 34(2), 118–129.

Chang, V. Y., Palesh, O., Caldwell, R., Glasgow, N., Abramson, M., Luskin, F., et al. (2004). The effects of a mindfulness-based stress reduction program on stress, mindfulness self-efficacy, and positive states of mind. Stress and Health, 20(3), 141–147.

Charter, R. A. (1997). Methodological commentary: effect of measurement error on tests of statistical significance. Journal of Clinical and Experimental Neuropsychology, 19(3), 458–462.

Chiesa, A., & Serretti, A. (2009). Mindfulness-based stress reduction for stress management in healthy people: a review and meta-analysis. The Journal of Alternative and Complementary Medicine, 15(5), 593–600.

Chiesa, A., Calati, R., & Serretti, A. (2011). Does mindfulness training improve cognitive abilities? A systematic review of neuropsychological findings. Clinical Psychology Review, 31(3), 449–464.

Cohen, S., & Williamson, G. (1988). Perceived stress in a probability sample of the US. In S. Spacapam & S. Oskamp (Eds.), The social psychology of health: Claremont symposium on applied social psychology (pp. 31–67). Newberry Park: Sage.

Crawford, J. R., & Henry, J. D. (2004). The positive and negative affect schedule (PANAS): construct validity, measurement properties and normative data in a large non-clinical sample. British Journal of Clinical Psychology, 43(3), 245–265. https://doi.org/10.1348/0144665031752934.

Diener, E., Wirtz, D., Tov, W., Kim-Prieto, C., Choi, D. W., Oishi, S., & Biswas-Diener, R. (2010). New well-being measures: short scales to assess flourishing and positive and negative feelings. Social Indicators Research, 97(2), 143–156.

Eberth, J., & Sedlmeier, P. (2012). The effects of mindfulness meditation: a meta-analysis. Mindfulness, 3(3), 174–189.

Grossman, P., Niemann, L., Schmidt, S., & Walach, H. (2004). Mindfulness-based stress reduction and health benefits: a meta-analysis. Journal of Psychosomatic Research, 57(1), 35–43.

Hutcheon, J. A., Chiolero, A., & Hanley, J. A. (2010). Random measurement error and regression dilution bias. BMJ, 340, c2289.

Hofmann, S. G., Grossman, P., & Hinton, D. E. (2011). Loving-kindness and compassion meditation: potential for psychological interventions. Clinical Psychology Review, 31(7), 1126–1132.

James, L. R., & Brett, J. M. (1984). Mediators, moderators, and tests for mediation. Journal of Applied Psychology, 69(2), 307–321.

Kabat-Zinn, J. (1994). Wherever you go, there you are: mindfulness meditation in everyday life. New York: Hyperion.

Kabat-Zinn, J. (2003). Mindfulness-based interventions in context: past, present, and future. Clinical Psychology: Science and Practice, 10(2), 144–156.

Khoury, B., Lecomte, T., Fortin, G., Masse, M., Therien, P., Bouchard, V., et al. (2013). Mindfulness-based therapy: a comprehensive meta-analysis. Clinical Psychology Review, 33(6), 763–771.

Kuyken, W., Watkins, E., Holden, E., White, K., Taylor, R. S., Byford, S., et al. (2010). How does mindfulness-based cognitive therapy work? Behaviour Research and Therapy, 48(11), 1105–1112.

Lesage, F. X., Berjot, S., & Deschamps, F. (2012). Psychometric properties of the French versions of the Perceived Stress Scale. International Journal of Occupational Medicine and Environmental Health, 25(2), 178–184.

McDonald, R. P. (1999). Test theory: A unified treatment. Mahwah: Lawrence Erlbaum.

Miller, J. J., Fletcher, K., & Kabat-Zinn, J. (1995). Three-year follow-up and clinical implications of a mindfulness meditation-based stress reduction intervention in the treatment of anxiety disorders. General Hospital Psychiatry, 17(3), 192–200.

Oliver, M. I., Pearson, N., Coe, N., & Gunnell, D. (2005). Help-seeking behaviour in men and women with common mental health problems: cross-sectional study. The British Journal of Psychiatry, 186(4), 297–301.

Preacher, K. J., Rucker, D. D., & Hayes, A. F. (2007). Addressing moderated mediation hypotheses: theory, methods, and prescriptions. Multivariate Behavioral Research, 42, 185–227.

Raes, F., Pommier, E., Neff, K. D., & Van Gucht, D. (2011). Construction and factorial validation of a short form of the self-compassion scale. Clinical Psychology & Psychotherapy, 18(3), 250–255.

Roth, P. L., Switzer III, F. S., & Switzer, D. M. (1999). Missing data in multiple item scales: a Monte Carlo analysis of missing data techniques. Organizational Research Methods, 2(3), 211–232.

Sijtsma, K. (2009). On the use, the misuse, and the very limited usefulness of Cronbach's alpha. Psychometrika, 74(1), 107–120.

Terwee, C. B., Bot, S. D., de Boer, M. R., van der Windt, D. A., Knol, D. L., Dekker, J., et al. (2007). Quality criteria were proposed for measurement properties of health status questionnaires. Journal of Clinical Epidemiology, 60(1), 34–42.

Vettese, L. C., Toneatto, T., Stea, J. N., Nguyen, L., & Wang, J. J. (2009) Do mindfulness meditation participants do their homework? And does it make a difference? A review of the empirical evidence. Journal of Cognitive Psychotherapy, 23(3), 198–225

Walach, H., Buchheld, N., Buttenmüller, V., Kleinknecht, N., & Schmidt, S. (2006). Measuring mindfulness—the Freiburg mindfulness inventory (FMI). Personality and Individual Differences, 40(8), 1543–1555.

Watson, D., Clark, L. A., & Tellegen, A. (1988). Development and validation of brief measures of positive and negative affect: the PANAS scales. Journal of Personality and Social Psychology, 54(6), 1063–1070.

Woodruff, S. C., Glass, C. R., Arnkoff, D. B., Crowley, K. J., Hindman, R. K., & Hirschhorn, E. W. (2014). Comparing self-compassion, mindfulness, and psychological inflexibility as predictors of psychological health. Mindfulness, 5(4), 410–421.
Acknowledgements
We would like to acknowledge Dominic Hosemans for providing valuable statistical advice.
Ethics declarations
Ethical approval for all research procedures involved in the study was obtained from the Alfred Hospital and Monash University's ethics committees. All participants were provided with a statement that their responses were anonymous and that completion of the survey was taken as informed consent.
Conflict of Interest
PBF has received equipment for research from Brainsway Ltd., Medtronic Ltd. and MagVenture A/S and funding for research from Cervel Neurotech and Neuronetics Ltd. PBF has received consultancy fees as a scientific advisor for Bionomics. EB is the director of MiM. NWB, JN, TG, RC and SC have no conflicts to declare.
About this article
Cite this article
Bailey, N.W., Nguyen, J., Bialylew, E. et al. Effect on Well-Being from an Online Mindfulness Intervention: "Mindful in May". Mindfulness 9, 1637–1647 (2018). https://doi.org/10.1007/s12671-018-0910-7
Keywords
Mindfulness

Internet intervention

Perceived stress

Well-being