Abstract
Many claims have been made regarding the application of mindfulness meditation to the improvement of critical thinking skills, with some suggesting improved executive function as a mechanism. This study tests theoretical assumptions related to these claims. Sixty-five Irish university students took part in an active-controlled mixed factorial experiment designed to investigate the effects of a guided mindfulness meditation on the primary measures of executive function and critical thinking. The secondary measures assessed key thinking dispositions, including the need for cognition and actively open-minded thinking, state mindfulness and dispositional mindfulness. The 2 × 2 mixed analyses of variance showed no evidence of an effect of the interaction between time (pre vs. post) and group (mindfulness vs. sham meditation) on executive function indices (p < 0.39) or critical thinking performance (p = 0.11). No evidence was found for indirect effects of group allocation on critical thinking through either state mindfulness or executive function. Moderation models demonstrated evidence that the effects of the mindfulness meditation on critical thinking were conditional on need for cognition (b = −0.24 [−0.40, −0.08]) and actively open-minded thinking (b = −0.14 [−0.25, −0.04]) dispositions. In addition, participants who reported low levels of non-reactivity demonstrated decreased critical thinking performance following the mindfulness meditation, which was mediated by slower reaction times on the executive functioning task (b = −53.37 [−92.65, −14.08]). In summary, a brief guided mindfulness meditation appears to facilitate critical thinking for those low in need for cognition and actively open-minded thinking. However, it is unclear whether executive function is a mechanism underlying this relationship.
This is a preview of subscription content, log in to check access.
Access options
Buy single article
Instant access to the full article PDF.
US$ 39.95
Price includes VAT for USA
Subscribe to journal
Immediate online access to all issues from 2019. Subscription will auto renew annually.
US$ 99
This is the net price. Taxes to be calculated in checkout.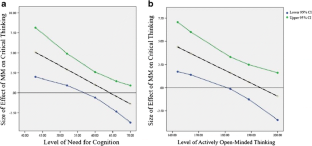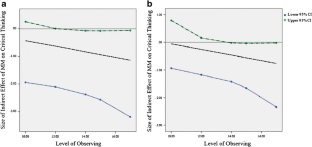 References
Anicha, C. L., Ode, S., Moeller, S. K., & Robinson, M. D. (2012). Toward a cognitive view of trait mindfulness: distinct cognitive skills predict its observing and nonreactivity facets. Journal of Personality, 80(2), 255–285. doi:10.1111/j.1467-6494.2011.00722.x.

Arch, J. J., & Craske, M. G. (2006). Mechanisms of mindfulness: emotion regulation following a focused breathing induction. Behaviour Research and Therapy, 44(12), 1849–1858. doi:10.1016/j.brat.2005.12.007.

Baddeley, A. (2003). Working memory: looking back and looking forward. Nature Reviews Neuroscience, 4(10), 829–839. doi:10.1038/nrn1201.

Bohlmeijer, E., Klooster, P. M., Fledderus, M., Veehof, M., & Baer, R. (2011). Psychometric properties of the five facet mindfulness questionnaire in depressed adults and development of a short form. Assessment, 18(3), 308–320. doi:10.1177/1073191111408231.

Bonnefon, J. F. (2016). The pros and cons of identifying critical thinking with system 2 processing. Topoi, 1–7. doi:10.1007/s11245-016-9375-2

Brendel, D. (2015). There are risks to mindfulness at work. [Blog post]. Retrieved from https://hbr.org/2015/02/there-are-risks-to-mindfulness-at-work/

Brown, K. W., & Ryan, R. M. (2003). The benefits of being present: mindfulness and its role in psychological well-being. Journal of Personality and Social Psychology, 84(4), 822–848.

Butler, H. A. (2012). Halpern critical thinking assessment predicts real-world outcomes of critical thinking. Applied Cognitive Psychology, 26(5), 721–729. doi:10.1002/acp.2851.

Cacioppo, J. T., Petty, R. E., & Kao, C. F. (1984). The efficient assessment of need for cognition. Journal of Personality Assessment, 48(3), 306–307. doi:10.1207/s15327752jpa4803_13.

Chatzisarantis, N. L. D., & Hagger, M. S. (2007). Mindfulness and the intention-behavior relationship within the theory of planned behavior. Personality and Social Psychology Bulletin, 33(5), 663–676. doi:10.1177/0146167206297401.

Chiesa, A., Calati, R., & Serretti, A. (2011). Does mindfulness training improve cognitive abilities? A systematic review of neuropsychological findings. Clinical Psychology Review, 31(3), 449–464. doi:10.1016/j.cpr.2010.11.003.

Colzato, L. S., Szapora, A., Lippelt, D., & Hommel, B. (2017). Prior meditation practice modulates performance and strategy use in convergent- and divergent-thinking problems. Mindfulness, 8(1), 10–16. doi:10.1007/s12671-014-0352-9.

Dickenson, J., Berkman, E. T., Arch, J., & Lieberman, M. D. (2013). Neural correlates of focused attention during a brief mindfulness induction. Social Cognitive and Affective Neuroscience, 8(1), 40–47. doi:10.1093/scan/nss030.

Eisenlohr-Moul, T. A., Walsh, E. C., Charnigo Jr., R. J., Lynam, D. R., & Baer, R. A. (2012). The "what" and the "how" of dispositional mindfulness: using interactions among subscales of the five-facet mindfulness questionnaire to understand its relation to substance use. Assessment, 19(3), 276–286. doi:10.1177/1073191112446658.

Evans, J. S. B. T., & Stanovich, K. E. (2013). Dual-process theories of higher cognition: advancing the debate. Perspectives on Psychological Science, 8(3), 223–241. doi:10.1177/1745691612460685.

Facione, P. A. (2013). Critical thinking: what it is and why it counts (2013 Update). San Jose: California Academic Press.

Fisher, N. R., Thompson, L., & Malinowski, P. (2016). What is being induced in mindfulness experiments? A systematic analysis of the components, composition and emphasis of "mindfulness inductions". Paper presented at the Internatioinal Conference on Mindfulness, Rome, Italy.

Frewen, P., Hargraves, H., DePierro, J., Andrea, W. D., & Flodrowski, L. (2016). Meditation breath attention scores (MBAS): development and investigation of an internet-based assessment of focused attention during meditation practice. Psychological Assessment, 28(7), 830–840. doi:10.1037/pas0000283.

Fritz, M. S., & MacKinnon, D. P. (2007). Required sample size to detect the mediated effect. Psychological Science, 18(3), 233–239. doi:10.1111/j.1467-9280.2007.01882.x.

Good, D., Lyddy, C., Glomb, T., & Bono, J. (2016). Mindfulness has big impacts for performance, decision making and career longevity. Retrieved from http://blogs.lse.ac.uk/businessreview/2016/03/02/mindfulness-has-big-impacts-for-performance-decision-making-and-career-longevity/

Goodman, R. J. (2014). Present with an uncertain future: dispositional mindfulness, covariation bias, and event-related potential responses to emotional stimuli in uncertain contexts (Unpublished doctoral dissertation). Virginia Commonwealth University. Richmond, VA.

Greenberg, J., Reiner, K., & Meiran, N. (2012). Mind the trap: mindfulness practice reduces cognitive rigidity. PLoS ONE, 7(5), e36206. doi:10.1371/journal.pone.0036206

Hafenbrack, A. C., Kinias, Z., & Barsade, S. G. (2014). Debiasing the mind through meditation: mindfulness and the sunk-cost bias. Psychological Science, 25(2), 369–376. doi:10.1177/0956797613503853.

Halpern, D. F. (1998). Teaching critical thinking for transfer across domains: dispositions, skills, structure training, and metacognitive monitoring. American Psychologist, 53(4), 449–455.

Halpern, D. F. (2010). Halpern critical thinking assessment. Moedling: SCHUHFRIED (Vienna Test System).

Hayes, A. F. (2013). Introduction to mediation, moderation, and conditional process analysis: a regression-based approach. New York: Guilford Press.

Hofmann, W., Schmeichel, B. J., & Baddeley, A. D. (2012). Executive functions and self-regulation. Trends in Cognitive Sciences, 16(3), 174–180. doi:10.1016/j.tics.2012.01.006.

Hopthrow, T., Hooper, N., Mahmood, L., Meier, B. P., & Weger, U. (2016). Mindfulness reduces the correspondence bias. Quarterly Journal of Experimental Psychology, 70(3), 351–360. doi:10.1080/17470218.2016.1149498.

IBM Corp. (2013). IBM SPSS Statistics for Windows, version 22.0. Armonk: IBM Corp.

Insead Knowledge. (2014) How mindfulness improves decision-making. Retrieved from http://www.forbes.com/sites/insead/2014/08/05/how-mindfulness-improves-decision-making/

JASP Team. (2016). JASP, version 0.7.5.5. Amsterdam: JASP Team.

Johnson, S., Gur, R. M., David, Z., & Currier, E. (2015). One-session mindfulness meditation: a randomized controlled study of effects on cognition and mood. Mindfulness, 6(1), 88–98. doi:10.1007/s12671-013-0234-6.

Kane, M. J., Brown, L. H., McVay, J. C., Silvia, P. J., Myin-Germeys, I., & Kwapil, T. R. (2007). For whom the mind wanders, and when: an experience-sampling study of working memory and executive control in daily life. Psychological Science, 18(7), 614–621. doi:10.1111/j.1467-9280.2007.01948.x.

Kee, Y. H., Chatzisarantis, N. N. L. D., Kong, P. W., Chow, J. Y., & Chen, L. H. (2012). Mindfulness, movement control, and attentional focus strategies: effects of mindfulness on a postural balance task. Journal of Sport and Exercise Psychology, 34(5), 561–579.

Ku, K. Y. L. (2009). Assessing students' critical thinking performance: urging for measurements using multi-response format. Thinking Skills and Creativity, 4(1), 70–76. doi:10.1016/j.tsc.2009.02.001.

Levinson, D. B., Stoll, E. L., Kindy, S. D., Merry, H. L., & Davidson, R. J. (2014). A mind you can count on: validating breath counting as a behavioral measure of mindfulness. Frontiers in Psychology, 5, 1202. doi:10.3389/fpsyg.2014.01202

Lilja, J. L., Lundh, L. G., Josefsson, T., & Falkenström, F. (2013). Observing as an essential facet of mindfulness: a comparison of FFMQ patterns in meditating and non-meditating individuals. Mindfulness, 4(3), 203–212. doi:10.1007/s12671-012-0111-8.

Lueke, A., & Gibson, B. (2016). Brief mindfulness meditation reduces discrimination. Psychology of Consciousness: Theory, Research, and Practice, 3(1), 34–44. doi:10.1037/cns0000081.

Mindfulness All-Party Parliamentary Group. (2015). Mindful nation UK. London: The Mindfulness Initiative.

Neale-Lorello, D., & Haaga, D. A. F. (2015). The observing facet of mindfulness moderates stress/symptom relations only among meditators. Mindfulness, 6(6), 1286–1291. doi:10.1007/s12671-015-0396-5.

Noone, C., Bunting, B., & Hogan, M. J. (2015). Does mindfulness enhance critical thinking? Evidence for the mediating effects of executive functioning in the relationship between mindfulness and critical thinking. Frontiers in Psychology, 6, 2043. doi:10.3389/fpsyg.2015.02043.

Ostafin, B. D., & Kassman, K. T. (2012). Stepping out of history: mindfulness improves insight problem solving. Consciousness and Cognition, 21(2), 1031–1036. doi:10.1016/j.concog.2012.02.014.

Oyer, B., Gillespie, M., Issah, M., & Fasko, D. (2012). The role of personality in argument evaluation. Inquiry: Critical Thinking Across the Disciplines, 27(2), 40–49.

Pennycook, G., Fugelsang, J. A., & Koehler, D. J. (2015). What makes us think? A three-stage dual-process model of analytic engagement. Cognitive Psychology, 80, 34–72. doi:10.1016/j.cogpsych.2015.05.001.

Peters, G.-J. Y. (2014). The alpha and the omega of scale reliability and validity: why and how to abandon Cronbach's alpha and the route towards more comprehensive assessment of scale quality. European Health Psychologist, 16(2), 56–69.

Price, E., Ottati, V., Wilson, C., & Kim, S. (2015). Open-minded cognition. Personality and Social Psychology Bulletin, 41(11), 1488–1504. doi:10.1177/0146167215600528.

Pykett, J., Lilley, R., Whitehead, M., Howell, R., & Jones, R. (2016). Mindfulness, behaviour change and decision making: an experimental trial. Birmingham: University of Birmingham.

Rossi, J. S. (2012). Statistical power analysis. In: W. A. Schinka & W. F. Velicer (Eds.), handbook of psychology volume 2: Research methods in psychology (pp. 71–109). Hoboken: Wiley.

Ruocco, A. C., & Direkoglu, E. (2013). Delineating the contributions of sustained attention and working memory to individual differences in mindfulness. Personality and Individual Differences, 54(2), 226–230. doi:10.1016/j.paid.2012.08.037.

Shapiro, S. L., Brown, K. W., & Astin, J. (2011). Toward the integration of meditation into higher education: a review of research evidence. Teachers College Record, 113(3), 493–528.

Spies, K., Hesse, F., & Hummitzsch, C. (1996). Mood and capacity in Baddeley's model of human memory. Zeitschrift für Psychologie mit Zeitschrift für Angewandte Psychologie, 204(4), 367–381.

Stanovich, K. E., & West, R. F. (1997). Reasoning independently of prior belief and individual differences in actively open-minded thinking. Journal of Educational Psychology, 89(2), 342–357.

Teper, R., Segal, Z. V., & Inzlicht, M. (2013). Inside the mindful mind: how mindfulness enhances emotion regulation through improvements in executive control. Current Directions in Psychological Science, 22(6), 449–454. doi:10.1177/0963721413495869.

Tolentino, E., Curry, L., & Leak, G. (1990). Further validation of the short form of the need for cognition scale. Psychological Reports, 66(1), 321–322. doi:10.2466/PR0.66.1.321-322.

Vago, D. R. (2014). Mapping modalities of self-awareness in mindfulness practice: a potential mechanism for clarifying habits of mind. Annals of the New York Academy of Sciences, 1307(1), 28–42.

Verplanken, B., & Fisher, N. (2014). Habitual worrying and benefits of mindfulness. Mindfulness, 5(5), 566–573. doi:10.1007/s12671-013-0211-0.

Zeidan, F., Johnson, S. K., Diamond, B. J., David, Z., & Goolkasian, P. (2010). Mindfulness meditation improves cognition: evidence of brief mental training. Consciousness and Cognition, 19(2), 597–605. doi:10.1016/j.concog.2010.03.014.
Acknowledgements
This research was made possible by the award of a Galway Doctoral Research Scholarship to the first author. The authors would like to thank Ms. Nicola Hohensee for her assistance during data collection and Mr. Declan Coogan and Mr. Joseph Mee for the technical assistance.
Ethics declarations
Ethical Statement
Ethical approval for this study was granted by the NUI Galway Research Ethics Committee. Whilst informed consent was sought before participation in the study began, this information was not complete in order to reduce demand characteristics and ensure that expectation effects were equal across groups. Rather, participants were informed that the study focused on the effects of relaxation on attention and critical thinking and both conditions presented as a break during the experimental procedure to relax with a guided meditation. This type of deception is typical in psychological research and is an important control in mindfulness research (e.g. Mrazek et al. 2012). The word "mindfulness" was not mentioned in any recruiting or experimental materials. There was a full debriefing regarding the purpose of the study and the purpose of the deception following each lab session.
Electronic Supplementary Material
About this article
Cite this article
Noone, C., Hogan, M.J. Improvements in Critical Thinking Performance Following Mindfulness Meditation Depend on Thinking Dispositions. Mindfulness 9, 461–473 (2018). https://doi.org/10.1007/s12671-017-0789-8
Keywords
Critical thinking

Executive function

Self-regulation

Dual-process theory

Thinking dispositions