Abstract
This study details the development and validation of a measure of mindful self-care, the Mindful Self-Care Scale (MSCS). Based on theory and emerging empirical work, the MSCS items were developed to align with a set of actionable practices that promote positive embodiment and well-being. The extant literature on self-care was reviewed and a set of items developed. Following expert review, the retained items were factor analyzed (N = 448, aged 18–71, 79.7% female, 90.0% Caucasian) resulting in six factors: physical care, supportive relationships, mindful awareness, self-compassion and purpose, mindful relaxation, and supportive structure. Overall, the MSCS was significantly and positively correlated with body esteem and negatively correlated with eating disorder risk. Confirmatory factor analyses were applied to a second independent sample (N = 452, aged 18–78, 69.7% female, 70.8% Caucasian) providing cross-validation of the six-dimensional structure of the MSCS. Internal consistency was upheld for the total scale and subscales. Findings and implications for future research follow along with a review of the limitations of this study.
Access options
Buy single article
Instant access to the full article PDF.
US$ 39.95
Tax calculation will be finalised during checkout.
Subscribe to journal
Immediate online access to all issues from 2019. Subscription will auto renew annually.
US$ 79
Tax calculation will be finalised during checkout.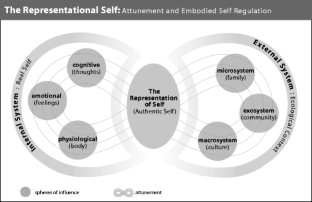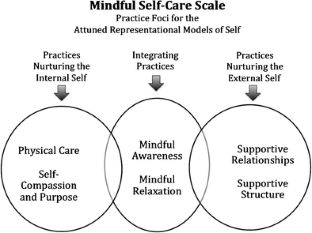 References
Benelam, B., & Wyness, L. (2010). Hydration and health: A review. Nutrition Bulletin, 35, 3–25. doi:10.1111/j.1467-. 3010.2009.01795.x.

Bentler, P. M. (1990). Comparative fit indexes in structural equation models. Psychological Bulletin, 107, 238–246. doi:10.1037/0033-2909.107.2.238.

Beydoun, M. A. (2014). The interplay of gender, mood, and stress hormones in the association between emotional eating and dietary behavior. The Journal of Nutrition, 144, 1139–1141. doi:10.3945/jn.114.196717.

Brown, R. P., & Gerbarg, P. L. (2015). Nutrients, phytomedicines, and mind-body treatments for substance abuse. In N. El-Guebaly, G. Carra, & M Galanter (Eds.), Textbook of addiction treatment: International perspectives (pp. 747–772). New York: Springer.

Cappuccio, F. P., Cooper, D., D'Elia, L., Strazzullo, P., & Miller, M. A. (2011). Sleep duration predicts cardiovascular outcomes: A systematic review and meta-analysis of prospective studies. European Heart Journal, 32, 1484–1492. doi:10.1093/eurhartj/ehr007.

Chou, C. P., & Bentler, P. M. (1995). Estimates and tests in structural equation modeling. In R. H. Hoyle (Ed.), Structural equation modeling: Concepts, issues, and applications (pp. 37–55). Thousand Oaks: Sage Publications.

Christopher, J. C., & Maris, J. A. (2010). Integrating mindfulness as self-care into counseling and psychotherapy training. Counseling and Psychotherapy Research, 10, 114–125. doi:10.1080/14733141003750285.

Cohen, J. (1992). A power primer. Psychological Bulletin, 112, 155–159. doi:10.1037/0033-2909.112.1.155.

Cook-Cottone, C. P. (2015a). Incorporating positive body image into the treatment of eating disorders: A model for attunement and mindful self-care. Body Image, 14, 158–167. doi:10.1016/j.bodyim.2015.03.004.

Cook-Cottone, C. P. (2015b). Mindfulness and yoga for self-regulation: A primer for mental health professionals. New York: Springer.

Cook-Cottone, C. P. (2016). Embodied self-regulation and mindful self-care in the prevention of eating disorders. Eating Disorders Journal of Treatment and Prevention, 24, 98–105. doi:10.1080/10640266.2015.1118954.

Cook-Cottone, C. P. (2017). Mindfulness and yoga in schools. A guide for teachers and practitioners. New York: Springer Publishing.

Davis, M., Eshelman, E. R., & McKay, M. (2008). The relaxation and stress reduction workbook (6th ed.). Oakland, CA: New Harbinger Publications.

Duckworth, A., & Gross, J. J. (2014). Self-control and grit related but separable determinants of success. Current Directions in Psychological Science, 23, 319–325. doi:10.1177/0963721414541462.

Garner, D. M., Olmsted, M. P., Bohr, Y., & Garfinkel, P. (1982). The eating attitudes test: Psychometric features and clinical correlates. Psychological Medicine, 12, 871–878. doi:10.1017/S0033291700049163.

Homan, K. J., & Tylka, T. L. (2014). Appearance-based exercise motivation moderates the relationship between exercise frequency and positive body image. Body Image, 11, 101–108. doi:10.1016/j.bodyim.2014.01.003.

Hopkins, M. E., Davis, F. C., VanTieghem, M. R., Whalen, P. J., & Bucci, D. J. (2012). Differential effects of acute and regular physical exercise on cognition and affect. Neuroscience, 215, 59–68. doi:10.1016/j.neuroscience.2012.04.056.

Horn, J. A. (1965). A rationale and test for the number of factors in factor analysis. Psychometrika, 30, 179–185.

Hu, L. T., & Bentler, P. M. (1999). Cut off criteria for fit indexes in covariance structure analysis: Conventional criteria versus new alternatives. Structural Equation Modeling, 6, 1–55. doi:10.1080/10705519909540118.

Fowler, F. J. (1995). Improving survey questions: Design and evaluation (vol. 38). New York, NY:Sage.

Frank, K., & Esbensen, A. J. (2015). Fine motor and self-care milestones for individuals with down syndrome using a retrospective chart review. Journal of Intellectual Disability Research, 59, 719–729. doi:10.1111/jir.12176.

Franzoi, S. L. (1994). Further evidence of the reliability and validity of the body esteem scale. Journal of Clinical Psychology, 50, 237–239.

Franzoi, S. L., & Herzog, M. E. (1986). The body esteem scale: A convergent and discriminant validity study. Journal of Personality Assessment, 50, 24–31. doi:10.1207/s15327752jpa5001_4.

Gentile, N. E., Gonzalez, C. A., Angstman, K. B., & Baonacci, R. P. (2016). Family medicine resident wellness beyond self-care behaviors: Exploring the role of supportive faculty and team lead relationships. A paper presented at the American Academy of Family Physicians Annual Conference for Family Medical Residents and Medical Students

Grabovac, A. D., Lau, M. A., & Willett, B. R. (2011). Mechanisms of mindfulness: A Buddhist psychological model. Mindfulness, 2, 154–166. doi:10.1007/s12671-011-0054-5.

Iskender, M., & Akin, A. (2011). Self-compassion and internet addiction. Turkish Online Journal of Educational Technology-TOJET, 10, 215–221.

Jöreskog, K. G., & Sörbom, D. (2006). LISREL 8.8 [computer software]. Mooresville: Scientific Software.

Kim, C., Schlenk, E. A., Kim, D. J., Kim, M., Erlen, J. A., & Kim, S. (2015). The role of social support on the relationship of depressive symptoms to medication adherence and self-care activities in adults with type 2 diabetes. Journal of Advanced Nursing, 71(9), 2164–2175. doi:10.1111/jan.12682.

Kline, R. B. (2011). Principles and practices of structural equation modeling (3rd ed.). New York: Guilford Press.

Kyle, S. D., Morgan, K., & Espie, C. A. (2010). Insomnia and health-related quality of life. Sleep Medicine Reviews, 14, 69–82. doi:10.1016/j.smrv.2009.07.004.

Lim, J., & Dinges, D. F. (2010). A meta-analysis of the impact of short-term sleep deprivation on cognitive variables. Psychological Bulletin, 136, 375. doi:10.1037/a0018883.

Linehan, M. M. (2015). DBT skills training handouts and worksheets (2nd ed.). New York: The Guilford Press.

Linehan, M. M. (1993). Skills training manual for treating borderline personality disorder. New York: The Guildford Press.

Neff, K. D. (2011). Self-compassion, self-esteem, and well-being. Social and Personality Psychology Compass, 5, 1–12. doi:10.1111/j.1751-9004.2010.00330.x.

Norcross, J. C., & Guy, J. D. (2007). Leaving it at the office: A guide to psychotherapist self-care. New York: The Guildford Press.

McCusker, J., Cole, M. G., Yaffe, M., Strumpf, E., Sewitch, M., Sussman, T., Ciampi, A., Lavoie, K., Platt, R., & Belzile, E. (2015). A randomized trial of a depression self-care toolkit with or without lay telephone coaching for primary care patients with chronic physical conditions. General Hospital Psychiatry, 37, 257–265. doi:10.1016/j.genhosppsych.2015.03.007.

Mohammadpour, A., Rahmati Sharghi, N., Khosravan, S., Alami, A., & Akhond, M. (2015). The effect of a supportive educational intervention developed based on the Orem's self-care theory on the self-care ability of patients with myocardial infarction: A randomised controlled trial. Journal of Clinical Nursing, 24(11–12), 1686–1692. doi:10.1111/jocn.12775.

Orbach, I., & Mikulincer, M. (1998). The body investment scale: Construction and validation of a body experience scale. Psychological Assessment, 10, 415–245. doi:10.1037/1040-3590.10.4.415.

Patil, V. H., Singh, S. N., Mishra, S., & Donavan, D. T. (2008). Efficient theory development and factor retention criteria: Abandon the 'eigenvalue greater than one' criterion. Journal of Business Research, 61, 162–170. doi:10.1016/j.jbusres.2007.05.008.

Piran, N. (2015). New possibilities in the prevention of eating disorders: The introduction of positive body image measures. Body Image, 14, 146–157. doi:10.1016/j.bodyim.2015.03.008.

Piran, N., & Teall, T. (2012). The developmental theory of embodiment. In G. L. McVey, M. P. Levine, N. Piran, & B. Ferguson (Eds.), Preventing eating-related and weight-related disorders: Collaborative research, advocacy, and policy change (pp. 169–198). Waterloo: Wilfred Laurier University Press.

Potter, L., Wallston, K., Trief, P., Ulbrecht, J., Juth, V., & Smyth, J. (2015). Attributing discrimination to weight: Associations with well-being, self-care, and disease status in patients with type 2 diabetes mellitus. Journal of Behavioral Medicine, 38, 863–875. doi:10.1007/s10865-015-9655-0.

Raaijmakers, L. M., Martens, M. K., Bagchus, C., de Weerdt, I., de Vries, N. K., & Kremers, S. J. (2015). Correlates of perceived self-care activities and diabetes control among Dutch type 1 and type 2 diabetics. Journal of Behavioral Medicine, 38, 450–459. doi:10.1007/s10865-014-9609-y.

Richard, A. A., & Shea, K. (2011). Delineation of self‐care and associated concepts. Journal of Nursing Scholarship, 43(3), 255–264.

Riegel, B., Jaarsma, T., & Stromberg, A. (2012). A middle-range theory of self-care of chronic illness. Advances in Nursing Science, 35, 194–204. doi:10.1097/ANS.0b013e318261b1ba.

Ryan, R. M., & Deci, E. L. (2001). On happiness and human potential: A review of research on hedonic and eudaimonic well-being. Annual Review of Psychology, 52, 141–166. doi:10.1146/annurev.psych.52.1.141.

Sansó, N., Galiana, L., Oliver, A., Pascual, A., Sinclair, S., & Benito, E. (2015). Palliative care professionals' inner life: Exploring the relationships among awareness, self-care, and compassion satisfaction and fatigue, burnout, and coping with death. Journal of Pain and Symptom Management, 50, 200–207. doi:10.1016/j.jpainsymman.2015.02.013.

Sayrs, J. H. (2012). Mindfulness, acceptance, and values-based interventions for addiction counselors: The benefits of practicing what we preach. In S. C. Hayes & M. E. Levin (Eds.), Mindfulness and acceptance for addictive behaviors: Applying contextual CBT to substance use and behavioral additions (pp. 187–215). Oakland: New Harbinger.

Shapiro, S. L., Brown, K. W., & Biegel, G. M. (2007). Teaching self-care to caregivers: Effect of mindfulness-based stress reduction on the mental health of therapists in training. Training and Education in Professional Psychology, 1, 105–115. doi:10.1037/1931-3918.1.2.105.

Shapiro, S. L., & Carlson, L. E. (2009). The art and science of mindfulness: Integrating mindfulness into psychology and the helping professions. Washington, DC: American Psychological Association.

Siegel, D. J. (2010). The mindful therapist: A clinician's guide to mindsight and neural integration. New York: WW Norton & Company.

Steiger, J. H. (1990). Structural model evaluation and modification: An interval estimation approach. Multivariate Behavioral Research, 25, 173–180. doi:10.1207/s15327906mbr2502_4.

Story, M., Kaphingst, K.M., Robinson-O'Brien, R., and Glanz, K.. (2008) Creating healthy food and eating environments: Policy and environmental approaches [online]. Available from: http://www.Thehealthwell.Info/Node/3700 [accessed: 28th January 2016].

Streiner, D. L., & Norman, G. R. (2003). Health measurement scales. A practical guide to their development and use (3rd ed.). Oxford, UK: Oxford University Press.

Tabachnick, B. G., & Fidell, L. S. (2007). Using multivariate statistics (5th ed.). Boston: Allyn & Bacon.

Van Vliet, K. J., & Kalnins, G. R. (2011). A compassion-focused approach to nonsuicidal self-injury. Journal of Mental Health Counseling, 33, 295–311. doi:10.1007/s12310-016-9197-9.

Vettese, L. C., Dyer, C. E., Li, W. L., & Wekerle, C. (2011). Does self-compassion mitigate the association between childhood maltreatment and later emotion regulation difficulties? A preliminary investigation. International Journal of Mental Health and Addiction, 9, 480–491. doi:10.1007/s11469-011-9340-7.

Williams, G. C., Freedman, Z. R., & Deci, E. l. (1998). Supporting autonomy to motivate patients with diabetes for glucose control. Diabetes Care, 21, 1644–1651.

Walker, S. N., Sechrist, K. R., & Pender, N. J. (1987). The health-promoting lifestyle profile: Development and psychometric characteristics. Nursing Research, 36, 76–81.

Wong, C. L., Ip, W. Y., Choi, K. C., & Lam, L. W. (2015). Examining self-care behaviors and their associated factors among adolescent girls with dysmenorrhea: An application of Orem's self-care deficit nursing theory. Journal of Nursing Scholarship, 47, 219–227. doi:10.1111/jnu.12134.

Woertman, L. F. (2012). Body image and female sexual functioning and behavior: A review. Journal of Sex Research, 49, 184–211. doi:10.1080/00224499.2012.658586.

Wood-Barcalow, N. L., Tylka, T., & Augustus-Horvath, C. L. (2010). "But I like my body": Positive body image characteristics and a holistic model for young-adult women. Body Image, 7, 106–116. doi:10.1177/1359105314520814.

World Health Organization (2017). Global strategy on diet, physical activity, and health. Retrieved from http://www.who.int/dietphysicalactivity/factsheet_adults/en/

Yee, L. M., McGuire, J. M., Taylor, S. M., Niznik, C. M., & Simon, M. A. (2015). I was tired of all the sticking and poking: Identifying barriers to diabetes self-care among low-income pregnant women. Journal of Health Care for the Poor and Underserved, 26, 926–940. doi:10.1353/hpu.2015.0073.

Zhang, K. M., Dindoff, K., Arnold, J. O., Lane, J., & Swartzman, L. C. (2015). What matters to patients with heart failure? The influence of non-health-related goals on patient adherence to self-care management. Patient Education and Counseling, 98, 927–934. doi:10.1016/j.pec.2015.04.011.
Ethics declarations
Funding
This study was not funded
Ethical Approval
All procedures performed in studies involving human participants were in accordance with the ethical standards of the institutional and/or national research committee and with the 1964 Helsinki Declaration and its later amendments or comparable ethical standards.
Appendix
Appendix
Mindful Self-Care Scale (MSCS)
Directions for administration
Check the box that reflects the frequency of your behavior (how much or how often) within the past week (7 days); never (0 days), rarely (1 day) sometimes (2 to 3 days), often (4 to 5 days), and regularly (6 to 7 days). Note, one item is reverse scored (see Physical Care*). For clinical use, items can be administered in order.
Physical care (8 items)
1.

I drank at least 6 to 8 cups of water.

2.

I ate a variety of nutritious foods (e.g., vegetables, protein, fruits, and grains).

3.

I planned my meals and snacks.

4.

I exercised at least 30 to 60 min.

5.

I took part in sports, dance, or other scheduled physical activities (e.g., sports teams, dance classes).

6.

I did sedentary activities instead of exercising (e.g., watched TV, worked on the computer)—reversed score*.

7.

I planned/scheduled my exercise for the day.

8.

I practiced yoga or another mind/body practice (e.g., Tae Kwon Do, Tai Chi).
Supportive relationships (5 items)
9.

I spent time with people who are good to me (e.g., support, encourage, and believe in me).

10.

I felt supported by people in my life.

11.

I felt that I had someone who would listen to me if I became upset (e.g., friend, counselor, group).

12.

I felt confident that people in my life would respect my choice if I said "no."

13.

I scheduled/planned time to be with people who are special to me.
Mindful awareness (4 items)
14.

I had a calm awareness of my thoughts.

15.

I had a calm awareness of my feelings.

16.

I had a calm awareness of my body.

17.

I carefully selected which of my thoughts and feelings I used to guide my actions.
Self-compassion and purpose (6 items)
18.

I kindly acknowledged my own challenges and difficulties.

19.

I engaged in supportive and comforting self-talk (e.g., "My effort is valuable and meaningful").

20.

I reminded myself that failure and challenge are part of the human experience.

21.

I gave myself permission to feel my feelings (e.g., allowed myself to cry).

22.

I experienced meaning and/or a larger purpose in my work/school life (e.g., for a cause).

23.

I experienced meaning and/or larger purpose in my private/personal life (e.g., for a cause).
Mindful relaxation (6 items)
24.

I did something intellectual (using my mind) to help me relax (e.g., read a book, wrote).

25.

I did something interpersonal to relax (e.g., connected with friends).

26.

I did something creative to relax (e.g., drew, played instrument, wrote creatively, sang, organized).

27.

I listened to relax (e.g., to music, a podcast, radio show, rainforest sounds).

28.

I sought out images to relax (e.g., art, film, window shopping, nature).

29.

I sought out smells to relax (lotions, nature, candles/incense, smells of baking).
Supportive structure (4 items)
30.

I kept my work/school area organized to support my work/school tasks.

31.

I maintained a manageable schedule.

32.

I maintained balance between the demands of others and what is important to me.

33.

I maintained a comforting and pleasing living environment.
General (3 items—not to be averaged)
G1. I engaged in a variety of self-care strategies.
G2. I planned my self-care
I explored new ways to bring self-care into my life.
Scoring: Each subscale should be averaged to calculate a subscale score. The total score is a sum of the averaged subscale scores. Note, the general items are not included in any subscale score or the total score.
Permission: The MSCS is free to use. We request that researchers notify the authors of publications using the scale. Please contact the author Catherine Cook-Cottone, Ph.D. at cpcook@buffalo.edu for permission to modify items.
About this article
Cite this article
Cook-Cottone, C.P., Guyker, W.M. The Development and Validation of the Mindful Self-Care Scale (MSCS): an Assessment of Practices that Support Positive Embodiment. Mindfulness 9, 161–175 (2018). https://doi.org/10.1007/s12671-017-0759-1
Keywords
Mindfulness

Self-care

Eating disorder

Positive embodiment

Body esteem

Mindful self-care