Abstract
Self-compassion has been consistently linked to psychological well-being. This current study explored whether (a) inducing self-compassion would result in reduced state anxiety for a speech task and (b) whether this effect would be greater for individuals with high social anxiety, compared to those with low social anxiety. Undergraduate students (N = 118; high social anxiety n = 56; low social anxiety n = 62) were randomly assigned to a self-compassion writing or a control writing condition. Anticipatory anxiety (related to an upcoming speech) was measured. Only the participants with high social anxiety displayed lower levels of anticipatory anxiety in the self-compassion condition compared to the control condition. These results support the use of self-compassion practices for social anxiety.
Access options
Buy single article
Instant access to the full article PDF.
USD 39.95
Price excludes VAT (USA)
Tax calculation will be finalised during checkout.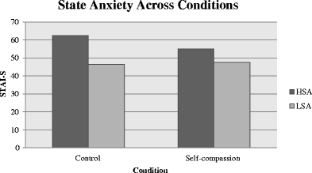 References
Akin, U., & Akin, A. (2015). Examining the predictive role of self-compassion on sense of community in Turkish adolescents. Social Indicators Research, 123(1), 29–38.

Arch, J. J., Brown, K. W., Dean, D. J., Landy, L. N., Brown, K. D., & Laudenslager, M. L. (2014). Self-compassion training modulates alpha-amylase, heart rate variability, and subjective responses to social evaluative threat in women. Psychoneuroendocrinology, 42, 49–58.

Barnard, L. K., & Curry, J. F. (2011). Self-compassion: Conceptualization, correlates, & interventions. Review of General Psychology, 15, 289–303.

Beck, A. T., Steer, R. A., & Brown, G. K. (1996). Manual for the Beck depression inventory-II. San Antonio, TX: Psychological Corporation.

Bluth, K., Roberson, P. N. E., Gaylord, S. A., Faurot, K. R., Grewen, K. M., Arzon, S., & Girdler, S. S. (2016). Does self-compassion protect adolescents from stress? Journal of Child and Family Studies, 25, 1098–1109.

Breines, J., & Chen, S. (2012). Self-compassion increases self-improvement motivation. Personality and Social Psychology Bulletin, 38, 1133–1143.

Breines, J. G., McInnis, C. M., Kuras, Y. I., Thoma, M. V., Gianferante, D., Hanlin, L., Chen, X., & Rohleder, N. (2015). Self and Identity, 14, 390–402.

Clark, D. M., & Wells, A. (1995). A cognitive model of social phobia. In R. G. Heimberg, M. R. Liebowitz, D. A. Hope, & F. R. Schneier (Eds.), Social phobia: Diagnosis, assessment, and treatment (pp. 69–93). New York: Guilford Press.

Cody, M. W., & Teachman, B. A. (2010). Post-event processing and memory bias for performance feedback in social anxiety. Journal of Anxiety Disorders, 24, 468–479.

Connor, K. M., Davidson, J. R. T., Churchill, L. E., Sherwood, A., Weisler, R. H., & Foa, E. (2000). Psychometric properties of the social phobia inventory (SPIN). The British Journal of Psychiatry, 176, 379–386.

Costa, J., & Pinto-Gouveia, J. (2013). Experiential avoidance and self-compassion in chronic pain. Journal of Applied Social Psychology, 43, 1578–1591.

Costa, J.Marôco, J., Pinto-Gouveia, J., Ferreira, C., &Castilho, P. (2015). Validation of the psychometric properties of the Self-Compassion Scale. Testing the factorial validity and factorial invariance of the measure among borderline personality disorder, eating disorder and general populations. Clinical Psychology and Psychotherapy.

Hinrichsen, H., & Clark, D. M. (2003). Anticipatory processing in social anxiety: Two pilot studies. Journal of Behavior Therapy and Experimental Psychiatry, 34, 205–218.

Kaplan, D. M., & Smith, T. (1995). A validity study of the subjective unit of distress (SUD) score. Measurement & Evaluation in Counselling, 27, 195.

Kudielka, B. M., Wüst, S., Kirschbaum, C., & Hellhammer, D. H. (2007). Trier social stress test (pp. 776–781). London: Academic Press.

Leary, M. R., Tate, E. N., Adams, C. E., Batts, A. A., & Hancock, J. (2007). Self-compassion and reactions to unpleasant self-relevant events: The implications of treating oneself kindly. Journal of Personality and Social Psychology, 92, 887–904.

Mattick, R. P., & Clarke, J. C. (1998). Development and validation of measures of social phobia scrutiny fear and social interaction anxiety. Behaviour Research and Therapy, 36, 455–470.

Mills, A. C., Grant, D. M., Lechner, W. V., & Judah, M. R. (2013). Psychometric properties of the anticipatory social Behaviours questionnaire. Journal of Psychopathology and Behavioral Assessment, 35, 346–355.

Moser, J. S., Hajcak, G., Huppert, J. D., Foa, E. B., & Simons, R. F. (2008). Interpretation bias in social anxiety as detected by event-related brain potentials. Emotion, 8, 693–700.

Neff, K. D. (2003a). The development and validation of a scale to measure self-compassion. Self and Identity, 2, 223–250.

Neff, K. D. (2003b). Self-compassion: An alternative conceptualization of a healthy attitude toward oneself. Self and Identity, 2, 85–101.

Neff, K. D., Hsieh, Y., & Dejitterat, K. (2005). Self-compassion, achievement goals, and coping with academic failure. Self and Identity, 4, 263–287.

Neff, K. D., Kirkpatrick, K. L., & Rude, S. S. (2007). Self-compassion and adaptive psychological functioning. Journal of Research in Personality, 41, 139–154.

Neff, K. D., Whittaker, T. A., & Karl, A. (2017). Examining the factor structure of the self-compassion scale in four distinct populations: Is the use of a total scale score justified? Journal of Personality Assessment. doi:10.1080/00223891.2016.1269334.

Robins, R. W., Hendin, H. M., & Trzesniewski, K. H. (2001). Measuring global self-esteem: Construct validation of a single-item measure and the Rosenberg self-esteem scale. Personality and Social Psychology Bulletin, 27, 151–161.

Spielberger, C. D., Gorsuch, T. L., Lushene, R., Vagg, P. R., & Jacobs, G. A. (1983). Manual for the state-trait anxiety inventory. Palo Alto, CA: ConsultingPsychologists Press.

Werner, K. H., Jazaieri, H., Goldin, P. R., Ziv, M., Heimberg, R. G., & Gross, J. J. (2012). Self-compassion and social anxiety. Anxiety, Stress & Coping: An International Journal, 25, 543–558.

Williams, M., Dalgleish, T., Karl, A., & Kuyken, W. (2014). Examining the factor structures of the five facet mindfulness questionnaire and the self-compassion scale. Psychological Assessment, 30, 669–689.

Wolpe, J. (1969). The practice of behavior therapy (2nd ed.). New York: Pergamon Press.

Zeller, M., Yuval, K., Nitzan-Assayag, Y., & Bernstein, A. (2014). Self-compassion in recovery following potentially traumatic stress: Longitudinal study of at-risk youth. Journal of Abnormal Child Psychology, 43, 645–653.
Acknowledgements
This work was supported by the Ministry of Research and Innovation.
Ethics declarations
Ethical Approval
All procedures performed in studies involving human participants were in accordance with the ethical standards of the institutional and/or national research committee and with the 1964 Helsinki declaration and its later amendments or comparable ethical standards.
Conflict of Interest
The authors declare that they have no conflicts of interest.
About this article
Cite this article
Harwood, E.M., Kocovski, N.L. Self-Compassion Induction Reduces Anticipatory Anxiety Among Socially Anxious Students. Mindfulness 8, 1544–1551 (2017). https://doi.org/10.1007/s12671-017-0721-2
Published:

Issue Date:

DOI: https://doi.org/10.1007/s12671-017-0721-2
Keywords
Self-compassion

Social anxiety disorder

Mindfulness

Anticipatory anxiety