Abstract
Mindfulness practices are increasingly used with school-aged children, although relatively little is known about their effects, particularly when briefer practices are used, and when children are young. Further, although mindfulness is thought to positively influence self-regulation, few studies have explicitly tested its influence on this domain in young children. In two independent samples, children 7–9 years of age were randomly assigned to a single 10-min mindfulness practice or a quiet play comparison condition and completed age-appropriate self-report measures of pre- and post-calmness, mood, and social dominance. Fifteen children were in sample 1, and 30 children were in sample 2. In both samples, only children who practiced mindfulness showed a significant increase in calmness (p < .05) based on pre- and post-self-report. Significant effects on self-reported mood or dominance were not found. These results indicate that even a brief, classroom-friendly mindfulness practice increases self-reported calmness in school-aged children.
This is a preview of subscription content, log in to check access.
Access options
Buy single article
Instant access to the full article PDF.
US$ 39.95
Price includes VAT for USA
Subscribe to journal
Immediate online access to all issues from 2019. Subscription will auto renew annually.
US$ 99
This is the net price. Taxes to be calculated in checkout.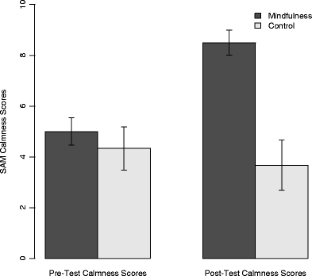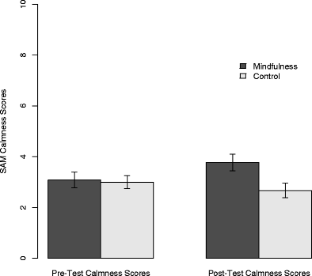 References
Arch, J. J., & Craske, M. G. (2006). Mechanisms of mindfulness: emotion regulation following a focused breathing induction. Behaviour Research and Therapy, 44, 1849–1858. doi:10.1016/j.brat.2005.12.007.

Baer, R. A. (2009). Self-focused attention and mechanisms of change in mindfulness-based treatment. Cognitive Behaviour Therapy, 38, 15–20. doi:10.1080/16506070902980703.

Baer, R. A., Smith, G. T., & Allen, K. B. (2004). Assessment of mindfulness by self-report: the Kentucky inventory of mindfulness skills. Assessment, 11, 191–206. doi:10.1177/1073191104268029.

Beauchamp-Turner, D. L., & Levinson, D. M. (1992). Effects of meditation on stress, health, and affect. Medical Psychotherapy: An International Journal, 5, 123–131.

Bernier, A., Carlson, S. M., & Whipple, N. (2010). From external regulation to self-regulation: early parenting precursors of young children's executive functioning. Child Development, 81, 326–339. doi:10.1111/j.1467-8624.2009.01397.x.

Bishop, S. R., Lau, M., Shapiro, S., Carlson, L., Anderson, N. D., Carmody, J., ... & Devins, G. (2004). Mindfulness: A proposed operational definition. Clinical Psychology: Science and Practice, 11, 230–241. doi:10.1093/clipsy.bph077

Blair, C., & Razza, R. P. (2007). Relating effortful control, executive function, and false belief understanding to emerging math and literacy ability in kindergarten. Child Development, 78, 647–663. doi:10.1111/j.1467-8624.2007.01019.x.

Bluth, K., Campo, R. A., Pruteanu-Malinici, S., Reams, A., Mullarkey, M., & Broderick, P. C. (2016). A school-based mindfulness pilot study for ethnically diverse at-risk adolescents. Mindfulness, 7, 90–104. doi:10.1007/s12671-014-0376-1.

Bowen, S., & Marlatt, A. (2009). Surfing the urge: brief mindfulness-based intervention for college student smokers. Psychology of Addictive Behaviors, 23, 666–671. doi:10.1037/a0017127.

Bradley, M. M., & Lang, P. J. (1994). Measuring emotion: the self-assessment manikin and the semantic differential. Journal of Behavioral Therapy and Experimental Psychiatry, 25, 49–59. doi:10.1016/0005-7916(94)90063-9.

Broderick, P. C. (2005). Mindfulness and coping with dysphoric mood: contrasts with rumination and distraction. Cognitive Therapy and Research, 29, 501–510. doi:10.1007/s10608-005-3888-0.

Brown, K. W., & Ryan, R. M. (2003). The benefits of being present: mindfulness and its role in psychological well-being. Journal of Personality and Social Psychology, 84, 822–848. doi:10.1037/0022-3514.84.4.822.

Brown, K. W., Ryan, R. M., & Creswell, J. D. (2007). Mindfulness: theoretical foundations and evidence for its salutary effects. Psychological Inquiry, 18, 211–237. doi:10.1080/10478400701598298.

Burke, C. A. (2010). Mindfulness-based approaches with children and adolescents: a preliminary review of current research in an emergent field. Journal of Child and Family Studies, 19, 133–144. doi:10.1007/s10826-009-9282-x.

Carmody, J., Crawford, S., & Churchill, L. (2006). A pilot study of mindfulness-based stress reduction for hot flashes. Menopause, 13, 760–769. doi:10.1097/01.gme.0000227402.98933.d0.

Chiesa, A., & Serretti, A. (2009). Mindfulness-based stress reduction for stress management in healthy people: a review and meta-analysis. The Journal of Alternative and Complementary Medicine, 15, 593–600. doi:10.1089/acm.2008.0495.

Davis, J. M., Fleming, M. F., Bonus, K. A., & Baker, T. B. (2007). A pilot study on mindfulness based stress reduction for smokers. BMC Complementary and Alternative Medicine, 7, 2. doi:10.1186/1472-6882-7-2.

Davis, E., Quinones-Camacho, L., & Buss, K. (2016). The effects of distraction and reappraisal on children's parasympathetic regulation of sadness and fear. Journal of Experimental Child Psychology, 142, 344–358. doi:10.1016/j.jecp.2015.09.020.

Dimidjian, S., & Segal, Z. V. (2015). Prospects for a clinical science of mindfulness-based intervention. American Psychologist, 70, 593–620. doi:10.1037/a0039589.

Eigsti, I. M., Zayas, V., Mischel, W., Shoda, Y., Ayduk, O., Dadlani, M. B., ..., Casey, B. J. (2006). Predicting cognitive control from preschool to late adolescence and young adulthood. Psychological Science, 17, 478–484. doi:10.1111/j.1467-9280.2006.01732.x

Epstein-Lubow, G., McBee, L., Darling, E., Armey, M., & Miller, I. W. (2011). A pilot investigation of mindfulness-based stress reduction for caregivers of frail elderly. Mindfulness, 2, 95–102. doi:10.1007/s12671-011-0047-4.

Erisman, S. M., & Roemer, L. (2010). A preliminary investigation of the effects of experimentally induced mindfulness on emotional responding to film clips. Emotion, 10, 72–82. doi:10.1037/a0017162.

Felver, J. C., Celis-de Hoyos, C. E., Tezanos, K., & Singh, N. N. (2016). A systematic review of mindfulness-based interventions for youth in school settings. Mindfulness, 7, 34–45. doi:10.1007/s12671-015-0389-4.

Flook, L., Smalley, S. L., Kitil, M. J., Galla, B. M., Kaiser-Greenland, S., Locke, J., ... & Kasari, C. (2010). Effects of mindful awareness practices on executive functions in elementary school children. Journal of Applied School Psychology, 26, 70–95. doi:10.1080/15377900903379125

Friese, M., Messner, C., & Schaffner, Y. (2012). Mindfulness meditation counteracts self-control depletion. Consciousness and Cognition, 21, 1016–1022. doi:10.1016/j.concog.2012.01.008.

Gans, J. J., O'Sullivan, P., & Bircheff, V. (2014). Mindfulness based tinnitus stress reduction pilot study. Mindfulness, 5, 322–333. doi:10.1007/s12671-012-0184-4.

Goldin, P. R., & Gross, J. J. (2010). Effects of mindfulness-based stress reduction (MBSR) on emotion regulation in social anxiety disorder. Emotion, 10, 83–91. doi:10.1037/a0018441.

Greenbaum, P. E., Turner, C., Cook, E. W., & Melamed, B. G. (1990). Dentists' voice control: effects on children's disruptive and affective behavior. Health Psychology: Official Journal of the Division of Health Psychology, 9, 546–558. doi:10.1037/0278-6133.9.5.546.

Grossman, P., Niemann, L., Schmidt, S., & Walach, H. (2004). Mindfulness-based stress reduction and health benefits: a meta-analysis. Journal of Psychosomatic Research, 57, 35–43. doi:10.1016/S0022-3999(03)00573-7.

Harnett, P. H., & Dawe, S. (2012). The contribution of mindfulness-based therapies for children and families and proposed conceptual integration. Child and Adolescent Mental Health, 17, 195–208. doi:10.1111/j.1475-3588.2011.00643.x.

Hodgins, H. S., & Adair, K. C. (2010). Attentional processes and meditation. Consciousness and Cognition, 19, 872–878. doi:10.1016/j.concog.2010.04.002.

Hofmann, S. G. (1999). The value of psychophysiological data for cognitive behavioral treatment of panic disorder. Cognitive and Behavioral Practice, 6, 244–248. doi:10.1016/S1077-7229(99)80082-0.

Huppert, F. A., & Johnson, D. M. (2010). A controlled trial of mindfulness training in schools: the importance of practice for an impact of well-being. Journal of Positive Psychology, 5, 264–274. doi:10.1080/17439761003794148.

Jha, A. P., Krompinger, J., & Baime, M. J. (2007). Mindfulness training modifies subsystems of attention. Cognitive, Affective, and Behavioral Neuroscience, 7, 109–119. doi:10.3758/CABN.7.2.109.

Kabat-Zinn, J. (1990). Full catastrophe living: using the wisdom of your body and mind to face stress, pain, and illness. New York: Dell.

Kabat-Zinn, J. (2003). Mindfulness-based interventions in context: past, present, and future. Clinical Psychology: Science and Practice, 10, 144–156. doi:10.1093/clipsy.bpg016.

Lang, P. J., Bradley, M. M., & Cuthbert, B. N. (2005). International affective picture system (IAPS): affective ratings of pictures and instruction manual (technical report no. A-6). Gainesville, FL: University of Florida.

Lehrer, P. M. (1998). Emotionally triggered asthma: a review of research literature and some hypotheses for self-regulation therapies. Applied Psychophysiology and Biofeedback, 23, 13–41. doi:10.1023/A:1022170028979.

Levitt, J. T., Brown, T. A., Orsillo, S. M., & Barlow, D. H. (2004). The effects of acceptance versus suppression of emotion on subjective and psychophysiological response to carbon dioxide challenge in patients with panic disorder. Behavior Therapy, 35, 747–766. doi:10.1016/S0005-7894(04)80018-2.

Liehr, P., & Diaz, N. (2010). A pilot study examining the effect of mindfulness on depression and anxiety for minority children. Archives of Psychiatric Nursing, 24, 69–71. doi:10.1016/j.apnu.2009.10.001.

Mendelson, T., Greenberg, M. T., Dariotis, J. K., Gould, L. F., Rhoades, B. L., & Leaf, P. J. (2010). Feasibility and preliminary outcomes of a school-based mindfulness intervention for urban youth. Journal of Abnormal Child Psychology, 38, 985–994. doi:10.1007/s10802-010-9418-x.

Moffit, T. E., Arsenault, L., Belsky, D., Dickson, N., Hancox, R. J, Harrington, H..,… Caspi, A. (2011). A gradient of childhood self-control predicts health, wealth, and public safety. Proceedings of the National Academy of Sciences of the United States of America, 108, 2693–2698. doi:10.1073/pnas.1010076108

Mrazek, M. D., Smallwood, J., & Schooler, J. W. (2012). Mindfulness and mind-wandering: finding convergence through opposing constructs. Emotion, 12, 422–448. doi:10.1037/a0026678.

Napoli, M., Krech, P. R., & Holley, L. C. (2005). Mindfulness training for elementary school students: the attention academy. Journal of Applied School Psychology, 21, 99–125. doi:10.1300/J370v21n01_05.

Papa, A., & Follette, W. C. (2015). Dismantling Studies of Psychotherapy. The Encyclopedia of Clinical Psychology, 1–6. doi:10.1002/9781118625392.wbecp523

Ponitz, C. C., McClelland, M. M., Matthews, J. S., & Morrison, F. J. (2009). A structured observation of behavioral self-regulation and its contribution to kindergarten outcomes. Developmental Psychology, 45, 605–619. doi:10.1037/a0015365.

Rottenberg, J., Salomon, K., Gross, J. J., & Gotlib, I. H. (2005). Vagal withdrawal to a sad film predicts subsequent recovery from depression. Psychophysiology, 42, 277–281. doi:10.1111/j.1469-8986.2005.00289.x.

Rueda, M. R., Posner, M. I., & Rothbart, M. K. (2005). The development of executive attention: contributions to the emergence of self-regulation. Developmental Neuropsychology, 28, 573–594. doi:10.1207/s15326942dn2802_2.

Schonert-Reichl, K. A., Oberle, E., Lawlor, M. S., Abbott, D., Thomson, K., Oberlander, T. F., & Diamond, A. (2015). Enhancing cognitive and social-emotional development through a simple-to-administer mindfulness-based school program for elementary school children: a randomized controlled trial. Developmental Psychology, 51, 52–66. doi:10.1037/a0038454.

Shapiro, S. L., Carlson, L. E., Astin, J. A., & Freedman, B. (2006). Mechanisms of mindfulness. Journal of Clinical Psychology, 62, 373–386. doi:10.1002/jclp.2023.

Snel, E. (2013). Sitting Still Like a Frog: Mindfulness Exercises for Kids (and Their Parents). Shambala: Boston, MA.

Vago, D. R., & Silbersweig, D. A. (2012). Self-awareness, self-regulation, and self-transcendence (S-ART): a framework for understanding the neurobiological mechanisms of mindfulness. Frontiers in Human Neuroscience, 6, 296. doi:10.3389/fnhum.2012.00296.

Valiente, C., Eisenberg, N., Fabes, R. A., Shepard, S. A., Cumberland, A., & Losoya, S. H. (2004). Prediction of children's empathy-related responding from their effortful control and parents' expressivity. Developmental Psychology, 40, 911–926. doi:10.1037/0012-1649.40.6.911.

Valiente, C., Swanson, J., Lemery-Chalfant, K., & Berger, R. H. (2014). Children's effortful control and academic achievement: do relational peer victimization and classroom participation operate as mediators? Journal of School Psychology, 52, 433–445. doi:10.1016/j.jsp.2014.05.005.

Van de Weijer-Bergsma, E., Langenberg, G., Bögels, S. M., Brandsma, R., & Oort, F. J. (2014). The effectiveness of a school-based mindfulness training as a program to prevent stress in elementary school children. Mindfulness, 5, 238–248. doi:10.1007/s12671-012-0171-9.

White, L. S. (2012). Reducing stress in school-age girls through mindful yoga. Journal of Pediatric Health Care, 26, 45–56. doi:10.1016/j.pedhc.2011.01.002.

White, E. J., Hutka, S. A., Williams, L. J., & Moreno, S. (2013). Learning, neural plasticity and sensitive periods: implications for language acquisition, music training and transfer across the lifespan. Frontiers in Systems Neuroscience, 7, 1–18. doi:10.3389/fnsys.2013.000.

Zhang, D., Chan, S. K. C., Lo, H. H. M., et al. (2016). Mindfulness-based intervention for Chinese children with ADHD and their parents: a pilot mixed-method study. Mindfulness, 7, 1–14. doi:10.1007/s12671-016-0660-3.
Acknowledgements
The authors would like to thank the YMCA of Western Ontario and the Thames Valley District School Board for their assistance with data collection, and the children (and their caregivers) who agreed to participate in this study.
Ruby Nadler and Elizabeth P. Hayden contributed equally to this work.
Ethics declarations
Conflict of Interest
The authors declare that they have no conflict of interest.
Ethical Approval
All procedures performed in studies involving human participants were in accordance with the ethical standards of the institutional and/or national research committee and with the 1964 Helsinki declaration and its later amendments or comparable ethical standards.
Informed Consent
Informed consent was obtained from all individual participants included in the study.
Funding Information
This research was funded by the Child Health Research Institute's Quality of Life grant.
About this article
Cite this article
Nadler, R., Cordy, M., Stengel, J. et al. A Brief Mindfulness Practice Increases Self-Reported Calmness in Young Children: a Pilot Study. Mindfulness 8, 1088–1095 (2017). https://doi.org/10.1007/s12671-017-0685-2
Keywords
Mindfulness

Children

Self-regulation

Affect