Abstract
We examined the effects of a brief (10 min) single-session mindfulness exercise on state mindfulness, executive attention, and recognition memory, and in an exploratory manner, investigated if these effects are moderated by trait mindfulness. Participants were randomly assigned to a brief mindfulness exercise condition, an attention exercise control condition, or an arithmetic exercise control condition. The Emotional Stroop task and a surprise old/new recognition test were used to measure executive attention and recognition memory, respectively. A measure of trait mindfulness was included as a moderator variable in regression models that predicted state mindfulness or task performance from exercise condition. Our results indicate that a brief single-session mindfulness exercise can increase levels of state mindfulness compared to an arithmetic exercise but not to an attention exercise. While subject to certain limitations, we found that trait mindfulness can moderate the efficacy of the mindfulness exercise at reducing emotional interference on a task of executive attention. Our results underscore the complex relationship between mindfulness and cognitive processes.
Access options
Buy single article
Instant access to the full article PDF.
USD 39.95
Price includes VAT (USA)
Tax calculation will be finalised during checkout.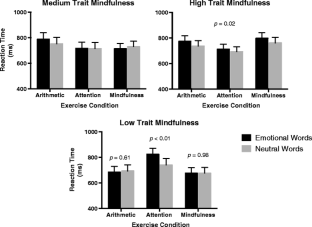 References
Alberts, H. J., & Thewissen, R. (2011). The effect of a brief mindfulness intervention on memory for positively and negatively valenced stimuli. Mindfulness (NY), 2(2), 73–77. doi:10.1007/s12671-011-0044-7.

Algom, D., Chajut, E., & Lev, S. (2004). A rational look at the emotional stroop phenomenon: a generic slowdown, not a stroop effect. Journal of Experimental Psychology: General, 133(3), 323–338. doi:10.1037/0096-3445.133.3.323.

Baer, R. A. (2003). Mindfulness training as a clinical intervention: a conceptual and empirical review. Clinical Psychology: Science and Practice, 10(2), 125–143. doi:10.1093/clipsy.bpg015.

Baer, R. A., Smith, G. T., Hopkins, J., Krietemeyer, J., & Toney, L. (2006). Using self-report assessment methods to explore facets of mindfulness. Assessment, 13(1), 27–45. doi:10.1177/1073191105283504.

Baer, R. A., Smith, G. T., Lykins, E., Button, D., Krietemeyer, J., Sauer, S., & Williams, J. M. (2008). Construct validity of the five facet mindfulness questionnaire in meditating and nonmeditating samples. Assessment, 15(3), 329–342. doi:10.1177/1073191107313003.

Bishop, S. R., Lau, M., Shapiro, S., Carlson, L., Anderson, N. D., Carmody, J., & Devins, G. (2004). Mindfulness: a proposed operational definition. Clinical Psychology: Science and Practice, 11(3), 230–241. doi:10.1093/clipsy.bph077.

Bonamo, K. K., Legerski, J.-P., & Thomas, K. B. (2015). The influence of a brief mindfulness exercise on encoding of novel words in female college students. Mindfulness, 6(3), 535–544. doi:10.1007/s12671-014-0285-3.

Brown, K. W., & Ryan, R. M. (2004). Perils and promise in defining and measuring mindfulness: observations from experience. Clinical Psychology: Science and Practice, 11(3), 242–248. doi:10.1093/clipsy.bph078.

Brown, K. W., Ryan, R. M., & Creswell, J. D. (2007). Mindfulness: theoretical foundations and evidence for its salutary effects. Psychological Inquiry, 18(4), 211–237. doi:10.1080/10478400701598298.

Chiesa, A., Calati, R., & Serretti, A. (2011). Does mindfulness training improve cognitive abilities? A systematic review of neuropsychological findings. Clinical Psychology Review, 31(3), 449–464. doi:10.1016/j.cpr.2010.11.003.

Davis, D. M., & Hayes, J. A. (2011). What are the benefits of mindfulness? A practice review of psychotherapy-related research. Psychotherapy, 48(2), 198–208. doi:10.1037/a0022062.

de Bruin, E. I., Topper, M., Muskens, J. G., Bögels, S. M., & Kamphuis, J. H. (2012). Psychometric properties of the Five Facets Mindfulness Questionnaire (FFMQ) in a meditating and a non-meditating sample. Assessment, 19(2), 187–197. doi:10.1177/1073191112446654.

Dickenson, J., Berkman, E. T., Arch, J., & Lieberman, M. D. (2013). Neural correlates of focused attention during a brief mindfulness induction. Social Cognitive and Affective Neuroscience, 8(1), 40–47. doi:10.1093/scan/nss030.

Erisman, S. M., & Roemer, L. (2010). A preliminary investigation of the effects of experimentally induced mindfulness on emotional responding to film clips. Emotion, 10(1), 72–82. doi:10.1037/a0017162.

Jaccard, J., Turrisi, R., & Wan, C. K. (1990). Interaction effects in multiple regression. Newbury Park: Sage.

Johnson, S., Gur, R. M., David, Z., & Currier, E. (2015). One-session mindfulness meditation: a randomized controlled study of effects on cognition and mood. Mindfulness, 6(1), 88–98. doi:10.1007/s12671-013-0234-6.

Kabat-Zinn, J. (1990). Full catastrophe living: using the wisdom of your body and mind to face stress, pain and illness. New York: Dell Publishing.

Kensinger, E. A., & Corkin, S. (2003). Memory enhancement for emotional words: are emotional words more vividly remembered than neutral words? Memory & Cognition, 31(8), 1169–1180. doi:10.3758/bf03195800.

Kucera, H., & Francis, W. N. (1967). Computational analysis of present-day American English. Providence: Brown University Press.

Lau, M. A., Bishop, S. R., Segal, Z. V., Buis, T., Anderson, N. D., Carlson, L., & Devins, G. (2006). The Toronto mindfulness scale: development and validation. Journal of Clinical Psychology, 62(12), 1445–1467. doi:10.1002/jclp.20326.

Lee, J. K., & Orsillo, S. M. (2014). Investigating cognitive flexibility as a potential mechanism of mindfulness in generalized anxiety disorder. Journal of Behavior Therapy and Experimental Psychiatry, 45(1), 208–216. doi:10.1016/j.jbtep.2013.10.008.

Levesque, C., & Brown, K. W. (2007). Mindfulness as a moderator of the effect of implicit motivational self-concept on day-to-day behavioral motivation. Motivation and Emotion, 31(4), 284–299. doi:10.1007/s11031-007-9075-8.

McKenna, F. P., & Sharma, D. (1995). Intrusive cognitions: an investigation of the emotional Stroop task. Journal of Experimental Psychology: Learning, Memory, and Cognition, 21(6), 1595–1607. doi:10.1037/0278-7393.21.6.1595.

Moore, A., & Malinowski, P. (2009). Meditation, mindfulness and cognitive flexibility. Consciousness and Cognition, 18(1), 176–186.

Mrazek, M. D., Smallwood, J., & Schooler, J. W. (2012). Mindfulness and mind-wandering: finding convergence through opposing constructs. Emotion, 12(3), 442–448. doi:10.1037/a0026678.

Park, T., Reilly-Spong, M., & Gross, C. R. (2013). Mindfulness: a systematic review of instruments to measure an emergent patient-reported outcome (PRO). Quality of Life Research: an International Journal of Quality of Life Aspects of Treatment, Care & Rehabilitation, 22(10), 2639–2659. doi:10.2307/1411318.

Quaglia, J. T., Brown, K. W., Lindsay, E. K., Creswell, J. D., & Goodman, R. J. (2015). From conceptualization to operationalization of mindfulness. In K. W. Brown, J. D. Creswell, & R. M. Ryan (Eds.), Handbook of mindfulness (pp. 151–170). New York: Guilford Press.

Richards, A., French, C. C., Johnson, W., Naparstek, J., & Williams, J. (1992). Effects of mood manipulation and anxiety on performance of an emotional Stroop task. British Journal of Psychology, 83, 479–491.

Segal, Z. V., Williams, J. M. G., & Teasdale, J. D. (2002). Mindfulness-based cognitive therapy for depression: a new approach for preventing relapse. New York: Guilford Press.

Shapiro, S. L., Carlson, L. E., Astin, J. A., & Freedman, B. (2006). Mechanisms of mindfulness. Journal of Clinical Psychology, 62(3), 373–386. doi:10.1002/jclp.20237.

Shapiro, S. L., Brown, K. W., Thoresen, C., & Plante, T. G. (2011). The moderation of mindfulness-based stress reduction effects by trait mindfulness: results from a randomized controlled trial. Journal of Clinical Psychology, 67(3), 267–277. doi:10.1002/jclp.20761.

Sternberg, R., & Sternberg, K. (2009). Cognitive psychology (6th ed.). Belmont: Wadsworth Cengage Learning.

Whissell, C. (2009). Using the revised dictionary of affect in language to quantify the emotional undertones of samples of natural language. Psychological Reports, 105, 509–521.

Williams, J. M. G., Mathews, A., & MacLeod, C. (1996). The emotional Stroop task and psychopathology. Psychological Bulletin, 120, 3–24.
Acknowledgments
We would like to thank Taryn Jackson for her help with the audio recordings.
Ethics declarations
All procedures performed in studies involving human participants were in accordance with the ethical standards of the institutional and/or national research committee and with the 1964 Helsinki Declaration and its later amendments or comparable ethical standards.
Conflict of Interest
The authors declare that they have no conflict of interest.
Informed Consent
Informed consent was obtained from all individual participants included in the study.
About this article
Cite this article
Watier, N., Dubois, M. The Effects of a Brief Mindfulness Exercise on Executive Attention and Recognition Memory. Mindfulness 7, 745–753 (2016). https://doi.org/10.1007/s12671-016-0514-z
Keywords
Mindfulness

Attention

Emotional Stroop

Recognition memory