Abstract
This study aims to characterize the relationships between intrinsic motivation toward physical activity, mindfulness, and physical activity level. We measured self-reported mindfulness, motivational regulation toward exercise, and physical activity level in 280 French students. Analyses conducted on 244 participants revealed that self-reported mindfulness moderates the relationship between intrinsic motivation toward exercise and physical activity levels. These findings may have implications for interventionists seeking to promote increased physical activity with mindfulness-based techniques. In fact, it seems that increasing mindfulness skills of individuals could improve their intrinsic motivation to exercise and, thus, physical activity.
Access options
Buy single article
Instant access to the full article PDF.
USD 39.95
Price excludes VAT (USA)
Tax calculation will be finalised during checkout.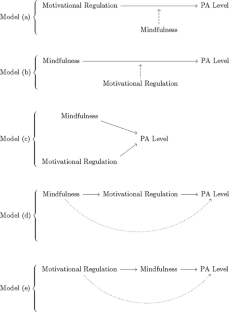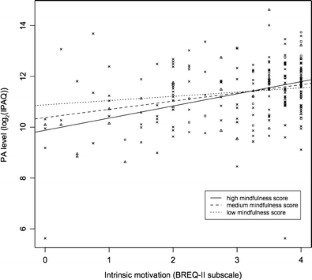 References
Baron, R. M., & Kenny, D. A. (1986). The moderator–mediator variable distinction in social psychological research: conceptual, strategic, and statistical considerations. Journal of Personality and Social Psychology, 51(6), 1173–1182.

Biddle, S., & Mutrie, N. (2008). Psychology of physical activity: determinants, well-being, and interventions (2nd ed.). New York: Routledge.

Brown, K. W., & Ryan, R. M. (2003). The benefits of being present: mindfulness and its role in psychological well-being. Journal of Personality and Social Psychology, 84(4), 822–848. doi:10.1037/0022-3514.84.4.822.

Butryn, M. L., Forman, E., Hoffman, K., Shaw, J., & Juarascio, A. (2011). A pilot study of acceptance and commitment therapy for promotion of physical activity. Journal of Physical Activity & Health, 8(4), 516–522.

Chatzisarantis, N. L. D., & Hagger, M. S. (2007). Mindfulness and the intention-behavior relationship within the theory of planned behavior. Personality and Social Psychology Bulletin, 33(5), 663–676. doi:10.1177/0146167206297401.

Craig, C. L., Marshall, A. L., Sjostrom, M., Bauman, A. E., Booth, M. L., Ainsworth, B. E., & Oja, P. (2003). International physical activity questionnaire: 12-country reliability and validity. Medicine & Science in Sports & Exercise, 35(8), 1381–1395. doi:10.1249/01.MSS.0000078924.61453.FB.

Csillik, A. S., Mahr, S., & Meyer, T. (2010). The mindful attention awareness scale (MAAS) French validation: convergent and divergent validity. Paper presented at the Quatrième congrès international de la théorie de l'autodétermination, Gand, Belgium.

Deci, E. L., & Ryan, R. M. (1985). Intrinsic motivation and self-determination in human behavior. New York: Plenum.

Dutton, G. R. (2008). The role of mindfulness in health behavior change. ACSM Health & Fitness Journal, 12(4), 7–12. doi:10.1249/FIT.0b013e31817bf5db.

Edmunds, J., Ntoumanis, N., & Duda, J. L. (2008). Testing a self-determination theory-based teaching style intervention in the exercise domain. European Journal of Social Psychology, 38(2), 375–388. doi:10.1002/ejsp.463.

Fortier, M. S., Sweet, S. N., O'Sullivan, T. L., & Williams, G. C. (2007). A self-determination process model of physical activity adoption in the context of a randomized controlled trial. Psychology of Sport and Exercise, 8(5), 741–757. doi:10.1016/j.psychsport.2006.10.006.

Hagger, M. S., & Chatzisarantis, N. (2007). Intrinsic motivation and self-determination in exercise and sport. Champaign: Human Kinetics.

Hayes, S. C., Strosahl, K. D., Wilson, K. G., Bissett, R. T., Pistorello, J., Toarmino, D., & Bergan, J. (2004). Measuring experiential avoidance: a preliminary test of a working model. Psychological Record, 54(4), 553–578.

Jolly, K., Duda, J. L., Daley, A., Eves, F. F., Mutrie, N., Ntoumanis, N., & Williams, G. C. (2009). Evaluation of a standard provision versus an autonomy promotive exercise referral programme: rationale and study design. BMC Public Health, 9, 176. doi:10.1186/1471-2458-9-176.

Keadle, S. K. (2012). The influence of free-living activity and inactivity on health outcomes and responsiveness to exercise training. (PhD), University of Massachusetts.

Levesque, C., & Brown, K. W. (2007). Mindfulness as a moderator of the effect of implicit motivational self-concept on day-to-day behavioral motivation. Motivation and Emotion, 31(4), 284–299. doi:10.1007/s11031-007-9075-8.

Lillis, J., Hayes, S. C., Bunting, K., & Masuda, A. (2009). Teaching acceptance and mindfulness to improve the lives of the obese: a preliminary test of a theoretical model. Annals of Behavioral Medicine, 37(1), 58–69. doi:10.1007/s12160-009-9083-x.

Lloyd-Jones, D. M., Hong, Y., Labarthe, D., Mozaffarian, D., Appel, L. J., Van Horn, L., & Rosamond, W. D. (2010). Defining and setting national goals for cardiovascular health promotion and disease reduction: The American Heart Association's strategic impact goal through 2020 and beyond. Circulation, 121(4), 586–613. doi:10.1161/CIRCULATIONAHA.109.192703.

Markland, D., & Tobin, V. (2004). A modification to the behavioural regulation in exercise questionnaire to include an assessment of amotivation. Journal of Sport and Exercise Psychology, 26(2), 191–196.

Netz, Y., & Lidor, R. (2003). Mood alterations in mindful versus aerobic exercise modes. The Journal of Psychology, 137(5), 405–419.

Orrow, G., Kinmonth, A. L., Sanderson, S., & Sutton, S. (2012). Effectiveness of physical activity promotion based in primary care: systematic review and meta-analysis of randomised controlled trials. BMJ, 344, e1389–e1389. doi:10.1136/bmj.e1389.

R Core Team. (2013). R: a language and environment for statistical computing. Vienna: R Foundation for Statistical Computing.

Ramírez, A. S., Finney Rutten, L. J., Vanderpool, R. C., Moser, R. P., & Hesse, B. W. (2013). Correlates and geographic patterns of knowledge that physical activity decreases cancer risk. The Journal of Primary Prevention, 34(1–2), 31–39. doi:10.1007/s10935-012-0289-5.

Rigby, C. S., Schultz, P. P., & Ryan, R. M. (2014). Mindfulness, interest-taking, and self-regulation. In A. Ie, C. T. Ngnoumen, & E. J. Langer (Eds.), The Wiley Blackwell handbook of mindfulness (pp. 216–235): John Wiley & Sons, Ltd.

Roberts, K. C., & Danoff-Burg, S. (2010). Mindfulness and health behaviors: is paying attention good for you? Journal of American College Health, 59(3), 165–173. doi:10.1080/07448481.2010.484452.

Ryan, R. M., & Deci, E. L. (2000). Self-determination theory and the facilitation of intrinsic motivation, social development, and well-being. American Psychologist, 55(1), 68–78.

Salmon, P., Lush, E., Jablonski, M., & Sephton, S. E. (2009). Yoga and mindfulness: clinical aspects of an ancient mind/body practice. Cognitive and Behavioral Practice, 16(1), 59–72. doi:10.1016/j.cbpra.2008.07.002.

Tapper, K., Shaw, C., Ilsley, J., Hill, A. J., Bond, F. W., & Moore, L. (2009). Exploratory randomised controlled trial of a mindfulness-based weight loss intervention for women. Appetite, 52(2), 396–404. doi:10.1016/j.appet.2008.11.012.

Tsafou, K. E., DeRidder, D. T. D., vanEe, R., & Lacroix, J. P. W. (2015). Mindfulness and satisfaction in physical activity: a cross-sectional study in the Dutch population. Journal of health psychology, 1–11. doi: 10.1177/1359105314567207

Ulmer, C. S., Stetson, B. A., & Salmon, P. G. (2010). Mindfulness and acceptance are associated with exercise maintenance in YMCA exercisers. Behaviour Research and Therapy, 48(8), 805–809. doi:10.1016/j.brat.2010.04.009.

Williams, J. M. G., & Kabat-Zinn, J. (2013). Mindfulness: diverse perspectives on its meanings, origins and applications. London: Routledge.

World Health Organization. (2010). Global recommendations on physical activity for health. Retrieved from http://whqlibdoc.who.int/publications/2010/9789241599979_eng.pdf.
Acknowledgments
The authors would like to acknowledge Lise Anhoury (French Institute of Sport) and Joan Tihy (University of Caen) for the data collection, Nelly Erichot (Paris Descartes University) and Christophe Gernigon (Univeristy of Montpellier) for various comments on the manuscript, Catherine O'Malley and Laura Killian for translation corrections.
Ethics declarations
All the participants gave their signed agreement to participate in the study. Participants were given a random code to withdraw from the study at any time after they filled out the questionnaires, upon their request. Institutional ethical approval was sought and given.
Funding Source
None.
Conflict of Interest
The authors declare that they have no competing interests.
About this article
Cite this article
Ruffault, A., Bernier, M., Juge, N. et al. Mindfulness May Moderate the Relationship Between Intrinsic Motivation and Physical Activity: A Cross-Sectional Study. Mindfulness 7, 445–452 (2016). https://doi.org/10.1007/s12671-015-0467-7
Published:

Issue Date:

DOI: https://doi.org/10.1007/s12671-015-0467-7
Keywords
Health behavior

Physical activity

Motivation

Mindfulness

Students