Abstract
This pilot study assessed the feasibility and impact of an 8-week mindfulness-based group intervention on cognitive and emotional functioning for individuals with Parkinson's disease (PD) and their caregivers. Twenty-five percent of those initially recruited dropped out before completing the study. The final sample (N = 39; 29 patients/10 caregivers) was 53.8 % male, 89.7 % Caucasian, with a mean level of education of 16.77 years (SD = 2.51), and ranged in age from 50 to 82 (M = 65.64, SD = 7.62). Mindfulness levels significantly increased for all participants from pre- to immediate-post. A significant improvement was seen for self-reported symptoms of depression and self-reported language functioning. Patient participants uniquely showed significant improvement on mental flexibility and complex attention tasks and reported significantly fewer emotional and cognitive symptoms associated with PD. Participant compliance with assigned home mindfulness practice was measured with homework tracking logs, and participants reported an average of 20 min/day, 6 days/week. Participants attended an average of six classes. Homework compliance significantly correlated with improvement in mindfulness levels, apathy and anxiety symptoms, and on working memory and mental flexibility tasks. Better class attendance was also associated with increased mindfulness and reduced apathy symptoms. Increased mindfulness was related to fewer symptoms of apathy and anxiety and better PD-related quality of life. These results show promise for the use of mindfulness-based interventions to improve emotional and cognitive functioning in individuals with PD and their caregivers and suggest that efforts to increase participant retention and encourage homework compliance and class attendance are important for optimizing outcomes in future trials.
This is a preview of subscription content, log in to check access.
Access options
Buy single article
Instant access to the full article PDF.
US$ 39.95
Price includes VAT for USA
Subscribe to journal
Immediate online access to all issues from 2019. Subscription will auto renew annually.
US$ 99
This is the net price. Taxes to be calculated in checkout.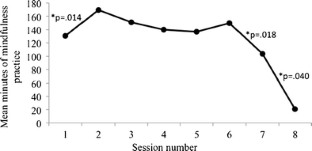 References
Baer, R. A., Smith, G. T., Lykins, E., Button, D., Krietemeyer, J., Sauer, S., Walsh, E., Duggan, D., & Williams, J. M. G. (2008). Construct validity of the Five Facet Mindfulness Questionnaire in meditating and non-meditating samples. Assessment, 15(3), 329–342. doi:10.1177/1073191107313003.

Bohlmeijer, E., Prenger, R., Taal, E., & Cuijpers, P. (2010). The effects of mindfulness-based stress reduction therapy on mental health of adults with a chronic medical disease: a meta-analysis. J Psychosom Res, 68(6), 539–544. doi:10.1016/j.jpsychores.2009.10.005.

Chaudhuri, K., Prieto-Jurcynska, C., Naidu, Y., Mitra, T., Frades-Payo, B., Tluk, S., Ruessmann, A., Odin, P., Macphee, G., Stocchi, F., Ondo, W., Sethi, K., Schapira, A., Castrillo, J., & Martínez-Martín, P. (2010). The nondeclaration of nonmotor symptoms of Parkinson's disease to health care professionals: an international study using the nonmotor symptoms questionnaire. Mov Disord, 25, 704–709. doi:10.1002/mds.22868.

Chiesa, A., Calati, R., & Serretti, A. (2010). Does mindfulness training improve cognitive abilities? A systematic review of neuropsychological findings. Clin Psychol Rev, 31, 449–464. doi:10.1016/j.cpr.2010.11.003.

De la Fuente-Fernandez, R., Schulzer, M., & Stoessl, A. J. (2002). The placebo effect in neurological disorders. Lancet Neurology, 1, 85–91. doi:10.1016/S1474-4422(02)00038-8.

Emre, M., Aarsland, D., Brown, R., Burn, D. J., Duyckaerts, C., Mizuno, Y., Dubois, B., et al. (2007). Clinical diagnostic criteria for dementia associated with Parkinson's disease. Mov Disord, 22, 1689–1707. doi:10.1002/mds.21507.

Farias, S. T., Mungas, D., Reed, B. R., Cahn-Weiner, D., Jagust, W., Baynes, K., & DeCarli, C. (2008). The measurement of Everyday Cognition (ECog): scale development and psychometric properties. Neuropsychology, 22, 531–544. doi:10.1037/0894-4105.22.4.531.

Faul, F., Erdfelder, E., Lang, A.-G., & Buchner, A. (2007). G*Power 3: a flexible statistical power analysis program for the social, behavioral, and biomedical sciences. Behav Res Methods, 39, 175–191. doi:10.3758/BF03193146.

Fernandez, H. H., Tabamo, R. E., David, R. R., & Friedman, J. H. (2001). Predictors of depressive symptoms among spouse caregivers in Parkinson's disease. Mov Disord, 16, 1123–5. doi:10.1002/mds.1196.

Fitzpatrick, L., Simpson, J., & Smith, A. (2010). A qualitative analysis of mindfulness-based cognitive therapy (MBCT) in Parkinson's disease. Psychol Psychother, 83(Pt 2), 179–192. doi:10.1348/147608309X471514.

Grossman, P., Niemann, L., Schmidt, S., & Walach, H. (2004). Mindfulness-based stress reduction and health benefits. A meta-analysis. J Psychosom Res, 57, 35–43. doi:10.1016/S0022-3999(03)00573-7.

Harnett, P. H., Whittingham, K., Puhakka, E., Hodges, J., Spry, C., & Dob, R. (2010). The short-term impact of a brief group-based mindfulness therapy program on depression and life satisfaction. Mindfulness, 1, 183–188. doi:10.1007/s12671-010-0024-3.

Harris, P. A., Taylor, R., Thielke, R., Payne, J., Gonzalez, N., & Conde, J. G. (2009). Research electronic data capture (REDCap)—a metadata-driven methodology and workflow process for providing translational research informatics support. J Biomed Inform, 42, 377–381. doi:10.1016/j.jbi.2008.08.010.

Jenkinson, C., Dummett, S., Kelly, L., Peters, M., Dawson, J., Morley, D., & Fitzpatrick, R. (2012). The development and validation of a quality of life measure for the carers of people with Parkinson's disease (The PDQ-Carer). Parkinsonism Relat Disord, 18, 483–487. doi:10.1016/j.parkreldis.2012.01.007.

Kabat-Zinn, J. (1982). An outpatient program in behavioral medicine for chronic pain patients based on the practice of mindfulness meditation: theoretical considerations and preliminary results. Gen Hosp Psychiatry, 4, 33–47. doi:10.1016/0163-8343(82)90026-3.

Kroenke, K., Spitzer, R. L., & Williams, J. B. (2001). The PHQ-9: validity of a brief depression severity measure. J Gen Intern Med, 16(9), 606–613. doi:10.1046/j.1525-1497.2001.016009606.x.

Lageman, S. K., Cash, T. V., & Mickens, M. (2014). Patient-reported needs, non-motor symptoms, and quality of life in essential tremor and Parkinson's disease. Tremor and Other Hyperkinetic Movements, 4, 240. doi:10.7916/D8RF5S4J.

Lageman, S.K., Mickens, M., & Cash, T.V. (2015). Caregiver-identified needs and barriers to care in Parkinson's disease. Geriatric Nursing, [Epub ahead of print]. doi: 10.1016/j.gerinurse.2015.01.002.

Martínez-Martín, P., Arroyo, S., Rojo-Abuin, J. M., Rodriguez-Blazquez, C., Frades, B., & de Pedro Cuesta, J. (2008). Burden, perceived health status, and mood among caregivers of Parkinson's disease patients. Mov Disord, 23, 1673–1680. doi:10.1002/mds.22106.

Morley, J. F., & Hurtig, H. I. (2010). Current understanding and management of Parkinson's disease: five new things. Neurology, 75(18 Suppl 1), S9–15. doi:10.1212/WNL.0b013e3181fb3628.

Ogrodniczuk, J. S., & Piper, W. E. (2003). The effect of group climate on outcome in two forms of short-term group therapy. Group Dynamics: Theory, Research, and Practice, 7, 64–76. doi:10.1037/1089-2699.7.1.64.

Paller, K.A., Creery, J.D., Florczak, S.M., Weintraub, S., Mesulam, M.-M., Reber, P.J., et al….Maslar, M. (2014). Benefits of mindfulness training for patients with progressive cognitive decline and their caregivers. American Journal of Alzheimer's Disease and Other Dementias, [Epub ahead of print]. doi: 10.1177/1533317514545377

Peto, V., Jenkinson, C., & Fitzpatrick, R. (1998). PDQ-39: a review of the development, validation and application of a Parkinson's disease quality of life questionnaire and its associated measures. J Neurol, 245, S10–S14. doi:10.1007/PL00007730.

Pickut, B. A., Van Hecke, W., Kerckhofs, E., Marien, P., Vanneste, S., Cras, P., & Parizel, P. M. (2014). Mindfulness based intervention in Parkinson's disease leads to structural brain. Changes on MRI: a randomized controlled longitudinal trial. Clin neurol neurosurg, 115, 2419–2425. doi:10.1016/j.clineuro.2013.10.002.

Potter, D. (2015, August 26, last date visited). Palouse mindfulness: mindfulness-based stress reduction. Retrieved from http://palousemindfulness.com/index.html

Pradhan, E. K., Baugarten, M., Langenberg, P., Handwerger, B., Gilpin, A. K., Magyari, T., Berman, B. M., et al. (2007). Effect of mindfulness-based stress reduction in rheumatoid arthritis patients. Arthritis Rheum, 57, 1134–1142. doi:10.1002/art.23010.

Reitan, R. M. (1958). Validity of the trail making test as an indicator of organic brain damage. Percept Mot Skills, 8, 271–276. doi:10.2466/PMS.8.7.271-276.

Rosenszweig, S., Greeson, J. M., Reibel, D. K., Green, J. S., Jasser, S. A., & Beasley, D. (2010). Mindfulness-based stress reduction for chronic pain conditions: variation in treatment outcomes and role of home meditation practice. J Psychosom Res, 68, 29–36. doi:10.1016/j.jpsychores.2009.03.010.

Ruff, R. M., Light, R. H., Parker, S. B., & Levin, H. S. (1996). Benton Controlled Coral Word Association Test: reliability and updated norms. Arch Clin Neuropsychol, 11, 329–338. doi:10.1093/arclin/11.4.329.

Speca, M., Carlson, L. E., Goodey, E., & Angen, M. (2000). A randomized, wait-list controlled. Clinical trial: the effect of a mindfulness meditation-based stress reduction program on mood and symptoms of stress in cancer outpatients. Psychosom Med, 62, 613–622.

Spitzer, R. L., Kroenke, K., Williams, J. B. W., & Löwe, B. (2006). A brief measure for assessing generalized anxiety disorder: the GAD-7. Arch Intern Med, 166, 1092–1097. doi:10.1001/archinte.166.10.1092.

Stahl, B., & Goldstein, E. (2010). A mindfulness-based stress reduction workbook. Oakland, CA: New Harbinger Publications, Inc.

Starkstein, S. E., Mayberg, H. S., Preziosi, T. J., Andrezejewski, P., Leiguarda, R., & Robinson, R. G. (1992). Reliability, validity, and clinical correlates of apathy in Parkinson's disease. J Neuropsychiatry Clin Neurosci, 4(2), 134–139. doi:10.1176/jnp.4.2.134.

Strauss, E., Sherman, E. M. S., & Spreen, O. (Eds.). (2006). A compendium of neuropsychological tests: administration, norms, and commentary. New York, NY: Oxford University Press.

Tröster, A. I., & Fields, J. A. (2008). Parkinson's disease, progressive supranuclear palsy, corticobasal degeneration, and related disorders of the frontostriatal system. In J. E. Morgan & J. H. Ricker (Eds.), Textbook of clinical neuropsychology (pp. 536–577). New York: Taylor and Francis.

Wechsler, D. (2008). Wechsler Adult Intelligence Scale (WAIS-IV): technical and interpretive manual (4th ed.). San Antonio, TX: Pearson.

Zeidan, F., Johnson, S. K., Diamond, B. J., David, Z., & Goolkasian, P. (2010). Mindfulness meditation improves cognition: evidence of brief mental training. Consciousness and Cognition: An International Journal, 19, 597–605. doi:10.1016/j.concog.2010.03.014.
Acknowledgments
The authors wish to acknowledge the support provided to Virginia Commonwealth University's Parkinson's and Movement Disorders Center through the Medical College of Virginia Foundation, which enabled completion of this study. Study data were collected and managed using REDCap electronic data capture tools hosted at Virginia Commonwealth University through award number UL1TR000058 from the National Center for Research Resources. Its contents are solely the responsibility of the authors and do not necessarily represent official views of the National Center for Research Resources or the National Institutes of Health.
The authors also wish to acknowledge undergraduate student research assistants, Margaret Corum and Joanna Nelson, who provided essential support in the collection and scoring of neuropsychological outcomes for this study.
Ethics declarations
Conflict of Interest
The authors declare that they have no competing interests.
Ethics Approval
This study was approved by the appropriate ethics committee and was performed in accordance with the ethical standards laid down in the 1964 Declaration of Helsinki and its later amendments.
Consent to Participate
Informed consent was obtained from all individual participants included in the study.
About this article
Cite this article
Cash, T.V., Ekouevi, V.S., Kilbourn, C. et al. Pilot Study of a Mindfulness-Based Group Intervention for Individuals with Parkinson's Disease and Their Caregivers. Mindfulness 7, 361–371 (2016). https://doi.org/10.1007/s12671-015-0452-1
Keywords
Parkinson's disease

Caregivers

Mindfulness-based intervention

Compliance

Feasibility