Abstract
We evaluated the feasibility and efficacy of the Community Approach to Learning Mindfully (CALM) program for educators. CALM is a brief daily school-based intervention to promote educator social-emotional competencies, stress management, and wellbeing. Two middle schools were randomly assigned to waitlist control condition or the CALM program. Participants included 64 educators. Intervention sessions included gentle yoga and mindfulness practices and were offered 4 days per week for 16 weeks. Pre- and posttest measurements included self-report surveys of social-emotional functioning and wellbeing, blood pressure readings, and diurnal assays of cortisol. Compared to the control condition, CALM had significant benefits for educators' mindfulness, positive affect, classroom management, distress tolerance, physical symptoms, blood pressure, and cortisol awakening response. There were trend-level effects for two measures related to stress and burnout. No impacts were observed for relational trust, perceived stress, or sleep. Effect sizes for significant impacts ranged from 0.52 to 0.80. Educators found the intervention feasible and beneficial as a method for managing stress and promoting wellbeing. Initial evidence suggests that CALM has potential as a strategy to improve educators' social-emotional competence and wellbeing, prevent stress-related problems, and support classroom functioning.
This is a preview of subscription content, log in to check access.
Access options
Buy single article
Instant access to the full article PDF.
US$ 39.95
Price includes VAT for USA
Subscribe to journal
Immediate online access to all issues from 2019. Subscription will auto renew annually.
US$ 99
This is the net price. Taxes to be calculated in checkout.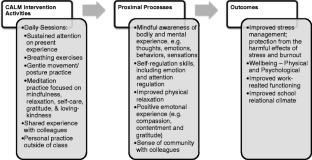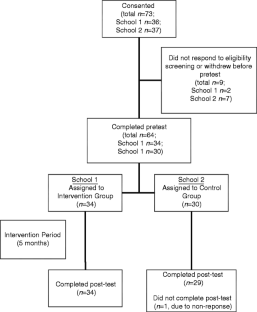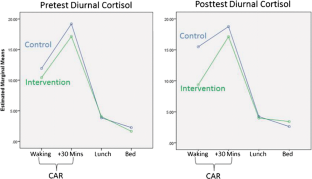 References
Abenavoli, R. M., Jennings, P. A., Greenberg, M. T., Harris, A. R., & Katz, D. A. (2013). The protective effects of mindfulness against burnout among educators. Psychology of Education Review, 37(2), 57–69.

Ancona, M. R., & Mendelson, T. (2014). Feasibility and preliminary outcomes of a yoga and mindfulness intervention for school teachers. Advances in School Mental Health Promotion, 7(3), 156–170.

Baer, R. (2003). Mindfulness training as a clinical intervention: a conceptual and empirical review. Clinical Psychology Science and Practice, 10, 125–143.

Baer, R. A., Smith, G. T., Hopkins, J., Krietemeyer, J., & Toney, L. (2006). Using self-report assessment methods to explore facets of mindfulness. Assessment, 13, 27–45.

Biglan, A., Hayes, S. C., & Pistorello, J. (2008). Acceptance and commitment: implications for prevention science. Prevention Science, 9, 139–152.

Bishop, S. R., Lau, M., Shapiro, S., Carlson, L., Anderson, N. D., Carmody, J., & Devins, G. (2004). Mindfulness: a proposed operational definition. Clinical Psychology:Science and Practice, 11, 230–241.

Bryk, A. S., & Schneider, B. (2002). Trust in schools: a core resource for improvement. New York: Russell Sage.

Buysse, D. J., Yu, L., Moul, D. E., Germain, A., Stover, A., Dodds, N. E., et al. (2010). Development and validation of patient-reported outcome measures for sleep disturbance and sleep-related impairments. Sleep, 33, 781–792.

Chambers, R., Gullone, E., & Allen, N. B. (2009). Mindful emotion regulation: an integrative review. Clinical Psychology Review, 29, 560–72.

Chiesa, A., & Seretti, A. (2009). Mindfulness-based stress reduction for stress management in healthy people: a review and meta-analysis. Journal of Alternative and Complementary Medicine, 5, 593–600.

Chobanian, A.V., Bakris, G.L., Black, H.R., Cushman, W.C., Green, L.A., Izzo, J.L. … & the National High Blood Pressure Education Program Coordinating Committee. (2003). Seventh report of the joint national committee on prevention, detection, evaluation, and treatment of high blood pressure. Hypertension, 42, 1205–1252.

Chong, C. S. M., Tsunaka, M., Tsang, H. W. H., Chan, E. P., & Cheung, W. M. (2011). Effects of yoga on stress management in healthy adults: a systematic review. Alternative Therapies in Health and Medicine, 17, 32–38.

Day, C., & Qing, G. (2009). Teacher emotions: well-being and effectiveness. In P. A. Schutz & M. Zembylas (Eds.), Advances in teacher emotion research: the impact on teachers' lives. New York: Springer.

Durlak, J. A., Weissberg, R. P., Dymnicki, A. B., Taylor, R. D., & Schellinger, K. B. (2011). The impact of enhancing students' social and emotional learning: a meta-analysis of school-based universal interventions. Child Development, 82, 405–432.

Field, T. (2011). Yoga clinical research review. Complementary Therapies in Clinical Practice, 17, 1–8.

Flook, L., Goldberg, S. B., Pinger, L., Bonus, K., & Davidson, R. J. (2013). Mindfulness for teachers: a pilot study to assess effects on stress, burnout, and teaching efficacy. Mind, Brain, & Education, 7, 182–195.

Frank, J. L., Reibel, D., Broderick, P., Cantrell, T., & Metz, S. (2013). The effectiveness of mindfulness-based stress reduction on educator stress and well-being: results from a pilot study. Mindfulness, 6, 208–216.

Fredrickson, B.L., Cohn, M.A., Coffey, K.A., Pek, J., & Finkel, S.M. (2008). Open hearts build lives: Positive emotions, induced through loving-kindness meditation, build consequential personal resources. Journal of Personality and Social Psychology, 95, 1045–1062

Fries, E., Dettenborn, L., & Kirschbaum, C. (2009). The cortisol awakening response (CAR): facts and future directions. International Journal of Psychophysiology, 72(1), 67–73.

Gard, T., Noggle, J. J., Park, C. L., Vago, D. R., & Wilson, A. (2014). Potential self-regulatory mechanisms of yoga for psychological health. Frontiers in Human Neuroscience, 8, 1–20.

Greenberg, M. T., Weissberg, R. P., O'Brien, M. U., Zins, J. E., Fredericks, L., Resnik, F., & Elias, M. J. (2003). Enhancing school-based prevention and youth development through coordinated social, emotional, and academic learning. American Psychologist, 58, 466–474.

Gross, J. J., & John, O. P. (2003). Individual differences in two emotion regulation processes: implications for affect, relationships, and well-being. Journal of Personality and Social Psychology, 85, 348–362.

Grossi, G., Perski, A., Ekstedt, M., Johansson, T., Lindström, M., & Holm, K. (2005). The morning salivary cortisol response in burnout. Journal of psychosomatic research, 59(2), 103–11. doi:10.1016/j.jpsychores.2005.02.009.

Harris, A. R., & Hudecek, K. (2013). The Community Approach to Learning Mindfully (CALM) for Educators Program Manual. Pennsylvania State University, University Park, Pennsylvania: Unpublished Curriculum Manual, Prevention Research Center.

Hölzel, B. K., Lazar, S. W., Gard, T., Schuman-Olivier, Z., Vago, D. R., & Ott, U. (2011). How does mindfulness meditation work? Proposing mechanisms of action from a conceptual and neural perspective. Perspectives on Psychological Science, 6, 537–559.

Jennings, P. A., & Greenberg, M. T. (2009). The prosocial classroom: teacher social and emotional competence in relation to student and classroom outcomes. Review of Educational Research, 79, 491–525.

Jennings, P. A., Frank, J. L., Snowberg, K. E., Coccia, M. A., & Greenberg, M. T. (2013). Improving classroom learning environments by Cultivating Awareness and Resilience in Education (CARE): results of a randomized controlled trial. School Psychology Quarterly, 28, 374–390.

Kabat-Zinn, J. (1990). Full catastrophe living: using the wisdom of your body and mind to face stress, pain, & illness. New York: Bantam Dell.

Kiecolt-Glaser, J. K., Christian, L., Preston, H., Houts, C. R., Malarkey, W. B., Emery, C. F., & Glaser, R. (2010). Stress, inflammation, and yoga practice. Psychosomatic Medicine, 72, 113–121.

Landy, F. J., Rastegary, H., Thayer, J., & Colvin, C. (1991). Time urgency: the construct and its measurement. Journal of Applied Psychology, 76, 644–657.

Larsen, R. J., & Kasimatis, M. (1991). Day-to-day physical symptoms: individual differences in the occurrence, duration, and emotional concomitants of minor daily illnesses. Journal of Personality, 59, 387–423.

Mars, T. S., & Abbey, H. (2010). Mindfulness meditation practice as a healthcare intervention: a systematic review. International Journal of Osteopathic Medicine, 13, 56–66.

Maslach, C., & Jackson, S. E. (1981). Maslach burnout inventory manual. Palo Alto, CA: Consulting Psychologists Press, Inc.

MetLife. (2013). The MetLife Survey of the American Teacher: Challenges for school leadership. New York: Metropolitan Life Insurance Company.

Montgomery, C., & Rupp, A. A. (2005). A meta-analysis for exploring the diverse causes and effects of stress in teachers. Canadian Journal of Education, 28, 458–486.

Mind and Life Education Research Network. (2012). Contemplative practices and mental training: prospects for American education. Child Development Perspectives, 6, 146–153.

Pruessner, J. C., Kirschbaum, C., Meinlschmid, G., & Hellhammer, D. H. (2003). Two formulas for computation of the area under the curve represent measures of total hormone concentration versus time-dependent change. Psychoneuroendocrinology, 28, 916–931.

Roeser, R. W., Skinner, E., Beers, J., & Jennings, P. A. (2012). Mindfulness training and teachers' professional development: an emerging area of research and practice. Child Development Perspectives, 6, 167–173.

Roeser, R. W., Schonert-Reichl, K. A., Jha, A., Cullen, M., Wallace, L., Wilensky, R., Oberle, E., Thomson, K., Taylor, C., & Harrison, J. (2013). Mindfulness training and reductions in teacher stress and burnout: results from two randomized, waitlist-control field trials. Journal of Educational Psychology, 105, 787–804.

Simons, J. S., & Gaher, R. M. (2005). The Distress Tolerance Scale: development and validation of a self-report measure. Motivation and Emotion, 29, 83–102.

Smithson, M. (2003). Confidence Intervals. Thousand Oaks, CA: Sage.

Tschannen-Moran, M., & Hoy, A. W. (2001). Teacher efficacy: capturing an elusive construct. Teaching and Teacher Education, 17, 783–805.

Watson, D., Clark, L. A., & Tellegen, A. (1988). Development and validation of brief measures of positive and negative affect: the PANAS. Journal of Personality and Social Psychology, 54, 1063–1070.
Acknowledgments
This research was supported by grants from the 1440 Foundation and the Penn State Children, Youth, and Families Consortium. Harris, Katz, and Abenavoli were also supported by grant R305B090007, the TIES Pre-doctoral fellowship, from the Institute of Education Sciences.
About this article
Cite this article
Harris, A.R., Jennings, P.A., Katz, D.A. et al. Promoting Stress Management and Wellbeing in Educators: Feasibility and Efficacy of a School-Based Yoga and Mindfulness Intervention. Mindfulness 7, 143–154 (2016). https://doi.org/10.1007/s12671-015-0451-2
Keywords
Yoga

Teachers

Professional development

Education

Mindfulness

Stress management

Wellness promotion

Wellbeing