Abstract
Mindfulness-based interventions (MBIs) can reduce teachers' stress. The purpose of this mixed-method study, conducted within the context of a randomized-control trial of an MBI for teachers, was to examine four potential ways by which the MBI reduced teacher stress, including by (1) increasing their efficacy for regulating emotion on the job; (2) improving their ways of coping with stress at work; (3) increasing their efficacy for forgiving colleagues and students at work following conflict, as well as the tendency to do so; and (4) increasing teachers' tendency to feel compassion for people generally, and for challenging students in particular. Public school teachers (n = 59) were randomized to an MBI or a waitlist control condition. They completed surveys at pre/post/follow-up and interviews at post-program designed to assess their coping with work stressors and their appraisals of their most challenging students. Survey data showed that efficacy beliefs and the tendency to forgive changed from pre/post for teachers in the MBI, and partially mediated reductions in stress from baseline to 4-month follow-up. Interview results showed a trend for teachers in the MBI to report more adaptive strategies for coping with job stress, and a tendency to evaluate challenging students in a more positive affective light. Implications for MBIs in teacher professional development are discussed.
This is a preview of subscription content, log in to check access.
Access options
Buy single article
Instant access to the full article PDF.
US$ 39.95
Price includes VAT for USA
Subscribe to journal
Immediate online access to all issues from 2019. Subscription will auto renew annually.
US$ 99
This is the net price. Taxes to be calculated in checkout.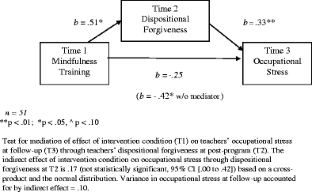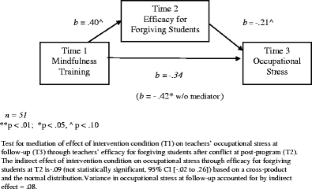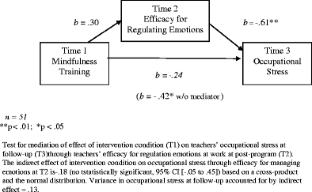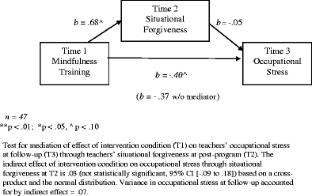 References
Bandura, A. (1997). Self-efficacy: the exercise of control. New York: Freeman and Company.

Bandura, A., Caprara, G. V., Barbaranelli, C., Gerbino, M., & Pastorelli, C. (2003). Role of affective self-regulatory efficacy in diverse spheres of psychosocial functioning. Child Development, 74, 769–782.

Baron, R. M., & Kenny, D. A. (1986). The moderator–mediator variable distinction in social psychological research: conceptual, strategic, and statistical considerations. Journal of Personality and Social Psychology, 51(6), 1173.

Baskin, T. W., & Enright, R. D. (2004). Intervention studies on forgiveness: a meta-analysis. Journal of Counseling and Development, 82, 79–90.

Benn, R., Akiva, T., Arel, S., & Roeser, R. W. (2012). Mindfulness training effects for parents and educators of children with special needs. Developmental Psychology. doi:10.1037/a0027537.

Bishop, S. R., Lau, M., Shapiro, S., Carlson, L., Anderson, N., Carmody, J., Segal, Z., Abbey, S., Speca, M., Velting, D., & Devins, G. (2004). Mindfulness: a proposed operational definition. Clinical Psychology: Science and Practice, 11, 230–241.

Brophy, J., & Rohrkemper, M. (1988). The classroom strategy study: summary report of general findings (research series No. 187). East Lansing, MI: Institute for Research on Teaching.

Brown, R. P., & Phillips, A. (2005). Letting bygones be bygones: further evidence for the validity of the tendency to forgive scale (TTF). Personality and Individual Differences, 38, 627–638.

Brown, K. W., & Ryan, R. M. (2003). The benefits of being present: mindfulness and its role in psychological well-being. Journal of Personality and Social Psychology, 84, 822–848.

Chambers, R., Gullone, E., & Allen, N. B. (2009). Mindful emotion regulation. An integrative review. Clinical Psychology Review, 29, 560–572.

Cullen, M. (2011). Mindfulness-based interventions: an emerging phenomena. Mindfulness, 2, 186–193.

Cullen, M. (2015). http://www.margaretcullen.com.

Cullen, M., & Brito, C. G. (2014). Mindfulness-based emotional balance: navigating life's "full catastrophe" with greater ease and resilience. Oakland, CA: New Harbinger Press.

Eisenberg, N. (2002). Empathy-related emotional responses, altruism, and their socialization. In R. J. Davidson & A. Harrington (Eds.), Visions of compassion: western scientists and Tibetan Buddhists examine human nature (pp. 131–164). London: Oxford University Press.

Eisenberg, N., Fabes, R. A., & Spinrad, T. L. (2006). Prosocial development. In N. Eisenberg (Vol. Ed.) & W. Damon & R. M. Lerner (Series Eds.), Handbook of child psychology: Vol. 3. Social, emotional, personality development (6th ed., pp. 646–718). Hoboken: Wiley.

Enright, R. D., & Fitzgibbons, R. P. (2000). Helping clients forgive: an empirical guide for resolving anger and restoring hope. Washington DC: American Psychological Association.

Flook, L., Goldberg, S. B., Pinger, L., Bonus, K., & Davidson, R. J. (2013). Mindfulness for teachers: a pilot study to assess effects on stress, burnout, and teaching efficacy. Mind, Brain, and Education, 7(3), 182–195.

Ford, M. E. (1992). Motivating humans: goals, emotions, and personal agency beliefs. Newbury Park: Sage Publications.

Goetz, J. L., Keltner, D., & Simon-Thomas, E. (2010). Compassion: an evolutionary analysis and empirical review. Psychological Bulletin, 136, 351–374.

Gross, J. J. (1998). The emerging field of emotion regulation: an integrative review. Review of General Psychology. Special Issue: New Directions in Research on Emotion, 2, 271–299.

Gross, J. J., & John, O. P. (2003). Individual differences in two emotion regulation processes: implications for affect, relationships, and well-being. Journal of Personality and Social Psychology, 85(2), 348.

Hamre, B. K., Pianta, R. C., Downer, J. T., & Mashburn, A. J. (2008). Teachers' perceptions of conflict with young students: looking beyond problem behaviors. Social Development, 17, 115–136.

Han, W. T., Collie, K., Koopman, C., Azarow, J., Classen, C., Morrow, G. R., Michel, B., Breenan-O'Neil, E., & Spiegal, D. (2004). Breast cancer and problems with medical interactions: relationships with traumatic stress, emotional self-efficacy, and social support. Psychooncology, 14, 318–330.

Harris, A. H., Luskin, F., Norman, S. B., Standard, S., Bruning, J., Evans, S., & Thoresen, C. E. (2006). Effects of a group forgiveness intervention on forgiveness, perceived stress, and trait-anger. Journal of Clinical Psychology, 62, 715–733.

Harrison, J. L. (2014). Assessing generic and program-specific dose–response relations between engagement in contemplative practices and reductions in teachers' occupational stress and burnout. Unpublished master's thesis, Portland State University, Oregon.

Hölzel, B. K., Lazar, S. W., Gard, T., Schuman-Olivier, Z., Vago, D. R., & Ott, U. (2011). How does mindfulness meditation work? Proposing mechanisms of action from a conceptual and neural perspective. Perspectives on Psychological Science, 6, 537–559.

Hwang, J. Y., Plante, T., & Lackey, K. (2008). The development of the Santa Clara brief compassion scale: an abbreviation of Sprecher and Fehr's compassionate love scale. Pastoral Psychology, 56, 421–428.

Jennings, P. A., & Greenberg, M. T. (2009). The prosocial classroom: teacher social and emotional competence in relation to student and classroom outcomes. Review of Educational Research, 79(1), 491–525.

Jennings, P., Lantieri, L., & Roeser, R. W. (2012). Supporting educational goals through cultivating mindfulness: approaches for teachers and students. In P. M. Brown, M. W. Corrigan, & A. Higgins-D'Alessandro (Eds.), Handbook of prosocial education. Lanham, MD: Rowan & Littlefield.

Jennings, P. A., Frank, J. L., Snowberg, K. E., Coccia, M. A., & Greenberg, M. T. (2013). Improving classroom learning environments by cultivating awareness and resilience in education (CARE): results of a randomized controlled trial. School Psychology Quarterly, 28(4), 374.

Johnson, S., Cooper, C., Cartwright, S., Donald, I., Taylor, P., & Millet, C. (2005). The experience of work-related stress across occupations. Journal of Managerial Psychology, 20, 178–187.

Kabat-Zinn, J. (1990). Full catastrophe living: using the wisdom of your mind to face stress, pain and illness. New York: Dell Publishing.

Kemeny, M. E., Foltz, C., Cullen, M., Jennings, P., Gillath, O., Wallace, B. A., Cavanaugh, J. F., Giese-Davis, J., Rosenberg, E. L., Shaver, P. R., & Ekman, P. (2012). Contemplative/emotion training reduces negative emotional behavior and promotes prosocial responses. Emotion, 12, 338–350.

Kyriacou, C. (2001). Teacher stress: directions for future research. Educational Review, 53, 27–35.

Lambert, R. G., McCarthy, C. J., & Abbott-Shim, M. (2001). Classroom appraisal of resources and demands: school-age version. Atlanta, GA: Head Start Quality Research Center.

Lawler, K. A., Younger, J. W., Piferi, R. L., Billington, E., Jobe, R., Edmondson, K., & Jones, W. H. (2003). A change of heart: cardiovascular correlates of forgiveness in response to interpersonal conflict. Journal of Behavioral Medicine, 26, 373–393.

Lazarus, R. S., & Folkman, S. (1984). Stress, appraisal, and coping. New York: Springer.

Lazarus, R. S., & Folkman, S. (1987). Transactional theory and research on emotions and coping. European Journal of Personality, 1, 141–169.

Luskin, F. M., Ginzburg, K., & Thoresen, C. E. (2005). The efficacy of forgiveness intervention in college age adults: randomized controlled study. Humboldt Journal of Social Relations, 29, 163–184.

Lutz, A., Dunne, J. D., & Davidson, R. J. (2007). Meditation and the neuroscience of con-sciousness. In P. Zelazo, M. Moscovitch, & E. Thompson (Eds.), Cambridge handbook of consciousness (pp. 499–555). New York, NY: Cambridge University Press.

Lutz, A., Brefczynski-Lewis, J., Johnstone, T., & Davidson, R. J. (2008). Regulation of the neural circuitry of emotion by compassion meditation: effects of meditative expertise. PLoS ONE, 3, e1897.

Lutz, A., Greischar, L. L., Perlman, D., & Davidson, R. J. (2009). BOLD signal in insula is differentially related to cardiac function during compassion meditation in experts versus novices. NeuroImage, 47, 1038–1046.

McCullough, M. E. (2000). Forgiveness as human strength: theory, measurement, and links to well-being. Journal of Social and Clinical Psychology, 19, 43–55.

Mind and Life Education Research Network. (2012). Contemplative practices and mental training: prospects for American education. Child Development Perspectives, 6, 146–153.

Montgomery, C., & Rupp, A. A. (2005). A meta-analysis for exploring the diverse causes and effects of stress in teachers. Canadian Journal of Education, 28, 458–486.

Neff, K. D. (2003). The development and validation of a scale to measure self-compassion. Self and Identity, 2, 223–250.

Pace, T. W., Negi, L. T., Adame, D. D., Cole, S. P., Sivilli, T. I., Brown, T. D., Issa, M. J., & Raison, C. L. (2009). Effect of compassion meditation on neuroendocrine, innate immune and behavioral responses to psychosocial stress. Psychoneuroendocrinology, 34, 87–98.

Palmer, P. (1998). Courage to teach: exploring the inner landscape of a teacher's life. San Francisco: Wiley.

Pennebaker, J. W. (1997). Writing about emotional experiences as a therapeutic process. Psychological Science, 8, 162–166.

Pennebaker, J. W., Mayne, T., & Francis, M. E. (1997). Linguistic predictors of adaptive bereavement. Journal of Personality and Social Psychology, 72, 863–871.

Pennebaker, J.W., Francis, M.E., & Booth, R.J. (2001). Linguistic inquiry and word count: LIWC (2nd ed.) [Computer software]. Mahwah: Erlbaum.

Preacher, K. J., & Hayes, A. F. (2004). SPSS and SAS procedures for estimating indirect effects in simple mediation models. Behavior Research Methods, 36(4), 717–731.

Reed, G. L., & Enright, R. D. (2006). The effects of forgiveness therapy on depression, anxiety, and posttraumatic stress for women after spousal emotional abuse. Journal of Consulting and Clinical Psychology, 74, 920–929.

Ringu Tulku Rinpoche, R. T., & Mullen, K. (2005). The Buddhist use of compassionate imagery in mind healing. In P. Gilbert (Ed.), Compassion: conceptualizations, research and use in psychotherapy (pp. 218–238). New York: Routledge.

Roeser, R. W., & Eccles, J. S. (2015). Mindfulness and compassion in human development: introduction to the special section. Developmental Psychology, 51, 1–6.

Roeser, R. W., & Midgley, C. M. (1997). Teachers' views of aspects of student mental health. The Elementary School Journal, 98, 115–133.

Roeser, R. W., Skinner, E., Beers, J., & Jennings, P. A. (2012). Mindfulness training and teachers' professional development: an emerging area of research and practice. Child Development Perspectives, 6(2), 167–173.

Roeser, R. W., Schonert-Reichl, K. A., Jha, A., Cullen, M., Wallace, L., Wilensky, R., Oberle, E., Thomson, K., Taylor, C., & Harrison, J. (2013). Mindfulness training and reductions in teacher stress and burnout: results from two randomized, waitlist-control field trials. Journal of Educational Psychology. doi:10.1037/a0032093.

Singer, T., & Lamm, C. (2009). The social neuroscience of empathy. Annals of the New York Academy of Sciences, 2009, 81–96.

Skinner, E.A. and Beers. J. (2015). Mindfulness and teachers' coping in the classroom: a developmental model of teacher stress, coping and everyday resilience. K. Schonert-Reichl & R. W. Roeser (Co-Eds.), Handbook on Mindfulness in Education: Emerging Theory, Research, and Programs. Springer-Verlag (in press).

Skinner, E. A., & Zimmer-Gembeck, M. J. (2009). Challenges to the developmental study of coping. In E. Skinner & M. Zimmer-Gembeck (Eds.). Coping and the development of regulation. A volume for the series, R. W. Larson & L. A. Jensen (Eds.-in-Chief), New Directions in Child and Adolescent Development (pp. 5–17). San Francisco: Jossey-Bass.

Sobel, M. E. (1982). Asymptotic confidence intervals for indirect effects in structural equation models. In S. Leinhart (Ed.), Sociological methodology 1982 (pp. 290–312). San Francisco: Jossey-Bass.

Tirch, D. (2010). Mindfulness as a context for the cultivation of compassion. International Journal of Cognitive Therapy, 3, 113–123.

Vago, D. R., & Silbersweig, D. A. (2012). Self-awareness, self-regulation, and self-transcendence (S-ART): a framework for understanding the neurobiological mechanisms of mindfulness. Frontiers in Human Neuroscience, 6, 1–30.

VanOyen Witvliet, C., Ludwig, T. E., & Vander Laan, K. L. (2001). Granting forgiveness or harboring grudges: implications for emotion, physiology, and health. Psychological Science, 12, 117–123.

Waltman, M. A., Russell, D. C., Coyle, C. T., Enright, R. D., Holter, A. C., & Swoboda, C. M. (2009). The effects of a forgiveness intervention on patients with coronary artery disease. Psychology & Health, 24, 11–27.

Watson, D., Clark, L. A., & Tellegen, A. (1988). Development and validation of brief measures of positive and negative affect: the PANAS scales. Journal of Personality and Social Psychology, 54(6), 1063.

Worthington, E. L. (2010). The new science of forgiveness. In D. Keltner, J. Marsh, & J. A. Smith (Eds.), The compassionate instinct: the science of human goodness (pp. 62–71). New York, NY: Norton.
Acknowledgments
This research was made possible through the generosity and support of the Mind and Life Institute, the Fetzer Institute, the Impact Foundation, the Vancouver School Board, the University of British Columbia, and Portland State University. We thank Ulco Visser, our mindfulness instructors Margaret Cullen and Deborah Prieur, and participating teachers and principals.
About this article
Cite this article
Taylor, C., Harrison, J., Haimovitz, K. et al. Examining Ways That a Mindfulness-Based Intervention Reduces Stress in Public School Teachers: a Mixed-Methods Study. Mindfulness 7, 115–129 (2016). https://doi.org/10.1007/s12671-015-0425-4
Keywords
Mindfulness

Stress reduction

Teaching

Self-compassion

Efficacy beliefs

Coping