Access options
Buy single article
Instant access to the full article PDF.
US$ 39.95
Tax calculation will be finalised during checkout.
Subscribe to journal
Immediate online access to all issues from 2019. Subscription will auto renew annually.
US$ 79
Tax calculation will be finalised during checkout.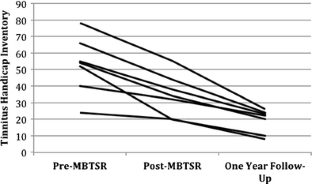 References
Andersson, G., Baguley, D. M., McKenna, L., & McFerran, D. J. (2005). Tinnitus: a multidisciplinary approach. London: Whurr.

Baguley, D. M. (2002). Mechanisms of tinnitus. British Medical Bulletin, 63, 195–212.

Department of Veterans Affairs. (2010). Veterans benefits administration. Annual Benefits Report, 2010, 5. FY.

Folmer, R. L., & Griest, S. E. (2000). Tinnitus and insomnia. American Journal of Otolaryngology, 21(5), 287–293.

Gans, J. J., O'Sullivan, P., & Bircheff, V. (2013). Mindfulness based tinnitus stress reduction pilot study. Mindfulness, 3(4), 1–12.

Hebert, S., & Lupien, S. J. (2007). The sound of stress: blunted cortisol reactivity to psychosocial stress in tinnitus sufferers. Neuroscience Letters, 411(2), 138–42.

Heller, A. J. (2003). Classification and epidemiology of tinnitus. Otolaryngologic Clinics of North America, 36(2), 239–248.

Kabat-Zinn, J. (1982). An outpatient program in behavioral medicine for chronic pain patients based on the practice of mindfulness meditation: theoretical considerations and preliminary results. General Hospital Psychiatry, 4, 33–47.

Lockwood, A. H., Salvi, R. J., & Burkard, R. F. (2002). Tinnitus. New England Journal of Medicine, 347, 904–910.

Martinez Devesa, P., Perera, R., Theodoulou, M., & Waddell, A. (2010). Cognitive behavioural therapy for tinnitus. Cochrane Database of Systematic Reviews, 9, CD005233.

Mazurek, B., Stöver, T., Haupt, H., Klapp, B. F., Adli, M., Gross, J., & Szczepek, A. J. (2010). The significance of stress: its role in the auditory system and the pathogenesis of tinnitus. Hals-, Nasen-, Ohren-Heilkunde, 58, 162–172.

Meikle, M. B., Stewart, B. J., Griest, S. E., Martin, W. H., Henry, J. A., Abrams, H. B., et al. (2007). Assessment of tinnitus: measurement of treatment outcomes. Progress in Brain Research, 166, 511–521.

Sanchez, L., & Stephens, D. (1997). A tinnitus problem questionnaire in a clinic population. Ear and Hearing, 18, 210–217.

Shargorodsky, J., Curhan, G., & Wildon, R. (2010). Prevalence and characteristics of tinnitus among US adults. American Journal of Medicine, 123(8), 711–718.
About this article
Cite this article
Gans, J.J., Cole, M.A. & Greenberg, B. Sustained Benefit of Mindfulness-Based Tinnitus Stress Reduction (MBTSR) in Adults with Chronic Tinnitus: a Pilot Study. Mindfulness 6, 1232–1234 (2015). https://doi.org/10.1007/s12671-015-0403-x
Keywords
Cognitive Behavioral Therapy

Mindfulness Practice

MBSR Program

Chronic Tinnitus

Tinnitus Handicap Inventory