Abstract
Adolescence is a critical period for intervention with at-risk youth to promote emotional well-being, deter problematic behavior, and prevent the onset of life-long challenges. Despite preliminary evidence supporting mindfulness interventions for at-risk youth, few studies have included implementation details or reported feasibility and acceptance in ethnically diverse at-risk adolescents in a school setting. We conducted a randomized pilot study of a school-based mindfulness program, Learning to BREATHE, with ethnically diverse at-risk adolescents. Twenty-seven students were randomly assigned to a mindfulness or substance abuse control class that occurred for 50 min, once a week, over one school semester. Adjustments were made to increase acceptability of the mindfulness class, including enhanced instructor engagement in school activities. Reductions in depression were seen for students in the mindfulness class compared to controls. Initially, students' perceived credibility of the mindfulness class was lower than that of the substance abuse class. Over the semester, perceived credibility of the mindfulness class increased while that of the substance abuse class decreased. Qualitative acceptability measures revealed that the mindfulness class helped to relieve stress and that students favored continuing the class. This study provides practical knowledge about what works with this unique population in a school setting and offers suggestions for future studies.
Access options
Buy single article
Instant access to the full article PDF.
USD 39.95
Price excludes VAT (USA)
Tax calculation will be finalised during checkout.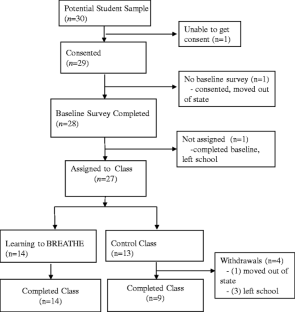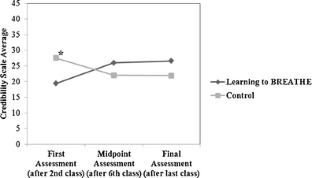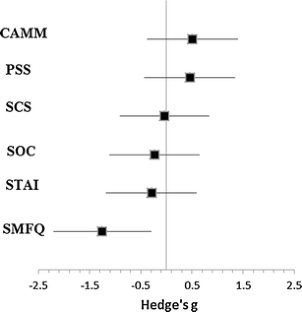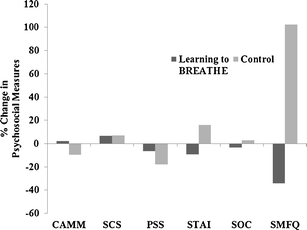 References
Angold, A., Costello, E. J., & Messer, S. C. (1995). Development of a short questionnaire for use in epidemiological studies of depression in children and adolescents. International Journal of Methods in Psychiatric Research, 5, 237–249.

Biegel, G., Brown, K., Shapiro, S., & Schubert, C. (2009). Mindfulness-based stress reduction for the treatment of adolescent psychiatric outpatients: a randomized clinical trial. Journal of Clinical and Consulting Psychology, 77(5), 855–866.

Black, D. S., Milam, J., & Sussman, S. (2009). Sitting-meditation interventions among youth: a review of treatment efficacy. Pediatrics, 124(3), e532–e541. doi:10.1542/peds. 2008-3434.

Blakemore, S. J., & Mills, K. L. (2014). Is adolescence a sensitive period for sociocultural processing? Annual Review of Psychology, 65, 187–207. doi:10.1146/annurev-psych-010213-115202.

Blakemore, J., Berenbaum, S., & Liben, L. (2009). Gender development. Clifton: Psychology Press.

Boggess, L. N., & Linnemann, T. W. (2011). At-risk youth. In W. J. Chambliss (Ed.), Juvenile crime and justice. New York: Sage.

Borkovec, T. D., & Nau, S. D. (1972). Credibility of analogue therapy rationales. Journal of Behaioral Therapy & Experimental Psychiatry, 3, 257–260.

Britton, W., Bootzin, R., Cousins, J., Hasler, B., Peck, T., & Shapiro, S. (2010). The contribution of mindfulness practice to a multicomponent behavioral sleep intervention following substance abuse treatment in adolescents: a treatment-development study. Substance Abuse, 31(2), 86–97. doi:10.1080/08897071003641297.

Broderick, P. (2013). Learning to BREATHE: a mindfulness curriculum for adolescents to cultivate emotion regulation, attention, and performance. Oakland: New Harbinger Press.

Broderick, P., & Metz, S. (2009). Learning to BREATHE: a pilot trial of a mindfulness curriculum for adolescents. Advances in School Mental Health Promotion, 2(1), 35–46.

Burke, C. A. (2010). Mindfulness-based approaches with children and adolescents: a preliminary review of current research in an emergent field. Journal of Child and Family Studies, 19(2), 133–144. doi:10.1007/s10826-009-9282-x.

Cohen, J. (1988). Statistical power analysis for the behavioral sciences (2nd ed.). Hillsdale: L. Erlbaum Associates.

Cohen, S., & Williamson, G. (1988). Perceived stress in a probability sample of the United States. In S. Spacapan & S. Oskamp (Eds.), The social psychology of health. Newbury Park: Sage.

Cohen, S., Kamarck, T., & Mermelstein, R. (1983). A global measure of perceived stress. Journal of Health and Social Behavior, 24(4), 385–396.

Cumming, G. (2014). The new statistics: why and how. Psychological Science, 25(1), 7–29. doi:10.1177/0956797613504966.

Divall, S., & Radovick, S. (2008). Pubertal development and menarche. Annals of the New York Academy of Sciences, 1135, 19–28.

Durlak, J. A. (2009). How to select, calculate, and interpret effect sizes. Journal of Pediatric Psychology, 34(9), 917–928. doi:10.1093/jpepsy/jsp004.

Durlak, J. A., Weissberg, R. P., Dymnicki, A. B., Taylor, R. D., & Schellinger, K. B. (2011). The impact of enhancing students' social and emotional learning: a meta-analysis of school-based universal interventions. Child Development, 82(1), 405–432. doi:10.1111/j.1467-8624.2010.01564.x.

Forman, E. M., & Davies, P. T. (2003). Family instability and young adolescent maladjustment: the mediating effects of parenting quality and adolescent appraisals of family security. Journal of Clinical Child and Adolescent Psychology, 32(1), 94–105.

Grabbe, L., Nguy, S. T., & Higgins, M. K. (2012). Spirituality development for homeless youth: a mindfulness meditation feasibility pilot. Journal of Child and Family Studies, 21(6), 925–937.

Greco, L., Baer, R. A., & Smith, G. T. (2011). Assessing mindfulness in children and adolescents: development and validation of the child and adolescent mindfulness measure (CAMM). Psychological Assessment, 23(3), 606–614.

Greenwood, P., Niemann, L., Schmidt, S., & Walach, H. (2004). Mindfulness-based stress reduction and health benefits: a meta-analysis. Journal of Psychosomatic Research, 57(1), 35–43.

Greeson, J. M. (2009). Mindfulness research update: 2008. Complementary Health Practice Review, 14(10), 10–18.

Himelstein, S. (2011). Mindfulness-based substance abuse treatment for incarcerated youth: a mixed method pilot study. International Journal of Transpersonal Studies, 30(1–2), 1–10.

Himelstein, S. (2012). A qualitative investigation of the experience of a mindfulness-based intervention with incarcerated adolescents. Child and Adolescent Mental Health. doi:10.1111/j.1475-3588.2011.00647.

Himelstein, S., Hastings, A., Shapiro, S., & Heery, M. (2011). Mindfulness training for self-regulation and stress with incarcerated youth: a pilot study. Probation Journal, 59(2), 151–165.

Himelstein, S., Saul, S., Garcia-Romeu, A., & Pinedo, D. (2014). Mindfulness training as an intervention for substance user incarcerated adolescents: a pilot grounded theory study. Substance Use and Misuse, 49(5), 560–570. doi:10.3109/10826084.2013.852580.

Johnson, D., & Greenberg, M. T. (2013). Parenting and early adolescence internalizing: the importance of teasing apart anxiety and depressive symptoms. Journal of Early Adolescence, 33, 201–226.

Kabat-Zinn, J. (1990). Full catastrophe living. New York: Random House.

Keenan, K., Hipwell, A., Feng, X., Babinski, D., Hinze, A., Rischall, M., & Henneberger, A. (2008). Subthreshold symptoms of depression in preadolescent girls are stable and predictive of depressive disorders. Journal of the American Academy of Child and Adolescent Psychiatry, 47(12), 1433–1442.

Kerrigan, D., Johnson, K., Stewart, M., Magyari, T., Hutton, N., Ellen, J. M., & Sibinga, E. M. (2011). Perceptions, experiences, and shifts in perspective occurring among urban youth participating in a mindfulness-based stress reduction program. Complementary Therapies in Clinical Practice, 17(2), 96–101. doi:10.1016/j.ctcp.2010.08.003.

Khoury, B., Lecomte, T., Fortin, G., Masse, M., Therien, P., Bouchard, V., & Hofmann, S. G. (2013). Mindfulness-based therapy: a comprehensive meta-analysis. Clinical Psychology Review, 33(6), 763–771. doi:10.1016/j.cpr.2013.05.005.

Kuyken, W., Weare, K., Ukoumunne, O. C., Vicary, R., Motton, N., Burnett, R., & Huppert, F. (2013). Effectiveness of the mindfulness in schools programme: non-randomised controlled feasibility study. British Journal of Psychiatry, 203(2), 126–131. doi:10.1192/bjp.bp.113.126649.

Lee, R. M., & Robbins, S. B. (1995). Measuring belongingness—the social connectedness and the social assurance scales. Journal of Counseling Psychology, 42(2), 232–241. doi:10.1037//0022-0167.42.2.232.

Leonard, N. R., Jha, A. P., Casarjian, B., Goolsarran, M., Garcia, C., Cleland, C. M., & Massey, Z. (2013). Mindfulness training improves attentional task performance in incarcerated youth: a group randomized controlled intervention trial. Frontiers in Psychology, 4, 792. doi:10.3389/fpsyg.2013.00792.

Lovallo, W. R. (2001). Stress and health: biological and psychological interactions. Thousand Oaks: Sage.

Lupien, S. J., McEwan, B. S., Gunnar, M. R., & Heim, C. (2009). Effects of stress throughout the lifespan on the brain, behaviour and cognition. Nature Reviews Neuroscience, 10(6), 434–445.

Marteau, T. M., & Bekker, H. (1992). The development of a six-item short-form of the state scale of the Spielberger State-Trait Anxiety Inventory (STAI). British Journal of Clinical Psychology, 31(Pt 3), 301–306.

McEwan, B. S. (2008). Central effects of stress hormones in health and disease: understanding the protective and damaging effects fo stress and strss mediators. European Journal of Pharmacology, 583(2–3), 174–185.

McKenry, P. C., & Price, S. J. (2005). Families coping with change. In P. C. McKenry & S. J. Price (Eds.), Families and change: coping with stressful events and transitions (3rd ed., p. 10). Thousand Oaks: Sage.

McKnight, C., Huebner, E., & Suldo, S. (2002). Relationships among stressful life events, temperament, problem behavior, and global life satisfaction in adolescents. Psychology in the Schools, 39(6), 677–687. doi:10.1002/pits.10062.

Merikangas, K. R., He, J. P., Brody, D., Fisher, P. W., Bourdon, K., & Koretz, D. S. (2010). Prevalence and treatment of mental disorders among US children in the 2001–2004 NHANES. Pediatrics, 125(1), 75–81. doi:10.1542/peds. 2008-2598.

Metz, S., Frank, J., Reibel, D., Cantrell, T., Sanders, R., & Broderick, P. (2013). The effectiveness of the learning to BREATHE program on adolescent emotion regulation. Research in Human Development, 10(3), 252–272.

Moher, D., Hopewell, S., Schulz, K. F., Montori, V., Gotzsche, P. C., Devereaux, P. J., & Altman, D. G. (2010). CONSORT 2010 explanation and elaboration: updated guidelines for reporting parallel group randomised trials. Journal of Clinical Epidemiology, 63(8), e1–e37. doi:10.1016/j.jclinepi.2010.03.004.

Murray, D. M., Varnell, S. P., & Blitstein, J. L. (2004). Design and analysis of group-randomized trials: a review of recent methodological developments. American Journal of Public Health, 94, 422–432.

Neff, K. D. (2003). Self-compassion: an alternative conceptualization of a healthy attitude toward oneself. Self and Identity, 2, 85–101.

Paus, T., Keshavan, M., & Giedd, J. N. (2008). Why do many psychiatric disorders emerge during adolescence? Nature Reviews Neuroscience, 9(12), 947–957.

Pine, D. S., Cohen, E., & Brook, J. (1999). Adolescent depressive symptoms as predictors of adult depression: moodiness or mood disorder? American Journal of Psychiatry, 156(1), 133–135.

Raes, F., Pommier, E., Neff, K. D., & Van Gucht, D. (2011). Construction and factorial validation of a short form of the self-compassion scale. Clinical Psychology & Psychotherapy, 18(3), 250–255. doi:10.1002/Cpp.702.

Robles-Pina, R. A., DeFrance, E., Cox, D., & Woodward, A. (2005). Depression in urban adolescents. International Journal on School Disaffection, 3(2), 8–14.

Sibinga, E. M., Stewart, M., Magyari, T., Welsh, C. K., Hutton, N., & Ellen, J. M. (2008). Mindfulness-based stress reduction for HIV-infected youth: a pilot study. Explore (New York), 4(1), 36–37. doi:10.1016/j.explore.2007.10.002.

Sibinga, E. M., Kerrigan, D., Stewart, M., Johnson, K., Magyari, T., & Ellen, J. M. (2011). Mindfulness-based stress reduction for urban youth. Journal of Alternative and Complementary Medicine, 17(3), 213–218. doi:10.1089/acm.2009.0605.

Sibinga, E. M., Perry-Parrish, C., Chung, S., Johnson, S. B., Smith, M., & Ellen, J. M. (2013). School-based mindfulness instruction for urban male youth: a small randomized controlled trial. Preventative Medicine, 57(6), 799–801. doi:10.1016/j.ypmed.2013.08.027.

Smith, D. C., Hall, J. A., Williams, J. K., An, H., & Gotman, N. (2006). Comparative efficacy of family and group treatment for adolescent substance abuse. American Journal on Addictions, 15, s131–s136. doi:10.1080/10550490601006253.

Stevens, S. J., Schwebel, R., & Ruiz, B. (2007). Seven challenges: an effective treatment for adolescents with co-occurring substance abuse and mental health problems. Journal of Social Work Practice in the Addictions, 7(3), 29–49.

Susman, E., & Dorn, L. (2009). Puberty: its role in development. In R. M. Lerner & L. Steinberg (Eds.), Handbook of adolescent psychology (3rd ed.). New York: Wiley.

Whitaker, R. C., Dearth-Wesley, T., Gooze, R. A., Becker, B. D., Gallagher, K. C., & McEwen, B. S. (2014). Adverse childhood experiences, dispositional mindfulness, and adult health. Preventive Medicine, 67, 147–153.

Zoogman, S., Goldberg, S., Hoyt, W., & Miller, L. (2014). Mindfulness interventions with youth: a meta-analysis. Mindfulness. doi:10.1007/s12671-013-0260-4.
Acknowledgments
Funding was provided in part by grant number T32AT003378-04 from the National Center on Complementary and Alternative Medicine (NCCAM) and grant number R01 MH099076 from the National Institute of Mental Health (NIMH) at the National Institutes of Health (NIH). Analyses and conclusions are the responsibility of the authors rather than the funders.
About this article
Cite this article
Bluth, K., Campo, R.A., Pruteanu-Malinici, S. et al. A School-Based Mindfulness Pilot Study for Ethnically Diverse At-Risk Adolescents. Mindfulness 7, 90–104 (2016). https://doi.org/10.1007/s12671-014-0376-1
Published:

Issue Date:

DOI: https://doi.org/10.1007/s12671-014-0376-1
Keywords
Mindfulness

Ethnically diverse

At-risk adolescents

School-based interventions

Feasibility

Psychosocial outcomes