Abstract
This research explored whether developing mindfulness and self-compassion through meditation supports weight loss. The research addressed if (a) mindfulness meditation and (b) mindfulness with self-compassion Meditation (through loving kindness meditation and psycho-educational material to develop self-compassion) aid weight loss and maintenance. Sixty-three soldiers followed independent diet plans and were randomly assigned to a control group, or, one of the two meditation interventions for 5 weeks. Participants lost weight in both experimental groups, while the control group gained weight during the initial 5 weeks. Six months of subsequent, self-motivated and unguided meditative practice, revealed that only the mindfulness with self-compassion meditation group continued losing weight, while the mindfulness meditation group showed no significant weight differences. At a 1-year follow-up, both experimental groups regained some weight, while the control group paradoxically lost weight. Overall, however, the mindfulness with self-compassion meditation group lost significantly more weight than either of the two remaining groups (which did not significantly differ). The findings suggest that developing both mindfulness and self-compassion appears more promising for weight loss than developing mindfulness alone or simply dieting; nevertheless, weight maintenance requires more attention in future research.
Access options
Buy single article
Instant access to the full article PDF.
USD 39.95
Price excludes VAT (USA)
Tax calculation will be finalised during checkout.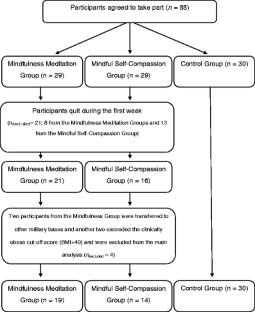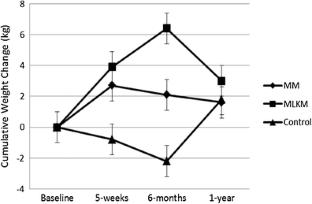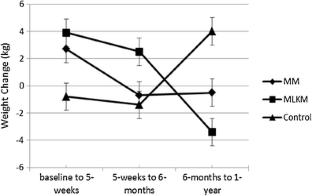 References
Adams, C. E., & Leary, M. R. (2007). Promoting self-compassionate attitudes toward eating among restrictive and guilty eaters. Journal of Social and Clinical Psychology, 26(10), 1120–1144.

Alberts, H. J. E. M., Thewissen, R., & Raes, L. (2012). Dealing with problematic eating behavior. The effects of a mindfulness-based intervention on eating behavior, food cravings, dichotomous thinking and body image concern. Appetite, 58(3), 847–851.

Baer, R. A. (2003). Mindfulness training as a clinical intervention: a conceptual and empirical review. Clinical Psychology: Science and Practice, 10(2), 125–143.

Baer, R. A. (2010). Self-compassion as a mechanism of change in mindfulness- and acceptance-based treatments. In R. A. Baer (Ed.), Assessing mindfulness & acceptance processes in clients (pp. 135–154). Oakland: New Harbinger.

Birnie, K., Speca, M., & Carlson, L. E. (2010). Exploring self‐compassion and empathy in the context of mindfulness‐based stress reduction (MBSR). Stress and Health, 26(5), 359–371.

Blair, A. J., Lewis, V. J., & Booth, D. A. (1990). Does emotional eating interfere with success in attempts at weight control? Appetite, 15(2), 151–157.

Brown, K. W., & Ryan, R. M. (2003). The benefits of being present: mindfulness and its role in psychological well-being. Journal of Personality and Social Psychology, 84(4), 822–848.

Chernyak, Y., & Lowe, M. R. (2010). Motivations for dieting: drive for thinness is different from drive for objective thinness. Journal of Abnormal Psychology, 119(2), 276–281.

Chödrön, P. (1996). Awakening loving-kindness. Boston: Shambhala.

Chödrön, P., & Otro, T. (2001). Tonglen: the path of transformation. Halifax: Vajradhatu.

Cohen, D. A., & Farley, T. A. (2008). Eating as an automatic behavior. Preventing Chronic Disease, 5(1), A23.

Conradt, M., Dierk, J. M., Schlumberger, P., Rauh, E., Hebebrand, J., & Rief, W. (2008). Who copes well? Obesity‐related coping and its associations with shame, guilt, and weight loss. Journal of Clinical Psychology, 64(10), 1129–1144.

Dalen, J., Smith, B. W., Shelley, B. M., Lee Sloan, A., Leahigh, L., & Begay, D. (2010). Pilot study: mindful eating and living (MEAL): weight, eating behavior, and psychological outcomes associated with a mindfulness-based intervention for people with obesity. Complementary Therapies in Medicine, 18, 260–264.

Daubenmier, J., Kristeller, J., Hecht, F. M., Maninger, N., Kuwata, M., Jhaveri, K., & Epel, E. (2011). Mindfulness intervention for stress eating to reduce cortisol and abdominal fat among overweight and obese women: an exploratory randomized controlled study. Journal of Obesity, 2011, 1–13.

Davidson, R. (2007). Changing the brain by transforming the mind. The impact of compassion training on the neural systems of emotion. Paper presented at the 13th Annual Mind and Life Institute Conference, Atlanta, GA.

Elfhag, K., & Morey, L. C. (2008). Personality traits and eating behavior in the obese: poor self-control in emotional and external eating but personality assets in restrained eating. Eating Behaviors, 9(3), 285–293.

Ferreira, C., Pinto-Gouveia, J., & Duarte, C. (2013). Self-compassion in the face of shame and body image dissatisfaction: implications for eating disorders. Eating Behaviors, 14(2), 207–210.

Forman, E. M., Butryn, M. L., Hoffman, K. L., & Herbert, J. D. (2009). An open trial of an acceptance-based behavioural intervention for weight loss. Cognitive and Behavioral Practice, 16(2), 223–235.

Friedman, K. E., Reichmann, S. K., Costanzo, P. R., Zelli, A., Ashmore, J. A., & Musante, G. J. (2005). Weight stigmatization and ideological beliefs: relation to psychological functioning in obese adults. Obesity, 13(5), 907–916.

Gavin, A. R., Simon, G. E., & Ludman, E. J. (2010). The association between obesity, depression, and educational attainment in women: the mediating role of body image dissatisfaction. Journal of Psychosomatic Research, 69(6), 573–581.

Gilbert, P. (2009). The compassionate mind. London: Constable.

Gilbert, P., & Choden. (2013). Mindful compassion. London: Constable & Robinson.

Goldin, P. R., & Gross, J. J. (2010). Effects of mindfulness-based stress reduction (MBSR) on emotion regulation in social anxiety disorder. Emotion, 10(1), 83–91.

Greeno, C. G., & Wing, R. R. (1994). Stress-induced eating. Psychological Bulletin, 115(3), 444–464.

Grossman, P. (2013). Kindness and compassion as integral to mindfulness—experiencing the knowable in a special way. In T. Singer & M. Bolz (Eds.), Compassion: bridging practice and science (pp. 192–207). Munich: Max Planck Society.

Grossman, P., & Van Dam, N. T. (2011). Mindfulness, by any other name…: trials and tribulations of sati in western psychology and science. Contemporary Buddhism, 12(01), 219–239.

Heffner, M., Sperry, J., Eifert, G. H., & Detweiler, M. (2002). Acceptance and commitment therapy in the treatment of an adolescent female with anorexia nervosa: a case example. Cognitive and Behavioral Practice, 9(3), 232–236.

Herman, C. P., & Mack, D. (1975). Restrained and unrestrained eating. Journal of Personality, 43(4), 647–660.

Hofmann, S. G., Grossman, P., & Hinton, D. E. (2011). Loving-kindness and compassion meditation: potential for psychological interventions. Clinical Psychology Review, 31(7), 1126–1132.

Hofmann, W., Rauch, W., & Gawronski, B. (2007). And deplete us not into temptation: automatic attitudes, dietary restraint, and self-regulatory resources as determinants of eating behavior. Journal of Experimental Social Psychology, 43(3), 497–504.

Hollis-Walker, L., & Colosimo, K. (2011). Mindfulness, self-compassion, and happiness in non-meditators: a theoretical and empirical examination. Personality and Individual Differences, 50(2), 222–227.

Jeffery, R. W., Epstein, L. H., Wilson, G. T., Drewnowski, A., Stunkard, A. J., & Wing, R. R. (2000). Long-term maintenance of weight loss: current status. Health Psychology, 19(1), 5–16.

Kabat-Zinn, J. (1982). An outpatient program in behavioral medicine for chronic pain patients based on the practice of mindfulness meditation: theoretical considerations and preliminary results. General Hospital Psychiatry, 4(1), 33–47.

Kabat-Zinn, J. (1990). Full catastrophe living: using the wisdom of your body and mind to face stress, pain, and illness. New York: Delacourt.

Kabat Zinn, J. (2003). Mindfulness based interventions in context: past, present, and future. Clinical Psychology: Science and Practice, 10(2), 144–156.

Kabat-Zinn, J. (2006). Coming to our senses: healing ourselves and the world through mindfulness. New York: Hyperion.

Kabat-Zinn, J. et al. (1992). Effectiveness of a meditation-based stress reduction program in the treatment of anxiety disorders. American Journal of Psychiatry, 149(7), 936–943.

Katterman, S. N., Kleinman, B. M., Hood, M. M., Nackers, L. M., & Corsica, J. (2014). Mindfulness meditation as an intervention for binge eating, emotional eating, and weight loss: a systematic review. Eating Behaviors, 15(2), 197–204.

Kearney, D. J., Milton, M. L., Malte, C. A., McDermott, K. A., Martinez, M., & Simpson, T. L. (2012). Participation in mindfulness-based stress reduction is not associated with reductions in emotional eating or uncontrolled eating. Nutrition Research, 32(6), 413–420.

Kristeller, J. L., & Hallett, C. B. (1999). An exploratory study of a meditation-based intervention for binge eating disorder. Journal of Health Psychology, 4(3), 357–363.

Kristeller, J. L., & Wolever, R. Q. (2010). Mindfulness-based eating awareness training for treating binge eating disorder: the conceptual foundation. Eating Disorders, 19(1), 49–61.

Kristeller, J., Wolever, R. Q., & Sheets, V. (2013). Mindfulness-based eating awareness training (MB-EAT) for binge eating: a randomized clinical trial. Mindfulness, 5(3), 282–297.

Lakey, C. E., Campbell, W. K., Brown, K. W., & Goodie, A. S. (2007). Dispositional mindfulness as a predictor of the severity of gambling outcomes. Personality and Individual Differences, 43(7), 1698–1710.

Lattimore, P., Fisher, N., & Malinowski, P. (2011). A cross-sectional investigation of trait disinhibition and its association with mindfulness and impulsivity. Appetite, 56(2), 241–248.

Levesque, C., & Brown, K. W. (2007). Mindfulness as a moderator of the effect of implicit motivational self-concept on day-to-day behavioral motivation. Motivation and Emotion, 31(4), 284–299.

Ludwig, D. S., & Kabat-Zinn, J. (2008). Mindfulness in Medicine. Journal of the American Medical Association, 300(11), 1350–1352.

Levine, N. (2007). Against the stream: a Buddhist manual for spiritual revolutionaries. New York: HarperOne.

Mantzios, M. & Giannou, K. (2014). Group vs. single mindfulness meditation: exploring avoidance, impulsivity and weight management in two separate mindfulness meditation settings. Applied Psychology: Health and Well-Being, 1–19.

Mantzios, M., & Wilson, C. J. (2013). How concrete construals can become mindful: a novel approach of developing mindfulness and self-compassion to assist weight loss. Psychology & Health, 1–21.

Mantzios, M., Wilson, J. C., Linnell, M., & Morris, P. (2014). The role of negative cognitions, intolerance of uncertainty, mindfulness, and self-compassion in weight regulation among male army recruits. Mindfulness, 1–8.

Miller, C. K., Kristeller, J. L., Headings, A., Nagaraja, H., & Miser, F. (2012). Comparative effectiveness of a mindful eating intervention to a diabetes self-management intervention among adults with type 2 diabetes: a pilot study. Journal of the Academy of Nutrition and Dietetics, 112, 1835–1842.

Nederkoorn, C., Smulders, F. T. Y., Havermans, R. C., Roefs, A., & Jansen, A. (2006). Impulsivity in obese women. Appetite, 47(2), 253–256.

Neff, K. D. (2003a). The development and validation of a scale to measure self-compassion. Self and Identity, 2(3), 223–250.

Neff, K. D. (2003b). Self-compassion: an alternative conceptualization of a healthy attitude toward oneself. Self and Identity, 2(2), 85–101.

Neff, K. D., & Dahm, K. A. (2014). Self-compassion: what it is, what it does, and how it relates to mindfulness. In M. Robinson, B. Meier, & B. Ostafin (Eds.), Mindfulness and self-regulation. New York: Springer.

Neff, K. D., & Germer, C. K. (2013). A pilot study and randomized controlled trial of the mindful self‐compassion program. Journal of Clinical Psychology, 69(1), 28–44.

Neff, K. D. (2011). Self‐compassion, self‐esteem, and well‐being. Social and Personality Psychology Compass, 5(1), 1–12.

Robinson, E., Aveyard, P., Daley, A., Jolly, K., Lewis, A., Lycett, D., & Higgs, S. (2013). Eating attentively: a systematic review and meta-analysis of the effect of food intake memory and awareness on eating. The American Journal of Clinical Nutrition, 97(4), 728–742.

Rogge, M., Greenwald, M., & Golden, A. (2004). Obesity, stigma and civilized oppression. Advances in Nursing Science, 27(4), 301–315.

Romero-Corral, A., Lopez-Jimenez, F., Sierra-Johnson, J., & Somers, V. K. (2008). Differentiating between body fat and lean mass—how should we measure obesity? Nature Clinical Practice Endocrinology & Metabolism, 4(6), 322–323.

Shapiro, S. L., Astin, J. A., Bishop, S. R., & Cordova, M. (2005). Mindfulness-based stress reduction for health care professionals: results from a randomized trial. International Journal of Stress Management, 12(2), 164–176.

Segal, Z. V., Williams, J. M. G., & Teasdale, J. D. (2002). Mindfulness-based cognitive therapy for depression: a new approach to preventing relapse. New York: Guilford Press.

Sloan, D. M. (2004). Emotion regulation in action: emotional reactivity in experiential avoidance. Behaviour Research and Therapy, 42(11), 1257–1270.

Tapper, K., Shaw, C., Ilsley, J., Hill, A. J., Bond, F. W., & Moore, L. (2009). Exploratory randomised controlled trial of a mindfulness-based weight loss intervention for women. Appetite, 52(2), 396–404.

Timmerman, G. M., & Brown, A. (2012). The effect of a mindful restaurant eating intervention on weight management in women. Journal of Nutrition Education and Behavior, 44, 22–28.

Van Dam, N. T., Sheppard, S. C., Forsyth, J. P., & Earleywine, M. (2011). Self-compassion is a better predictor than mindfulness of symptom severity and quality of life in mixed anxiety and depression. Journal of Anxiety Disorders, 25(1), 123–130.

Wansink, B., & Sobal, J. (2007). Mindless eating: the 200 daily food decisions we overlook. Environment and Behaviour, 39(1), 106–123.

Weibel, D. T. (2007). A loving-kindness intervention: boosting compassion for self and others. Retrieved from the Ohio University Theses database (Document number: ohiou1190652251): http://etd.ohiolink.edu/view.cgi?acc_num=ohiou1190652251

Wenk-Sormaz, H. (2005). Meditation can reduce habitual responding. Advances in Mind-Body Medicine, 21(3–4), 33–49.
About this article
Cite this article
Mantzios, M., Wilson, J.C. Exploring Mindfulness and Mindfulness with Self-Compassion-Centered Interventions to Assist Weight Loss: Theoretical Considerations and Preliminary Results of a Randomized Pilot Study. Mindfulness 6, 824–835 (2015). https://doi.org/10.1007/s12671-014-0325-z
Published:

Issue Date:

DOI: https://doi.org/10.1007/s12671-014-0325-z
Keywords
Self-compassion

Mindfulness

Mindfulness meditation

Loving kindness meditation

Weight loss

Obesity