Abstract
With much investigation done on the effects of mindfulness in the area of health and well-being, research in other areas remains lacking. This current study aimed to address this gap in the research by examining the effects of mindfulness training on task performance, further highlighting a possible association between increased group performance as a result of mindfulness training and increased group cohesion. This current study also aimed to add qualitatively to the research by examining Irish attitudes towards the concept of mindfulness. Participants took part in a 10-min mindfulness intervention (or 10-min control intervention), after which they completed a 40-min group decision-making task. Results suggest that mindfulness does have a positive effect on group performance with participants in the mindfulness condition scoring significantly higher on the group task. Results also supported a possible association between group performance and group cohesion. In investigating Irish attitudes, findings revealed a high level of openness, with self-reported open-mindedness and perceived importance accounting for these attitudes. Findings also revealed a high level of pre-existing knowledge of the concept of mindfulness. These findings may serve as a catalyst for further investigation, with future research continuing the investigation on a larger scale, incorporating larger sample sizes, more exact measures, and also extending its ecological validity within more diverse populations.
This is a preview of subscription content, log in to check access.
Access options
Buy single article
Instant access to the full article PDF.
US$ 39.95
Price includes VAT for USA
Subscribe to journal
Immediate online access to all issues from 2019. Subscription will auto renew annually.
US$ 99
This is the net price. Taxes to be calculated in checkout.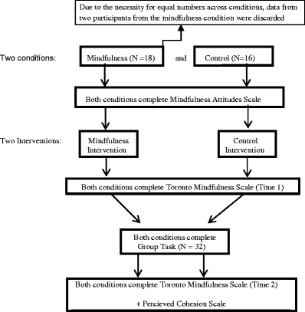 References
Alberts, H. J., & Thewissen, R. (2011). The effect of a brief mindfulness intervention on memory for positively and negatively valenced stimuli. Mindfulness, 2(2), 73–77.

Amarach. (2011). Attitudes towards the Catholic Church: an Amarch report for the Iona Institute. http://ionainstitute.ie/assets/files/Attitudes%20to%20Church%20poll.pdf.

Anderson, N. D., Lau, M. A., Segal, Z. V., & Bishop, S. R. (2007). Mindfulness-based stress reduction and attentional control. Clinical Psychology and Psychotherapy, 14(6), 449–463.

Arch, J. J., & Craske, M. G. (2006). Mechanisms of mindfulness: emotion regulation following a focused breathing induction. Behaviour Research and Therapy, 44(12), 1849–1858.

Baer, R. A. (2003). Mindfulness training as a clinical intervention: a conceptual and empirical review. Clinical Psychology: Science and Practice, 10(2), 125–143.

Baer, R. A., Smith, G. T., Hopkins, J., Krietemeyer, J., & Toney, L. (2006). Using self-report assessment methods to explore facets of mindfulness. Assessment, 13(1), 27–45.

Beal, D. J., Cohen, R. R., Burke, M. J., & McLendon, C. L. (2003). Cohesion and performance in groups: a meta-analytic clarification of construct relations. Journal of Applied Psychology, 88(6), 989.

Beddoe, A. E., & Murphy, S. O. (2004). Does mindfulness decrease stress and foster empathy among nursing students? The Journal of Nursing Education, 43(7), 305–312.

Biegel, G. M., Brown, K. W., Shapiro, S. L., & Schubert, C. M. (2009). Mindfulness-based stress reduction for the treatment of adolescent psychiatric outpatients: a randomized clinical trial. Journal of Consulting and Clinical Psychology, 77(5), 855.

Bishop, S. R., Lau, M., Shapiro, S., Carlson, L., Anderson, N. D., Carmody, J., & Devins, G. (2004). Mindfulness: a proposed operational definition. Clinical Psychology: Science and Practice, 11(3), 230–241.

Bogels, S. M., Sijbers, G. F. V. M., & Voncken, M. (2006). Mindfulness and task concentration training for social phobia: a pilot study. Journal of Cognitive Psychotherapy, 20(1), 33–44.

Breen, M. J., McGee, H., O'Boyle, C., Goode, H., & Devereux, E. (2009). "Suing the Pope" and scandalising the people: Irish attitudes to sexual abuse by clergy pre-and post-screening of a Critical documentary. Irish Communications Review 11

Chin, W. W., Salisbury, D. W. M., Pearson, A. W., & Stollak, M. J. (1999). Perceived cohesion in small groups adapting and testing the Perceived Cohesion Scale in a small-group setting. Small Group Research, 30(6), 751–767.

Cohen, J. W. (1988). Statistical power analysis for the behavioural sciences (2nd ed.). Hillsdale, NJ: Erlbaum.

Colbeck, C. L., Campbell, S. E., & Bjorklund, S. A. (2000). Grouping in the dark: what college students learn from group projects. Journal of Higher Education, 60–83.

Dane, E. (2011). Paying attention to mindfulness and its effects on task performance in the workplace. Journal of Management, 37(4), 997–1018.

Dyer, C. (2006). Research in psychology: a practical guide to methods and statistics (2nd ed.). London: Wiley.

Erisman, S. M., & Roemer, L. (2010). A preliminary investigation of the effects of experimentally induced mindfulness on emotional responding to film clips. Emotion, 10(1), 72.

Festinger, L., Schachter, S., & Back, K. (1950). Social pressure in informal groups. New York: Harper and Row.

Fjorback, L. O., & Walach, H. (2012). Meditation based therapies—a systematic review and some critical observations. Religions, 3(1), 1–18.

Gully, S. M., Devine, D. J., & Whitney, D. J. (1995). A meta-analysis of cohesion and performance effects of level of analysis and task interdependence. Small Group Research, 26(4), 497–520.

Haslam, S. A., McGarty, C., Brown, P. M., Eggins, R. A., Morrison, B. E., & Reynolds, K. J. (1998). Inspecting the emperor's clothes: evidence that random selection of leaders can enhance group performance. Group Dynamics: Theory, Research, and Practice, 2(3), 168.

Jha, A. P., Krompinger, J., & Baime, M. J. (2007). Mindfulness training modifies subsystems of attention. Cognitive, Affective, & Behavioral Neuroscience, 7(2), 109–119.

Johnson, D. W., & Johnson, F. P. (2000). Joining together: group theory and group skills (7th ed.). Boston, USA: Allyn & Bacon.

Kabat, & Zinn, J. (1990). Full catastrophe living: how to cope with stress, pain and illness using mindfulness meditation (15th anniversary ed). London: Piaktus.

Kabat-Zinn, J. (1982). An outpatient program in behavioral medicine for chronic pain patients based on the practice of mindfulness meditation: theoretical considerations and preliminary results. General Hospital Psychiatry, 4(1), 33–47.

Kabat-Zinn, J. (2003). Commentaries: mindfulness-based interventions in context: past, present, and future. Clinical Psychology: Science and Practice, 10(2), 144–155.

Lau, M. A., Bishop, S. R., Segal, Z. V., Buis, T., Anderson, N. D., Carlson, L., & Devins, G. (2006). The Toronto mindfulness scale: development and validation. Journal of Clinical Psychology, 62(12), 1445–1467.

Robson, C. (2002). Real world research: a resource for social scientists and practitioner-researchers (2nd ed.). UK: Wiley.

Segal, Z. V., Williams, J. M. G., & Teasdale, J. D. (2002). Mindfulness-based cognitive therapy for depression: a new approach to preventing relapse. New York: Guilford.

Shao, R., & Skarlicki, D. P. (2009). The role of mindfulness in predicting individual performance. Canadian Journal of Behavioural Science/Revue Canadienne des Sciences du Comportement, 41(4), 195.

Shapiro, S. L., Schwartz, G. E., & Bonner, G. (1998). Effects of mindfulness-based stress reduction on medical and premedical students. Journal of Behavioral Medicine, 21(6), 581–599.

Sundstrom, E., Busby, P. L., & Bobrow, W. S. (1997). Group process and performance: interpersonal behaviors and decision quality in group problem solving by consensus. Group Dynamics: Theory, Research, and Practice, 1(3), 241.

Valentine, E. R., & Sweet, P. L. (1999). Meditation and attention: a comparison of the effects of concentrative and mindfulness meditation on sustained attention. Mental Health, Religion & Culture, 2(1), 59–70.

Wenk-Sormaz, H. (2005). Meditation can reduce habitual responding. Alternative Therapies in Health & Medicine, 11(2), 42–58.

Williams, J. M. G. (2010). Mindfulness and psychological process. Emotion, 10(1), 1.

Zeidan, F., Johnson, S. K., Diamond, B. J., David, Z., & Goolkasian, P. (2010). Mindfulness meditation improves cognition: evidence of brief mental training. Consciousness and Cognition, 19(2), 597–605.
Appendix
Appendix
Mindfulness Attitudes Scale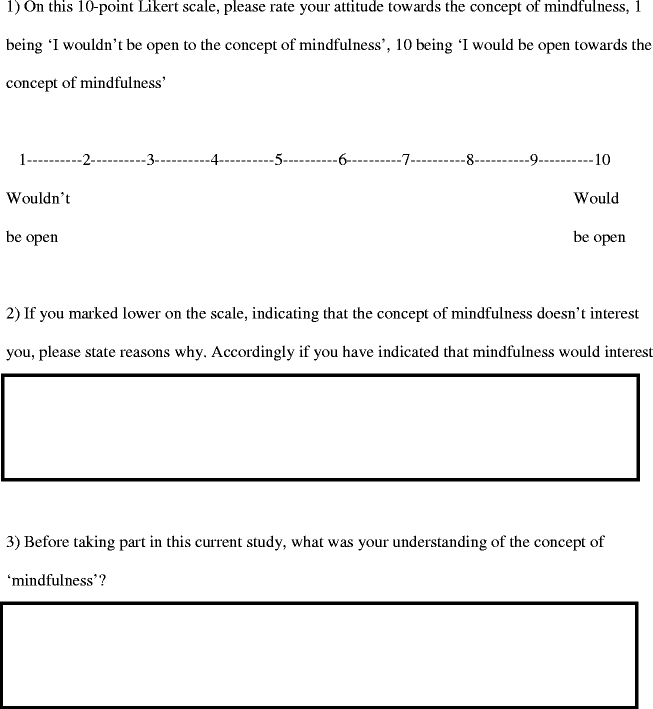 About this article
Cite this article
Cleirigh, D.O., Greaney, J. Mindfulness and Group Performance: An Exploratory Investigation into the Effects of Brief Mindfulness Intervention on Group Task Performance. Mindfulness 6, 601–609 (2015). https://doi.org/10.1007/s12671-014-0295-1
Keywords
Attitudes

Decision-making

Group cohesion

Group performance

Mindfulness