Abstract
This exploratory study examined the perceived benefits of mindfulness meditation (MM) for compensatory alternative high school students. An 8-week school-based MM program was provided to high school students (N = 35; 19 boys and 16 girls). Concept mapping, a mixed-method approach, was used to collect and analyze the data. This process yielded eight clusters representing the perceived benefits of meditation for students: improved stress management, enhanced self-awareness, enhanced emotional coping, enhanced ability to pay attention, improved state of mind, more time spent being calm, improved school climate, and enhanced student engagement. These clusters encompass three broad domains of perceived benefits for students including intrapersonal, psychosocial, and systemic benefits. Students rated the potential for meditation to relieve stress and to improve school climate as particularly important for them. These findings may be used when planning school-based meditation programs and may serve as a useful guide for researchers studying meditation practices for youth.
This is a preview of subscription content, log in to check access.
Access options
Buy single article
Instant access to the full article PDF.
US$ 39.95
Price includes VAT for USA
Subscribe to journal
Immediate online access to all issues from 2019. Subscription will auto renew annually.
US$ 99
This is the net price. Taxes to be calculated in checkout.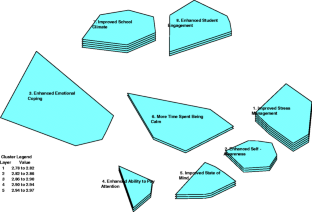 References
Auerbach, C. F., & Silverstein, L. B. (2003). Qualitative data. New York: New York University Press.

Baer, R. A. (2003). Mindfulness training as a clinical intervention: a conceptual and empirical review. Clinical Psychology: Science and Practice, 10, 125–143.

Beauchemin, J., Hutchins, T. L., & Patterson, F. (2008). Mindfulness meditation may lessen anxiety, promote social skills, and improve academic performance among adolescents with learning disabilities. Complementary Health Practice Review, 13; 34–45. Available from http://chp.sagepub.com/cgi/content/abstract/13/1/34.

Biegel, G. M., Brown, K. W., Shapiro, S. L., & Schubert, C. M. (2009). Mindfulness-based stress reduction for the treatment of adolescent psychiatric outpatients: a randomized clinical trial. Journal of Consulting and Clinical Psychology, 77, 855–866.

Bishop, S. R., Lau, M., Shapiro, S., Carlson, L., Anderson, N. D., Carmody, J., et al. (2004). Mindfulness: a proposed operational definition. Clinical Psychology: Science and Practice, 11, 230–241.

Bogels, S., Hoogstad, B., van Dun, L., De Shutter, S., & Restifo, K. (2008). Mindfulness training for adolescents with externalizing disorders and their parents. Behavioural and Cognitive Psychotherapy, 36, 193–209.

Bootzin, R. R., & Stevens, S. J. (2005). Adolescents, substance abuse, and the treatment of insomnia and daytime sleepiness. Clinical Psychology Review, 25(5), 629–644.

Burke, C. A. (2009). Mindfulness-based approaches with children and adolescents: a preliminary review of current research in an emergent field. Journal of Child and Family Studies, 19, 133–144. doi:10.1007/s10826-009-9282-x.

Concept Systems Incorporated. (2006). Facilitator training seminar manual. Ithaca, New York: Concept Systems.

Coppola, F (2013). Transcendental meditation. http://www.trancenet.org/index2.shtml.

Crane, R. S., Kuyken, W., Hastings, R., Rothwell, N., & Williams, J. M. G. (2010). Training teachers to deliver mindfulness-based interventions: learning from the UK experience. Mindfulness, 1, 74–86. doi:10.1007/s12671-010-0010-9.

Crane R.S., Kuyken, W., Williams, J. M. G., Hastings, R., Cooper, L., & Fennell, M.J.V. (2012), Competence in teaching mindfulness-based courses: concepts, development, and assessment, Mindfulness 3:1-76-84, DOI: 10.1007/s12671-011-0073-2.

Davidson, R. J., Kabat-Zinn, J., Schumacher, J., Rosenkranz, M., Muller, D., Santorelli, S. F., et al. (2003). Alterations in brain and immune function produced by mindfulness meditation. Psychosomatic Medicine, 65, 564–570.

Dupper, D. R. (2006). Guides for designing and establishing alternative school programs for dropout prevention. In C. Franklin, M. B. Harris, & P. Allen-Meares (Eds.), The school services sourcebook: a guide for school-based professionals (pp. 413–421). NY: Oxford University Press.

Finn, J. D. (2006). The adult lives of at-risk students [electronic resource]: the role of attainment and engagement in high school–statistical analysis report. Available from http://nces.ed.gov.pubs2006/2006328.

Finn, J. D., & Rock, D. A. (1997). Academic success among students at-risk for school failure. Journal of Applied Psychology, 82, 221–234.

Foley, R. M., & Pang, L. (2006). Alternative education programs: program and student characteristics. The High School Journal, 89(3), 10–21.

Germer, C. K., Siegel, R. D., & Fulton, P. R. (2005). Mindfulness and psychotherapy. New York: The Guilford Press.

Gregory, T. (2001). Fear of success? Ten ways alternative schools pull their punches. The Phi Delta Kappan, 82(8), 577–581.

Grunbaum, J., Lowry, R., & Kann, L. (2001). Prevalence of health-related behaviors among alternative high school students as compared with students attending regular high schools. Journal of Adolescent Health, 29(5), 337–343.

Hayes, S. C., Strosahl, K. D., & Wilson, K. G. (1999). Acceptance and commitment therapy: an experiential approach to behavior change. New York: The Guilford Press.

Huppert, F. A., & Johnson, D. M. (2010). A controlled trial of mindfulness training in schools: the importance of practice for an impact on well-being. The Journal of Positive Psychology, 5(4), 264–274.

Kabat-Zinn, J. (2003). Mindfulness-based interventions in context: past, present, and future. Clinical Psychology: Science and Practice, 10(2), 144–156.

Kabat-Zinn, J. (2005). Coming to our senses: healing ourselves and the world through mindfulness. New York: Hyperion.

Kane, M., & Trochim, W. M. (2007). Concept mapping for planning and evaluation. Thousand Oaks, CA: Sage.

Kasen, S., Cohen, P., & Brook, J. S. (1998). Adolescent school experiences and dropout, adolescent pregnancy, and young adult deviant behavior. Journal of Adolescent Research, 13(1), 49–72.

Kruskal, J. B., & Wish, M. (1978). Multidimensional scaling. Beverly Hills, CA: Sage.

Linehan, M. M., & Dimeff, L. (2001). Dialectical behavior therapy in a nutshell. The California Psychologist, 34, 10–13.

Meiklejohn, J., Phillips, C., Freedman, M. L., Griffin, M. L., Biegel, G., Roach, A., et al. (2012). Integrating mindfulness training into K–12 education: fostering the resilience of teachers and students. Mindfulness, 1(1), 1–17.

Miller, J., Fletcher, K., & Kabat-Zinn, J. (1995). Three-year follow-up and clinical implications of a mindfulness meditation-based stress reduction intervention in the treatment of anxiety disorders. General Hospital Psychiatry, 17, 192–200.

National Center for Complementary and Alternative Medicine (October, 2007). Meditation for Health Purposes. Available from http://nccam.nih.gov/health /meditation/overview.htm.

Neild, R. C., & Balfanz, R. (2006). The dimensions and characteristics of Philadelphia's Dropout Crisis, 2000–2005. Philadelphia: Philadelphia Youth Transitions Collaborative. Available from http://www.csos.jhu/new/Neild_Balfanz_06.pdf.

Ngar-sze, L., & Ming-tak, M. (2011). Preliminary outcomes of a mindfulness-based programme for Hong Kong adolescents in schools: well-being, stress and depressive symptoms. International Journal of Children's Spirituality, 16(4), 315–330.

Ospina, M. B., Bond, K. B., Karkhaneh, M., Tjosvold, L., Vandemeer, B., Liang, Y., Klassen (2007). Meditation practices for health: state of the research. Evidence Report/Technology Assessment No. 155. (Prepared by the University of Alberta Evidence-based Practice Center under Contract No. 290-02-0023.) AHRQ Publication No. 07-E010. Rockville, MD: Agency for Healthcare Research and Quality.

Raywid, M. A. (1995). Alternative schools: The state of the art. Educational Leadership, 72, 26–31.

Rumberger, R., & Lim, S. (2008). Why students drop out of school: a review of 25 years of research. Santa Barbara: California Dropout Research Project, University of California, Santa Barbara. Available from http://cdrp.ucsb.edu/dropouts/pubs_reports.htm.

Saltzman, A., & Goldin, P. (2008). Mindfulness based stress reduction for school-age children. In S. C. Hayes & L. A. Greco (Eds.), Acceptance and mindfulness interventions for children adolescents and families (pp. 139–161). Oakland, CA: Context Press/New Harbinger.

Schoeberlein, D., & Koffler, T. (2005). Garrison Institute report: Contemplation and education: a survey of programs using contemplative techniques in K–12 educational settings: a mapping report. New York: Garrison Institute.

Schonert-Reichl, K. A., & Stewart Lawlor, M. (2010). The effects of a mindfulness-based education program on pre- and early adolescents' well-being and social and emotional competence. Mindfulness. doi:10.1007/s12671-010-0011-8.

Sedlmeier, P., Eberth, J., Schwarz, M., Zimmermann, D., Haarig, F., Jaeger, S., et al. (2012). The psychological effects of meditation: a meta-analysis. Psychological Bulletin. doi:10.1037/a0028168.

Shapiro, D. H. (1984). Overview: clinical and physiological comparison of meditation with other self-control strategies. In D. H. Shapiro & R. N. Walsh (Eds.), Meditation: classic and contemporary perspectives (pp. 5–12). New York: Aldine.

Shapiro, S. L., Carlson, L. E., Astin, J. A., & Freedman, B. (2006). Mechanisms of mindfulness. Journal of Clinical Psychology, 62(3), 373–386.

Singh, N. N., Lancioni, G. E., Singh Joy, S. D., Winton, A. S. W., Sabaawi, M., Wahler, R. G., et al. (2007). Adolescents with conduct disorder can be mindful of their aggressive behavior. Journal of Emotional and Behavioral Disorders, 15, 56–63.

Singh, N. N., Lancioni, G. E., Singh, A. N. A., Winton, A. S. W., Singh, J., & McAleavey, K. M. (2008). A mindfulness-based health wellness program for an adolescent with Prader–Willi syndrome. Behavior Modification, 32, 167–181.

Singh, N. N., Lancioni, G. E., Manikam, R., Winton, A. S. W., Singh, A. N. A., Singh, J., et al. (2011). A mindfulness-based strategy for self-management of aggressive behavior in adolescents with Autism. Research in Autism Spectrum Disorders, 5, 1153–1158.

Teasdale, J. D., Segal, Z. V., Williams, J. M. G., Ridgeway, V., Soulsby, J., & Lau, M. (2000). Prevention of relapse/recurrence in major depression by mindfulness-based cognitive therapy. Journal of Consulting and Clinical Psychology, 68, 615–623.

Trochim, W. M. (1989). An introduction to concept mapping for planning and evaluation. Evaluation and Program Planning, 12, 1–16.

US Department of Education (2002). Public alternative schools and programs for students at risk of education failure. National Center for Education Statistics: Statistical Analysis Report, September 2002.

Weller, N. F., Tortolero, S. R., Kelder, S. H., Grunbaum, J., Carvajal, S. C., & Gingiss, P. M. (1999). Health risk behaviors of Texas students attending dropout prevention/recovery schools in 1997. Journal of School Health, 69(1), 22–28.

Wilson, S. J., & Lipsey, M. W. (2007). School-based interventions for aggressive and disruptive behavior: update of a meta-analysis. American Journal of Preventive Medicine, 33(2), S130–S143. doi:10.1016/j.amepre.2007.04.011.

Wilson, S. J., Tanner-Smith, E. E., Lipsey, M. W., Steinka-Fry, K., & Morrison, J. (2011). Dropout prevention and intervention programs: effects on school completion and dropout among school aged children and youth. Campbell Systematic Reviews, 2011, 8. doi:10.4073/csr.2011.8.

Wisner, B. L., Jones, B. L., & Gwin, D. (2010). School-based meditation practices for adolescents: a resource for strengthening self-regulation, emotional coping, and self-esteem. Children and Schools, 32(3), 150–159.

Zylowska, L., Ackerman, D. L., Yang, M. H., Futrell, J. L., Horton, N. L., Hale, S. T., et al. (2008). Mindfulness meditation training in adults and adolescents with ADHD: a feasibility study. Journal of Attention Disorders, 11, 737–746.
Acknowledgments
The author would like to offer special thanks to the alternative school students, administrator, and teachers, and to Drs. David Springer, Darlene Grant, Barbara Jones, Robin Russel, and Calvin Streeter for their invaluable support during the research project.
About this article
Cite this article
Wisner, B.L. An Exploratory Study of Mindfulness Meditation for Alternative School Students: Perceived Benefits for Improving School Climate and Student Functioning. Mindfulness 5, 626–638 (2014). https://doi.org/10.1007/s12671-013-0215-9
Keywords
Mindfulness

Meditation

Alternative high school

Student engagement

Stress management