Abstract
Our objective was to conduct the first randomized controlled trial of the efficacy of a group mindfulness program aimed at reducing and preventing depression in an adolescent school-based population. For each of 12 pairs of parallel classes with students (age range 13–20) from five schools (N = 408), one class was randomly assigned to the mindfulness condition and one class to the control condition. Students in the mindfulness group completed depression assessments (the Depression Anxiety Stress Scales) prior to and immediately following the intervention and 6 months after the intervention. Control students completed the questionnaire at the same times as those in the mindfulness group. Hierarchical linear modeling showed that the mindfulness intervention showed significantly greater reductions (and greater clinically significant change) in depression compared with the control group at the 6-month follow-up. Cohen's d was medium sized (>.30) for both the pre-to-post and pre-to-follow-up effect for depressive symptoms in the mindfulness condition. The findings suggest that school-based mindfulness programs can help to reduce and prevent depression in adolescents.
Access options
Buy single article
Instant access to the full article PDF.
USD 39.95
Price excludes VAT (USA)
Tax calculation will be finalised during checkout.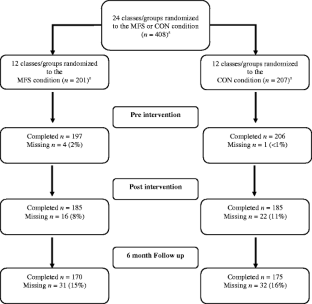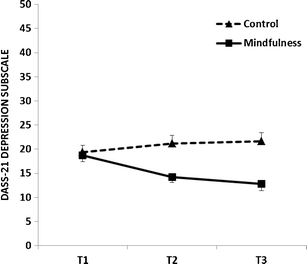 References
Baer, R. A., Carmody, J., & Hunsinger, M. (2012). Weekly change in mindfulness and perceived stress in a mindfulness-based stress reduction program. Journal of Clinical Psychology, 68, 755–765. doi:10.1002/jclp.21865.

Beurs, E., de Van Dyck, R., Marquenie, L. A., Lange, A., & Blonk, R. W. B. (2001). De DASS: een vragenlijst voor het meten van depressie, angst en stress [The DASS: a questionnaire for the measurement of depression, anxiety, and stress]. Gedragstherapie, 34, 35–53.

Biegel, G. M., Brown, K. W., Shapiro, S. L., & Schubert, C. M. (2009). Mindfulness-based stress reduction for the treatment of adolescent psychiatric outpatients: a randomized clinical trial. Journal of Consulting and Clinical Psychology, 77, 855–866. doi:10.1037/a0016241.

Black, D. S., Milam, J., & Sussman, S. (2009). Sitting-meditation interventions among youth: a review of treatment efficacy. Pediatrics, 124, 125–143. doi:10.1542/peds.2008-3434.

Broderick, P. C., & Metz, S. (2009). Learning to BREATHE: a pilot trial of mindfulness curriculum for adolescents. Advances in School Mental Health Promotion, 2, 35–46.

Burke, C. A. (2010). Mindfulness-based approaches with children and adolescents: a preliminary review of current research in an emergent field. Journal of Child and Family Studies, 19, 133–144. doi:10.1007/s10826-009-9282-x.

Cohen, J. (1988). Statistical power analysis for the behavioral sciences (2nd ed.). Hillsdale: Lawrence Erlbaum.

Cohen, P., Cohen, J., Aiken, L. S., & West, S. G. (1999). The problem of units and the circumstance for POMP. Multivariate Behavioral Research, 34, 315–346.

Dewulf, D. (2009). Mindfulness voor jongeren. Tielt, Belgium: Lannoo.

Dewulf, D. (2013). Mindfulnesstraining voor jongeren: Stappenplan voor hulpverleners. Houten, the Netherlands: Lannoo Campus.

Hayes, S. C., Strosahl, K. D., & Wilson, K. G. (1999). Acceptance and commitment therapy. New York: Guilford.

Hofmann, S. G., Sawyer, A. T., Witt, A. A., & Oh, D. (2010). The effect of mindfulness-based therapy on anxiety and depression: a meta-analytic review. Journal of Consulting and Clinical Psychology, 78, 169–183. doi:10.1037/a0018555.

Huppert, F. A., & Johnson, D. M. (2010). A controlled trial of mindfulness training in schools: the importance of practice for an impact on well-being. The Journal of Positive Psychology, 5, 264–274. doi:10.1080/17439761003794148.

Jacobson, N. S., & Truax, P. (1991). Clinical significance: a statistical approach to defining meaningful change in psychotherapy research. Journal of Consulting and Clinical Psychology, 59, 12–19.

Kabat-Zinn, J. (1990). Full catastrophe living: how to cope with stress, pain and illness using mindfulness meditation. New York: Delacorte.

Kabat-Zinn, J. (1994). Wherever you go there you are: mindfulness meditation in everyday life. New York: Hyperion.

Keng, S. L., Smoski, M. J., & Robins, C. J. (2011). Effects of mindfulness on psychological health: a review of empirical studies. Clinical Psychology Review, 31, 1041–1056. doi:10.1016/j.cpr.2011.04.006.

Kuyken, W., Watkins, E., Holden, E., White, K., Taylor, R. S., Byford, S., et al. (2010). How does mindfulness-based cognitive therapy work? Behaviour Research and Therapy, 48, 1105–1112. doi:10.1016/j.brat.2010.08.003.

Linehan, M. (1993). Cognitive-behavioral treatment of borderline personality disorder. New York: Guilford.

Lovibond, S. H., & Lovibond, P. F. (1995). Manual for the depression anxiety stress scales (2nd ed.). Sydney: Psychology Foundation.

Meiklejohn, J., Philips, C., Freedman, M. L., Griffin, M. L., Biegel, G., Roach, A., et al. (2012). Integrating mindfulness training into K-12 education: fostering the resilience of teachers and students. Mindfulness, 3, 291–307. doi:10.1007/s12671-012-0094-5.

Mendelson, T., Greenberg, M. T., Dariotis, J. K., Feagans Gould, L., Rhoades, B. L., & Leaf, P. J. (2010). Feasibility and preliminary outcomes of a school-based mindfulness intervention for urban youth. Journal of Abnormal Child Psychology, 38, 985–994. doi:10.1007/s10802-010-9418-x.

Napoli, M., Krech, P. R., & Holley, L. C. (2005). Mindfulness training for elementary school students: the attention academy. Journal of Applied Psychology, 21, 99–125. doi:10.1300/J008v21n01_05.

Raes, F., Dewulf, D., Van Heeringen, C., & Williams, J. M. G. (2009). Mindfulness and reduced cognitive reactivity to sad mood: evidence from a correlational study and a non-randomized waiting list controlled study. Behaviour Research and Therapy, 47, 623–627. doi:10.1016/j.brat.2009.03.007.

Raudenbush, S. W., & Bryk, A. S. (2002). Hierarchical linear models: applications and data analysis methods (2nd ed.). London: Sage.

Schonert-Reichl, K. A., & Lawlor, M. S. (2010). The effects of a mindfulness-based education program on pre- and early adolescents' well-being and social and emotional competence. Mindfulness, 1, 137–151. doi:10.1007/s12671-010-0011-8.

Segal, Z. V., Williams, J. M. G., & Teasdale, J. D. (2002). Mindfulness-based cognitive therapy for depression: a new approach to preventing relapse. New York: Guilford.

Semple, R. J., Reid, E. F., & Miller, L. F. (2005). Treating anxiety with mindfulness: an open trial of mindfulness training for anxious children. Journal of Cognitive Psychotherapy, 19, 379–392. doi:10.1891/jcop.2005.19.4.379.

Singh, N. N., Singh, A. N., Lancioni, G. E., Singh, J., Winton, A. S. W., & Adkins, A. D. (2010). Mindfulness training for parents and their children with ADHD increases the children's compliance. Journal of Child and Family Studies, 19, 157–166. doi:10.1007/s10826-009-9272-z.

Stice, E., Shaw, H., Bohon, C., Marti Nathan, C., & Rohde, P. (2009). A meta-analytic review of depression prevention programs for children and adolescents: factors that predict magnitude of intervention effects. Journal of Consulting and Clinical Psychology, 77, 486–503. doi:10.1037/a0015168.

Van der Does, A. J. W., Barnhofer, T., & Williams, J. M. G. (2003). The major depression questionnaire (MDQ). www.dousa.nl/publications. Accessed 11 Sept 2008.

Van de Weijer-Bergsma, E., Formsma, A. R., de Bruin, E. I., & Bögels, S. (2012). The effectiveness of mindfulness training on behavioral problems and attentional functioning in adolescents with ADHD. Journal of Child and Family Studies, 21, 775–787. doi:10.1007/s10826-011-9531-7.

Van de Weijer-Bergsma, E., Langenberg, G., Brandsma, R., Oort, F. J., & Bögels, S. M. (2013). The effectiveness of a school-based mindfulness training as a program to prevent stress in elementary school children. Mindfulness. doi: 10.1007/s12671-012-0171-9.

Willemsen, J., Markey, S., Declercq, F., & Vanheule, S. (2011). Negative emotionality in a large community sample of adolescents: the factor structure and measurement invariance of the short version of the Depression Anxiety Stress Scales (DASS-21). Stress and Health, 27, 120–128. doi:10.1002/smi.1342.

Zisook, S., Lesser, I., Stewart, J. W., Wisniewski, S. R., Balasubramani, G. K., Fava, M., et al. (2007). Effect of age at onset on the course of major depressive disorder. The American Journal of Psychiatry, 164, 1539–1546. doi:10.1176/appi.ajp.2007.06101757.
Acknowledgments
This research was supported by a grant from the Foundation "Go for Happiness." Dr. Griffith was supported by the Research Foundation-Flanders (FWO; GP.035.11N). We sincerely thank David Dewulf, Inge De Leeuw, and Lieven Vercauteren, and the schools and students of Belgium who participated in this project. Participating schools were: Sint-Maarten Bovenschool (Beveren-Waas), Burgerschool (Roeselare), Abdijschool van Zevenkerken (Brugge), Groenendaalcollege (Campus Sint-Jan; Merksem-Antwerpen), and Sint-Ludgardisschool (Antwerpen Stad).We would also like to acknowledge the assistance provided by Tineke Vandenbroucke and Margot Bastin. And special thank goes to Jan Toye and Ghita Kleijkers for their sincere and motivating interest.
About this article
Cite this article
Raes, F., Griffith, J.W., Van der Gucht, K. et al. School-Based Prevention and Reduction of Depression in Adolescents: a Cluster-Randomized Controlled Trial of a Mindfulness Group Program. Mindfulness 5, 477–486 (2014). https://doi.org/10.1007/s12671-013-0202-1
Published:

Issue Date:

DOI: https://doi.org/10.1007/s12671-013-0202-1
Keywords
Mindfulness-based cognitive therapy

Mindfulness-based stress reduction

Randomized controlled trial

Depression

Adolescents