Abstract
Despite evidence attesting to positive psychological effects of meditation, little is known about how variance in the level of engagement with meditation actually relates to positive outcomes. This study draws on multiple traditional and contemporary theoretical frameworks to (1) uncover fundamental aspects of variability in meditation practice, (2) test the role of several primary and secondary processes believed to be responsible for positive effects, and (3) explore a range of positive and negative outcomes believed to be closely aligned with the original intended outcomes of meditation practices. Using two large (each N > 500) heterogeneous samples of meditation practitioners, this study calibrated and then cross-validated a theoretical model testing the plausibility of several causal pathways linking variation in experience with meditation to positive and negative psychological outcomes. Results showed that individual differences in meditation involve both behavioral aspects accounting for the degree of engagement, and psychological aspects incorporating the intensity or depth of this engagement. Variation in these aspects accounts for large proportions of variance in psychological health and functioning outcomes. Several factors representing attention refinement (mindfulness), changes in self-perception and outlook (transcendence), worldview (insight), and psychological development serve as plausible change mechanisms serving to transmit the effects of meditation on psychological health and functioning.
Access options
Buy single article
Instant access to the full article PDF.
USD 39.95
Price includes VAT (USA)
Tax calculation will be finalised during checkout.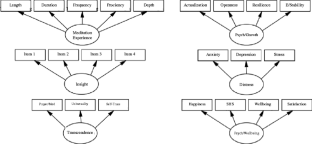 References
Austin, J. H. (1998). Zen and the brain: Toward an understanding of meditation and consciousness. Cambridge: MIT.

Austin, J. H. (2006). Zen–brain reflections: Reviewing recent developments in meditation and states of consciousness. Cambridge: MIT.

Barnes, P. M., Bloom, B., & Nahin, R. L. (2008). Complementary and alternative medicine use among adults and children: United States, 2007. National Health Statistics Reports; no 12. Hyattsville: U.S. Department of Health and Human Services, Division of Health Interview Statistics, Centers for Disease Control and Prevention, National Center for Health Statistics.

Bech, P., Raabaek, L., Mette, O., Niels, K., & Rasmussen, K. (2003). Measuring well-being rather than the absence of distress symptoms: A comparison of the SF-36 Mental Health subscale and the WHO-Five well-being scale. International Journal of Methods in Psychiatric Research, 12(2), 85–91. doi:10.1002/mpr.145.

Bentler, P. M., & Bonett, D. G. (1980). Significance tests and goodness of fit in the analysis of covariance structures. Psychological Bulletin, 88(3), 588–606. doi:10.1037/0033-2909.88.3.588.

Bollen, K. A., & Long, J. S. (1993). Introduction. In K. A. Bollen & J. S. Long (Eds.), Testing structural equation models (pp. 1–10). Thousand Oaks: Sage.

Brown, D. P., & Engler, J. (1980). The stages of mindfulness meditation: A validation study. Journal of Transpersonal Psychology, 12(2), 143–192.

Brown, K. W., & Ryan, R. M. (2003). The benefits of being present: Mindfulness and its role in psychological well-being. Journal of Personality and Social Psychology, 84(4), 822–848. doi:10.1037/0022-3514.84.4.822.

Bucknell, R. S., & Kang, C. (1997). The meditative way: Readings in the theory and practice of Buddhist meditation. Richmond: Curzon.

Buddhadasa Bhikkhu. (1976). Anapanasati: Mindfulness of breathing (Bhikkhu Nagasena, Trans.). Bangkok: Sublime Life Mission.

Carmines, E. G., & McIver, J. P. (1981). Analyzing models with unobserved variables: Analysis of covariance structures. In G. W. Bohrnstedt & E. F. Borgatta (Eds.), Social measurement: Current issues (pp. 65–115). Beverly Hills: Sage.

Cohen, J. (1977). Statistical power analysis for the behavioral sciences. Hillsdale: Erlbaum.

Dalai Lama Tenzin Gyatso, & Cutler, H. C. (1998). The art of happiness. New York: Riverhead.

Diener, E., Emmons, R. A., Larsen, R. J., & Griffin, S. (1985). The satisfaction with life scale. Journal of Personality Assessment, 49(1), 71–75. doi:10.1207/s15327752jpa4901_13.

Fetzer Institute/National Institute on Aging Working Group. (1999). Multidimensional measurement of religiousness/spirituality for use in health research (p. 95). Kalamazoo: John E. Fetzer Institute; National Institute on Aging.

Feuerstein, G. (2002). The Yoga tradition: Its history, literature, philosophy and practice. New Delhi: Bhavana.

Fordyce, M. W. (1988). A review of research on the happiness measures: A 60 second index of happiness and mental health. Social Indicators Research, 20(4), 355–381.

Frawley, D. (2000). Vedantic meditation: Lighting the flame of awareness. Berkeley: North Atlantic.

Fredrickson, B. L. (2000). Cultivating positive emotions to optimize health and well-being. Prevention & Treatment, 3(1). doi:10.1037/1522-3736.3.1.31a.

Fredrickson, B. L. (2001). The role of positive emotions in positive psychology: The broaden-and-build theory of positive emotions. American Psychologist, 56(3), 218–226. doi:10.1037/0033-2909.121.3.417.

Fredrickson, B. L., Cohn, M. A., Coffey, K. A., Pek, J., & Finkel, S. M. (2008). Open hearts build lives: Positive emotions, induced through loving-kindness meditation, build consequential personal resources. Journal of Personality and Social Psychology, 95(5), 1045–1062. doi:10.1037/a0013262.

Gosling, S. D., Rentfrow, P. J., & Swann, W. B., Jr. (2003). A very brief measure of the Big-Five personality domains. Journal of Research in Personality, 37(6), 504–528.

Gowans, C. W. (2003). Philosophy of the Buddha. London: Routledge.

Henry, J. D., & Crawford, J. R. (2005). The short-form version of the Depression Anxiety Stress Scales (DASS-21): Construct validity and normative data in a large non-clinical sample. British Journal of Clinical Psychology, 44, 227–239. doi:10.1348/014466505x29657.

Hu, L.-T., & Bentler, P. M. (1995). Evaluating model fit. In R. H. Hoyle (Ed.), Structural equation modeling: Concepts, issues, and applications (pp. 76–99). Thousand Oaks: Sage.

Hu, L.-T., & Bentler, P. M. (1999). Cutoff criteria for fit indexes in covariance structure analysis: Conventional criteria versus new alternatives. Structural Equation Modeling, 6(1), 1–55. doi:0.1080/10705519909540118.

Hwang, J. Y., Plante, T., & Lackey, K. (2008). The development of the Santa Clara Brief Compassion Scale: An abbreviation of Sprecher and Fehr's Compassionate Love Scale. Pastoral Psychology, 56(4), 421–428.

Ireland, M. J. (2012a). Meditation and psychological health and functioning: A descriptive and critical review. The Scientific Review of Mental Health Practice, 9(1), 4–19.

Ireland, M. J. (2012b). Meditative insight: Conceptual and measurement development. Mental Health, Religion & Culture, 1–21. doi:10.1080/13674676.2011.645225

Jones, A., & Crandall, R. (1986). Validation of a short index of self-actualization. Personality and Social Psychology Bulletin, 12(1), 63–73. doi:10.1177/0146167286121007.

Lau, M. A., Bishop, S. R., Segal, Z. V., Buis, T., Anderson, N. D., Carlson, L., et al. (2006). The Toronto Mindfulness Scale: Development and validation. Journal of Clinical Psychology, 62(12), 1445–1467. doi:10.1002/jclp. 20326.

Lehrer, P. M., Woolfolk, R. L., & Sime, W. E. (Eds.). (2007). Principles and practice of stress management (3rd ed.). New York: Guilford.

Levenson, M. R., Jennings, P. A., Aldwin, C. M., & Shiraishi, R. W. (2005). Self-transcendence: Conceptualization and measurement. International Journal of Aging & Human Development, 60(2), 127–143. doi:10.2190/xrxm-fyra-7u0x-grc0.

Lyubomirsky, S., & Lepper, H. S. (1999). A measure of subjective happiness: Preliminary reliability and construct validation. Social Indicators Research, 46, 137–155. doi:10.1023/A:1006824100041.

Marcus, P. (2003). Ancient religious wisdom, spirituality, and psychoanalysis. Westport: Praeger.

Martin, P., & Bateson, P. P. G. (1993). Measuring behaviour: An introductory guide (2nd ed.). New York: Cambridge University Press.

Nyanaponika, T. (1983). The heart of Buddhist meditation: A handbook of mental training based on the Buddha's way of mindfulness with an anthology of relevant texts translated from the Pali and Sanskrit. London: Rider.

Nyanaponika, T., & Bodhi, B. (2000). Numerical discourses of the Buddha: An anthology of Suttas from the Anguttara Nikaya. Walnut Creek: AltaMira.

O'Brien, W. H., McGrath, J. J., & Haynes, S. N. (2003). Assessment of psychopathology with behavioral approaches. Handbook of Psychology. 509–529. doi:10.1002/0471264385.wei1022

Patanjali, & Feuerstein, G. (1989). The Yoga-sūtra of Patañjali: A new translation and commentary. Rochester: Inner Traditions.

Piedmont, R. L. (1999). Does spirituality represent the sixth factor of personality? spiritual transcendence and the Five-Factor Model. Journal of Personality, 67(6), 985–1013. doi:10.1111/1467-6494.00080.

Piron, H. (2001). The meditation depth index (MEDI) and the meditation depth questionnaire (MEDEQ). Journal for Meditation and Meditation Research, 1, 69–92.

Potter, K. H. (1999). Encyclopedia of Indian philosophies vol. IIX: Buddhist philosophy from 100 to 350 AD. Delhi: Motilal Banarsidass.

Rubin, D. B. (2004). Multiple imputation for nonresponse in surveys. New Jersey: Wiley.

Russell, P. (1976). The TM technique: An introduction to transcendental meditation and the teachings of Maharishi Mahesh Yogi. Oxford: Routledge.

Schafer, J. (1999). Multiple imputation: A primer. Statistical Methods in Medical Research, 8(1), 3–15. doi:10.1177/096228029900800102.

Schafer, J., & Olsen, M. (1998). Multiple imputation for multivariate missing-data problems: A data analyst's perspective. Multivariate Behavioral Research, 33(4), 545–571.

Shankman, R. (2008). The experience of Samadhi: An in-depth exploration of Buddhist meditation. Boston: Shambhala.

Shapiro, D. H. (2008). Meditation: Self-regulation strategy and altered state of consciousness. New Jersey: Rutgers.

Shapiro, S. L., Carlson, L. E., Astin, J. A., & Freedman, B. (2006). Mechanisms of mindfulness. Journal of Clinical Psychology, 62(3), 373–386. doi:10.1002/jclp.20237.

Smith, A. (2006). "Like waking up from a dream": Mindfulness training for older people with anxiety and depression. In R. A. Baer (Ed.), Mindfulness-based treatment approaches (pp. 191–215). Burlington: Academic.

Smith, B. W., Dalen, J., Wiggin, K., Tooley, E., Christopher, P., & Bernard, J. (2008). The brief resilience scale: Assessing the ability to bounce back. International Journal of Behavioral Medicine, 15(3), 194–200. doi:10.1090/10705500802222972.

Swami Adiswarananda. (2003). Meditation & its practices: A definitive guide to techniques and traditions of meditation in Yoga and Vedanta. Woodstock: Skylight Paths.

The Upanishads: A New Translation. (1986). S. Nikhilananda, Trans. Vol. 1. New York: Ramakrishna Vivekanada Center.

van Waning, A. (2002). A mindful self and beyond. In P. Young-Eisendrath & S. Maramoto (Eds.), Awakening and insight: Zen Buddhism and psychotherapy (pp. 93–105). Hove: Brunner–Routledge.

Walsh, R. N. (2000). Asian psychotherapies. In R. J. Corsini & D. Wedding (Eds.), Current psychotherapies (6th ed., pp. 407–444). Belmont: Wadsworth/Thomson.

Walsh, R. N., & Shapiro, S. L. (2006). The meeting of meditative disciplines and western psychology: A mutually enriching dialogue. American Psychologist, 61(3), 227–239.

Walsh, R. N., & Vaughan, F. (1993). Paths beyond ego: The transpersonal vision. Los Angeles: Tarcher/Perigee.

Wilber, K. (2000). Integral psychology: Consciousness, spirit, psychology, therapy (1st ed.). Boston: Shambhala.

Wilber, K., Engler, J., & Brown, D. P. (1986). Transformations of consciousness: Conventional and contemplative perspectives on development. Boston: New Science Library.

Xue, C. C. L., Zhang, A. L., Lin, V., Da Costa, C., & Story, D. F. (2007). Complementary and alternative medicine use in Australia: A national population-based survey. Journal of Alternative and Complementary Medicine, 13(6), 643–650. doi:10.1089/acm.2006.6355.
About this article
Cite this article
Ireland, M.J. Meditation and Psychological Health: Modeling Theoretically Derived Predictors, Processes, and Outcomes. Mindfulness 4, 362–374 (2013). https://doi.org/10.1007/s12671-012-0136-z
Keywords
Meditation

Mindfulness

Insight

Psychological health

Wellbeing

Positive psychology