Abstract
Family caregivers may experience psychiatric symptoms associated with the chronic stress of caring for frail elderly. Mindfulness training may mitigate some of the negative health effects related to caregiving, but the relevant literature is sparse. We present data from a small pilot study of mindfulness training for caregivers of frail elderly. Nine women caregivers between the ages of 48 to 73 participated. Eight weekly classes of mindfulness-based stress reduction were minimally adapted to enhance the potential benefits for caregivers. Measures of depressive symptoms, burden, perceived stress, anxiety, general health, and mindfulness were assessed at baseline, at completion of the intervention, and at a 1-month follow-up. Self-reported depression, perceived stress, and burden decreased during the 8-week intervention with further reduction demonstrated after a 1-month follow-up regarding stress and burden while depressive symptoms returned to baseline level. Mindful attention and calmness increased over the course of the study. Qualitatively, participants reported continued use of acquired skills and personal benefits from the training. These preliminary results are supportive of the development of larger controlled trials of mindfulness training for caregivers. Future studies may consider identifying subpopulations of caregivers most likely to benefit from mindfulness, and the potential need for a continuation phase of active group participation following the 8-week training.
Access options
Buy single article
Instant access to the full article PDF.
USD 39.95
Price excludes VAT (USA)
Tax calculation will be finalised during checkout.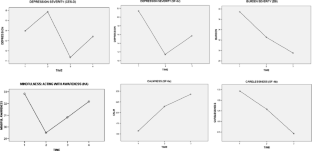 References
Baer, R. A., Smith, G. T., & Allen, K. B. (2004). Assessment of mindfulness by self-report: the Kentucky inventory of mindfulness skills. Assessment, 11(3), 191–206.

Baer, R. A., Smith, G. T., Hopkins, J., Krietemeyer, J., & Toney, L. (2006). Using self-report assessment methods to explore facets of mindfulness. Assessment, 13(1), 27–45.

Baer, R. A., Smith, G. T., Lykins, E., Button, D., Krietemeyer, J., Sauer, S., et al. (2008). Construct validity of the five facet mindfulness questionnaire in meditating and nonmeditating samples. Assessment, 15(3), 329–342.

Beekman, A. T., Deeg, D. J., & Limbeek, J. (1997). Center for Epidemiologic Studies depression scale had high sensitivity and specificity for major depression in older adults. Psychological Medicine, 27, 231–235.

Carmody, J., & Baer, R. A. (2008). Relationships between mindfulness practice and levels of mindfulness, medical and psychological symptoms and well-being in a mindfulness-based stress reduction program. Journal of Behavioral Medicine, 31(1), 23–33.

Cohen, S., & Williamson, G. M. (1988). Perceived stress in a probability sample of the United States. In S. Spaccapan & S. Oskamp (Eds.), The social psychology of health (pp. 31–67). Newbury Park, CA: Sage.

Epstein-Lubow, G. P., Miller, I. W., & McBee, L. (2006). Mindfulness training for caregivers. Psychiatric Services, 57(3), 421.

Epstein-Lubow, G., Davis, J. D., Miller, I. W., & Tremont, G. (2008). Persisting burden predicts depressive symptoms in dementia caregivers. Journal of Geriatric Psychiatry and Neurology, 21(3), 198–203.

Franco, C., Sola Mdel, M., & Justo, E. (2010). Reducing psychological discomfort and overload in Alzheimer's family caregivers through a mindfulness meditation program. Revista Española de Geriatría y Gerontología, 45(5), 252–258.

Gitlin, L. N., Belle, S. H., Burgio, L. D., Czaja, S. J., Mahoney, D., Gallagher-Thompson, D., et al. (2003). Effect of multicomponent interventions on caregiver burden and depression: the REACH multisite initiative at 6-month follow-up. Psychological Aging, 18(3), 361–374.

Kabat-Zinn, J. (1982). An outpatient program in behavioral medicine for chronic pain patients based on the practice of mindfulness meditation: theoretical considerations and preliminary results. General Hospital Psychiatry, 4(1), 33–47.

Kabat-Zinn, J. (1990). Full catastrophe living: Using the wisdom of your mind to face stress, pain and illness. New York: Dell.

Kabat-Zinn, J., & Kabat-Zinn, M. (1997). Everyday blessings: The inner work of mindful parenting. New York: Hyperion.

Ludwig, D. S., & Kabat-Zinn, J. (2008). Mindfulness in medicine. Journal of the Americn Medical Association, 300(11), 1350–1352.

McBee, L. (2003). Mindfulness practice with the frail elderly and their caregivers. Topics in Geriatric Rehabilitation, 19(4), 257–264.

McBee, L. (2008). Mindfulness-based elder care: A CAM model for frail elders and their caregivers. New York: Springer.

Minor, H. G., Carlson, L. E., Mackenzie, M. J., Zernicke, K., & Jones, L. (2006). Evaluation of a mindfulness-based stress reduction (MBSR) program for caregivers of children with chronic conditions. Social Work in Health Care, 43(1), 91–109.

Mittelman, M. S., Roth, D. L., Coon, D. W., & Haley, W. E. (2004). Sustained benefit of supportive intervention for depressive symptoms in caregivers of patients with Alzheimer's disease. The American Journal of Psychiatry, 161(5), 850–856.

Prigerson, H. G., Maciejewski, P. K., Reynolds, C. F., III, Bierhals, A. J., Newsom, J. T., Fasiczka, A., et al. (1995). Inventory of complicated grief: a scale to measure maladaptive symptoms of loss. Psychiatry Research, 59(1–2), 65–79.

Radloff, L. S., & Teri, L. (1986). Use of the center for epidemiological studies: depression scale with older adults. Clinical Gerontologist, 5, 119–137.

Rejeski, W. J. (2008). Mindfulness: reconnecting the body and mind in geriatric medicine and gerontology. The Gerontologist, 48(2), 135–141.

Santorelli, S. F. (2007). Mindfulness and medicine. Explore (NY), 3(2), 136–144.

Schulz, R., & Martire, L. M. (2004). Family caregiving of persons with dementia: prevalence, health effects, and support strategies. American Joural of Geriatric Psychiatry, 12(3), 240–249.

Schulz, R., & Sherwood, P. R. (2008). Physical and mental health effects of family caregiving. The American Journal of Nursing, 108(9 Suppl), 23–27.

Sethabouppha, H., & Kane, C. (2005). Caring for the seriously mentally ill in Thailand: Buddhist family caregiving. Archives of Psychiatric Nursing, 19(2), 44–57.

Singh, N. N., Lancioni, G. E., Winton, A. S., Wahler, R. G., Singh, J., & Sage, M. (2004). Mindful caregiving increases happiness among individuals with profound multiple disabilities. Research in Developmental Disabilities, 25(2), 207–218.

Singh, N. N., Singh, S. D., Sabaawi, M., Myers, R. E., & Wahler, R. G. (2006). Enhancing treatment team process through mindfulness-based mentoring in an inpatient psychiatric hospital. Behavior Modification, 30(4), 423–441.

Singh, N. N., Lancioni, G. E., Winton, A. S., Curtis, W. J., Wahler, R. G., Sabaawi, M., et al. (2006). Mindful staff increase learning and reduce aggression in adults with developmental disabilities. Research in Devevelopmental Disabilities, 27(5), 545–558.

Singh, N. N., Lancioni, G. E., Winton, A. S., Singh, J., Curtis, W. J., Wahler, R. G., et al. (2007). Mindful parenting decreases aggression and increases social behavior in children with developmental disabilities. Behavior Modification, 31(6), 749–771.

Smith, A. (2004). Clinical uses of mindfulness training for older people. Behavioural and Cognitive Psychotherapy, 32, 423–430.

Spielberger, C. D., Gorusch, R. R., & Luchene, R. E. (1970). State-trait anxiety inventory. Palo Alto, CA: Consulting Psychologists Press.

Waelde, L. C., Thompson, L., & Gallagher-Thompson, D. (2004). A pilot study of a yoga and meditation intervention for dementia caregiver stress. Journal of Clinical Psychology, 60(6), 677–687.

Ware, J., Jr., Kosinski, M., & Keller, S. D. (1996). A 12-item short-form health survey: construction of scales and preliminary tests of reliability and validity. Medical Care, 34(3), 220–233.

Zarit, S. H., & Femia, E. E. (2008). A future for family care and dementia intervention research? Challenges and strategies. Aging & Mental Health, 12(1), 5–13.

Zarit, S. H., Reever, K. E., & Bach-Peterson, J. (1980). Relatives of the impaired elderly: correlates of feelings of burden. The Gerontologist, 20(6), 649–655.
Acknowledgment
Portions of the data reported in this paper were presented at two annual meetings: the American Association for Geriatric Psychiatry, New Orleans, LA, March 2007 and the Center for Mindfulness in Medicine, Health Care and Society, Worcester, MA, April 2007. Butler Hospital and the Jewish Home and Hospital supported this investigation.
About this article
Cite this article
Epstein-Lubow, G., McBee, L., Darling, E. et al. A Pilot Investigation of Mindfulness-Based Stress Reduction for Caregivers of Frail Elderly. Mindfulness 2, 95–102 (2011). https://doi.org/10.1007/s12671-011-0047-4
Published:

Issue Date:

DOI: https://doi.org/10.1007/s12671-011-0047-4
Keywords
Caregiving

Depression

Elderly

Mindfulness

Stress