Abstract
The physical and affective symptoms of a broad range of conditions are improved following mindfulness-based practices. One set of symptoms that has yet to be explored through the lens of mindfulness, however, is that associated with the premenstruum. Also, given the relationships among negative attitudes towards menstruation and amplified symptom reporting, it is reasonable to expect that mindfulness qualities cultivated through practices aimed at dispelling negative anticipatory and judgmental thinking will moderate these relationships. Thus, in this study we examined interrelationships among premenstrual symptom severity reports (PMSR), menstrual attitudes, and mindfulness qualities in a sample of 127 women (age range 18-26 years). Results revealed several statistically significant positive relationships between menstrual attitudes and PMSR. Also, higher scores on measures of mindfulness were significantly associated with lower PMSR. Moderating effects revealed that mindfulness significantly buffered the relationships between menstrual attitudes and PMSR, specifically between: anticipation of menses onset and PMSR as well as anticipation of menses onset and premenstrual water retention. These results may offer the first empirical evidence of relationships among menstrual attitudes, PMSR, and mindfulness qualities. Results from this study align with the body of research showing that mindfulness is predictive of improved symptomatology and well-being across varied conditions. We conclude with discussion supporting the development of a mindfulness-based intervention aimed at reducing symptom severity in premenstrual symptom sufferers.
This is a preview of subscription content, log in to check access.
Access options
Buy single article
Instant access to the full article PDF.
US$ 39.95
Price includes VAT for USA
Subscribe to journal
Immediate online access to all issues from 2019. Subscription will auto renew annually.
US$ 99
This is the net price. Taxes to be calculated in checkout.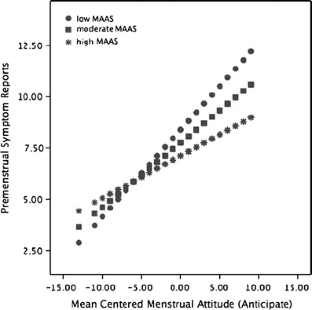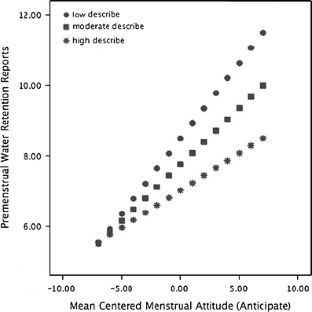 References
Aiken, L. A., & West, S. G. (1991). Multiple regression: Testing and interpreting interactions. Newbury Park: Sage.

Allen, S. S., McBride, C. M., & Pirie, P. L. (1991). The shortened premenstrual assessment form. The Journal of Reproductive Medicine, 36, 769–772.

Allen, S. S., Hatsukami, D., Christianson, D., & Brown, S. (2000). Effects of transdermal nicotine on craving, withdrawal and premenstrual symptomatology in short-term smoking abstinence during different phases of the menstrual cycle. Nicotine & Tobacco Research, 2, 231–241.

American College of Obstetricians and Gynecologists. (2000). ACOG practice bulletin: Clinical management guidelines for obstetrician-gynecologists number 15, April 2000; Premenstrual Syndrome. Obstetrics and Gynecology, 15, 3–8.

Aubeeluck, A., & Maguire, M. (2002). The menstrual joy questionnaire items alone can positively prime reporting of menstrual attitudes and symptoms. Psychology of Women Quarterly, 26, 160–162.

Baer, R. A. (2003). Mindfulness training as a clinical intervention: A conceptual and empirical review. Clinical Psychology: Science and Practice, 10, 125–143.

Baer, R. A., Smith, G. T., Hopkins, J., Krietemeyer, J., & Toney, L. (2006). Using self-report assessment methods to explore facets of mindfulness. Assessment, 13, 27–45.

Bowen, S., Chawla, N., Collins, S., Witkiewitz, K., Hsu, S., Grow, J., et al. (2009). Mindfulness-based relapse prevention for substance use disorders: A pilot efficacy trial. Substance Abuse, 30, 295–305.

Broadbent, B. E., Cooper, P. F., Fitzgerald, P., & Parkes, K. R. (1982). The cognitive failures questionnaire (CFQ) and its correlates. The British Journal of Clinical Psychology, 21, 1–16.

Brooks-Gunn, J., & Ruble, D. N. (1980). The menstrual attitude questionnaire. Psychosomatic Medicine, 42, 503–512.

Brown, K. W., & Ryan, R. M. (2003). The benefits of being present: Mindfulness and its role in psychological well-being. Journal of Personality and Social Psychology, 84, 822–848.

Campagne, D. M., & Campagne, G. (2007). The premenstrual syndrome revisited. European Journal of Obstetrics, Gynecology, and Reproductive Biology, 130, 4–17.

Carmody, J., & Baer, R. A. (2008). Relationships between mindfulness practice and levels of mindfulness, medical and psychological symptoms and well-being in a mindfulness-based stress reduction program. Journal of Behavioral Medicine, 31, 23–33.

Carpenter, M. J., Upadhyaya, H. P., LaRowe, S. D., Saladin, M. E., & Brady, K. T. (2006). Menstrual cycle phase effects on nicotine withdrawal and cigarette craving: A review. Nicotine & Tobacco Research, 8, 627–638.

Davidson, R. J., Kabat-Zinn, J., Schumacher, J., Rosenkranz, M., Muller, D., Santorelli, S. F., et al. (2003). Alterations in brain and immune function produced by mindfulness meditation. Psychosomatic Medicine, 65, 564–570.

Dell, D. L. (2004). Diagnostic challenges in women with premenstrual symptoms. Primary Psychiatry, 11, 41–46.

Dye, L., Warner, P., & Bancroft, J. (1995). Food craving during the menstrual cycle and its relationship to stress, happiness of relationship and depression: A preliminary enquiry. Journal of Affective Disorders, 34, 157–164.

Epstein, E. E., Rhines, K. C., Cook, S., Jensen, N. K., McCrady, B. S., & Zdep-Mattocks, B. (2006). Changes in alcohol craving and consumption by phase of menstrual cycle in alcohol dependent women. Journal of Substance Use, 11, 323–332.

Flannery, B. A., Volpicelli, J. R., & Pettinati, H. M. (1999). Psychometric properties of the Penn Alcohol Craving Scale. Alcoholism, Clinical and Experimental Research, 23, 1289–1295.

Forbes, G. B., Adams-Curtis, L. E., White, K. B., & Holmgren, K. M. (2003). The role of hostile and benevolent sexism in women's and men's perceptions of the menstruating woman. Psychology of Women Quarterly, 27, 58–63.

Greeson, J. M. (2009). Mindfulness research update: 2008. Complementary Health Practice Review, 14, 10–18.

Halbreich, U., Borenstein, J., Pearlstein, T., & Kahn, L. S. (2003). The prevalence, impairment, impact, and burden of premenstrual dysphoric disorder (PMS/PMDD). Psychoneuroendocrinology, 28, 1–23.

Hayes, S. C., Strosahl, K. D., & Wilson, K. G. (1999). Acceptance and commitment therapy: An experiential approach to behavior change. New York: Guilford Press.

Hill, A. J., & Heaton-Brown, L. (1994). The experience of food craving: A prospective investigation in healthy women. Journal of Psychosomatic Research, 38, 801–814.

Holzel, B. K., Ott, U., Gard, T., Hempel, H., Weygandt, M., Morgen, K., et al. (2008). Investigation of mindfulness meditation practitioners with voxel-based morphometry. SCAN, 3, 55–61.

Ivanoski, B., & Malhi, G. S. (2007). The psychological and neurophysiological concomitants of mindfulness forms of meditation. Acta Neuropsychiatrica, 19, 76–91.

Kabat-Zinn, J. (1990). Full catastrophe living. New York: Dell.

Kabat-Zinn, J., Massion, M. D., Kristeller, J., Peterson, L. G., Fletcher, K. E., Pbert, L., et al. (1992). Effectiveness of a meditation-based stress reduction program in the treatment of anxiety disorders. The American Journal of Psychiatry, 149, 936–943.

Kowalski, R. M., & Chapple, T. (2000). The social stigma of menstruation: Fact or fiction? Psychology of Women Quarterly, 24, 74–80.

Kristeller, J. L., & Hallett, C. B. (1999). An exploratory study of meditation-based intervention for binge eating disorder. Journal of Health Psychology, 4, 357–363.

Kroll, R., & Rapkin, A. J. (2006). Treatment of premenstrual disorders. The Journal of Reproductive Medicine, 51, 359–370.

Lazar, S. W., Kerr, C. E., Wasserman, R. H., Gray, J. R., Greve, D. N., Treadway, M. T., et al. (2005). Meditation experience is associated with increased cortical thickness. NeuroReport, 16, 1893–1897.

Lustyk, M. K. B., & Gerrish, W. G. (2008). Premenstrual syndrome and premenstrual dysphoric disorder: Issues of quality of life, stress, and exercise. In V. A. Preedy & R. R. Watson (Eds.), Handbook of disease burdens and quality of life measures. Heidelberg: Springer Verlag.

Lustyk, M. K. B., Widman, L., Paschane, A., & Ecker, E. (2004). Stress, quality of life and physical activity in women with varying premenstrual symptomatology. Women & Health, 39, 35–44.

Lustyk, M. K. B., Beam, C. R., Miller, A. C., & Olson, K. C. (2006). Relationships among perceived stress, premenstrual symptomatology and spiritual well-being in women. Journal of Psychology and Theology, 34, 311–317.

Lustyk, M. K. B., Widman, L., & Becker, L. (2007). Relationship of abuse history with premenstrual symptomatology: Assessing the mediating role of perceived stress. Women & Health, 46, 61–80.

Lustyk, M. K. B., Chawla, N., Nolan, R., & Marlatt, G. A. (2009a). Mindfulness meditation in research: A discussion of safety issues and participant screening procedures. Advances in Mind-Body Medicine, 24, 20–30.

Lustyk, M. K. B., Gerrish, W. G., Shaver, S., & Keys, S. L. (2009b). Cognitive-behavioral therapy for premenstrual syndrome and premenstrual dysphoric disorder: A systematic review. Archives of Women's Mental Health, 12, 85–96.

Mayer, J. L., & Farmer, R. F. (2003). The development and psychometric evaluation of a new measure of dissociative activities. Journal of Personality Assessment, 80, 185–196.

Michener, W., Rozin, P., Freeman, E., & Gale, L. (1999). The role of low progesterone and tension as triggers of premenstrual chocolate and sweets craving: Some negative experimental evidence. Physiology & Behavior, 67, 417–420.

Mitchell, E., Fugate-Woods, N., & Lentz, M. (1991). Recognizing PMS when you see it: Criteria for PMS sample selection. In D. L. Taylor & N. Fugate-Woods (Eds.), Menstruation, health, and illness (pp. 89–102). New York: Hemisphere Publishing Corporation.

Orsillo, S. M., Roemer, L., & Barlow, D. H. (2003). Integrating acceptance and mindfulness into existing cognitive-behavioral treatment for GAD: A case study. Cognitive and Behavioral Practice, 10, 222–230.

Ostafin, B. D., & Marlatt, G. A. (2008). Surfing the urge: Experiential acceptance moderates the relation between automatic alcohol motivation and hazardous drinking. Journal of Social & Clinical Psychology, 27, 404–418.

Rapkin, A. (2003). A review of treatment of premenstrual syndrome & premenstrual dysphoric disorder. Psychoneuroendocrinology, 28, 39–53.

Reed, S. C., Levin, F. R., & Evans, S. M. (2008). Changes in mood, cognitive performance and appetite in the late luteal and follicular phases of the menstrual cycle in women with and without PMDD (premenstrual dysphoric disorder). Hormones and Behavior, 54, 185–193.

Rembeck, G. I., Moller, M., & Gunnarsson, R. K. (2006). Attitudes and feelings towards menstruation and womanhood in girls at menarche. Acta Pediatrica, 95, 707–714.

Rubia, K. (2009). The neurobiology of meditation and its clinical effectiveness in psychiatric disorders. Biological Psychology, 82, 1–11.

Segal, Z., Teasdale, J. D., & Williams, M. (2002). Mindfulness-based cognitive therapy for depression. New York: Guilford Press.

Shapiro, S. L., Carlson, L. E., Astin, J. A., & Freedman, B. (2006). Mechanisms of mindfulness. Journal of Clinical Psychology, 62, 373–386.

Sinha, R. (2008). Modeling stress and drug craving in the laboratory: Implications for addiction treatment development. Addiction Biology, 14, 84–98.

Sinha, R., & Li, C.-S. R. (2007). Imaging stress- and cue-induced drug and alcohol craving: Association with relapse and clinical implications. Drug and Alcohol Review, 20, 25–31.

Stoddard, J. L., Dent, C. W., Shames, L., & Bernstein, L. (2007). Exercise training effects on premenstrual distress and ovarian steroid hormones. European Journal of Applied Physiology, 99, 27–37.

Tang, Y., Ma, Y., Wang, J., Fan, Y., Feng, S., Lu, Q., et al. (2007). Short-term meditation training improves attention and self-regulation. PNAS Proceedings of the National Academy of Sciences of the United States of America, 104, 17152–17156.

Teasdale, J. D., Segal, Z., & Williams, J. M. G. (1995). How does cognitive therapy prevent depressive relapse and why should attentional control (mindfulness) training help? Behavior Research and Therapy, 33, 25–39.

Trout, K. K., Basel-Brown, L., Rickels, M. R., Schutta, M. H., Petrova, M., Freeman, E. W., et al. (2008). Insulin sensitivity, food intake, and cravings with premenstrual syndrome: A pilot study. Journal of Women's Health, 17, 657–665.

United States Food and Drug Administration (US FDA, n.d.). Yaz approval label. PDF. Retrieved June, 10, 2007 from http://www.fda.gov/.

Witkiewitz, K., Marlatt, G. A., & Walker, D. (2005). Mindfulness-Based Relapse Prevention for alcohol and substance use disorders. Journal of Cognitive Psychotherapy: An International Quarterly, 19, 211–228.

Wittchen, H. U., Perkonigg, A., & Pfister, H. (2003). Trauma and PTSD—An overlooked pathogenic pathway for premenstrual dysphoric disorder? Archives of Women's Mental Health, 6, 293–297.

Woods, N. F., Derry, G. K., & Most, A. (1982). Recollections of menarche, current menstrual attitudes, and perimenstrual symptoms. Psychosomatic Medicine, 44, 285–293.

Woods, N. F., Most, A., & Longnecker, G. D. (1985). Perimenstrual symptoms. Nursing Research, 34, 263–267.
About this article
Cite this article
Lustyk, M.K.B., Gerrish, W.G., Douglas, H. et al. Relationships Among Premenstrual Symptom Reports, Menstrual Attitudes, and Mindfulness. Mindfulness 2, 37–48 (2011). https://doi.org/10.1007/s12671-011-0041-x
Keywords
Premenstrual Symptomatology

Menstrual Attitudes

Mindfulness

Women

Menses