Abstract
The present paper aims to study the biological properties of a series of bicyclic monoterpene alcohols. Firstly, we tested the obtained compounds for fungicidal activity against clinical and reference strains of microscopic fungi. Next, we determined the minimum inhibitory concentration of these compounds comparing to other drugs widely used in practical medicine (fluconazole, terbinafine). At this stage, we found that ( −)-myrtenol (47 MIC and 23.5 μg/ml) exhibits the most promising activity against filamentous and yeast fungi, respectively. Then, we have studied the membrane-protective and antioxidant activities of the obtained compounds and found out that ( −)-cis-verbenol and ( −)-myrtenol exhibit the highest activity on the model of erythrocytes oxidative hemolysis. Interestingly, among all the studied bicyclic monoterpene alcohols, the alcohols of the pinane series have been found to be the most promising. The obtained results from the present study suggest that ( −)-myrtenol would be a leading compound for further studies in terms of possible practical application.
Access options
Buy single article
Instant access to the full article PDF.
USD 39.95
Price excludes VAT (USA)
Tax calculation will be finalised during checkout.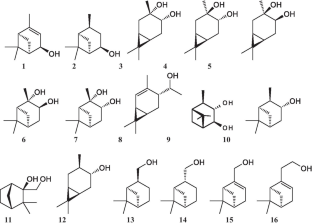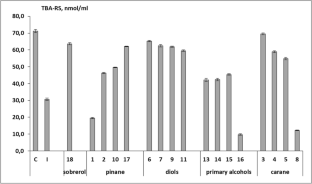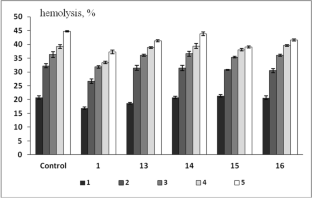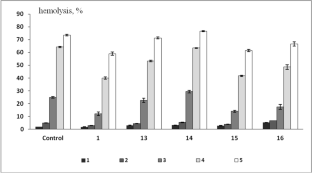 References
Achkar, J. M., & Fries, B. C. (2010). Candida infections of the genitourinary tract. Clinical Microbiology Reviews, 23, 253–273.

Kumari, V., Banerjee, T., Kumar, P., Pandey, S., & Tilak, R. (2013). Emergence of nonalbicans Candida among candidal vulvovaginitis cases and study of their potential virulence factors, from a tertiary care center North India. Indian Journal of Pathology & Microbiology, 56, 144–147. https://doi.org/10.4103/0377-4929.118703

Tobudic, S., Kratzer, C., Lassnigg, A., & Prestrel, E. (2011). Antifungal susceptibility of Candida albicans in biofilms. Mycoses, 55, 199–204.

Pierce, C. G., Uppuluri, P., Tristan, A. R., Wormley, F. L., Jr., Mowat, E., Ramage, G., & Lopez-Ribot, J. L. (2008). A simple and reproducible 96 well plate-based method for the formation of fungal biofilms and its application to antifungal susceptibility testing. Nature Protocols, 3, 1494–1500.

Frolova, L. L., Kuchin, A. V., Dreval,' I. V., Panteleeva, M. V., & Alekseev, I. N. (2005). Verbenone preparation method. Patent Russia, 2250208.

Mihelich, E. D., & Eickhoff, D. J. (1983). A one-pot conversion of olefins to α, β-unsaturated carbonyl compounds. An easy synthesis of 2-cyclopentenone and related compounds. Journal of Organic Chemistry, 48, 4135–4137.

Coxon, J. M., Dansted, E., Hartshorn, M. P., & Richards, K. E. (1968). The synthesis of some 1,2-epoxypinanes. Tetrahedron, 24, 1193–1197.

Schmidt, H. (1960). 1-Hydroxy-pinocamphon und die beiden diastereomeren Pinenglykole. Chemische Berichte, 93, 2485–2490.

Cooper, M. A., Salmon, J. R., & Whittaker, D. (1967). Stereochemistry of the verbenols. J. Chem. Soc. B, 12, 1259–1261.

Mori, K., Mizumachi, N., & Matsui, M. (1976). Synthesis of optical pure (1S,4S,5S)-2-pinen-4-ol (cis-verbenol) and its antipode, the pheromone of Ips bark beetles. Agricultural and Biological Chemistry, 40, 1611–1615.

Reece, C. A., Rodin, J. O., Brownlee, R. G., Duncan, W. G., & Silverstein, R. M. (1968). Synthesis of the principal components of the sex attractant from male Ips confuses frass: 2-Methyl-6-methylene-7-octen-4-ol, 2-methyl-6-methylene-2,7-octadien-4-ol and cis-verbenol. Tetrahedron, 24, 4249–4256.

Frolova, L. L., & Dreval' I.V., Panteleeva M.V., Ipatova E.U., Alekseev I.N., Kutchin A.V. . (2003). Favorable effect of CeIII on the stereoselectivity of reduction of verbenone to cis-verbenol. Russian Chemical Bulletin, 52(2), 498–501.

Frolova, L. L., Kuchin, A. V., Dreval,' I. V., Panteleeva, M. V., & Alekseev, I. N. (2002). Method of synthesis of cis-verbenol. Patent Russia, 2189967.

Frolova, L. L., Kuchin, A. V., Dreval,' I. V., Panteleeva, M. V., & Alekseev, I. N. (2001). Method of preparing myrtenol. Patent Russia, 2176994.

Regan, A. F. (1969). The preparation and stereochemistry of the verbanols and verbanones. Tetrahedron, 25, 3801–3805.

Brown, H. C., Murray, K. J., Murray, L. J., Snover, J. A., & Zweifel, G. (1960). Hydroboration. V. A study of convenient new preparative procedures for the hydroboration of olefins. Journal of the American Chemical Society, 83, 4233–4241.

Kiesgen de Richter, R., Bonato, M., Follet, M., & Kamenka, J. (1990). The (+)- and (-)-[2-(1,3-dithianyl)]myrtanylborane. Solid and stable monoalkylboranes for asymmetric hydroboration. Journal of Organic Chemistry, 55, 2855–2860.

Carlson, R. G., & Pierce, J. K. (1971). Synthesis and stereochemistry of the four isomeric pinane-2,3-diols. Journal of Organic Chemistry, 36(16), 2319.

Arbuzov, B. A., Ratner, V. V., Isaeva, Z. G., & Abaeva, NKh. (1974). Oxidation of 2-carene by potassium permanganate. Bull. A. Sci. USSR. Div. Chem. Sci., 12, 2762.

Arbuzov, B. A., Isaeva, Z. G., Dyakonova, R. R., Saykhutdinov, V. A., & Kazakova, EKh. (1972). Synthesis of 3β,4β-carandiol. Bull. A. Sci. USSR. Div. Chem. Sci., 7, 1680.

Volcho, K. P., Rogoza, L. N., Salakhutdinov, N. F., Tolstikov, A. G., & Tolstikov, G. A. (2005). Preparative chemistry of terpenoids, 1st part. Siberian Branch of the Russian Academy of Sciences.

Garipov, M. R., Sabirova, A. E., Pavelyev, R. S., Shtyrlin, N. V., Lisovskaya, S. A., et al. (2020). Targeting pathogenic fungi, bacteria and fungal-bacterial biofilms by newly synthesized quaternary ammonium derivative of pyridoxine and terbinafine with dual action profile. Bioorganic Chemistry, 104, 104306. https://doi.org/10.1016/j.bioorg.2020.104306

Acker, C. I., Brandão, R., Rosário, A. R., & Nogueira, C. W. (2009). Antioxidant effect of alkynylselenoalcohol compounds on liver and brain of rats in vitro. Environmental Toxicology and Pharmacology, 28, 280–287.

Stefanello, S. T., Prestes, A. S., Ogunmoyole, T., Salman, S. M., Schwab, R. S., Brender, C. R., Dornelles, L., Rocha, J. B. T., & Soares, F. A. A. (2013). Evaluation of in vitro antioxidant effect of new mono and diselenides. Toxicology in Vitro, 27(5), 1433–1439.

Asakawa, T., & Matsushita, S. (1980). Coloring condition of thiobarbituric acid test for detecting lipid hydroperoxides. Lipids, 15, 137–140.

Takebayashi, J., Chen, J., & Tai, A. (2010). A method for evaluation of antioxidant activity based on inhibition of free radical-induced erythrocyte hemolysis. Advanced Protocols in Oxidative Stress II Methods in Molecular Biology, 594, 287–296. https://doi.org/10.1007/978-1-60761-411-1_20

Krishnan-Natesan, S. (2009). Terbinafine: A pharmacological and clinical review. Expert Opinion on Pharmacotherapy, 10, 2723–2733. https://doi.org/10.1517/14656560903307462

Gomes, B. S., Neto, B. P. S., Lopes, E. M., Cunha, F. V. M., Araújo, A. R., Wanderley, C. W. S., et al. (2017). Anti-inflammatory effect of the monoterpene myrtenol is dependent on the direct modulation of neutrophil migration and oxidative stress. Chemico-Biological Interactions, 273, 73–81. https://doi.org/10.1016/j.cbi.2017.05.019

Librowski, T., & Moniczewski, A. (2010). Strong antioxidant activity of carane derivatives. Pharmacological Reports, 62, 178–184.

Baccouri B., & Rajhi I. (2021) Potential antioxidant activity of terpenes. Terpenes and Terpenoids - Recent Advances, IntechOpen.https://doi.org/10.5772/intechopen.96638

Chukicheva, I. Y., Buravlev, E. V., Fedorova, I. V., Borisenkov, M. F., & Kutchin, A. V. (2010). Antioxidant properties of terpene-substituted phenols. Russian Chemical Bulletin, 59(12), 2276–2280.

Plotnikov, M. B., Smolyakova, V. I., Ivanov, I. S., Buravlev, E. V., Chukicheva, IYu., Kutchin, A. V., & Krasnov, E. A. (2011). Synthesis and biological activity of o-isobornylphenol derivatives. Pharmaceutical Chemistry Journal, 44(10), 530–533.

Buravlev, E. V., & Shevchenko, O. G. (2020). Synthesis and antioxidant properties of N-substituted aminomethyl derivatives of 2-isobornylphenol. Russian Chemical Bulletin, 69(10), 1971–1978.

Buravlev, E. V., Shevchenko, O. G., & Kutchin, A. V. (2021). Synthesis and comparative evaluation of the antioxidant activity for some new derivatives of 2,6-diisobornylphenol bearing an aminomethyl group at the position 4. Russian Chemical Bulletin, 70(1), 183–190.
Funding
This work was supported by the Russian Science Foundation, grant No 15–14-00046 and the Program of Competitive Growth of Kazan Federal University. The study of antifungal activity was conducted with the financial support of the charitable foundation of PJSC TATNEFT. The study of hemolytic and antioxidant activity was conducted with the financial support by the Ministry of Science and Higher Education of the Russian Federation (state assignment no. AAAA-A18-118011120004–5). The authors would like to thank the general director of PJSC TATNEFT Nail Maganov for his ongoing collaboration with our department.
Ethics declarations
Research Involving Humans and Animals Statement
None.
Informed Consent
Not applicable.
Conflict of Interest
The authors declare no competing interests.
Additional information
Publisher's Note
Springer Nature remains neutral with regard to jurisdictional claims in published maps and institutional affiliations.
About this article
Cite this article
Nikitina, L.E., Lisovskaya, S.A., Startseva, V.A. et al. Biological Activity of Bicyclic Monoterpene Alcohols. BioNanoSci. 11, 970–976 (2021). https://doi.org/10.1007/s12668-021-00912-8
Accepted:

Published:

Issue Date:

DOI: https://doi.org/10.1007/s12668-021-00912-8
Keywords