Abstract
In recent years, superparamagnetic nanoparticles (NPs) have attracted considerable attention due to their high potential for biomedical applications. This study describes a facile preparation method of superparamagnetic polyethylene glycol (PEG)-coated dysprosium-doped Fe3O4 NPs for potential magnetic resonance imaging (MRI) applications. The structure, morphology, and magnetic properties of the dysprosium-doped Fe3O4 NPs were analyzed by X-ray diffraction (XRD), transmission electron microscopy (TEM), and quantum design vibrating sample magnetometer (QD-VSM), respectively. The MRI imaging ability of the dysprosium-doped Fe3O4 NPs was assessed using a 1.5-T small animal MRI scanner. In addition, pilot studies were performed to examine the toxicity of the PEG-coated dysprosium-doped Fe3O4 NPs. The obtained results suggested that prepared NPs could be used for potential T2-weighted MRI imaging.
Access options
Buy single article
Instant access to the full article PDF.
USD 39.95
Price excludes VAT (USA)
Tax calculation will be finalised during checkout.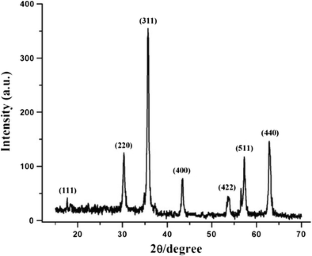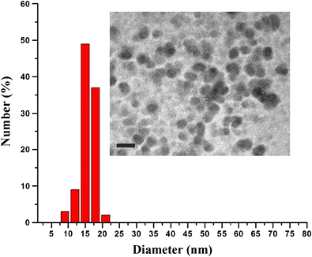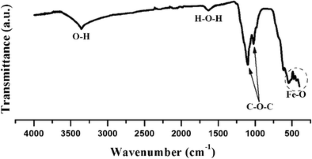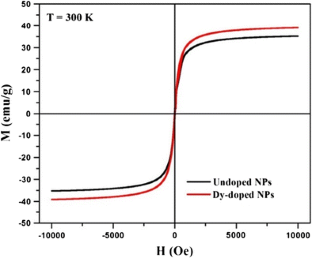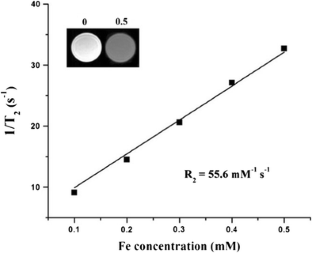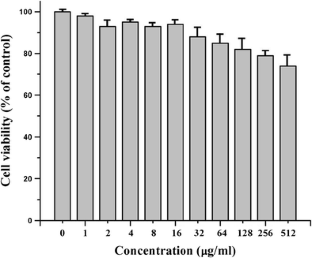 References
Atabaev, T. S. (2016). Multimodal inorganic nanoparticles for biomedical applications. In A. M. Grumezescu (Ed.), Nanobiomaterials in medical imaging: applications of nanobiomaterials (pp. 253–278). Amsterdam: Elsevier Inc..

Lv, Y., Yang, Y., Fang, J., et al. (2015). Size dependent magnetic hyperthermia of octohedral Fe3O4 nanoparticles. RSC Advances, 5, 76764–76771.

Mustapic, M., Hossain, M. S. A., Horvat, J., et al. (2016). Controlled delivery of drug adsorbed onto porous Fe3O4 structures by application of AC/DC magnetic fields. Microporous and Mesoporous Materials, 226, 243–250.

Atabaev, T. S., Kim, H. K., & Hwang, Y. H. (2013). Fabrication of bifunctional core-shell Fe3O4 particles coated with ultrathin phosphor layer. Nanoscale Research Letters, 8, 357.

Lu, W., Ling, M., Jia, M., Huang, P., Li, C., & Yan, B. (2014). Facile synthesis and characterization of polyethylenimine-coated Fe3O4 superparamagnetic nanoparticles for cancer cell separation. Molecular Medicine Reports, 9, 1080–1084.

German, S. V., Navolokin, N. A., Kuznetsova, N. R., et al. (2015). Liposomes loaded with hydrophilic magnetite nanoparticles: preparation and application as contrast agents for magnetic resonance imaging. Colloids and Surfaces, B: Biointerfaces, 135, 109–115.

Ozdemir, A., Ekiz, M. S., Dilli, A., Guler, M. O., & Tekinay, A. B. (2016). Amphiphilic peptide coated superparamagnetic iron oxide nanoparticles for in vivo MR tumor imaging. RSC Advances, 6, 45135–45146.

Wang, Y. X. J. (2015). Current status of superparamagnetic iron oxide contrast agents for liver magnetic resonance imaging. World Journal of Gastroenterology, 21, 13400–13402.

Wang, Z., Liu, J., Li, T., Liu, J., & Wang, B. (2014). Controlled synthesis of of MnFe2O4 nanoparticles and Gd complex-based nanocomposites as tunable and enhanced T1/T2-weighted MRI contrast agents. Journal of Materials Chemistry B, 2, 4748–4753.

Barcena, C., Sra, A. K., Chaubey, G. S., Khemtong, C., Liu, J. P., & Gao, J. (2008). Zinc ferrite nanoparticles as MRI contrast agents. Chemical Communications, 2008, 2224–2226.

Bloemen, M., Vandendriessche, S., Goovaerts, V., et al. (2014). Synthesis and characterization of holmium doped iron oxide nanoparticles. Materials, 7, 1155–1164.

Huan, W., Ji, G., Cheng, C., An, J., Yang, Y., & Liu, X. (2015). Preparation, characterization of high-luminescent and magnetic Eu3+, Dy3+ doped superparamagnetic nano-Fe3O4. Journal of Nanoscience and Nanotechnology, 15, 1780–1788.

Xu, W., Kattel, K., Park, J. Y., Chang, Y., Kim, T. J., & Lee, G. H. (2012). Paramagnetic nanoparticle T1 and T2 MRI contrast agents. Physical Chemistry Chemical Physics, 14, 12687–12700.

Thapa, B., Diaz-Diestra, D., Beltran-Huarac, J., Weiner, B. R., & Morell, G. (2017). Enhanced MRI T2 relaxivity in contrast-probed anchor-free PEGylated iron oxide nanoparticles. Nanoscale Research Letters, 12, 312.

Atabaev, T. S., Lee, J. H., Lee, J. J., et al. (2013). Mesoporous silica with fibrous morphology: a multifunctional core-shell platform for biomedical applications. Nanotechnology, 24, 345603.

Atabaev, T. S., Shin, Y. C., Song, S. J., Han, D. W., & Hong, N. H. (2017). Toxicity and T2-weighted magnetic resonance imaging potentials of holmium oxide nanoparticles. Nanomaterials, 7, 216.

Karimzadeh, I., Aghazadeh, M., Doroudi, T., et al. (2017). Superparamagnetic iron oxide (Fe3O4) nanoparticles coated with PEG/PEI for biomedical applications: a facile and scalable preparation route based on cathodic electrochemical deposition method. Adv Phys Chem, 2017, 9437487.

Atabaev, T. S., Lee, J. H., Han, D. W., Kim, H. K., & Hwang, Y. H. (2014). Ultrafine PEG-capped gadolinia nanoparticles: cytotoxicity and potential biomedical applications for MRI and luminescent imaging. RSC Advances, 4, 34343–34349.

Rohrer, M., Bauer, H., Mintorovitch, J., Requardt, M., & Weinmann, H. J. (2005). Comparison of magnetic properties of MRI contrast media solutions at different magnetic field strengths. Investigative Radiology, 40, 715–724.

Atabaev, T. S., Lee, J. H., Shin, Y. C., et al. (2017). Eu, Gd-codoped yttria nanoprobes for optical and T1-weighted magnetic resonance imaging. Nanomaterials, 7, 35.
Acknowledgments
We would like to thank Ms. Gulnoza Urmanova (Department of Biotechnology, NUUz) for cytotoxicity measurements. We would also like to thank the funding grant provided by NU to conduct the preliminary research.
About this article
Cite this article
Atabaev, T.S. PEG-Coated Superparamagnetic Dysprosium-Doped Fe3O4 Nanoparticles for Potential MRI Imaging. BioNanoSci. 8, 299–303 (2018). https://doi.org/10.1007/s12668-017-0447-6
Published:

Issue Date:

DOI: https://doi.org/10.1007/s12668-017-0447-6
Keywords