Abstract
We report fabrication of magnetically responsive Chlorella pyrenoidosa cells using poly(diallyldimethyl ammonium chloride)-stabilised iron oxide nanoparticles. The nanoparticles were characterised using transmission electron microscopy and dark-field microscopy. The interaction of magnetic nanomaterials with C. pyrenoidosa cells was studied, and high biocompability of these nanomaterials was demonstrated.
This is a preview of subscription content, log in to check access.
Access options
Buy single article
Instant access to the full article PDF.
US$ 39.95
Price includes VAT for USA
Subscribe to journal
Immediate online access to all issues from 2019. Subscription will auto renew annually.
US$ 99
This is the net price. Taxes to be calculated in checkout.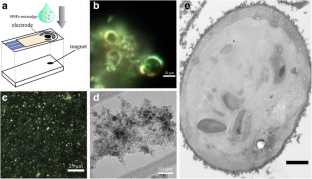 References
1.

Zamaleeva, A. I., Sharipova, I. R., Shamagsumova, R. V., Ivanov, A. N., Evtugyn, G. A., Ishmuchametova, D. G., et al. (2011). A whole-cell amperometric herbicide biosensor based on magnetically functionalised microalgae and screen-printed electrodes. Analytical Methods, 23, 509–513.

2.

Trilling, A. K., Beekwildera, J., Zuilhof, H. (2013). Antibody orientation on biosensor surfaces: a minireview. Analyst, 138, 1619–1627.

3.

Chouteau, C., Dzyadevych, S., Chovelon, J., Durrieu, C. (2004). Development of novel conductometric biosensors based on immobilised whole cell Chlorella vulgaris microalgae. Biosensors and Bioelectronics, 19, 1089–1096.

4.

Ferro, Y., Perullini, M., Jobbagy, M., Bilmes, S. A., Durrieu, C. (2012). Development of a biosensor for environmental monitoring based on microalgae immobilized in silica hydrogels. Sensors, 12(12), 16879–16891.

5.

Fakhrullin, R. F., Shlykova, L. V., Zamaleeva, A. I., Nurgaliev, D. K., Osin, Y. N., Garcia-Alonoso, J., et al. (2010). Interfacing living unicellular algae cells with biocompatible polyelectrolyte-stabilised magnetic nanoparticles. Macromolecular Bioscience, 10(10), 1257–1264.

6.

Pack, D. W., Hoffman, A. S., Pun, S., Stayton, P. S. (2005). Design and development of polymers for gene delivery. Nature Reviews Drug Discovery, 4, 581–593.

7.

Zhang, B. B., Wang, L., Charles, V., Rooke, J. C., Su, B. L. (2016). Robust and biocompatible hybrid matrix with controllable permeability for microalgae encapsulation. ACS Applied Materials & Interfaces, 8(14), 8939–8946.
Acknowledgments
This work was supported by the Foundation for Assistance to Small Innovative Enterprises (FASIE) in the frame of UMNIK program. The work is performed according to the Russian Government Program of Competitive Growth of Kazan Federal University.
About this article
Cite this article
Rozhina, E., Evtugyn, V., Danilushkina, A. et al. Fabrication of Magnetically Modified Chlorella pyrenoidosa Microalgae Using Poly(diallyldimethyl ammonium)-stabilised Magnetic Nanoparticles. BioNanoSci. 6, 520–522 (2016). https://doi.org/10.1007/s12668-016-0263-4
Keywords
Magnetic nanoparticles

Chlorella pyrenoidosa

TEM

Cell surface engineering

Magnetic modification