Abstract
Fluvastatin is a competitive inhibitor of 3-hydroxy-3-methylglutaryl-coenzyme A (HMG-CoA) reductase. It lowers the overall blood cholesterol level, which is responsible for coronary artery diseases. Conformational features of fluvastatin in water solution were determined. NMR experiments showed that fluvastatin form molecular complex with model cell membrane. It intercalates into membrane surface by its aromatic part. Intermolecular distances between dodecylphosphocholine micelles and fluvastatin nuclei were calculated.
This is a preview of subscription content,
to check access.
Access this article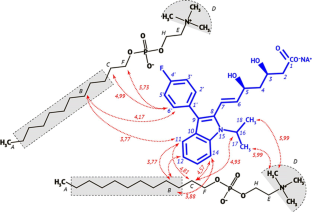 References
Davidson, H. (1994). Fluvastatin long term extension trial (FLUENT): summary of efficacy and safety. The American Journal of Medicine, 96(6), S41–S44.

Peters, T. K., Jewitt-Harris, J., Mehra, M., Muratti, E. N. (1993). Safety and tolerability of fluvastatin with concomitant use of antihypertensive agents: an analysis of a clinical trial database. American Journal of Hypertension, 6, S346–S352.

Davidson, M. H. (2004). Comparative effects of lipid-lowering therapies. Progress in Cardiovascular Diseases, 47, 73–104.

Lindahl, A., Sandstrom, R., Ungell, A.-L., Abrahamsson, B., Knutson, T. W., Knutson, L., et al. (1996). Jejunal permeability and hepatic extraction of fluvastatin in humans. Clinical Pharmacology and Therapeutics, 60, 493–503.

Mason, R. P., Walter, M. F., Day, C. A., Jacob, R. F. (2005). Intermolecular differences of 3-hydroxy-3-methylglutaryl coenzyme a reductase inhibitors contribute to distinct pharmacologic and pleiotropic actions. The American Journal of Cardiology, 96, 11–23.

Rakhmatullin, I. Z., Galiullina, L. F., Klochkova, E. A., Latfullin, I. A., Aganov, A. V., Klochkov, V. V. (2016). Structural studies of pravastatin and simvastatin and their complexes with SDS micelles by NMR spectroscopy. Journal of Molecular Structure, 1105, 25–29.

Galiullina, L. F., Rakhmatullin, I. Z., Klochkova, E. A., Aganov, A. V., Klochkov, V. V. (2015). Structure of pravastatin and its complex with sodium dodecyl sulfate micelles studied by NMR spectroscopy. Magnetic Resonance in Chemistry, 53(2), 110–114.

Kallik, D. A., Tessmer, M. R., Watts, C. R., Li, C.-Y. (1995). The use of dodecylphosphocholine micelles in solution NMR. Journal of Magnetic Resonance. Series B, 109, 60–65.

Larocque, G., Arnold, A. A., Chartrand, E., Mouget, Y., Marcotte, I. (2010). Effect of sodium bicarbonate as a pharmaceutical formulation excipient on the interaction of fluvastatin with membrane phospholipids. European Biophysics Journal, 39, 1637–1647.

Ali, S. M., Upadhyay, S. K., Maheshwari, A., Koketsu, M. (2006). Complexation of fluvastatin sodium with β-cyclodextrin: NMR spectroscopy study in solution. Journal of Inclusion Phenomena, 55, 325–328.
Acknowledgments
This work was supported by the Russian Foundation for Basic Research (grant 16-33-60014). The work was also performed according to the Russian Government Program of Competitive Growth of Kazan Federal University.
About this article
Cite this article
Galiullina, L.F., Aganova, O.V., Latfullin, I.A. et al. NMR Study of Conformational Structure of Fluvastatin and Its Complex with Dodecylphosphocholine Micelles. BioNanoSci. 6, 352–354 (2016). https://doi.org/10.1007/s12668-016-0232-y
Published:

Issue Date:

DOI: https://doi.org/10.1007/s12668-016-0232-y
Keywords