We're sorry, something doesn't seem to be working properly.
Please try refreshing the page. If that doesn't work, please contact support so we can address the problem.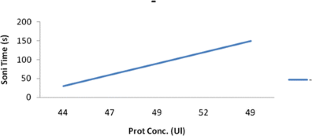 References
1.

Batchmann, B. J. (1972). Bacteriological Reviews, 36, 525–557.

2.

Edebo, L. (1961). In Fermentation advances Pelman D (ed) 249. New York: Academic.

3.

Middleberg, A. P. (1995). Biotechnology Advances, 13(3), 491–551.

4.

Geciova, J., Bury, D., and Jelen, P. (2002). International Dairy Journal, 12(6), 541–553.

5.

Ho, C. W., Chewa, T. K., Ling, T. C., Kamaruddin, S., Tan, W. S., and Tey, B. T. (2006). Process Biochemistry, 41, 1829–1834.

6.

Klima, J., Frial-Fermer, A., Gonzales-Garcia, S., Ludvik, J., Saez, V., and Inierta, J. (2007). Ultrasonography Chemistry, 14, 19–28.

7.

Nithiyanantham, S. (2014). Bionanosci, 4, 201–206.

8.

Nithiyanantham, S., and Palaniappan, L. (2014). Arabian Journal of Chemistry, 7, 272–276.

9.

Nithiyanantham, S., and Palaniappan, L. (2010). Applied Acoustics, 71, 754–758

10.

Takao Furuki, Shuichi Maeda, Satoshi Imoyo, Tetsaya Hiroi, Tsutomu Amaya, Takahiko Hirokawa, Kazwo Ho and Hirokonozawa. (2003). Journal of Applied Physiology, 15, 319–324

11.

Baldyaga,.J, Jatiaska, M., Dziegielewska, M., Zeochouska, M., Euro Wazawa. (2012). 10–13
Acknowledgments
The authors are very grateful to Dr. K. Ganesan, Prof. and Head (Retd), Dept of Physics, TBML College, Porayar, Tamil Nadu, India, who inspired this work. The authors also acknowledge the management authorities, SRM University, Kattankulathur, Chennai, India, for providing the necessary facilities to carry out this work.
About this article
Cite this article
Saranya, N., Devi, P., Nithiyanantham, S. et al. Cells Disruption by Ultrasonication. BioNanoSci. 4, 335–337 (2014). https://doi.org/10.1007/s12668-014-0149-2
Keywords
Cavitation

Cell Disruption

Acoustic Power

Protein Release

High Pressure Treatment