Abstract
Carryover of oxidising slag from primary steelmaking furnace during tapping affects the quality of liquid steel in several ways. Secondary steelmaking practices, such as deoxidation, desulphurization, vacuum degassing as well as inclusion control in liquid steel bath, are greatly influenced by the amount and characteristic of carryover slag. Both, slag volume as well as ferro alloy consumption increases due to the presence of carryover slag during ladle refining treatment. Carryover of furnace slag in ladle during tapping cannot be avoided and results in consumption of excess electrical energy. Thus, control of carry over slag mainly during tapping is essential by suitably modifying the operational practice. In the present investigation, slag carry over during liquid steel tapping operation is quantified for the processed data obtained from an integrated steel plant based on material balance and equilibrium thermodynamic study. Some of the relevant operational factors related to slag, deoxidation, temperature and solutes (C, S and N) are identified and correlated with the amount of slag carry over. Though, the slag carry over during tapping operation is gravity dependent draining phenomena, scope for controlling the same is identified & discussed in the present study.
Access options
Buy single article
Instant access to the full article PDF.
USD 39.95
Price excludes VAT (USA)
Tax calculation will be finalised during checkout.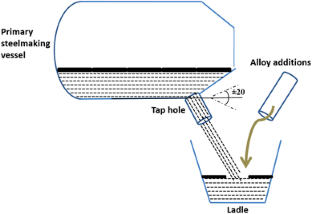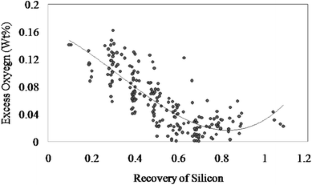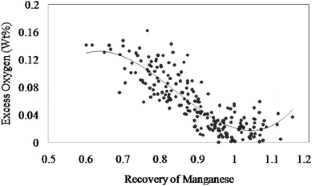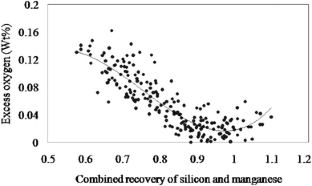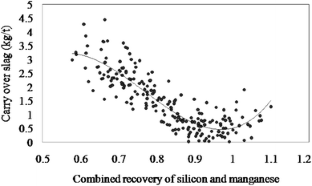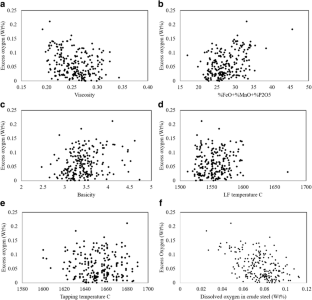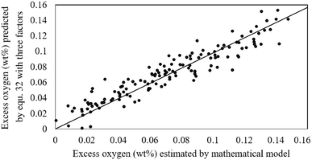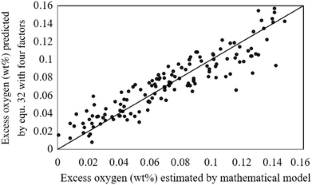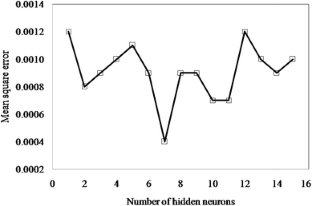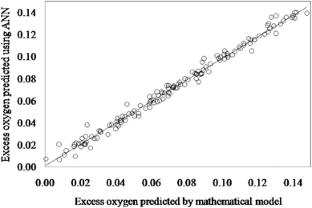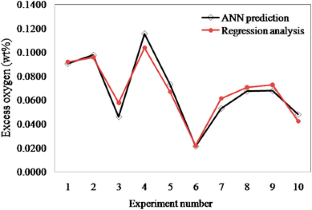 References
Jean-Pierre B, Metall Res Technol 113 (2016) 1.

Sankaranarayanan R, and Guthrie R I L, Ironmak Steelmak 29 (2002) 147.

Koria S C, and Kanth U, Steel Res Int 65 (1994) 8.

Koria S C, and Singh S, Trans Indian Inst Metals, 47 (1994) 121.

Davila O, Morales R D, and Garcia-Demedices L, Metall Mater Trans B 37B (2006) 77.

Lee S-J, Kim S-J, and Lee H-G, Metal Mater Int 22 (2016) 136.

Mazumdar D, Singh O P, Dutta J, Ghosh S, Satish D, and Chakraborty S, Trans Indian Inst Metals 64 (2011) 593.

Steneholm K, Andersson N Å I, Tilliander A, and Jönsson P G, The Role of Process Control on the Steel Cleanliness, KTH:s Publikationsdatabas DiVA (2016).

Singh P K, Scale Model Experiments and Numerical Study on a Steel Teeming Process, M.S. Thesis, University of Kentucky, Lexington (2004).

Doostmohammadi H, Anderson M, Steneholm K, and Jönsson P, in Proc EPD Cong, Effect of EAF Slag Carryover on Slag-Metal Equilibrium Calculations for Ladle Degassing Process, KTH:s Publikationsdatabas DiVA, Sanfrancisco, California (2009).

Ghosh A, Secondary Steelmaking—Principle and Applications, CRC Press, New York (2001).

Ohta H, and Suito H, Metall Mater Trans B 29B (1998) 119.

Kamaraj A, Mandal G A, Minj R K, Misra S, Bandyopadhyay D, Trans Indian Inst Met (2016). doi:10.1007/s12666-016-0997-2.

Kamaraj A, Venkatesan J, Venkatakrishnan P G, Adv Mater Res 585 (2012) 364.

Doostmohammadi H, Andersson M, Stneheolm K, Jonsson P, TMS Annual conference, At San Diego, USA, Volume EPD congress (2009).

Seetharaman S, Fundamentals of Metallurgy, Taylor & Francis, Boca Raton (2005).

Seetharaman S, Treatise on Process Metallurgy, Volume 3: Industrial Processes, Newnes (2013).

Li W, Wang X, Wang X, Wang X, Chem Eng Trans 51 (2016) 475.

Jun T, Xin W, Tianyou C, Shuming X, Intelligent Control Method and Application for bof Steelmaking Process, 15th Triennial World Congress, Barcelona, Spain (2002).

Ruuska J, Special measurements and control models for a basic oxygen furnace (BOF), PhD Thesis, University of Oulu, Oulu (2012).

Dumortier C, and Lehert P, ISIJ Int 39 (1999) 980.

Xudong W, Man Y, and Xingfu C, ISIJ Int 46 (2006) 1047.

Mugwagwa L, Nyanga L, and Mhlanga S, Int J Eng Adv Technol (IJEAT) 2 (2012) 380.

Giakos GC, IEEE Trans Instrum Meas 40 (1998) 1.

Shi Z, and He L, Application of Neural Networks in Medical Image Processing, Proceedings of the Second International Symposium on Networking and Network Security (ISNNS'10) Jinggangshan, P. R. China, 2–4, April. (2010) 023-026.

Torkkola K, and Kokkonen M, Using the Topology-Preserving Properties of SOMs in Speech Recognition, Proceedings of the IEEE ICASSP (1991).

Haykin S, Neural Networks: A Comprehensive Foundation, Prentice Hall, New Jersey (1999).

Singh H, Sridhar N V, Deo B, Steel Res Int 67 (1996) 521.

Datta A, Hareesh M, Kalra P K, Deo B, Boom R, Steel Res Int 65 (1994). doi:10.1002/srin.199401195.

Jun T, Xin W, Tianyou C, Shuming X, Intelligent control method and application for bof steelmaking process, in 15th Triennial World Congress, Barcelona, Spain (2002).
About this article
Cite this article
Kamaraj, A., Hore, S., Sathyamoorthi, P. et al. Estimation and Analysis of Excess Oxygen Input into Ladle During Liquid Steel Tapping. Trans Indian Inst Met 70, 2465–2476 (2017). https://doi.org/10.1007/s12666-017-1108-8
Received:

Accepted:

Published:

Issue Date:

DOI: https://doi.org/10.1007/s12666-017-1108-8
Keywords