Abstract
The behavior, bioavailability and toxicity of heavy metals in soil essentially relies on their chemical spices. This paper attempts to quantify the heavy metals spices bound to various soil fractions at five sampling stations (S1–S5) from the Doustbaglu area, NW Iran, to ascertain their bioavailability, using sequential extraction. The results revealed that more than 90% of Cr and Cu were retained in the residual fraction, signifying the geogenic origin due to acid rock drainage of the surrounding mineralized zones. Ni, Pb and Zn; were assigned in a group presenting mostly in the residual (ranging 60 to 90%) and Fe/Mn oxy-hydroxide fractions, so reflecting a limited toxicity. The mean concentration of As and Sb at the non-residual fractions was significant (57.4 and 67.3%, respectively), primarily in the exchangeable as well as carbonate fractions, and thus they have high potential to be released into pore-water if conditions become more acidic. The highest contamination factors (Cf) were obtained for As and Sb (at S4-S5), while the lowest Cf were found for Cr, Cu, Pb and Zn. The mean risk assessment code (RAC) of As (37.8%) and Sb (39.5%) suggest the high risk situation, meanwhile, As at S2 (50.4%), S5 (51.6%); and Sb at S2 (53.1%) seems to be crossing threshold into the very high risk condition. The order of bioavailability based on RAC was (As > Sb) >  >  > Ni > Pb > Zn > Cr > Cu.
This is a preview of subscription content,
to check access.
Access this article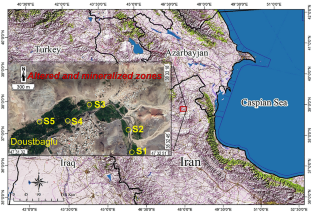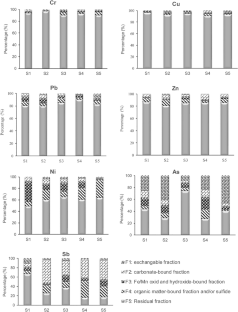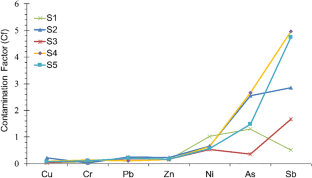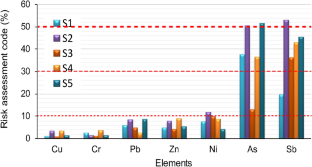 Data availability
The datasets used and/or analysed during the current study are available from the corresponding author on reasonable request.
References
Adagunodo TA, Sunmonu LA, Emetere ME (2018) Heavy metals' data in soils for agricultural activities. Data Brief 18:1847–1855

Ahmadipour F, Bahramifar N, Ghasempouri SM (2014) Fractionation and mobility of cadmium and lead in soils of Amol area in Iran, using the modified BCR sequential extraction method. Chem Speciat Bioavailab 26(1):31–36

Akcay H, Oguz A, Karapire C (2003) Study of heavy metal pollution and speciation in Buyak Menderes and Gediz river sediments. Water Res 37:813–822

Allison LE (1965) Organic carbon. Methods of soil analysis: Part 2 chemical and microbiological properties, vol 9. American Society of Agronomy, Soil Science Society of America Inc., Madison, pp 1367–1378

Aslibekian O, Moles R (2003) Environmental risk assessment of metal contaminated soils at silver mines abandoned mine site, co tipperary, Ireland. Environ Geochem Health 25:247–266

Barbieri M, Sappa G, Nigro A (2018) Soil pollution: anthropogenic versus geogenic contributions over large areas of the Lazio region. J Geochem Explor 195:78–86

Ben Amor R, Yahyaoui A, Abidi M, Chouba L, Gueddari M (2019) Bioavailability and assessment of metal contamination in surface sediments of rades-hamam lif coast, around meliane river (Gulf of Tunis, Tunisia, Mediterranean Sea). J Chem 2019:1–11

Budimir S, Marko B (1995) Distribution of Cd, Pb, Cu and Zn in carbonate sediments from the Krka river estuary obtained by sequential extraction. Sci Total Environ 170:101–118

Burt R (2004) Soil survey laboratory methods manual. Soil survey investigations report no. 42, Version 4.0. USDA United States Department of Agriculture, USA

Cai L, Xu Z, Ren M, Guo Q, Hu X, Hu G, Wan H, Peng P (2012) Source identification of eight hazardous heavy metals in agricultural soils of Huizhou, Guangdong Province, China. Ecotoxicol Environ Saf 78:2–8

Chiroma TM, Ebewele RO, Hymore FK (2014) Comparative assessment of heavy metal levels in soil, vegetables and urban grey waste water used for irrigation in Yola and Kano. Int Ref J Eng Sci 3:1–9

Chopin EIB, Black S, Hodson ME, Coleman ML, Alloway BJ (2003) A preliminary investigation into mining and smelting impacts on trace element concentrations in the soil and vegetation around Tharsis, SW Spain. Miner Mag 67(2):279–288

Chu H, Vu T, Nguyen T, Nguyen H (2019) Accumulation of arsenic and heavy metals in native and cultivated plant species in a lead recycling area in Vietnam. Minerals 9(132):1–17

Cuong D, Obbard J (2006) Metal speciation in coastal marine sediments from Singapora using a modified BCR-Sequential extraction procedure. Appl Geochem 21:1335–1346

Davidson CM, Thomas RP, McVey SE, Perala R, Littlejohn D, Ure AM (1994) Evaluation of a sequential extraction procedure for the speciation of heavy metals in sediment. Anal Chim Acta 291:277–286

Houba V, Van der Lee J, Novozamsky I (1995) Soil and plant analysis, a series of syllabi part 5B: soil analysis procedures, other procedures. Department of Soil Science and Plant Nutrition, Wageningen Agricultural University, Wageningen

Iwegbue CMA (2007) Metal fractionation in soil profiles at automobile mechanic waste dumps. Waste Manag Res 25:585–593

Iwegbue C, Tesi G, Overah L, Martincigh B (2018) Chemical fractionation and mobility of metals in floodplain soils of the lower reaches of the River Niger, Nigeria. Trans R Soc S Afr 73(1):90–109

Jain CK, Ran D (2004) Metal fractionation study on bed sediments of river Yamuna, India. Water Res 38:569–578

Jochum KP, Hofmann AW, Seufert HM (1993) Tin in mantle-derived rocks: constraints on earth evolution. Geochim Cosmochim Acta 57:3585–3595

Kabala C, Singh BR (2001) Fractionation and mobility of copper lead and zinc in soil profiles in the vicinity of a copper smelter. J Environ Qual 30:485–495

Li Xh, Tang ZL, Chu FY, Yang LY (2011) Characteristics of distribution and chemical speciation of heavy metals in environmental mediums around Jinchang mining City, Northwest China. Environ Earth Sci 64:1667–1674

Likuku AS, Khumoetsile B, Molawa M, Gaboutloeloe GK (2013) Assessment of heavy metal enrichment and degree of contamination around the copper-nickel mine in the Selebi Phikwe region, Eastern Botswana. Environ Ecol Res 1:32–40. https://doi.org/10.13189/eer.2013.010202

Lin C, Liu Y, Li WQ (2014) Speciation, distribution, and potential ecological risk assessment of trace metals in Xiamen Bay surface sediment. Acta Oceanol Sin 33:13–21

Long YY, Hu LF, Fang CR, Wu YY, Shen DS (2009) An evaluation of the modified BCR sequential extraction procedure to assess the Potential mobility of copper and zinc in MSW. Microchem J 91:1–5

Lottermoser B (2010) Mine wastes: characterization, treatment and environmental impacts. Springer, Berlin, Heidelberg

Lu A, Wang J, Qin X, Wang K, Han P, Zhang S (2012) Multivariate and geostatistical analyses of the spatial distribution and origin of heavy metals in the agricultural soils in Shunyi, Beijing, China. Sci Total Environ 425:66–74

Marchand C, Allenbach M, Lallier Verges E (2011) Relationships between heavy metals distribution and organic matter cycling in mangrove sediments (Conception Bay, New Caledonia). Geoderma 160:444–456

Nemati K, AbuBakar NK, Sobhanzadeh E, Abas MR (2009) A modification of the BCR sequential extraction procedure to investigate the potential mobility of copper and zinc in shrimp aquaculture sludge. Microchem J 92:165–169

Ogundiran O, Osibanjo MB (2009) Mobility and speciation of heavy metals in soils impacted by hazardous waste. Chem Speciat Bioavailab 21(2):59–69

Ran X, Shuang W, Ronghua L, Jim JW, Zengqiang Z (2017) Soil heavy metal contamination and health risks associated with artisanal gold mining in Tongguan, Shaanxi, China. Ecotoxicol Environ Saf 141:17–24

Sabah A, Fouzul AAW, Fouzul AM (2012) The environmental impact of gold mines: pollution by heavy metals. Cent Eur J Eng 2:304–313

Salbu B, Kreling T, Oughton DH (1998) Characterization of radioactive particles in the environment. Analyst 123:843–849

Sbarbati C, Barbieri M, Barron A, Bostick B, Colombani N, Mastrocicco M, Prommer H, Passaretti S, Zheng Y, Petitta M (2020) Redox dependent arsenic occurrence and partitioning in an industrial coastal aquifer: evidence from high spatial resolution characterization of groundwater and sediments. Water (switzerland) 12(10):1–20

Singh KP, Mohan D, Singh VK, Malik A (2005) Studies on distribution and fractionation of heavy metals in Gomti river sediments-a tributary of the Ganges, India. J Hydrol 312:14–27

Taxonomy S (2010) Keys to Soil Taxonomy, 11th edn. USDA-Natural Resources Conservation Service, Washington

Taylor SR, Mclennan SM (1985) The continental crust: its composition and evolution, 1st edn. Blackwell Scientific Publications, Oxford

Tessier A, Compbell PGC, Blesson M (1979) Sequential extraction procedure for speciation of particulate trace metal. Anal Chem 51:844–851

Thomas RP, Ure AM, Davidson CM, Littlejohn D, Rauret G, Rubio R (1994) Three-stage sequential extraction procedure for the determination of metals in river sediments. Anal Chim Acta 286:423–429

WHO (1996) Trace elements in human nutrition and health. WHO Library Cataloguing in Publication Data, Geneva
Acknowledgments
Thanks are due to the Research Council of the University of Tabriz for providing the first author with a research grant (No. 75475).
Funding
The Research Council of the University of Tabriz (https://tabrizu.ac.ir/en) provided the first author with a research grant (No. 75475). The funders had no role in study design, data collection and analysis, interpretation of the data, decision to publish, or preparation of the manuscript.
Ethics declarations
Conflict of interest
The authors declare that they have no conflict of interest.
Ethical approval
For this type of study formal consent is not required.
Consent to participate
This article does not contain any studies with human participants performed by any of the authors.
Consent for publication
Not applicable.
Additional information
Publisher's Note
Springer Nature remains neutral with regard to jurisdictional claims in published maps and institutional affiliations.
About this article
Cite this article
Siahcheshm, K., Orberger, B. & Wagner, C. Bioavailability and heavy metals speciation assessment in the contaminated soils of Doustbaglu mineralized area, NW Iran. Environ Earth Sci 81, 34 (2022). https://doi.org/10.1007/s12665-021-10162-2
Received:

Accepted:

Published:

DOI: https://doi.org/10.1007/s12665-021-10162-2
Keywords