Abstract
The current study intended to assess the hydrogeochemical processes and groundwater quality along with the identification of associated health risk by consuming the groundwater in the local population by collecting 70 groundwater samples for premonsoon and postmonsoon in the year 2015. Gibbs plot nominated that majority of the sample of Bhadohi is from rock dominance. The Ca/Mg ratio signifies that carbonate dissolution is the principal reason for Ca in the Bhadohi environs. Relatively high Na/Cl (> 1), K/Cl (> 0.02) and SO4/Cl (> 0.09) ratios are accredited to the influence of textile effluents on the groundwater. 45% sample in postmonsoon and 40% samples in premonsoon demonstrate high NO3 values which is exceeding the WHO standard for human drinking. Chronic daily intake (CDI) value demonstrates that the residents of the study region are at risk of nitrate contamination originated health hazards. About 48.5% of groundwater samples show a high concentration of iron. The HPI profile shows that 32% of the sample has high HPI values, 17% of the sample has a medium range of HPI, and 51% of the sample has a low value of HPI. Target health quotient values of trace metals in groundwater were in the order of Pb > Mn > Cr > Cd > Cu > Fe > Zn > Ni. The groundwater of the investigative area is fine for irrigation.
Access options
Buy single article
Instant access to the full article PDF.
USD 39.95
Price excludes VAT (USA)
Tax calculation will be finalised during checkout.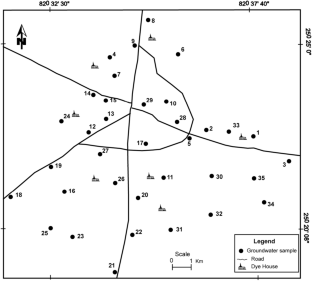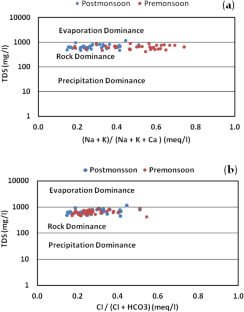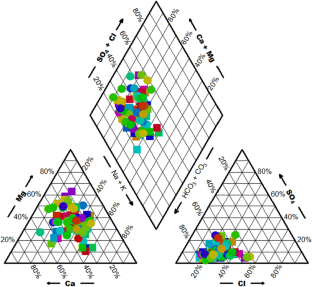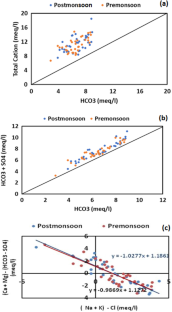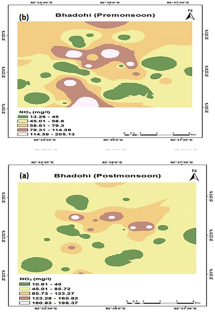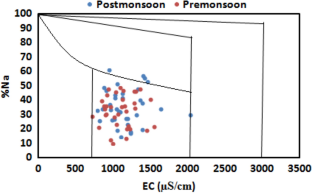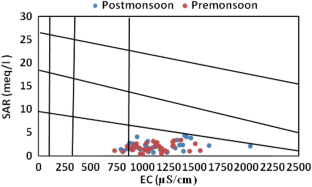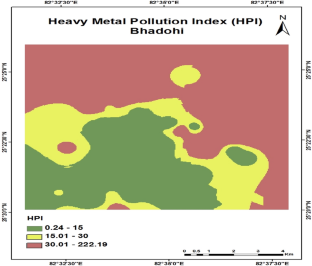 References
Adimalla N, Qian H, Nandan MJ (2020) Groundwater chemistry integrating the pollution index of groundwater and evaluation of potential human health risk: a case study from hard rock terrain of south India. Ecotoxicol Environ Saf 206:111217

Adimalla N, Qian H, Tiwari DM (2021) Groundwater chemistry, distribution and potential health risk appraisal of nitrate enriched groundwater: a case study from the semi-urban region of South India. Ecotoxicol Environ Saf 207:111277

Ahamad A, Madhav S, Singh P, Pandey J, Kha AH (2018) Assessment of groundwater quality with special emphasis on nitrate contamination in parts of Varanasi City, Uttar Pradesh India. Appl Water Sci 8(4):115

Ahamad A, Raju NJ, Madhav S, Khan AH (2020) Trace elements contamination in groundwater and associated human health risk in the industrial region of southern Sonbhadra, Uttar Pradesh India. Environ Geochem Health 42:3373–3391

Aleem M, Cao J, Li C, Rashid H, Wu Y, Nawaz MI et al. (2020) Coagulation-and adsorption-based environmental impact assessment and textile effluent treatment. Water Air Soil Pollut 231(2):1–8

APHA (2005) Standard methods for the examination of water and waste water, 20th edn. Washington

Appelo CAJ, Postma D (2004) Geochemistry, groundwater and pollution. CRC Press

Arnade LJ (1999) Seasonal correlation of well contamination and septic tank distance. Groundwater 37(6):920–923

Babu BR, Parande AK, Raghu S, Kumar TP (2007) Textile technology-an overview of wastes produced during cotton textile processing and effluent treatment methods. J Cotton Sci 11:110

Davis SN, DeWiest RJ (1966) Hydrogeology (No. 551.49 D3).

Eaton FM (1950) Significance of carbonates in irrigation waters. Soil Sci 69(2):123–134

Edet AE, Offiong OE (2002) Evaluation of water quality pollution indices for heavy metal contamination monitoring. A study case from Akpabuyo-Odukpani area, Lower Cross River Basin (southeastern Nigeria). Geo J 57(4):295–304

Elangovan NS, Lavanya V, Arunthathi S (2018) Assessment of groundwater contamination in a suburban area of Chennai, Tamil Nadu, India. Environ Develop Sustain 20(6):2609–2621

Epa US (2013) Integrated risk information system (IRIS). United States Environmental Protection Agency, Washington, DC

Etikala B, Golla V, Arveti N, Yenamala S, Mannala P, Kumar PKK (2020) Statistical and analytical evaluation of groundwater quality of Atmakur Area, SPSR Nellore District, Andhra Pradesh, South India. Emerging trends in civil engineering. Springer, Singapore, pp 323–333

Freeze RA, Cherry JA (1979) Groundwater, pp 604

Ghabayen SM, McKee M, Kemblowski M (2006) Ionic and isotopic ratios for identification of salinity sources and missing data in the Gaza aquifer. J Hydrol 318(1–4):360–373

Gibbs RJ (1970) Mechanism controlling world's water chemistry. Science 170:1088–1090

Giorgetti L, Talouizte H, Merzouki M, Caltavuturo L, Geri C, Frassinetti S (2011) Genotoxicity evaluation of effluents from textile industries of the region Fez-Boulmane, Morocco: a case study. Ecotoxicol Environ Saf 74(8):2275–2283

Husain MS, Umar R, Ahmad S (2020) A comparative study of springs and groundwater chemistry of Beas and Parbati valley, Kullu District, Himachal Pradesh, India. HydroResearch 3:32–47

Hutton M (1983) Sources of cadmium in the environment. Ecotoxicol Environ Saf 7(1):9–24

Jalali M (2007) Hydrochemical identification of groundwater resources and their changes under the impacts of human activity in the Chah basin in western Iran. Environ Monit Assess 130(1–3):347–364

Jalali M (2010) Groundwater geochemistry in the Alisadr, Hamadan, western Iran. Environ Monit Assess 166(1–4):359–369

Jeevanandam M, Nagarajan R, Manikandan M, Senthilkumar M, Srinivasalu S, Prasanna MV (2012) Hydrogeochemistry and microbial contamination of groundwater from lower ponnaiyar basin, cuddalore district, Tamil Nadu. India Environ Earth Sci 67(3):867–887

Kanwar VS, Sharma A, Srivastav AL, Rani L (2020) Phytoremediation of toxic metals present in soil andwater environment: a critical review. Environ Sci Pollut Res 27:44835–44860

Karunanidhi D, Aravinthasamy P, Deepali M, Subramani T, Roy PD (2020) The effects of geochemical processes on groundwater chemistry and the health risks associated with fluoride intake in a semi-arid region of South India. RSC Adv 10(8):4840–4859

Kim K, Rajmohan N, Kim HJ, Hwang GS, Cho MJ (2004) Assessment of groundwater chemistry in a coastal region (Kunsan, Korea) having complex contaminant sources: a stoichiometric approach. Environ Geol 46(6–7):763–774

Kim H, Kaown D, Mayer B, Lee JY, Hyun Y, Lee KK (2015) Identifying the sources of nitrate contamination of groundwater in an agricultural area (Haean basin, Korea) using isotope and microbial community analyses. Sci Total Environ 533:566–575

Kumari P, Maiti SK (2020) Metal (loid) contamination in water, sediment, epilithic periphyton and fish in three interconnected ecosystems and health risk assessment through intake of fish cooked in Indian style. Environ Sci Pollut Res 27(33):41914–41927

Madhav S, Ahamad A, Kumar A, Kushawaha J, Singh P, Mishra PK (2018a) Geochemical assessment of groundwater quality for its suitability for drinking and irrigation purpose in rural areas of Sant Ravidas Nagar (Bhadohi) Uttar Pradesh. Geol Ecol Landsc 2:127–136

Madhav S, Ahamad A, Singh P, Mishra PK (2018b) A review of textile industry: wet processing, environmental impacts, and effluent treatment methods. Environ Qual Manag 27(3):31–41

Madhav S, Raju NJ, Ahamad A (2020) A study of hydrogeochemical processes using integrated geochemical and multivariate statistical methods and health risk assessment of groundwater in Trans-Varuna region, Uttar Pradesh. Environ Dev Sustain. 1–29

Mathur N, Bhatnagar P, Sharma P (2012) Review of the mutagenicity of textile dye products. Univer J Environ 2(2):1–18

McLean W, Jankowski J, Lavitt N (2000) Groundwater quality and sustainability in an alluvial aquifer, Australia. Groundwater, past achievements and future challenges. A Balkema, Rotterdam, 567–573

Meybeck M (2003) Global analysis of river systems: from earth system controls to Anthropocene controls. Phil Trans R Acad Lond B 358(1440):1935–1955

Miri M, Bhatnagar A, Mahdavi Y, Basiri L, Nakhaei A, Khosravi R, Mohammadi A (2018) Probabilistic risk assessment of exposure to fluoride in most consumed brands of tea in the Middle East. Food Chem Toxicol 115:267–272

Misra AK, Mishra A (2007) Study of quaternary aquifers in Ganga Plain, India: focus on groundwater salinity, fluoride and fluorosis. J Hazard Mater 144(1–2):438–448

Mohan SV, Nithila P, Reddy SJ (1996) Estimation of heavy metals in drinking water and development of heavy metal pollution index. J Environ Sci Health A 31(2):283–289

Mohan K, Srivastava A, Rai P (2011) Ground water in the City of Varanasi, India: present status and prospects. Quaestiones Geographicae 30(3):47–60

Mountassir Y, Benyaich A, Rezrazi M, Berçot P, Gebrati L (2013) Wastewater effluent characteristics from Moroccan textile industry. Water Sci Technol 67(12):2791–2799

Mthembu PP, Elumalai V, Brindha K, Li P (2020) Hydrogeochemical processes and trace metal contamination in groundwater: impact on human health in the maputaland coastal aquifer South Africa. Expos Health 12(3):403–426

Mukate S, Wagh V, Panaskar D, Jacobs JA, Sawant A (2019) Development of new integrated water quality index (IWQI) model to evaluate the drinking suitability of water. Ecol Ind 101:348–354

Nazneen S, Raju NJ, Madhav S, Ahamad A (2019) Spatial and temporal dynamics of dissolved nutrients and factors affecting water quality of Chilika lagoon. Arab J Geosci 12(7):243

Patel P, Raju NJ, Reddy BSR, Suresh U, Gossel W, Wycisk P (2016) Geochemical processes and multivariate statistical analysis for the assessment of groundwater quality in the Swarnamukhi River basin, Andhra Pradesh India. Environ Earth Sci 75(7):611

Pawar NJ, Pawar JB (2016) Intra-annual variability in the heavy metal geochemistry of ground waters from the Deccan basaltic aquifers of India. Environ Earth Sci 75(8):1–24

Piper AM (1944) A graphic procedure in the geochemical interpretation of water-analyses. Trans Am Geophys Union 25:914–923

Prabha S, Kumar M, Kumar A, Das P, Ramanathan AL (2013) Impact assessment of textile effluent on groundwater quality in the vicinity of Tirupur industrial area, southern India. Environ Earth Sci 70(7):3015–3022

Prasad B, Bose J (2001) Evaluation of the heavy metal pollution index for surface and spring water near a limestone mining area of the lower Himalayas. Environ Geol 41(1–2):183–188

Prasanna MV, Chidambaram S, Kumar GS, Ramanathan AL, Nainwal HC (2011) Hydrogeochemical assessment of groundwater in Neyveli Basin, Cuddalore District South India. Arab J Geosci 4(1–2):319–330

Qasemi M, Farhang M, Biglari H, Afsharnia M, Ojrati A, Khani F, Zarei A (2018) Health risk assessments due to nitrate levels in drinking water in villages of Azadshahr, northeastern Iran. Environ Earth Sci 77(23):782

Radfard M, Yunesian M, Nabizadeh R, Biglari H, Nazmara S, Hadi M, Mahvi AH (2018) Drinking water quality and arsenic health risk assessment in Sistan and Baluchestan, Southeastern Province, Iran. Hum Ecol Risk Assess. 1–17

Raja V, Lakshmi RV, Sekar CP, Chidambaram S, Neelakantan MA (2021) Health risk assessment of heavy metals in groundwater of industrial Township Virudhunagar, Tamil Nadu, India. Arch Environ Contam Toxicol 80(1):144–163

Raju NJ (2012) Evaluation of hydrogeochemical processes in the Pleistocene aquifers of Middle Ganga Plain, Uttar Pradesh India. Environ Earth Sci 65(4):1291–1308

Raju NJ, Shukla UK, Ram P (2011) Hydrogeochemistry for the assessment of groundwater quality in Varanasi: a fast-urbanizing center in Uttar Pradesh India. Environ Monit Assess 173(1–4):279–300

Richards LA.(1954) Diagnosis and improvement of saline and alkali soils. Handbook, 60

Sanyal T, Kaviraj A, Saha S (2015) Deposition of chromium in aquatic ecosystem from effluents of handloom textile industries in Ranaghat-Fulia region of West Bengal India. J Adv Res 6(6):995–1002

Sarayu K, Sandhya S (2012) Current technologies for biological treatment of textile wastewater—a review. Appl Biochem 167(3):645–661

Sawyer CN, McCarty PL (1967) Chemistry for sanitary engineers. In Chemistry for sanitary engineers. McGraw-Hill

Shukla UK, Raju NJ (2008) Migration of the Ganga river and its implication on hydro-geological potential of Varanasi area, UP India. Earth Syst Sci 117(4):489–498

Tiwari AK, De Maio M, Singh PK, Mahato MK (2015) Evaluation of surface water quality by using GIS and a heavy metal pollution index (HPI) model in a coal mining area India. Bull Environ Contam Tox 95(3):304–310

Tiwari AK, Suozzi E, Fiorucci A, Lo Russo S (2020) Assessment of groundwater geochemistry and human health risk of an intensively cropped alluvial plain, NW Italy. Hum Ecol Risk Assess. 1–21

Umar R, Alam F (2012) Assessment of hydrogeochemical characteristics of groundwater in parts of Hindon-Yamuna interfluve region, Baghpat District Western Uttar Pradesh. Environ Monit Assess 184(4):2321–2336

Umar A, Umar R, Ahmad MS (2001) Hydrogeological and hydrochemical framework of regional aquifer system in Kali-Ganga sub-basin. India Environ Geol 40(4–5):602–611

US Epa (United State Environmental Protection Agency) (1986) Guidelines for the health risk assessment of chemical mixtures. Fed Reg 51(185):34014–34025

US EPA (United State Environmental Protection Agency) (2000) Handbook for non cancer health effects evalution. Washington (DC)

Us Saba N, Umar R (2021) Identification of the processes controlling groundwater quality in shallow aquifers of Moradabad city, west Uttar Pradesh, India. Environ Dev Sustain. 1–22

WHO G (2011) Guidelines for drinking-water quality. World Health Organization 216:303–304

Wilcox LV (1948) The quality of water for irrigation use (No. 1488-2016-124600)
Acknowledgements
The first author (SM) is thankful to the University Grants Commission (UGC) for financial assistance under the UGC NET-JRF Fellowship program (Ref. No. 19-06/2011(i) EU-IV). SM is also grateful to Dr. Anu Mishra and Mr. Shashikant Maurya (IICT, Bhadohi) for their help during the field work and sampling campaign. NJR is thankful to the DST Purse (Phase II) grants (JNU-DST-PURSE-462), UGC DSA phase II grants and UPOE II (ID 170) funds under the holistic development program. Our warm thanks go to the anonymous reviewers and eminent Editor for their valuable suggestions to improve the present form study.
Ethics declarations
Submission declaration and verification
The manuscript submitted here has not been published previously, either in full or in part, and is also not under consideration for publication in any journal elsewhere. All the authors approve the publication, and they are explicitly responsible for the work carried out. All the funding bodies are acknowledged in the acknowledgement section of the manuscript.
Conflict of interest
On behalf of all the co-authors, the corresponding author reports no declarations/conflicts of interest.
Additional information
Publisher's Note
Springer Nature remains neutral with regard to jurisdictional claims in published maps and institutional affiliations.
This article is part of a Topical Collection in Environmental Earth Sciences on Groundwater quality and contamination and the application of GIS, guest edited by Narsimha Adimalla and Hui Qian.
About this article
Cite this article
Madhav, S., Raju, N.J., Ahamad, A. et al. Hydrogeochemical assessment of groundwater quality and associated potential human health risk in Bhadohi environs, India. Environ Earth Sci 80, 585 (2021). https://doi.org/10.1007/s12665-021-09824-y
Received:

Accepted:

Published:

DOI: https://doi.org/10.1007/s12665-021-09824-y
Keywords
Hydrogeochemistry

Groundwater pollution

Textile industry

Chronic daily intake (CDI)

Heavy metal pollution index (HPI)

Target health quotient (THQ)