Abstract
In the North China Plain (NCP), groundwater is an important source of water supply and plays a pivotal role in social and economic development. This study investigated the hydrochemical characteristics and genetic mechanism of groundwater in the southeastern part of the NCP using hydrogeochemical and GIS methods, and evaluated groundwater quality using the entropy weighted water quality index (EWQI). To this end, groundwater quality data were collected from 47 locations in 2016 (dry season) and 2017 (wet season). The results showed that the main anion and cation in groundwater in the study area are Na+ and HCO3−. The pH value of all the water samples exceeded 7, and most of the samples were classified as hard-brackish water. In terms of the spatial distribution, areas with relatively high values of the main components (TH, TDS, NO3−, Na+, Cl− and SO42−) of groundwater were mainly distributed in the northeast of the study area and east of Liaocheng. According to the Piper diagram, the groundwater can be mainly classified as HCO3-Ca, Cl-Na, and mixed types. The hydrochemical characteristics of groundwater is mainly controlled by rock weathering (silicates, carbonates and sulfates), and affected significantly by evaporation and cation exchange processes, and to a certain extent by anthropogenic inputs. According to the EWQI, groundwater quality in the study area can be mainly divided into good water and poor water. In addition, the range of areas with very poor water was significantly larger in 2017 than in 2016.
Access options
Buy single article
Instant access to the full article PDF.
USD 39.95
Price excludes VAT (USA)
Tax calculation will be finalised during checkout.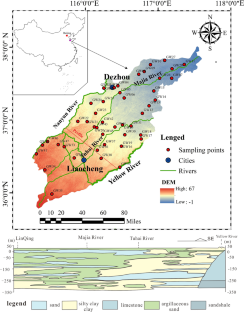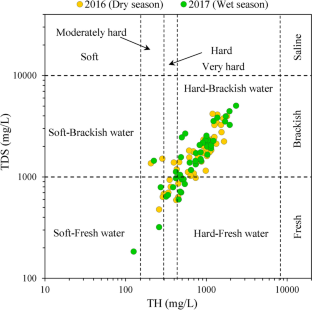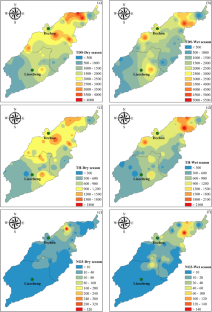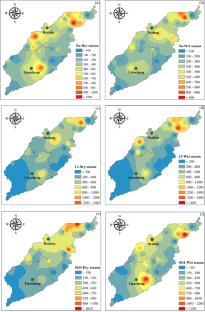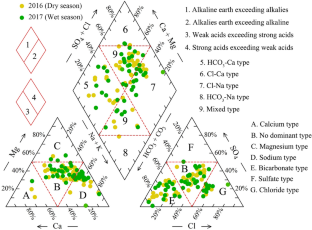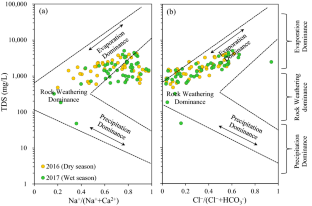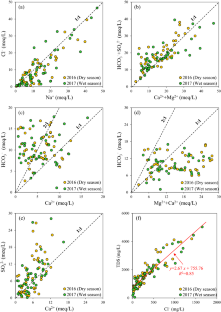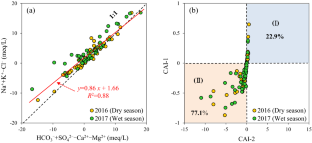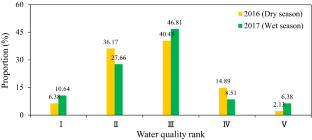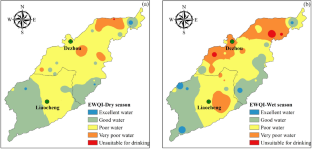 References
Adimalla N, Qian H (2019) Groundwater quality evaluation using water quality index (WQI) for drinking purposes and human health risk (HHR) assessment in an agricultural region of Nanganur, south India. Ecotoxicol Environ Saf 176:153–161

Bahir M, Ouhamdouch S, Ouazar D, Chehbouni A (2020) Assessment of groundwater quality from semi-arid area for drinking purpose using statistical, water quality index (WQI) and GIS technique. Carbonates Evaporites 35(1):27

Cao X, Lu Y, Wang C, Zhang M, Yuan J, Zhang A, Song S, Baninla Y, Khan K, Wang Y (2019) Hydrogeochemistry and quality of surface water and groundwater in the drinking water source area of an urbanizing region. Ecotoxicol Environ Saf 186:1096288

Chen J, Wu H, Qian H, Gao Y (2017) Assessing nitrate and fluoride contaminants in drinking water and their health risk of rural residents living in a semiarid region of northwest China. Expos Health 9(3):183–195

Chen J, Qian H, Gao Y, Wang H, Zhang M (2020) Insights into hydrological and hydrochemical processes in response to water replenishment for lakes in arid regions. J Hydrol 581:124386

Gao Z, Liu J, Feng J, Wang M, Wu G (2019) Hydrogeochemical characteristics and the suitability of groundwater in the Alluvial-Diluvial plain of southwest Shandong province, China. Water 11(8):1577

Gao Z, Liu J, Xu X, Wang Q, Wang M, Feng J, Fu T (2020) Temporal variations of spring water in Karst Areas: a case study of Jinan spring area northern, China. Water 12(4):1009

Gibbs RJ (1970) Mechanisms controlling world water chemistry. Science 170(3962):1088

Gnanachandrasamy G, Dushiyanthan C, Jeyavel Rajakumar T, Zhou Y (2020) Assessment of hydrogeochemical characteristics of groundwater in the lower Vellar river basin: using geographical information system (GIS) and water quality index (WQI). Environ Dev Sustain 22(2):759–789

Li P, Wu J, Qian H (2014) Hydrogeochemistry and quality assessment of shallow groundwater in the southern part of the yellow River Alluvial Plain (Zhongwei section), northwest China. Earth Sci Res J. https://doi.org/10.15446/esrj.v18n1.34048

Li P, Wu J, Qian H (2015) Hydrochemical appraisal of groundwater quality for drinking and irrigation purposes and the major influencing factors: a case study in and around Hua County, China. Arab J Geosci 9(1):15

Li P, Zhang Y, Yang N, Jing L, Yu P (2016) Major ion chemistry and quality assessment of groundwater in and around a mountainous tourist Town of China. Expos Health 8(2):239–252

Li Y, Liu J, Gao Z, Wang M, Yu L (2019) Major ion chemistry and water quality assessment of groundwater in the Shigaze urban area, Qinghai-Tibetan Plateau. China Water Supply 20(1):335–347

Liu C, Zhang G, Yang L, Wei Z, Liu Z (2012) Characteristic research on the influence of human activities on groundwater environment in northern Shandong plain. J Water Resour Water Eng 23(06):1–5

Liu J, Gao Z, Wang M, Li Y, Ma Y, Shi M, Zhang H (2018) Study on the dynamic characteristics of groundwater in the valley plain of Lhasa City. Environ Earth Sci 77(18):646

Liu J, Feng J, Gao Z, Wang M, Li G, Shi M, Zhang H (2019) Hydrochemical characteristics and quality assessment of groundwater for drinking and irrigation purposes in the Futuan River Basin. China Arab J Geosci 12(18):560

Liu J, Gao Z, Wang Z, Xu X, Su Q, Wang S, Qu W, Xing T (2020a) Hydrogeochemical processes and suitability assessment of groundwater in the Jiaodong Peninsula. China Environ Monit Assess 192(6):384

Liu J, Wang M, Gao Z, Chen Q, Wu G, Li F (2020b) Hydrochemical characteristics and water quality assessment of groundwater in the Yishu River basin. Acta Geophys 68(3):877–889

Liu J, Peng Y, Li C, Gao Z, Chen S (2021) An investigation into the hydrochemistry, quality and risk to human health of groundwater in the central region of Shandong Province, North China. J Clean Prod 282:125

Pang Y, Zhang H, Cheng H, Shi Y, Fang C, Luan X, Chen S, Li Y, Hao M (2020) The modulation of groundwater exploitation on crustal stress in the North China Plain, and its implications on seismicity. J Asian Earth Sci 189:104

Piper AM (1944) A graphic procedure in the geochemical interpretation of water-analyses. EOS Trans Am Geophys Union 25(6):914–928

Qian H, Chen J, Howard KWF (2020) Assessing groundwater pollution and potential remediation processes in a multi-layer aquifer system. Environ Pollut 263:114669

Saberinasr A, Morsali M, Hashemnejad A, Hassanpour J (2019) Determining the origin of groundwater elements using hydrochemical data (case study: Kerman water conveyance tunnel). Environ Earth Sci 78(6):198

SGQC (2015) Ministry of land and resources of the People's Republic of China. SGQC, Abu Dhabi

Tan X, Wu J, Cai S, Yang J (2014) Characteristics of Groundwater Recharge on the North China Plain. Groundwater 52(5):798–807

Varol S, Davraz A (2015) Evaluation of the groundwater quality with WQI (water quality index) and multivariate analysis: a case study of the Tefenni plain (Burdur/Turkey). Environ Earth Sci 73(4):1725–1744

Wu C, Wu X, Qian C, Zhu G (2018) Hydrogeochemistry and groundwater quality assessment of high fluoride levels in the Yanchi endorheic region, northwest China. Appl Geochem 98:404–417

Xing L, Guo H, Zhan Y (2013) Groundwater hydrochemical characteristics and processes along flow paths in the North China Plain. J Asian Earth Sci 70–71:250–264

Xing L, Zhang F, Li C, Yang L, Wang L (2015) Hydro-chemical characteristics of shallow groundwater in the North Shandong Plain. J Irrig Drain 34(06):90–94

Yang L, Zhang G, Hu N, Liu C, Liu Z (2009) Recognition of ground water supplying features for northern Shandong plain, China using environmental isotope information. Geol Bull China 28(04):515–522

Yang Q, Li Z, Ma H, Wang L, Martín JD (2016) Identification of the hydrogeochemical processes and assessment of groundwater quality using classic integrated geochemical methods in the Southeastern part of Ordos basin, China. Environ Pollut 218:879–888

Yang X, Chen Y, Pacenka S, Steenhuis TS, Sui P (2019) Managing food and bioenergy crops with declining groundwater levels in the North China Plain. Field Crop Res 234:1–14
Acknowledgements
This study was financially supported by the National Natural Science Foundation of China (No. 41772257; 41472216), the Research Project of Shandong Province Bureau of Geology and Mineral Resources (No. KY2018003; KY201933), and the Shandong Provincial Geological Environment Exploration Project (2016) No.3. Meanwhile, we thank the anonymous reviewers and Editor for their useful comments, which have helped improve the manuscript.
Additional information
Publisher's Note
Springer Nature remains neutral with regard to jurisdictional claims in published maps and institutional affiliations.
This article is part of a Topical Collection in Environmental Earth Sciences on Groundwater quality and contamination and the application of GIS, guest edited by Narsimha Adimalla and Hui Qian.
About this article
Cite this article
Li, C., Gao, Z., Chen, H. et al. Hydrochemical analysis and quality assessment of groundwater in southeast North China Plain using hydrochemical, entropy-weight water quality index, and GIS techniques. Environ Earth Sci 80, 523 (2021). https://doi.org/10.1007/s12665-021-09823-z
Received:

Accepted:

Published:

DOI: https://doi.org/10.1007/s12665-021-09823-z
Keywords
Water chemistry

Groundwater quality assessment

Entropy-weight water quality index (EWQI)

GIS

Southeast of the North China Plain