Abstract
The Lesser Zab River (LZR), the largest tributary in Iraq, with a catchment area of about 20,000 km2, and majority of its basin lying in Iraq, drains into the Tigris River. It runs through highly folded and faulted igneous and metamorphic zone in the northeastern part of Iraq. We studied the heavy minerals in recent sediments of the Lesser Zab River Basin (LZRB) to determine their mineralogies, assemblages pattern, distribution manner, spatial variability, microtexture, provenance, and tectonic setting. We analyzed 24 sediment samples for heavy mineral assemblage determination, using the standard petrographic method. Scanning Electron Microscopy was used to determine the morphology of the grains of selected heavy minerals. Heavy minerals identified in the studied sediments include: dark color such as magnetite, ilmenite, hematite, and goethite; and transparent minerals represented by hornblende, tremolite–actinolite; pyroxenes, epidotes, zircon, tourmaline, rutile, garnet, staurolite, kyanite, and layered minerals assemblage such as muscovite, chlorite, biotite, and phlogopite. The studied sediments are considered immature, because they have the lowest concentration of ultrastable minerals compared to unstable heavy minerals, which confirms that the surface sediments of LZR and its sub-basin tributaries were deposited in an active continental-margin tectonic setting.
Access options
Buy single article
Instant access to the full article PDF.
USD 39.95
Price excludes VAT (USA)
Tax calculation will be finalised during checkout.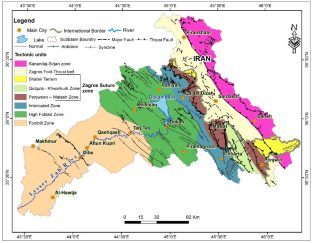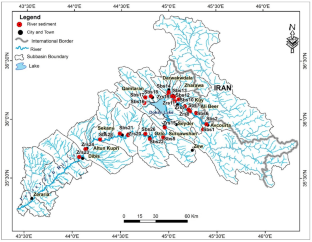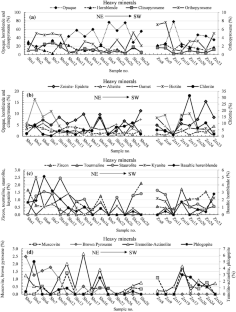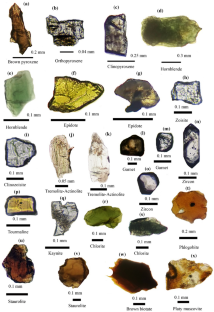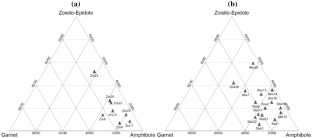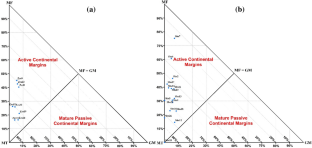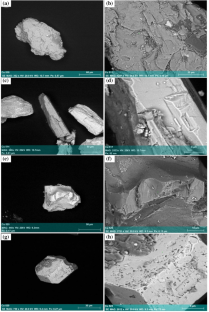 References
Abdulzahra IK, Hadi A (2017) Petrology of the granitoid intrusions in the Shalair Valley area, northeastern Iraq. Iraq J Sci 58:88–102

Alavi M (1994) Tectonics of the zagros orogenic belt of iran: new data and interpretations. Tectonophysics 229:211–238. https://doi.org/10.1016/0040-1951(94)90030-2

Ali SA (2006) Variations in heavy minerals as Indicaters provenance of the recent sediments from the Lesser Zab River, north Iraq. Kirkuk Univ J Sci Stud 1:37–50

Ali SA, Nutman AP, Aswad KJ, Jones BG (2019) Overview of the tectonic evolution of the Iraqi Zagros thrust zone: sixty million years of Neotethyan ocean subduction. J Geodyn 129:162–177

Al-Juboury AI, Al-Miamary FA (2009) Geochemical variations in heavy minerals as provenance indications: application to the Tigris river sand, northern Iraq. J Mediterr Earth Sci 1:33–45

Al-Mehaidi HM (1974) Geologicl Investigation of Mawat-Chuwarta Area, NE Iraq, GEOSURV, Baghdad, Iraq. Int. Rep. No. 609

Al-Saady Y, Merkel B, Al-Tawash B, Al-Suhail Q (2015) Land use and land cover (LULC) mapping and change detection in the Little Zab River Basin (LZRB), Kurdistan Region, NE Iraq and NW Iran. FOG Freib Online Geosci 43:1–32

Al-Saady Y, Al-Suhail Q, Al-Tawash B, Othman A (2016) Drainage network extraction and morphometric analysis using remote sensing and GIS mapping techniques (Lesser Zab River Basin, Iraq and Iran). Environ Earth Sci 75(18):1–23

Al-Ubaydi MM (2008) Heavy mineral study of the Red Bed series and stream sediments from westren part of Mawat-Chwarta area, NE-Iraq. Baghdad

Azizi H, Moinevaziri H (2009) Review of the tectonic setting of Cretaceous to Quaternary volcanism in northwestern Iran. J Geodyn 47:167–179

Aziz MT, Ibraheem FA, Sebesta J, Hassan AR (1983) The Lesser Zab River basin project photo engineering geological and geomorphological mapping. Internal report. no. 1405, GEOSURV-IRAQ.

Buda GY (1993) Igneous Petrology of the Bulfat Area (North-East Iraqi Zagros Thrust Zone). Acta Mineral Petrogr 34:21–39

Carver R (1971) Procedures in Sedimentary Petrology. Wiley Interscience, New York

Folk RL (1974) Petrology of sedimentary rocks. Hemphill Publishing Co., Austin, p 170

Garzanti E (2017) The maturity myth in sedimentology and provenance analysise. J Sediment Res 87:353–365

Haredy RA (2008) Heavy minerals in marine and fluvial sediments: provenance indicators and distributions in the tropical southeastern shelf of the Gulf of Carpentaria and its hinterland North Australia. PhD Thesis, Wollongong, Australia, p 252

Hattum MWAV (2005) Provenance of Cenozoic sedimentary rocks of northern Borneo. PhD Thesis, University of London, Royal Holloway, p 457

Hubert JF (1962) A zircon-tourmaline-rutile maturity index and independence of composition of heavy mineral assemblages with gross composition and texture of sandstone. J Sediment Petrol 32:440–450

Hubert JF (1971) Analysis of heavy-mineral assemblages. In: Carver RE (ed) Procedures in sedimentary petrology. Wiley-Interscience, New York, pp 453–478

Jassim SZ, Goff JC (2006) Geology of Iraq. DOLIN, sro, distributed by Geological Society of London, p 341

Jawad Ali A (1977) Heavy minerals provinces of the recent sediments of Euphrates-tigris basin. J Geol Soc Iraq 10:33–48

Joshua O, Oyebanjo O, Jibiri N, Fasunwon O (2010) Osun River basin sediments heavy mineral distribution. Pacific J Sci Technol 11:598–605

Ma'ala KA (2007) The geology of Sulaimaniyah quadrangle sheet NI-38–3, GEOSURV, Baghdad, Iraq. Int. Rep. No.3095.

Malinovsky AI, Golozubov VV, Simanenko VP (2005) Composition and depositional settings of Lower Cretaceous terrigenous rocks of the Kema River Basin, eastern Sikhote Alin. Lithol Miner Resour 40:429–447

Meng Q, Zhang W, Zhang J et al (2016) Heavy mineral analysis to identify sediment provenance in the Dan River drainage, China. Geosci J 20:449–462

Morton AC (1985) Heavy Minerals in Provenance Studies. In: Zuffa GG (ed) Provenance of Arenites. NATO ASI Series (Series C: Mathematical and Physical Sciences), vol 148. Springer, Dordrecht. https://doi.org/10.1007/978-94-017-2809-6_12

Morton AC, Hallsworth CR (1999) Processes controlling the composition of heavy mineral assemblages in sandstones. Sediment Geol 124:3–29

Morton AC, Whitham AG, Fanning CM (2005) Provenance of Late Cretaceous to Paleocene submarine fan sandstones in the Norwegian Sea: integration of heavy mineral, mineral chemical and zircon age data. Sediment Geol 182:3–28

Nechaev VP, Isphording WC (1993) Heavy-mineral assemblages of continental margins as indicators of plate-tectonic environments. J Sediment Res 63:1110–1117

Nezhad E (1973) Geological quadrangle map of Iran No:B4 (Mahabad), Scale 1:250000. Ministry of economy, Geological survey of Iran, Tehran

Othman AA, Gloaguen R (2013) Automatic extraction and size distribution of landslides in kurdistan region, NE Iraq. Remote Sens 5:2389–2410. https://doi.org/10.3390/rs5052389

Pan B, Pang H, Gao H et al (2016) Heavy-mineral analysis and provenance of Yellow River sediments around the China Loess Plateau. J Asian Earth Sci 127:1–11

Pettijohn FJ (1957) Sedimentary rocks. Harper, Geoscience Series, Oxford

Pettijohn FJ, Potter PE, Siever R (2012) Sand and sandstone. Springer, New York

Rasul AK (2013) Hydrochemistry and geochemistry of recent sediments of Lesser Zab River and Dokan reservoir, Kurdistan Region—NE Iraq, PhD, Thesis Salahaddin University - Erbil. Salahaddin

Sissakian VK (1993) The geology of Kirkuk Quadrangle sheet NJ-38- 2, GEOSURV, Baghdad, Iraq. Int. Rep. No. 2229

Stattegger K (1987) Heavy minerals and provenance of sands; modeling of lithological end members from river sands of northern Austria and from sandstones of the Austroalpine Gosau Formation (Late Cretaceous). J Sediment Res 57:301–310

Stocklin J, Nabavi MH (1973) Tectonic map of Iran scale 1:2,500,000. Ministry of Mines and Metals, Geological Survey of Iran, Tehran, Iran

Takin M (1972) Iranian geology and continental drift in the Middle East. Nature 235:147

van Andel TH (1958) A defense of the term alterite. J Sediment Res 28:234–235

Wallis DS, Oakes GM (1990) Heavy mineral sands in eastern Australia. Geol Miner Depos Aust Papua New Guinea Australas Inst Min Metall Monogr Ser 14:1599–1608

Yue W, Jin B, Zhao B (2018) Transparent heavy minerals and magnetite geochemical composition of the Yangtze River sediments: Implication for provenance evolution of the Yangtze Delta. Sediment Geol 364:42–52
Acknowledgements
The authors would like to offer their sincere thanks to the Geological Survey of Iraq, Department of Central Laboratories, for use of its equipment and facilities for analyses of sediment samples. We are also thankful to the anonymous three reviewers for their valuable comments.
Additional information
Publisher's Note
Springer Nature remains neutral with regard to jurisdictional claims in published maps and institutional affiliations.
About this article
Cite this article
Al-Saady, Y.I., Al-Obaydi, M.M., Othman, A.A. et al. Distribution pattern of heavy minerals assemblages in recent sediments of Lesser Zab River Basin (LZRB), NE Iraq. Environ Earth Sci 80, 155 (2021). https://doi.org/10.1007/s12665-021-09441-9
Received:

Accepted:

Published:

DOI: https://doi.org/10.1007/s12665-021-09441-9
Keywords