Abstract
A groundwater investigation was carried out to assess geochemical factors that influence arsenic concentrations in the Bhakkar area, which is located along the Indus River in Punjab Province of Pakistan. The investigations indicated that concentrations of major ions in most of the analyzed samples were generally within the allowed limit proposed by WHO. A Piper plot indicated that the groundwater chemistry was dominated by bicarbonate, calcium and magnesium ions which are the main contributors to the total dissolved solids content of groundwater in the study area. A Gibbs plot showed that the dominant factor that influences the groundwater's chemical composition is rock weathering. This study indicates that the concentration of arsenic is high in the groundwater samples of the study area, thus rendering groundwater not fit for drinking purposes. Arsenic concentrations range from 2 to 55 μg/L and about 73% of groundwater samples exceeded the arsenic limit proposed by WHO (10 μg/L). Arsenic concentration in upstream areas is less than downstream areas. Correlation coefficient matrix and principal component analysis were applied to find out the possible correlation of arsenic with different examined parameters of groundwater. Arsenic shows a strong negative correlation with iron (− 0.7) and potassium (− 0.65). Also, cancer risk and health assessment due to the presence of arsenic contamination were calculated based upon average daily dose, carcinogenic risk (CR) and hazard quotient (HQ). The risk assessment parameters indicated the potential carcinogenic and non-carcinogenic hazards related to the consumption of arsenic-contaminated water. The values of CR and HQ of As were up to 0.0023 and 5.13, respectively. Therefore, it is concluded that special monitoring of groundwater is needed in the Bhakkar area to protect the population from different diseases related to drinking As-rich contaminated groundwater.
This is a preview of subscription content, log in to check access.
Access options
Buy single article
Instant access to the full article PDF.
US$ 39.95
Tax calculation will be finalised during checkout.
Subscribe to journal
Immediate online access to all issues from 2019. Subscription will auto renew annually.
US$ 199
Tax calculation will be finalised during checkout.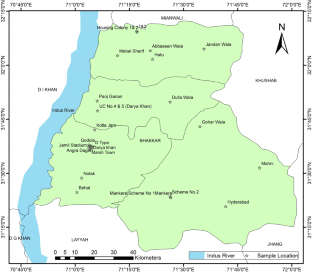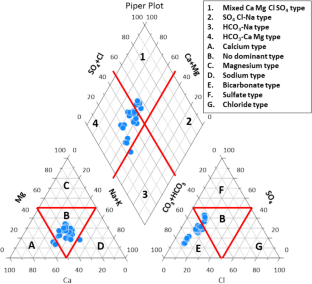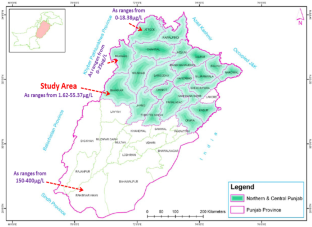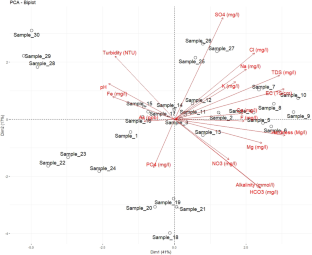 References
Ahmad T, Kahlown M, Tahir A, Rashid H (2004) Arsenic an emerging issue experiences from Pakistan. In: 30th WEDC international conference Vientiane Lao PDR: Public Health National Institute of Preventive and Social

Ali W, Rasool A, Junaid M, Zhang H (2019) A comprehensive review on current status, mechanism, and possible sources of arsenic contamination in groundwater: a global perspective with prominence of Pakistan scenario. Environ Geochem Health 41(2):737–760

Berg M, Stengel C, Trang PTK, Viet PH, Sampson ML, Leng M, Samreth S, Fredericks D (2007) Magnitude of arsenic pollution in the Mekong and Red River Deltas—Cambodia and Vietnam. Sci Total Environ 372(2–3):413–425

Chakraborti D, Rahman MM, Das B, Nayak B, Pal A, Sengupta MK, Hossain MA, Ahamed S, Sahu M, Saha KC (2013) Groundwater arsenic contamination in Ganga–Meghna–Brahmaputra plain, its health effects and an approach for mitigation. Environ Earth Sci 70(5):1993–2008

Faruq R, Khan A (2015) Mapping of liquefaction susceptible sands of Punjab province in Pakistan: University of Engineering and Technology Taxila. Tech J 20(2):74

Ghosh M, Pal DK, Santra SC (2019) Spatial mapping and modeling of arsenic contamination of groundwater and risk assessment through geospatial interpolation technique. Environ Dev Sustain 22(4):2861–2880

Gibbs RJ (1970) Mechanisms controlling world water chemistry. Science 170(3962):1088–1090

Haq MU, Khan MJ, ATA K (1999) Development profile of districts in Punjab. Pak Econ Soc Rev 83–121

Hoang TH, Bang S, Kim K-W, Nguyen MH, Dang DM (2010) Arsenic in groundwater and sediment in the Mekong River delta, Vietnam. Environ Pollut 158(8):2648–2658

Iqbal AR (2013) Environmental issues of Indus River basin: an analysis. In: ISSRA papers. Institute for Strategic Studies, Research & Analysis (ISSRA), National Defence University, Islamabad, Pakistan, vol 5, no 1, pp 89–112

Islam MR, Salminen R, Lahermo PW (2000) Arsenic and other toxic elemental contamination of groundwater, surface water and soil in Bangladesh and its possible effects on human health. Environ Geochem Health 22(1):33–53

Jain C, Sharma S, Singh S (2018) Physico-chemical characteristics and hydrogeological mechanisms in groundwater with special reference to arsenic contamination in Barpeta District, Assam (India). Environ Monit Assess 190(7):417

Khan MYA, Khan B, Chakrapani GJ (2016) Assessment of spatial variations in water quality of Garra River at Shahjahanpur, Ganga Basin, India. Arab J Geosci 9(8):516

Li P, Li X, Meng X, Li M, Zhang YJE (2016) Appraising groundwater quality and health risks from contamination in a semiarid region of northwest China. Expo Health 8(3):361–379

Mahar MT, Khuhawar MY, Jahangir TM, Baloch MA (2015) Determination of arsenic contents in groundwater of district Rahim Yar Khan southern Punjab, Pakistan. Arab J Geosci 8(12):10983–10994

PCRWR (2011a) Report on technical assessment of water supply schemes, Northern & Central Punjab; volume 1. Pakistan Council of Research in Water Resources

PCRWR (2011b) Report on technical assessment of water supply schemes, Northern & Southern Punjab; volume II. Pakistan Council of Research in Water Resources

Piper AM (1944) Graphical interpretation of water Analysis. Trans Am Geophys Union 25:914–928

Rabbani U, Mahar G, Siddique A, Fatmi Z (2017) Risk assessment for arsenic-contaminated groundwater along River Indus in Pakistan. Environ Geochem Health 39(1):179–190

Raessler M (2018) The arsenic contamination of drinking and groundwaters in Bangladesh: featuring biogeochemical aspects and implications on public health. Arch Environ Contam Toxicol 75(1):1–7

Rasool A, Xiao T, Farooqi A, Shafeeque M, Liu Y, Kamran MA, Katsoyiannis IA, Eqani SAMAS (2017) Quality of tube well water intended for irrigation and human consumption with special emphasis on arsenic contamination at the area of Punjab, Pakistan. Environ Geochem Health 39(4):847–863

Rehman F, Cheema T, Lisa M, Azeem T, Naseem AA, Khan Z, Rehman F, Rehman SU (2018) Statistical analysis tools for the assessment of ground water chemical variations in Wadi Bani Malik area, Saudia Arabia. Glob Nest 20(2):355–362

Sengupta MK, Mukherjee A, Hossain MA, Ahamed S, Rahman MM, Lodh D, Chowdhury UK, Biswas BK, Nayak B, Das B (2003) Groundwater arsenic contamination in the Ganga-Padma-Meghna-Brahmaputra plain of India and Bangladesh. Arch Environ Health Int J 58(11):701–702

Shah ZUH, Ahmad Z (2016) Hydrogeology and hydrochemistry of the Upper Thal Doab (Pakistan). Environ Earth Sci 75(6):527

Shah AH, Shahid M, Khalid S, Shabbir Z, Bakhat HF, Murtaza B, Farooq A, Akram M, Shah GM, Nasim W (2020) Assessment of arsenic exposure by drinking well water and associated carcinogenic risk in peri-urban areas of Vehari, Pakistan. Environ Geochem Health 42(1):121–133

Shahab A, Shihua Q, Rashid A, Hasan FU, Sohail MT (2016) Evaluation of water quality for drinking and agricultural suitability in the Lower Indus plain in Sindh province, Pakistan. Pol J Environ Stud 25(6)

Shahab A, Qi S, Zaheer M (2019) Arsenic contamination, subsequent water toxicity, and associated public health risks in the lower Indus plain, Sindh province, Pakistan. Environ Sci Pollut Res 26(30):30642–30662

Shahid M, Khalid M, Dumat C, Khalid S, Niazi NK, Imran M, Bibi I, Ahmad I, Hammad HM, Tabassum RA (2018) Arsenic level and risk assessment of groundwater in Vehari, Punjab province, Pakistan. Expo Health 10(4):229–239

Sultana J, Farooqi A, Ali U (2014) Arsenic concentration variability, health risk assessment, and source identification using multivariate analysis in selected villages of public water system, Lahore, Pakistan. Environ Monit Assess 186(2):1241–1251

Tabassum RA, Shahid M, Dumat C, Niazi NK, Khalid S, Shah NS, Imran M, Khalid S (2019) Health risk assessment of drinking arsenic-containing groundwater in Hasilpur, Pakistan: effect of sampling area, depth, and source. Environ Sci Pollut Res 26(20):20018–20029

US-EPA (2005) Guidelines for carcinogen risk assessment. EPA/630/P-03/001F; Risk Assessment Forum: Washington, DC, USA

US-EPA (2011) Exposure factors handbook. United States Environmental Protection Agency, Washington, DC. EPA/600/R-09/052F

WHO (2001) Environmental health criteria 224: arsenic and arsenic compounds. World Health Organization, Geneva, pp 1–108
Acknowledgements
Authors acknowledge the Pakistan Council of Research in Water Resources (PCRWR) for providing the data.
Additional information
Publisher's Note
Springer Nature remains neutral with regard to jurisdictional claims in published maps and institutional affiliations.
About this article
Cite this article
Rehman, F., Cheema, T., Azeem, T. et al. Groundwater quality and potential health risks caused by arsenic (As) in Bhakkar, Pakistan. Environ Earth Sci 79, 529 (2020). https://doi.org/10.1007/s12665-020-09270-2
Received:

Accepted:

Published:
Keywords
Arsenic contamination

Water quality

Health risk

Bhakkar

Indus River