Abstract
Mediterranean submarine karst springs could feed millions of persons in areas that suffer from scarcity of water but they are brackish which limits their use. The water comes from deep karst galleries which were explored by cave divers. There were many attempts to catch the water by building dams or bells to prevent sea intrusion in the cave, or to augment the water head for lowering the haline interface, according to the Ghyben–Herzberg relation. They failed as the water remained brackish upstream to the works. Recent studies show that salinity is acquired at a very important depth (> 200 m) by mixing of fresh water and sea water in deep zones where karst galleries were dug during the Messinian salinity crisis (5.9–5.3 Ma), when the sea level dropped down to 1500–2500 m. The validation of this Messinian model is a starting point for the use of this water resource by drilling deep wells, upstream of the galleries junction or by blocking the intrusion in the Messinian galleries.
Access options
Buy single article
Instant access to the full article PDF.
US$ 39.95
Tax calculation will be finalised during checkout.
Subscribe to journal
Immediate online access to all issues from 2019. Subscription will auto renew annually.
US$ 119
Tax calculation will be finalised during checkout.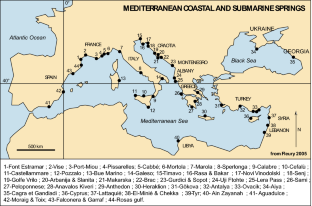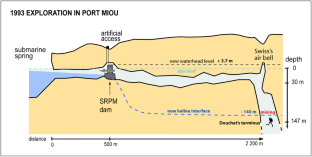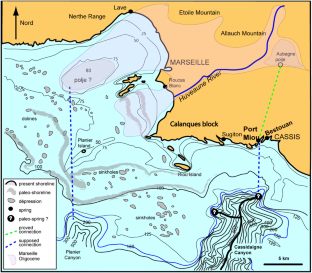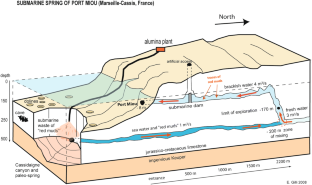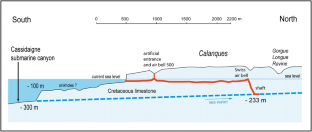 References
Arfib B (2001) Etude des circulation d'eaux souterraines en aquifère karstique côtier: observations et modélisation de la source saumâtre Almyros d'Héraklion, Crête (Grèce). Thesis geol. univ. Paris VI

Arfib B, Charlier JB (2016) Insights into saline intrusion and freshwater resources in coastal karstic aquifers using a lumped rainfall–Discharge–Salinity model (the Port-Miou brackish spring, SE France). J Hydrol 540:148–161. https://doi.org/10.1016/j.jhydrol.2016.06.010

Arfib B, Cavalera Th, Gilli E (2006a) Influence of hydrodynamics on saline intrusion in coastal karstic aquifers. Comptes Rendus Géosciences 338(11):757–767 (hal-01457519)

Arfib B, Cavalera Th, Gilli E (2006b) Influence de l'hydrodynamique sur l'intrusion saline en aquifère karstique côtier. Comptes Rendus Geosci 338:757–767 (France)

Arfib B, Méniscus X, Swierczynski F (2018) Far and deep into the brackish groundwater of coastal karst: crossing CTD time series monitoring in submarine spring and during cave diving exploration (Port-Miou and Bestouan-SE France). EUROKARST (ffhal-01921670f)

Audra P, Mocochain L, Camus H, Gilli E, Clauzon G (2004) The effect of the Messinian Deep Stage on karst development around the Mediterranean Sea. Examples from Southern France. Geodin Acta 17(6):27–38

Berné S et al (2002) Carte morphobathymetrique du Golfe du Lion, IFREMER, Brest

Bini A (1994) Rapports entre la karstification peri méditerranéenne et la crise de salinité messinienne, l'exemple du karst lombard (Italie). Karstologia 23:33–53

Blavoux B, Gilli E, Rousset C (2004) Alimentation et origine de la salinité de la source sous-marine de Port Miou (Marseille-Cassis) Principale émergence d'un réseau karstique hérité du Messinien. Compte Rendus Geosci 336(6):523–533

Bourcier M, Zibrowius H (1972) Les "Boues Rouges" déversées dans le canyon de la Cassidaigne (région de Marseille). Observations en soucoupe plongeante SP 350 (juin 1971) et résultats de dragages. Thetis 4(4):811–842

Breznik M (1998) Storage reservoir and deep wells in karst regions. In: Balkema AA (ed) Rotterdam/Brookfield, p 251

Cavalera T (2007) Etude du fonctionnement et du bassin d'alimentation de la source sous-marine de Port Miou (Cassis). Approche multicritère. Thesis geol., Marseille

Cavalera T, Gilli E (2009) The submarine river of Port Miou (France), a karstic system inherited from the Messinian deep stage. EGU General Assembly, Vienna

Cavalera T, Gilli E, Mamindy-Pajany Y, Marmier N (2010) Mechanism of salt contamination of karstic springs related to the Messinian deep stage. The speleological model of Port Miou (France). Geodin Acta 23(1–3):15–28

Collina-Girard J (1996) Préhistoire et karst littoral : la grotte Cosquer et les calanques marseillaises. Karstologia 27:27–40

Cita MB, Ryan WBF (1978) Messinian erosional surfaces in the Mediterranean. Marine Geol 27(3–4):193–366

Fleury P (2005) Sources sous-marines et aquifères karstiques côtiers méditerranéens. Fonctionnement et caractérisation. Thèse géol. de 3° cycle, Université Paris VI

Fleury P, Bakalowicz M, de Marsily G (2007) Submarine springs and coastal aquifers: a review. J Hydrol 339:79–92

Gilli E (1999a) Détection de sources sous-marines et précision de l'impluvium par mesure des variations de salinité. L'exemple de la source de Cabbé-Massolins (Roquebrune-Cap-Martin, France). Comptes Rendus Geosci 329:9–116

Gilli E (1999b) Eaux et rivières souterraines, Coll. Que-Sais-Je ? PUF Edit., Paris

Gilli E (2001) Compilation d'anciennes mesures de débit à Port Miou. Apport à l'hydrogéologie de la Provence. 7e coll. hydrogeol. en pays calcaire et milieu fissuré. Besançon, 20–22 Sept 2000, pp 157–160

Gilli E (2003) Les karsts littoraux des Alpes Maritimes: inventaire des émergences sous-marines et captage expérimental de Cabbé. Karstologia 40:1–12

Gilli E (2015a) Karstology. Karsts, caves and springs. CRC Press, Taylor & Francis Group, New York

Gilli E (2015b) Deep speleological salt contamination in Mediterranean karst aquifers. Perspectives for water supply. Environ Earth Sci. https://doi.org/10.1007/s12665-015-4042-2

Hsü KJ, Cita MB, Ryan WF (1973) The origin of the Mediterranean evaporites. In: Ryan WBF, Hsu¨ KJ et al (eds) Initial reports of the deep sea drilling project, vol 13(1–2). US Government Printing Office, Washington DC, pp 1203–1231

Meniscus X (2017) Encore plus profond à Port Miou:–233. Spelunca 5–146:27–29

Mocochain L, Clauzon G, Bigot J-Y, Brunet Ph (2006) Geodynamic evolution of the Peri-Mediterranean karst during the Messinian and the Pliocene: evidence from the Ardèche and Rhône Valley systems canyons, Southern France. Sed Geol 188–189:219–233

Roveri M et al (2014) The Messinian salinity crisis: past and future of a great challenge for marine sciences. Mar Geol 352:25–58. https://doi.org/10.1016/j.margeo.2014.02.002

SRPM (1974) Captage des résurgences sous-marines d'eau douce. Observations sur les effets du barrage expérimental de Port Miou. Internal report SRPM, Sté Eaux de Marseille, BRGM, 74 RT 1001 PM, Marseille

Stefanon A (1984) A review of capture and exploitation of submarine springs by divers. Joint Ocean Assembly, Halifax, pp 100–110

Tassy A (2012) Karsts côtiers et canyons sous-marins de la marge provençale au Cénozoïque: Contrôle géodynamique, eustatique, hydrologique et structural. Geology thesis Aix-Marseille University
Additional information
Publisher's Note
Springer Nature remains neutral with regard to jurisdictional claims in published maps and institutional affiliations.
About this article
Cite this article
Gilli, E. A Messinian model explains the salt contamination of the Mediterranean Coastal Springs. Environ Earth Sci 79, 188 (2020). https://doi.org/10.1007/s12665-020-08928-1
Received:

Accepted:

Published:
Keywords
Karst

Submarine springs

Messinian

Salinity

Cassis