Abstract
Southeast Asia contains a major portion of wetland areas of international significance, but only 14% of these wetlands are under protection. Inle Lake is the second largest freshwater body in Myanmar and the most important for its environmental, economic, and agricultural values. However, the lake is seriously threatened by anthropic activities as they are dramatically decreasing its open water surface. While water-quality studies have assessed the presence of nutrients and contaminants, little is known about the sediment quality. Therefore, the overall objective of the present study was to analyse the natural sedimentation patterns and the anthropogenic disturbances in this lake. To this end, both grab and core sediments were investigated by combining mineralogical, morphological, and geochemical analyses, and their composition was compared to the composition of rocks and soil from the watershed. Mineralogical data indicate that sediment samples collected at or near the main inflow, and at the outflow show a lower abundance (about 43%) of calcite, which generally increases with depth in sediment cores, reaching more than 90% in the centre of the lake. Lower calcite contents correspond to higher percentages of other minerals. These findings allow us to clearly distinguish the allogenic (quartz, mica/illite, kaolinite, and detrital calcite) from the endogenic (mostly calcite) minerals, as confirmed by the soil and rock mineralogy. The origin of the mineral contents at the different sites is further supported by the observation of the grain morphology and composition. The most abundant metal in the lake sediments is Ca, in agreement with the high calcite content. Following in order of abundance are Al, Fe, and K, which are connected to the detrital input to the lake. In the rock and soil samples, the most abundant trace element is Mn, which is significantly correlated with many other trace elements (e.g., Co, Cr, Cu, Ni, V, Zn, and As), suggesting their common lithogenic origin. Similarly, in the lake sediments, the trace elements Co, Cr, Cu, Ni, Pb, V, Zn, and As display fairly homogenous concentration ranges, in the order of tens of ppm, and are strongly correlated with the detrital minerals (mica, kaolinite, and quartz) and negatively correlated with the calcite content. The mineralogical and elemental distribution in the lakebed area and with depth in the sediment cores allowed us to identify the increased soil and bedrock erosion as a major anthropogenic impact to the lake. The sedimentation disturbance is especially evident at the main inflow, the Nanlit stream, which has caused the development of a large alluvial fan, visible in satellite images. This large sediment input is likely to have accelerated the decrease in open water surface and in depth of this shallow lake. Additionally, when the measured concentrations of Potentially Toxic Elements were compared to consensus-based Sediment Quality Guidelines (SQGs), it was shown that As, Cr, Cu, Ni, Pb, and Zn often exceeded the threshold effect concentration (TEC), and that Cr, Ni, and Pb sometimes exceeded the probable effect concentration (PEC). On the other hand, Enrichment Factors (EFs), calculated with respect to soils of the watershed, showed minimal enrichment and indicated that the potential toxicity effect was primarily a result of detrital sedimentation outpacing carbonate sedimentation. Sediment characterisation allowed us to obtain a better understanding of lake dynamics and environmental impacts, which is fundamental in achieving effective management and maintenance of the ecological character of Inle Lake, in line with the objective set by the Ramsar Convention for wetlands of international relevance.
Access options
Buy single article
Instant access to the full article PDF.
US$ 39.95
Tax calculation will be finalised during checkout.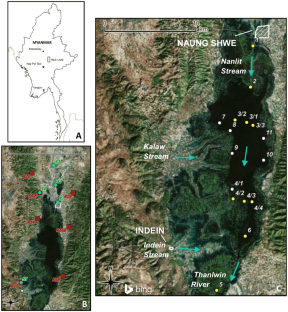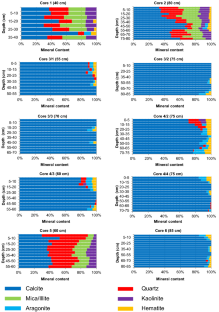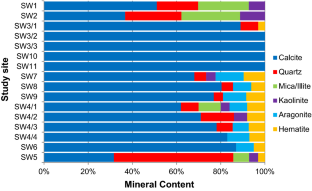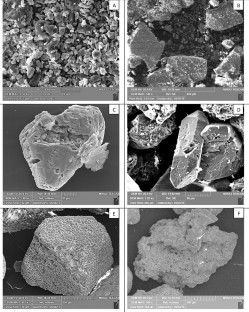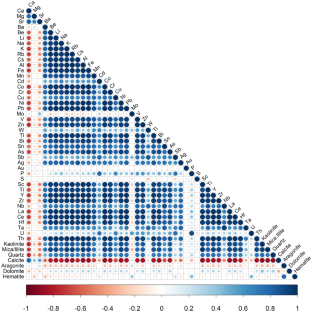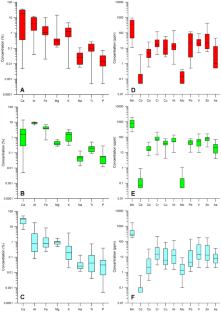 References
Akaishi F, Satake M, Otaki M (2006) Surface water quality and information about the environment surrounding Inle Lake in Myanmar. Limnology 7:57–62

Allais E (2001) Studio geochimico delle acque e dei sedimenti di alcuni laghi piemontesi al fine di una ricostruzione paleoclimatica e paleoambientale regionale. Ph. D. Thesis, University of Torino, Italy

Ballot A, Mjelde M, Swe T (2018) Integrated water resources management in Myanmar. Assessing ecological status in Inlay Lake. Novegian Insitute for Water Research (NIVA), Report no. 7301–2018, p 79. ISBN 978-82-577-7036-5. https://www.niva.no/en/projectweb/myanmar/publications (Consulted online February 2019)

Barko JW, James WF (1998) Effects of submerged aquatic macrophytes on nutrient dynamics, sedimentation, and resuspension, In: Jeppeson E, Sondergaard M, Christoffersen K (eds) The structuring role of submerged macrophytes in lakes. Ecol Stud 131:197–214

Biscaye PE (1965) Mineralogy and sedimentation of recent deep-sea clay in the Atlantic Ocean and adjacent seas and oceans. J Geol Soc Am Bull 76:803–832

Buijtendijk H, Tschunkert K (2016) Hotel industry expansion and sustainable development: a case study of Inle Lake, Myanmar. Res Hospitality Manage 6:9–23. https://doi.org/10.2989/RHM.2016.6.1.2.1290

Butkus S, Myint S (2001) Pesticide use limits for protection of human health in Inle Lake Watershed, Myanmar. Living Earth Institute Olympia, Washington, DC

Crane M (2003) Proposed development of Sediment Quality Guidelines under the European Water Framework Directive: a critique. Toxicol Lett 142:195–206. https://doi.org/10.1016/S0378-4274(03)00069-9

Crosetto S, Watkinson IM, Min S, Gori S, Falcucci E, Le Ngal N (2018) Evidence of quaternary and recent activity along the Kyaukkyan Fault, Myanmar. J Earth Sci 156:207–225. https://doi.org/10.1016/j.jseaes.2018.01.013

Dreybrodt J, Furlong I, Talling P (2013) Speleological expeditions to the Shan Plateau in Myanmar (Burma). In: Proceeding of the 16th international congress of speleology, Brno (Czech Republic). https://www.myanmarcaves.com/reports/Myanmar_ICS2013.pdf

Förstner U (1977) Mineralogy and geochemistry of sediments in arid lakes of Australia. J Earth Sci 66:146–156

Gong D, Fan X, Li Y, Li B, Zhang N, Gromig R, Smith EC, Dummann W, Berger S, Eisen O, Tell J, Biskaborn BK, Koglin N, Wilhelms F, Broy B, Liu Y, Yang Y, Li X, Liu A, Talalay P (2019) Coring of antarctic subglacial sediments. J Marine Sci Eng 7:194. https://doi.org/10.3390/jmse7060194

Håkanson L, Jansson M (1983) Principles of lake sedimentology. Springer-Verlag, Berlin, p 320

Hope G, van der Kaars S, Finn J, Moe KZ (2019) Holocene environmental change at Inle Lake, Shan State, Myanmar, and its implications for the regional development of agriculture. Palaeogeogr Palaeoclimatol Palaeoecol 523:18–29. https://doi.org/10.1016/j.palaeo.2019.03.018

Htwe TN, Kywe M, Brinkmann K, Buerkert A (2015a) Transformation processes in farming systems and surrounding areas of Inle Lake, Myanmar, during the last 40 years. J Land Use Sci 10:205–223. https://doi.org/10.1080/1747423X.2013.878764

Htwe TN, Brinkmann K, Buerkert A (2015b) Spatio-temporal assessment of soil erosion risk in different agricultural zones of the Inle Lake region, Southern Shan State, Myanmar. Environ Monit Assess 187:617. https://doi.org/10.1007/s10661-015-4819-5

Johannesburg (2002) Myanmar country profile, technical report to United Nations, Agenda 21, CP2002, Myanmar

Karbassi AR, Shankar R (1994) Magnetic susceptibility of bottom sediments and suspended particulates from Mulki-Pavanje River, estuary, and adjoining shelf, west coast of India. J Geophys Res 99:207–220

Liu E, Birch GF, Shen J, Yuan H, Zhang E, Cao Y (2012) Comprehensive evaluation of heavy metal contamination in surface and core sediments of Taihu Lake, the third largest freshwater lake in China. Environ Earth Sci 67:39–51. https://doi.org/10.1007/s12665-011-1478-x

Loska K, Cebula J, Pelczar J, Wiechuła D, Kwapuliński J (1997) Use of enrichment, and contamination factors together with geoaccumulation indexes to evaluate the content of Cd, Cu, and Ni in the Rybnik water Reservoir in Poland. Water Air Soil Pollut 93:347–365. https://doi.org/10.1023/A:1022121615949

Ma TDW (1996) Floating island agriculture (Ye-Chan) of Inle Lake. M.A. thesis, Department of Geography, University of Yangon, Yangon

MacDonald DD, Ingersoll CG, Berger TA (2000) Development and evaluation of consensus-based sediment quality guidelines for freshwater ecosystems. Arch Environ Contam Toxicol 39:20–31

Mahaney WC (2002) Atlas of sand grain surface textures and applications. Oxford University Press, Oxford

Metcalfe I, Aung KP (2014) Late Tournaisian conodonts from the Taungnyo Group near Loi Kaw, Myanmar (Burma): implications for Shan Plateau stratigraphy and evolution of the Gondwana-derived Sibumasu Terrane. Gondwana Res 26:1159–1172

Millennium Ecosystem Assessment (2005) Ecosystems and human well-being: synthesis. Island Press, Washington, DC., p 137 https://www.millenniumassessment.org/documents/document.356.aspx.pdf (Consulted online January 2019)

Michalon M, Gunnell Y, Lejot J, Mialhe F, Aung T (2019) Accelerated degradation of Lake Inle (Myanmar): a baseline study for environmentalists and developers. Land Degrad Dev 30:928–941. https://doi.org/10.1002/ldr.3279

Moore DM, Reynolds RC (1989) X-ray diffraction and the identification and analysis of clay minerals. Oxford University Press, Oxford, p 332

Morley CK (2004) Nested strike-slip duplexes, and other evidence for Late Cretaceous-Palaeogene transpressional tectonics before and during India-Eurasia collision, in Thailand, Myanmar and Malaysia. J Geol Soc London 161:799–812

Myint M (2000) Report of study on pesticide use control in Inle Lake. UNDP/FAO Report MYA/99/007, Yangon

Ngwe SU, Catalan I (2000) Preliminary survey on potentiality of reforestation under clean development mechanism in Myanmar with particular reference to Inle region. Unpublished report by Karamosia Intl, Yangon

Nurminen L, Horppila J (2009) Life form dependent impacts of macrophyte vegetation on the ratio of resuspended nutrients. Water Res 43:3217–3226

Ongley E (1996) Water quality monitoring a practical guide to the design and implementation of freshwater quality studies and monitoring programmes. United Nations Environment Programme and the World Health Organization

Oo T, Hlaing T, Htay N (2002) Permian of Myanmar. J Asian Earth Sci 20:683–689. https://doi.org/10.1016/S1367-9120(01)00074-8

Pradhan N, Habib H, Venkatappa M, Ebbers T, Duboz R, Shipin O (2015) Framework tool for a rapid cumulative effects assessment: case of a prominent wetland in Myanmar. Environ Monit Assess 187:341. https://doi.org/10.1007/s10661-015-4508-4

Pourret O, Hursthouse A (2019) It's time to replace the term "Heavy Metals" with "Potentially Toxic Elements" when reporting environmental research. Int J Environ Res Public Health 16:4446. https://doi.org/10.3390/ijerph16224446

Ramsar (2019) Inlay Lake Ramsar Site. https://rsis.ramsar.org/ris/2356 (Consulted online January 2019)

Re V, Thin MM, Setti M, Comizzoli S, Sacchi E (2018) Present status and future criticalities evidenced by an integrated assessment of water resources quality at catchment scale: the case of Inle Lake (Southern Shan state, Myanmar). Appl Geochem 92:82–93

Robinson RAJ, Brezina CA, Parrish RR, Horstwood MSA, Oo NW, Bird MI, Thein M, Walters AS, Oliver GJH, Zaw K (2014) Large rivers and orogens: the evolution of the Yarlung Tsangpo-Irrawaddy system and the eastern Himalayan syntaxis. Gondwana Res 26:112–121. https://doi.org/10.1016/j.gr.2013.07.002

Saeed OW (2012) Microtextures of quartz grain surface from recent sedimentary environments along Al-Khowkhah Al-Mokha Coastal Area, Southern Red Sea, Yemen. J KAU Marine Sci 23:93–107

Sidle RC, Ziegler AD, Vogler JB (2007) Contemporary changes in open water surface area of Lake Inle, Myanmar. Sustain Sci 2:55–65. https://doi.org/10.1007/s11625-006-0020-7

Sirota J, Baiser B, Gotelli NJ, Ellison AM (2013) Organic-matter loading determines regime shifts and alternative states in an aquatic ecosystem. Proc Natl Acad Sci 110:7742–7747

St-Cyr L, Campbell PGC, Guertin K (1994) Evaluation of the role of submerged plant beds in the metal budget of a fluvial lake. Hydrobiologia 291:141–156

Story S, Bowen BB, Benison KC, Schulze DG (2010) Authigenic phyllosilicates in modern acid saline lake sediments and implications for Mars. J Geophys Res Planets 115:E12012. https://doi.org/10.1029/2010JE003687

Su M, Jassby AD (2000) Inle: a large Myanmar lake in transition. Lakes Reserv Res Manage 5:49–54. https://doi.org/10.1046/j.1440-1770.2000.00090

Sutherland RA (2000) Bed sediment-associated trace metals in an urban stream, Oahu. Hawaii Environ Geol 39:611–627. https://doi.org/10.1007/s002540050473

Tarvainen T, Reeder S, Albanese S (2005) Database management and map production, In: Salminen R (Chief ed), Geochemical atlas of Europe. Part 1—Background information, methodology and maps. Geological Survey of Finland, Espoo, p 526. ISBN 951-690-921-3

Thin MM (2015) Environmental applications of physical nuclear and geochemical techniques: origin, dynamics and impact of phosphates and heavy metals in cultivated areas and at Inle Lake, Myanmar. PhD Thesis, Department of Physics, University of Mandalay, Myanmar, p 183

Thin MM, Sacchi E, Setti M (2016) Hydrological processes at Inle Lake (Southern Shan State, Myanmar) inferred from hydrochemical, mineralogical and isotopic data. Isot Environ Health Stud 52:455–467. https://doi.org/10.1080/10256016.2015.1130038

Thin MM, Sacchi E, Setti M, Re V (submitted) A dual source of phosphorus to lake sediments indicated by distribution, content and speciation: Inle Lake (Southern Shan State, Myanmar). Submitted to Wetlands

UNDP (2012) Quarterly report on Inle lake conservation and rehabilitation project UNDP, Myanmar

Volk P, Heymann J, Saradeth S, Bechstedt HD, Löffler E, Stuurman W, Aiblinger S, Carl S, Küpper A, Lamprecht S, Ringenberg H, Schönberg A (1996) Mapping and land use planning for watershed management. Final report for the government of Myanmar, Ministry of Forestry, GAF, Munich

Vos JK, Vandenberghe N, Elsen J (2013) Surface textural analysis of quartz grains by scanning electron microscopy (SEM): from sample preparation to environmental interpretation. Earth Sci Rev 128:93–104

Wang Y, Sieh K, Tun ST, Lai KY, Myint T (2014) Active tectonics and earthquake potential of the Myanmar region. J Geophys Res Solid Earth 119:3767–3822. https://doi.org/10.1002/2013JB010762

Zimba PV, Bates SR (1996) Mineralogical and microscopic analyses of material deposited on submersed macrophytes in Florida lakes. Hydrobiologia 340:37–41. https://doi.org/10.1007/BF00012732
Acknowledgements
This study was developed by the main author for her Ph.D. in physics, conducted under the supervision of Prof. Htun Hlaing (Supervisor), University of Lashio and Prof. Kalyar Thwe (Co-supervisor), University of Mandalay (Myanmar), in the frame of the EU Erasmus Mundus project PANACEA (Action 2, Strand 1, Lot-10, grant agreement number 201-2647/001-001-EMA2). The mobility towards Myanmar was supported by the Erasmus + programme, KA107 International Credit Mobility, Outgoing Teaching Mobility Grants 2015–2017 managed by the University of Pavia. The University of Pavia also supported the work of Viviana Re through the Fondo Ricerca & Giovani funding scheme. Authors wish to sincerely thank Mrs. Mya Mya, Professor (Rtd.), Yezin Agricultural University, Myanmar for her help through the sampling campaign and Dr. Gianni Tartari, former Director of the CNR Water Research Institute (Brugherio), for lending the grab sampler. We also thank Ms. Arianna Musacchio (University of Pavia) for the preparation of Fig. 5.
Additional information
Publisher's Note
Springer Nature remains neutral with regard to jurisdictional claims in published maps and institutional affiliations.
Electronic supplementary material
Below is the link to the electronic supplementary material.
About this article
Cite this article
Thin, M.M., Setti, M., Sacchi, E. et al. Mineralogical and geochemical characterisation of alkaline lake sediments to trace origin, depositional processes, and anthropogenic impacts: Inle Lake (Southern Shan State, Myanmar). Environ Earth Sci 79, 166 (2020). https://doi.org/10.1007/s12665-020-08909-4
Received:

Accepted:

Published:
Keywords
Wetland

Soil erosion

Allogenic minerals

Endogenic calcite

Potentially toxic elements

Sedimentation disturbance