Abstract
This study aims to quantify soil organic C density (SOCD) in tropical semiarid mangroves and to compare these results to SOCD under the main tropical semiarid vegetation units (VU), aiming to better understand the role of semiarid mangroves in C sequestration, as well as to provide a basis for a better quantification of human impacts on this ecosystem. SOCD was quantified in two sets of calculations: at a 40-cm soil depth and considering the same soil mass (equivalent SOC). Mangroves can be considered the main organic C sink in the tropical semiarid environment, storing twice as much organic C per area as semiarid VUs, when considering the upper 40-cm soil layer and almost 6 times as much organic C per area when considering the same soil mass. Anthropogenic impacts (disposal of nutrients and vegetation removal) on the studied mangroves decreased SOCD and resulted in a 4.94 ± 0.74 Tg CO2 emission, equivalent to 5.2% of the Brazilian annual CO2 emission by fossil fuels. Compared to mangroves from tropical humid regions, SOCD in tropical semiarid mangroves is considerably lower.
Access options
Buy single article
Instant access to the full article PDF.
US$ 39.95
Tax calculation will be finalised during checkout.
Subscribe to journal
Immediate online access to all issues from 2019. Subscription will auto renew annually.
US$ 119
Tax calculation will be finalised during checkout.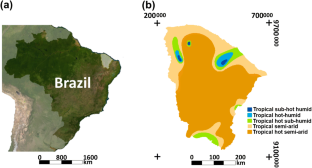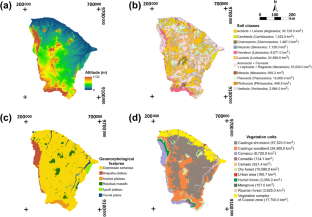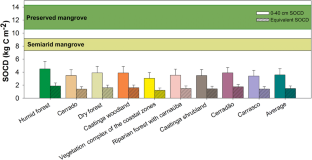 References
Ahmed N, Glaser M (2016) Coastal aquaculture, mangrove deforestation and blue carbon emissions: is REDD + a solution? Mar Policy 66:58–66. https://doi.org/10.1016/j.marpol.2016.01.011

Albuquerque AGBM, Ferreira TO, Nóbrega GN et al (2014) Soil genesis on hypersaline tidal flats (apicum ecosystem) in a tropical semi-arid estuary (Ceará, Brazil). Soil Res 52:140–154. https://doi.org/10.1071/SR13179

Allen D, Dalal RC, Rennenberg H, Schmidt S (2011) Seasonal variation in nitrous oxide and methane emissions from subtropical estuary and coastal mangrove sediments, Australia. Plant Biol 13:126–133. https://doi.org/10.1111/j.1438-8677.2010.00331.x

Alongi DM (2014) Carbon cycling and storage in mangrove forests. Ann Rev Mar Sci 6:195–219. https://doi.org/10.1146/annurev-marine-010213-135020

Andres RJ, Gregg JS, Losey L et al (2011) Monthly, global emissions of carbon dioxide from fossil fuel consumption. Tellus Ser B Chem Phys Meteorol 63:309–327. https://doi.org/10.1111/j.1600-0889.2011.00530.x

Araújo EL, Castro CC, Albuquerque UP (2007) Dynamics of Brazilian Caatinga—a review concerning the plants, environment and people. Funct Ecosyst Communities 1:15–28

Araújo JMC, Otero XL, Marques AGB et al (2012) Selective geochemistry of iron in mangrove soils in a semiarid tropical climate: effects of the burrowing activity of the crabs Ucides cordatus and Uca maracoani. Geo Mar Lett 32:289–300. https://doi.org/10.1007/s00367-011-0268-5

Arrouays D, Deslais W, Badeau V (2006) The carbon content of topsoil and its geographical distribution in France. Soil Use Manag 17:7–11. https://doi.org/10.1111/j.1475-2743.2001.tb00002.x

Atwood TB, Connolly RM, Almahasheer H et al (2017) Global patterns in mangrove soil carbon stocks and losses. Nat Clim Change 7:523–528. https://doi.org/10.1038/nclimate3326

Barreto CR, Morrissey EM, Wykoff DD, Chapman SK (2018) Co-occurring mangroves and salt marshes differ in microbial community composition. Wetlands 78:89

Bernoux M, Carvalho MCS, Volkoff B, Cerri CC (2002) Brazil's soil carbon stocks. Soil Sci Soc Am J 66:888–896. https://doi.org/10.2136/sssaj2002.8880

Bouillon S, Borges AV, Castañeda-Moya E et al (2008a) Mangrove production and carbon sinks: a revision of global budget estimates. Glob Biogeochem Cycles. https://doi.org/10.1029/2007GB003052

Bouillon S, Connolly RM, Lee SY (2008b) Organic matter exchange and cycling in mangrove ecosystems: recent insights from stable isotope studies. J Sea Res 59:44–58. https://doi.org/10.1016/j.seares.2007.05.001

Cooper M, Mendes LMS, Silva WLC, Sparovek G (2005) A national soil profile database for Brazil available to international scientists. Soil Sci Soc Am J 69:649. https://doi.org/10.2136/sssaj2004.0140

da Silva EV, de Souza MM (2006) Main forms of use and occupation of the mangroves of the State of Ceará. Cult Sci Period 1:12–20

de Brogniez D, Ballabio C, Stevens A, Jones RJA, Montanarella L, van Wesemael B (2015) A map of the topsoil organic carbon content of Europe generated by a generalized additive model. Eur J Soil Sci 66:121–134. https://doi.org/10.1111/ejss.12193

de Claudino-Sales V, Peulvast J-P (2007) Evolution morphostructural of the relief of the continental edge of the Ceará State, Northeast of Brazil. Caminhos Geogr 7:1–21

Chen GC, Tam NFY, Ye Y (2010) Summer fluxes of atmospheric greenhouse gases N2O, CH4 and CO2 from mangrove soil in South China. Sci Total Environ 408:2761–2767. https://doi.org/10.1016/j.scitotenv.2010.03.007

Donato DC, Kauffman JB, Murdiyarso D et al (2011) Mangroves among the most carbon-rich forests in the tropics. Nat Geosci 4:293–297. https://doi.org/10.1038/ngeo1123

Drumond MA, Pires IE, de Oliveira VR et al (2008) Production and distribution of biomass of tree species in the Brazilian semi-arid area. Rev Árvore 32:665–669. https://doi.org/10.1590/S0100-67622008000400007

Duarte CM, Cebrián J (1996) The fate of marine autotrophic production. Limnol Oceanogr 41:1758–1766. https://doi.org/10.4319/lo.1996.41.8.1758

Duke NC, Meynecke J-O, Dittmann S et al (2007) A world without mangroves? Science 317:41b–42b. https://doi.org/10.1126/science.317.5834.41b

Duke NC, Kovacs JM, Griffiths AD et al (2017) Large-scale dieback of mangroves in Australia's Gulf of Carpentaria: a severe ecosystem response, coincidental with an unusually extreme weather event. Mar Freshw Res 68:1816–1829. https://doi.org/10.1071/MF16322

Ellert BH, Bettany JR (1995) Calculation of organic matter and nutrients stored in soils under contrasting management regimes. Can J Soil Sci 75(4):529–538

Feller IC, McKee KL, Whigham DF, O'Neill JP (2003) Nitrogen vs. phosphorus limitation across an ecotonal gradient in a mangrove forest. Biogeochemistry 62:145–175. https://doi.org/10.1023/A:1021166010892

Ferreira TO, Otero XL, de Souza Junior VS, Vidal-Torrado P, Macías F, Firme LP (2010) Spatial patterns of soil attributes and components in a mangrove system in Southeast Brazil (São Paulo). J Soils Sediments 10:995–1006. https://doi.org/10.1007/s11368-010-0224-4

Figueredo MA (1997) Unidades Fitoecológicas. In: IPLANCE, Atlas do Ceará. IPLANCE, Fortaleza, Ceará, Brazil

Giri C, Ochieng E, Tieszen LL et al (2011) Status and distribution of mangrove forests of the world using earth observation satellite data. Glob Ecol Biogeogr 20:154–159. https://doi.org/10.1111/j.1466-8238.2010.00584.x

Hamilton SE, Casey D (2016) Creation of a high spatio-temporal resolution global database of continuous mangrove forest cover for the 21st century (CGMFC-21). Glob Ecol Biogeogr 25:729–738. https://doi.org/10.1111/geb.12449

Hinson AL, Feagin RA, Eriksson M et al (2017) The spatial distribution of soil organic carbon in tidal wetland soils of the continental United States. Glob Chang Biol 23:5468–5480. https://doi.org/10.1111/gcb.13811

Hoegh-Guldberg O, Bruno JF (2010) The impact of climate change on the world's marine ecosystems. Science 80(328):1523–1528. https://doi.org/10.1126/science.1189930

Howard J, Hoyt S, Isensee K et al (2014) Coastal blue carbon: methods for assessing carbon stocks and emissions factors in mangroves, tidal salt marshes, and seagrasses. In: Conservation International, Intergovernmental Oceanographic Commission of UNESCO, International Union for Conservation of Nature, Arlington, VA, USA

IPECE (2010) Caracterização Territorial—Características geográficas, Recursos Naturais e Meio ambiente. IPECE, Fortaleza

Jardine SL, Siikamäki JV (2014) A global predictive model of carbon in mangrove soils. Environ Res Lett 9:104013. https://doi.org/10.1088/1748-9326/9/10/104013

Kairo JG, Lang'at JKS, Dahdouh-Guebas F et al (2008) Structural development and productivity of replanted mangrove plantations in Kenya. For Ecol Manag 255:2670–2677. https://doi.org/10.1016/j.foreco.2008.01.031

Kauffman JB, Bhomia RK (2017) Ecosystem carbon stocks of mangroves across broad environmental gradients in West-Central Africa: global and regional comparisons. PLoS One 12:e0187749. https://doi.org/10.1371/journal.pone.0187749

Kauffman JB, Heider C, Cole TG, Dwire KA, Donato DC (2011) Ecosystem carbon stocks of micronesian mangrove forests. Wetlands 31:343–352. https://doi.org/10.1007/s13157-011-0148-9

Kauffman JB, Heider C, Norfolk J, Payton F (2014) Carbon stocks of intact mangroves and carbon emissions arising from their conversion in the Dominican Republic. Ecol Appl 24:518–527. https://doi.org/10.1890/13-0640.1

Kauffman JB, Arifanti VB, Hernández Trejo H et al (2017) The jumbo carbon footprint of a shrimp: carbon losses from mangrove deforestation. Front Ecol Environ 15:183–188. https://doi.org/10.1002/fee.1482

Kauffman JB, Arifanti VB, Bernardino AF et al (2018a) And details for land-use carbon footprints arise from quantitative and replicated studies. Front Ecol Environ 16:12–13. https://doi.org/10.1002/fee.1749

Kauffman JB, Bernardino AF, Ferreira TO et al (2018b) Shrimp ponds lead to massive loss of soil carbon and greenhouse gas emissions in northeastern Brazilian mangroves. Ecol Evol. https://doi.org/10.1002/ece3.4079

Kleber M, Eusterhues K, Keiluweit M et al (2015) Mineral–organic associations: formation, properties, and relevance in soil environments. Advances in agronomy. Academic Press, Cambridge, pp 1–140

Kristensen E, Bouillon S, Dittmar T, Marchand C (2008) Organic carbon dynamics in mangrove ecosystems: a review. Aquat Bot 89:201–219. https://doi.org/10.1016/j.aquabot.2007.12.005

Lehmann J, Kleber M (2015) The contentious nature of soil organic matter. Nature 528:60–68. https://doi.org/10.1038/nature16069

Lopes CC (2011) Biogeoquímica de Ferro e Enxofre em solos de um manguezal no contexto semiárido cearense. Dissertation, Universidade Federal do Ceará

López-Angarita J, Roberts CM, Tilley A et al (2016) Mangroves and people: lessons from a history of use and abuse in four Latin American countries. For Ecol Manag 368:151–162. https://doi.org/10.1016/j.foreco.2016.03.020

Lovelock CE, Feller IC, Reef R, Hickey S, Ball MC (2017) Mangrove dieback during fluctuating sea levels. Sci Rep 7:1680

Maia LP, Lacerda LDD, Monteiro LHU, Souza GM (2006) Atlas dos manguezais do Nordeste do Brasil. Fortaleza, SEMACE, p 55

McLeod E, Chmura GL, Bouillon S, Salm R, Björk M, Duarte CM, Lovelock CE, Schlesinger WH, Silliman BR (2011) A blueprint for blue carbon: toward an improved understanding of the role of vegetated coastal habitats in sequestering CO2. Front Ecol Environ 9:552–560. https://doi.org/10.1890/110004

Medeiros TCC, Sampaio EVSB (2008) Allometry of aboveground biomasses in mangrove species in Itamaracá, Pernambuco, Brazil. Wetl Ecol Manag 16:323–330. https://doi.org/10.1007/s11273-007-9069-z

Ministério da Agricultura (1972) Mapa Exploratório/Reconhecimento de Solos do Estado do Ceará, escala 1:600.000

Miranda PTC, Martins MLR, Soares ZML (1988) Levantamento e Quantificação das áreas de manguezais do estado do ceará.pdf. In: V Simpósio Brasileiro de Sensoriamento Remoto, pp 90–94

Moro MF, Macedo MB, Moura-Fé MM et al (2015) Vegetação, unidades fitoecológicas e diversidade paisagística do estado do Ceará. Rodriguésia 66:717–743. https://doi.org/10.1590/2175-7860201566305

Murdiyarso D, Purbopuspito J, Kauffman JB et al (2015) The potential of Indonesian mangrove forests for global climate change mitigation. Nat Clim Change 5:1089–1092. https://doi.org/10.1038/nclimate2734

Nellemann C, Corcoran E, Duarte CM, Valdrés L, Young CD, Fonseca L, Grimsditch G (2009) Blue Carbon - The Role of Healthy Oceans in Binding Carbon. UN Environment, GRID-Arendal

Neue HU, Gaunt JL, Wang ZP et al (1997) Carbon in tropical wetlands. Geoderma 79:163–185. https://doi.org/10.1016/S0016-7061(97)00041-4

Nóbrega GN, Ferreira TO, Romero RE et al (2013) Iron and sulfur geochemistry in semi-arid mangrove soils (Ceará, Brazil) in relation to seasonal changes and shrimp farming effluents. Environ Monit Assess 185:7393–7407. https://doi.org/10.1007/s10661-013-3108-4

Nóbrega GN, Ferreira TO, Artur AG et al (2015) Evaluation of methods for quantifying organic carbon in mangrove soils from semi-arid region. J Soils Sediments 15:282–291. https://doi.org/10.1007/s11368-014-1019-9

Nóbrega GN, Ferreira TO, Siqueira Neto M et al (2016) Edaphic factors controlling summer (rainy season) greenhouse gas emissions (CO2 and CH4) from semiarid mangrove soils (NE-Brazil). Sci Total Environ 542:685–693. https://doi.org/10.1016/j.scitotenv.2015.10.108

Otero XL, Ferreira TO, Huerta-díaz MA, Partiti CSM, Souza Júnior VS, Vidal-Torrado P, Macías F (2009) Geoderma Geochemistry of iron and manganese in soils and sediments of a mangrove system, Island of Pai Matos (Cananeia—SP , Brazil ). Geoderma 148:318–335. https://doi.org/10.1016/j.geoderma.2008.10.016

Otero XL, Méndez A, Nóbrega GN et al (2017) High fragility of the soil organic C pools in mangrove forests. Mar Pollut Bull 119:460–464. https://doi.org/10.1016/j.marpolbul.2017.03.074

Passos TRG, Artur AG, Nóbrega GN et al (2016) Comparison of the quantitative determination of soil organic carbon in coastal wetlands containing reduced forms of Fe and S. Geo Mar Lett 36:223–233. https://doi.org/10.1007/s00367-016-0437-7

Pendleton L, Donato DC, Murray BC et al (2012) Estimating global "blue carbon" emissions from conversion and degradation of vegetated coastal ecosystems. PLoS One 7:e43542. https://doi.org/10.1371/journal.pone.0043542

Polidoro BA, Carpenter KE, Collins L et al (2010) The loss of species: mangrove extinction risk and geographic areas of global concern. PLoS One 5:e10095. https://doi.org/10.1371/journal.pone.0010095

Quinn C, Stringer L, Berman R et al (2017) Unpacking changes in Mangrove social-ecological systems: lessons from Brazil, Zanzibar, and Vietnam. Resources 6:14. https://doi.org/10.3390/resources6010014

Rovai AS, Riul P, Twilley RR et al (2016) Scaling mangrove aboveground biomass from site-level to continental-scale. Glob Ecol Biogeogr 25:286–298. https://doi.org/10.1111/geb.12409

Sales JC (2008) Climatic characterisation and comparison of estimated methods of the reference evapotranspiração in the regions of Ceará state. D.Sc thesis, Universidade Estadual Paulista, Botucatu

Sanders CJ, Maher DT, Tait DR et al (2016) Are global mangrove carbon stocks driven by rainfall? J Geophys Res Biogeosci 121:2600–2609. https://doi.org/10.1002/2016JG003510

Schaeffer-Novelli Y, Cintrón-Molero G, Adaime RR et al (1990) Variability of mangrove ecosystems along the Brazilian coast. Estuaries 13:204. https://doi.org/10.2307/1351590

Schile LM, Kauffman JB, Crooks S et al (2017) Limits on carbon sequestration in arid blue carbon ecosystems. Ecol Appl 27:859–874. https://doi.org/10.1002/eap.1489

Schmidt MWI, Torn MS, Abiven S et al (2011) Persistence of soil organic matter as an ecosystem property. Nature 478:49–56. https://doi.org/10.1038/nature10386

Siikamäki J, Sanchirico JN, Jardine SL (2012) Global economic potential for reducing carbon dioxide emissions from mangrove loss. Proc Natl Acad Sci USA 109:14369–14374. https://doi.org/10.1073/pnas.1200519109

Souza MJN, Oliveira VPV, Marcos P, Nogueira J (2006) Humid and sub-humid segments of the semi-arid area of the Brazilian northeast. Mercator 9:85–102

Suárez-Abelenda M, Ferreira TO, Camps-Arbestain M et al (2014) The effect of nutrient-rich effluents from shrimp farming on mangrove soil carbon storage and geochemistry under semi-arid climate conditions in northern Brazil. Geoderma 213:551–559. https://doi.org/10.1016/j.geoderma.2013.08.007

Twilley RR, Chen R, Hargis T (1992) Carbon sinks in mangroves and their implications to carbon budget of tropical coastal ecosystems. Water Air Soil Pollut 64:265–288. https://doi.org/10.1021/es983796z

Valiela I, Bowen JL, York JK (2001) Mangrove forests: one of the world's threatened major tropical environments. Bioscience 51:807. https://doi.org/10.1641/0006-3568(2001)051

Ward RD, Friess DA, Day RH, Mackenzie RA (2016) Impacts of climate change on mangrove ecosystems: a region by region overview. Ecosyst Health Sustain 2:e01211. https://doi.org/10.1002/ehs2.1211

Wendt JW, Hauser S (2013) An equivalent soil mass procedure for monitoring soil organic carbon in multiple soil layers. Eur J Soil Sci 64(1):58–65. https://doi.org/10.1111/ejss.12002
Acknowledgements
The authors would like to thank the financial support offered by the São Paulo Research Foundation (FAPESP, Grant number 2017/08101-1), Conselho Nacional de Desenvolvimento Científico e Tecnológico (CNPq, Grant number 308288/2014-9), and CRETUS strategic group (AGRUP2015/02), as well as all the people who helped in the development of this work. This study was partly financed by the Coordenação de Aperfeiçoamento de Pessoal de Nível Superior—Brasil (CAPES)—Finance Code 001. The authors are thankful to the Editor and anonymous Reviewers for their constructive comments to improve the manuscript.
Additional information
Publisher's Note
Springer Nature remains neutral with regard to jurisdictional claims in published maps and institutional affiliations.
Electronic supplementary material
Below is the link to the electronic supplementary material.
About this article
Cite this article
Nóbrega, G.N., Ferreira, T.O., Siqueira Neto, M. et al. The importance of blue carbon soil stocks in tropical semiarid mangroves: a case study in Northeastern Brazil. Environ Earth Sci 78, 369 (2019). https://doi.org/10.1007/s12665-019-8368-z
Received:

Accepted:

Published:
Keywords
Soil organic carbon

Semiarid climate mangroves

Wetlands

Blue carbon sinks