Abstract
Traditional gold mining, in which mercury is still used to process the ore, is widespread in Indonesia. The objective of this study was to investigate the distribution and mobility of mercury in river sediments and water in Banyumas, Central Java. River sediment and water samples were collected from several places, using a systematic random method, and then analyzed in the laboratory. The results showed that the mining activities in the study area were the main source of the mercury in the river water and sediments. The mercury concentrations in river water and sediments were high relative to those found in other areas, perhaps because there have been mining activities in this area for a long time and mercury had accumulated in the sediments. The high percentage of bioavailable mercury in the river sediments suggests that the mercury in the river sediments was relatively mobile and had the potential to directly pollute the environment when released into the river water and taken up by aquatic organisms.
Access options
Buy single article
Instant access to the full article PDF.
USD 39.95
Price excludes VAT (USA)
Tax calculation will be finalised during checkout.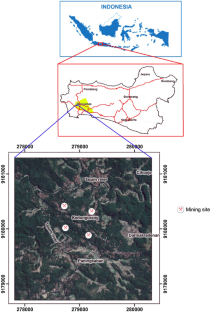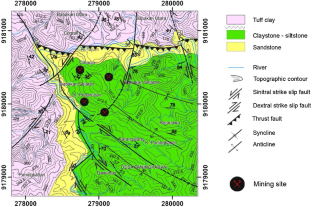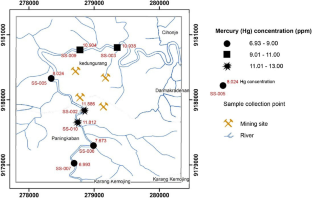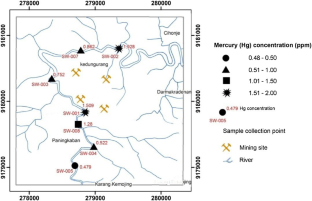 References
Aspinall C (2001) Small-scale mining in Indonesia. International Institute for Environment and Development, Mining Minerals and Sustainable Development Report, Jakarta

Bloom NS, Preus E, Katon J, Hiltner M (2003) Selective extractions to assess the biogeochemically relevant fractionation of inorganic mercury in sediments and soils. Anal Chim Acta 479:233–248

Bose-O'Reilly S, Schierl R, Nowak D, Siebert U,WilliamJF, Owi FT, Ismawati Y (2016) A preliminary study on health effects in villagers exposed to mercury in a small-scale artisanal gold mining area in Indonesia. J Environ Res 149:274–281

Carrasco L, Barata C, Garcia-Berthou E, Tobias A, Bayona JM, Diez S (2011) Patterns of mercury and methylmercury bioaccumulation in fish species downstream of a long-term mercury-contaminated site in the lower Ebro River (NE Spain). Chemosphere 84:1642–1649

Clifford MJ (2017) Assessing releases of mercury from small-scale gold mining sites in Ghana. J Extr Ind Soc 3:497–505

Djuri M, Samodra H, Gafoer S (1996) Geological map of Purwokerto dan Tegal sheet Central Java, Scale 1:100.000. National Geologiacl Agency, Bandung

Fahmi FL (2014) Kandungan dan Sebaran Pencemaran Merkuri (Hg) di Lokasi Penambangan Tradisional Emas Primer Desa Paningkaban, Dan Sekitarnya, Kabupaten Banyumas, Provinsi Jawa Tengah. Skripsi JurusanTeknik Geologi, Universitas Gadjah Mada, Yogyakarta (in Indonesia language, unpublished)

Hentschel T, Hruschk F, Priester P (2002) Global report on artisanal and small-scale mining. Mining, Minerals and Sustainable Development No. 70

Hermawan WN (2011) Kajian Kualitas Air Sungai Plampang Akibat Penggunaan Merkuri pada Pengolahan Bijih Emas Desa Kalirejo, Kecamatan Kokap Kabupaten Kulonprogo. Skripsi. Universitas Pembangunan Nasional "Veteran", Yogyakarta (in Indonesia language, unpublished)

Hernández JP, Negrete JM, Díez S (2015) Speciation and bioavailability of mercury in sediments impacted by gold mining in Colombia. Chemosphere J 119:1289–1295

Hutamadi R, Mulyana (2006) Evaluasi Sumberdaya dan Cadangan Bahan Galian untuk Pertambangan Skala Kecil, Daerah Kabupaten Banyumas, Provinsi Jawa Tengah. Proceeding Pemaparan Hasil-Hasil Kegiatan Lapangan dan Non LapanganTahun 2006. Pusat Sumberdaya Geologi, Bandung (in Indonesia language, unpublished)

Kastowo (1975) Geological map of majenang sheet, Central Java, Scale 1:100.000. National Geological Agency, Bandung

Koyomi N, Nagafuchi O, Kawakami T, Inoue T, Yokota Y, Serikawa Y, Cyio B, Elvince R (2016) Human health risk assessment of mercury vapor around artisanal small-scale gold mining area, Palu city, Central Sulawesi, Indonesia. J Ecotoxicol Environ Saf 124:155–162

Krisnayanti BD, Anderson CW, Utomo WH, Feng X, Handayanto E, Mudarisna N, Ikram H (2012) Assessment of environmental mercury discharge at a four-year-old artisanal gold mining area on Lombok Island, Indonesia. J Environ Monit 14:2598–2607

Kusuma RC (2018) Kadar dan Sebaran Merkuripada air dan sedimen sungai di daerah Sangon, KecamatanKokap, Kabupaten KulonProgo, Thesis Program Magister, Departemen Teknik Geologi, Universitas Gadjah Mada, Yogyakarta (in Indonesia language, unpublished)

Leccea SA, Robert T, Pavlowsky RT (2014) Floodplain storage of sediment contaminated by mercury and copper from historic gold mining at Gold Hill, North Carolina, USA. J Geomorphol 206:122–132

Marrugo J, Benitez L, Olivero J (2008) Distribution of mercury in several environmental compartments in an aquatic ecosystem impacted by gold mining in northern Colombia. Arch Environ Contam Toxicol 55:305–316

Marrugo J, Benitez L, Olivero J, Lans E, Vasquez F (2010) Spatial and seasonal mercury distribution in the Ayapel Marsh, Mojanaregión, Colombia. Int J Environ Health Res 20:451–459

Niane B, Moritz R, Guédron S, Ngom PM, Pfeifer HR, Mall I, Poté J (2014) Effect of recent artisanal small-scale gold mining on the contamination of surface river sediment: Case of Gambia River, Kedougou region, southeastern Senegal. J Geochem Explor 144:517–527

Nurcholis M, Yudiantoro DF, Haryanto D, Mirzam A (2017) Heavy metals distribution in the artisanal gold mining area in Wonogiri. Indones J Geogr 49(2):23–34

Palapa TM, Maramis AA (2015) Heavy metals in water of stream near an amalgamation tailing ponds in Talawaan—Tatelu gold mining, North Sulawesi, Indonesia. J Proc Chem 14:428–436

Prihatmoko S, Digdowirogo, Kusumanto D (2002) PotensiCebakan Mineral di Jawa Tengah dan Daerah Istimewa Yogyakarta. In: Proceedings XXXII annual convention of the Indonesian association of geologists (IAGI)

Resongles E, Casiot C, Freydier R, Dezileau L, Viers J, Poulichet FE (2014) Persisting impact of historical mining activity to metal (Pb, Zn, Cd, Tl, Hg) and metalloid (As, Sb) enrichment in sediments of the Gardon River, Southern France. J Sci Total Environ 481:509–521

Selinus O, Alloway B, Centeno J, Finkelman R, Fuge R, Lindh U, Smedley P (eds) (2005) Essentials of medical geology. Elsevier, London

Setiabudi BT (2005) Penyebaran Merkuri Akibat Usaha Pertambangan Emas di Daerah Sangon, Kabupaten Kulon Progo, D.I. Yogyakarta, Kolokium Hasil Lapangan Subdit Konservasi, Direktorat Energi dan Sumberdaya Energi, Bandung (in Indonesia language, unpublished)

Shia J, Lianga L, Jianga G, Jina X (2005) The speciation and bioavailability of mercury in sediments of Haihe River, China. J Environ Int 31:357–365

Sierra C, Barzola OR, Menéndez M, Demey JR, Vicente-Villardónd JLV (2017) Geochemical interactions study in surface river sediments at an artisanal mining area by means of Canonical (MANOVA)-Biplot. J Geochem Explor 175:72–81

Spiegel SJ, Agrawal S, Mikha D, Vitamerry K, Le Billon P, Veiga M, Konolius K, Paul B (2018) Analysis phasing out mercury? Ecological economics and Indonesia's small-scale gold mining sector. J Ecol Eco 144:1–11

Telmer KH, Veiga MM (2009) World emissions of mercury from artisanal and small scale gold mining. In: Mason R, Pirrone N (eds) Mercury fate and transport in the global atmosphere. Springer, Boston

Tomiyasu T, Kono Y, Kodamatan H, Hidayati N, Rahajoe JS (2013) The distribution of mercury around the small-scale gold mining area along the Cikaniki river, Bogor, Indonesia. J Environ Res 125:12–19

Torres YP, Gallardo KC, Verbel JO (2018) Mercury pollution by gold mining in a global biodiversity hotspot, the Choco biogeographic region, Colombia. Chemosphere J 193:421–430

Ullrich S, Tanton T, Abdrashitova S (2001) Mercury in the aquatic environment: a review of factors affecting methylation. Crit Rev Environ Sci Technol 31:241–293
Acknowledgements
Authors thank to Ministry of Research and Technology of Indonesia for providing research grant. Authors also thank to Professor Hans Ruppert of University of Goettingen Germany for discussion during conducted the research.
Additional information
Publisher's Note
Springer Nature remains neutral with regard to jurisdictional claims in published maps and institutional affiliations.
About this article
Cite this article
Budianta, W., Fahmi, F.L., Arifudin et al. The distribution and mobility of mercury from artisanal gold mining in river sediments and water, Banyumas, Central Java, Indonesia. Environ Earth Sci 78, 90 (2019). https://doi.org/10.1007/s12665-019-8108-4
Received:

Accepted:

Published:

DOI: https://doi.org/10.1007/s12665-019-8108-4
Keywords
Artisanal gold mining

Mercury

River water

River sediments

Mobility