Abstract
Degraded landscapes adjacent to gold tailing storage facilities (TSFs) typically suffer from loss of ecosystem function as a result of seepage pollution. Restoration of these areas has become a primary concern in the fields of environmental science and management within recent decades. To assess the extent of land degradation, detailed monitoring of pollution took place over a period of 4 years on farmland adjacent to a gold TSF in South Africa. The Landscape Function Analysis (LFA) monitoring procedure was developed by David Tongway for the Australian rangelands, and has been utilised in this investigation to assess the impact of seepage pollution on the soil within the aforementioned farmland area. This paper indicated that the LFA procedure could not accurately present landscape stability and ecosystem functionality at the seepage-polluted sites within the short monitoring period presented in this study. It was established that no adverse effects on the natural vegetation were apparent, other than encroachment by Seriphium plumosum, which affected the grazing quality of the area but contributed significantly to the LFA values.
Access options
Buy single article
Instant access to the full article PDF.
US$ 39.95
Tax calculation will be finalised during checkout.
Subscribe to journal
Immediate online access to all issues from 2019. Subscription will auto renew annually.
US$ 119
Tax calculation will be finalised during checkout.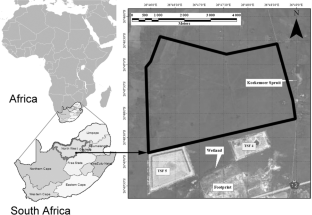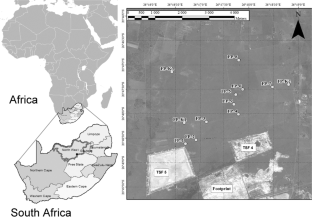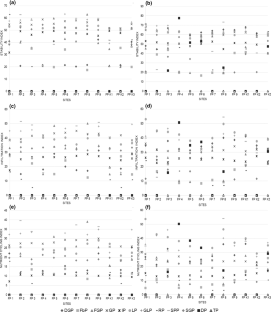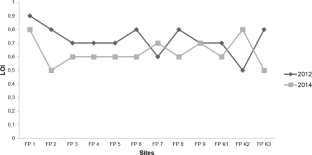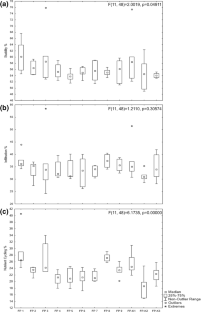 References
Adobe Systems Incorporated (2008) Adobe Photoshop CS4. Adobe Systems Incorporated

Avenant P (2015) Report on the National Bankrupt bush (Seriphium plumosum) survey (2010-2012). Department of Agriculture, Forestry & Fisheries, Directorate Land Use & Soil Management, Sub-directorate: Natural Resources Inventories & Assessments, South Africa

Bastin GN, Ludwig JA, Eager RW, Chewings VH, Liedhoff AC (2002) Indicators of landscape function: comparing patchiness metrics using remotely-sensed data from rangelands. Ecol Ind 1:247–260

Corel Corporation (2005) CorelDRAW X3 Version 13. Corel Corporation&#169

Daniell A (2015) Geochemical monitoring of soil pollution from the MWS-5 gold tailings facility on the Farm Stilfontein. Dissertation, North West University Potchefstroom

Erskine PD, Fletcher AT, Seaborn B (2013) Opportunities and constraints of functional assessment of mined land rehabilitation. In Tibbett M, Fourie, Digby C (eds) Proceedings of the eighth international conference on Mine Closure, Australian Centre for Geomechanics, Perth, pp 345–354

Free Software Foundation Incorporated (1991) Inkskape version 0.91. GNU Public Licence

Google E (2013) Mine Waste Solutions Tailings Complex 26º48′24.05′'S, 26º47′14.45′'E, elevation 1351 m and Imagery Date 10/10/2013. http://www.google.com/earth/index.html. Accessed 5 May 2013

Haagner ASH (2008) The role of vegetation in characterising landscape function on rehabilitating gold tailings. Dissertation, North West University Potchefstroom

Haagner ASH, Kellner K, Tongway DJ (2008) Enhancing Traditional rehabilitation monitoring in South Africa by adding landscape function characteristics. In: Fourie AB, Tibbett M, Weiersbye IM, Dye PJ (eds) Proceedings of the third international conference on Mine Closure, Australian Centre for Geomechanics, Perth, pp 809–820

Humphries RN (2016) Extended ecosystem function analysis—the next step for mine rehabilitation appraisals. In: Fourie AB, Tibbett M (eds) Proceedings of the 11th international conference on Mine Closure, Australian Centre for Geomechanics, Perth, pp 35–46

Kent M, Coker P (1992) Vegetation description and analysis: a practical approach. Wiley, New York

Ludwig JA, Eager RW, Bastin GN, Chewings VH, Liedloff AC (2002) A leakiness index for assessing landscape function using remote-sensing. Landscape Ecol 17:157–171

Malo DS (2012) The effect of seepage pollution from gold mine tailings on vegetation change. Mini-Dissertation, North West University Potchefstroom

Microsoft Corporation (2010) Microsoft® Office Excel® 2010. Microsoft Office Professional Plus 2010

Moore A, Van Niekerk JP (1987) Bosindringing in the Vrystaatstreek: Indringerspesies en die omvang van die probleem. Glen Agric 16:15–18

Mucina L, Rutherford MC (2006) The vegetation of South Africa, Lesotho and Swaziland. Strelitzia 19. South African National Biodiversity Institute, Pretoria

Nasrabadi T, Bidhendi GN, Karbassi AR, Hoveidi H, Nasrabadi I, Pezeshk H, Rashidinejad F (2009) Influence of Sungun copper mine on groundwater quality. NW Iran Environ Geol 58(4):693–700

Seiderer M (2011) Evaluation of rehabilitation attempts at Harties No. 7 TDF 11 years on: The effect of slope flattening and topsoil additions. Mini-Dissertation, North West University Potchefstroom

Snyman HA (2009) Germination potential of Seriphium plumosum (bankrupt bush, slangbos or vaalbos). Grassroots 9(1):43–48

StatSoft (2014) SATISTICA 13.3. StatSoft Incorporation Version 13.3

Steenekamp SJ, Haagner ASH (2010) Impacts of pollution plume emanating from Chemwes TD5 on vegetation and grazing capacity on the farm Stilfontein. Agreenco environmental projects, Stilfontein (unpublished)

Tainton NM (1999) The ecology of the main grazing lands of South Africa: the Savanna Biome. In: Tainton NM (ed) Veld management in South Africa. University of Natal Press, Pietermaritzburg (Chap. 2)

ter Braak CJF, Šmilauer P (2002) CANOCO reference manual and CanoDraw for Windows user's guide: software for canonical community ordination (version 4.5). Microcomputer Power, Ithaca, New York

The Non-Affiliated Soil Analysis Work Committee (1990) Handbook of standard soil testing methods for advisory purposes. Soil Science Society of South Africa, Pretoria

Tongway DJ, Hindley NL (2000) Ecosystem function analysis of rangeland monitoring data: rangelands audit project 1.1. National Land and Water Resources Audit, Canberra

Tongway DJ, Hindley NL (2003) Indicators of ecosystem rehabilitation: success. Stage two—verification of EFA indicators. Final Report, CSIRO, Australia, pp 10–11

Tongway DJ, Hindley NL (2004) landscape function analysis: procedures for monitoring and assessing landscape with special reference to mine sites and rangelands. CSIRO, Australia

Tongway DJ, Ludwig JA (2011) Restoring disturbed landscapes: putting principles into practice. Island press, London

Van Deventer PW (2011a) Environmental geology of stilfontein gold mine. Forum Geoökol 22(3):22–27

Van Deventer PW (2011b) Investigation into potential soil pollution from the Chemwes No. 5 TDF on the Farm Stilfontein. Potchefstroom (unpublished)

Van der Walt L, Cilliers SS, Kellner K, Tongway D, van Rensburg L (2012) Landscape functionality of plan communities in the Impala Platinum mining area, Rustenburg. J Environ Manag 113:103–116

Weiersbye IM, Witkowski ETF, Reichardt M (2006) Floristic composition of gold and uranium tailings dams, and adjacent polluted areas, on South Africa's deep-level mines. Bothalia 36:101–127

Wepener J, Kellner K, Jordaan D (2008) The control of Seriphium plumosum encroachment in certain areas of the grassland biome in the North-West Province. Proceedings of the Grassland Society of Southern Africa, 43:88–89
Acknowledgements
This investigation was supported financially by Technology and Human Resources for Industry Programme, National Research Fund, Mine Waste Solutions and AngloGold Ashanti (South Africa).
Additional information
Publisher's Note
Springer Nature remains neutral with regard to jurisdictional claims in published maps and institutional affiliations.
About this article
Cite this article
Daniell, A., Malo, D.S. & van Deventer, P.W. Monitoring the pollution effects from a gold tailing storage facility on adjacent land through Landscape Function Analysis. Environ Earth Sci 78, 82 (2019). https://doi.org/10.1007/s12665-019-8095-5
Received:

Accepted:

Published:
Keywords
Dysfunctional

Ecosystem function

Functional

Limitations

Seepage pollution