Abstract
The Emirate of Dubai is facing ongoing challenges in managing its limited groundwater resources which are mainly used for irrigation and commercial uses whilst domestic supply is largely met by desalinated water. A groundwater investigation was carried out in the emirate with the objective to establish baseline data for the implementation of groundwater management policy. Seventy groundwater samples were collected from a sandy unconfined aquifer in the emirate during March–April 2016, a season which corresponds with post-rain time. The samples were analyzed for 26 physico-chemical, major ions, trace elements and biological parameters. The analysis help classifying groundwater quality into different zones varying from fresh to brackish and saline towards the shoreline sabkhas. The graphical assessment confirmed groundwater to be highly mineralized due to increased resident time, rock–water interaction, irrigation returns and lack of replenishment due to rainfall. Graphical plots and statistical analysis techniques were employed to infer the basic characteristic and genesis of the groundwater. Chemical classification of groundwater was carried out using a Piper trilinear diagram which classified groundwater into predominantly Na–Cl facies type. Various graphs suggest ion-exchange, reverse ion-exchange and evaporation processes drive within groundwater environment. The suitability of groundwater for drinking and irrigation usages was tested using standard techniques. Finally, GIS techniques were employed to process the data and subsequently employed in groundwater management issues such as setting groundwater protection zones, a groundwater monitoring plan and a public awareness program. The hydrogeological investigation coupled with GIS technique gives more insight and reliable information which paved the way to implement various government policies for priority-wise sustainable groundwater management with high accuracy.
This is a preview of subscription content, log in to check access.
Access options
Buy single article
Instant access to the full article PDF.
US$ 39.95
Price includes VAT for USA
Subscribe to journal
Immediate online access to all issues from 2019. Subscription will auto renew annually.
US$ 199
This is the net price. Taxes to be calculated in checkout.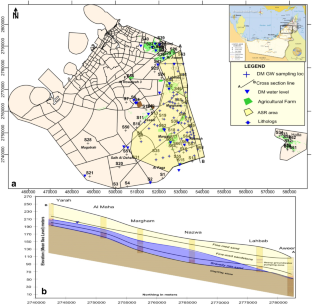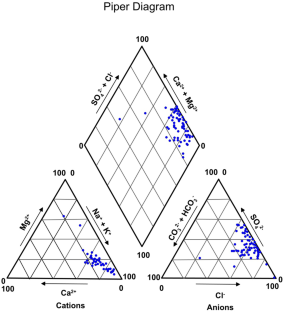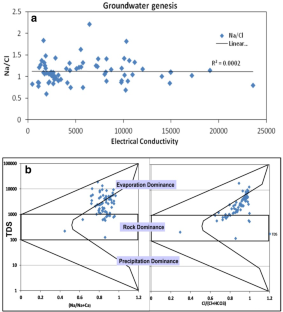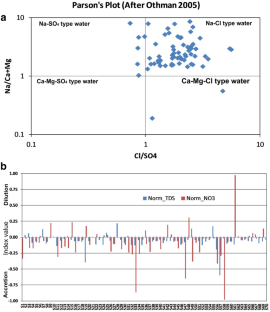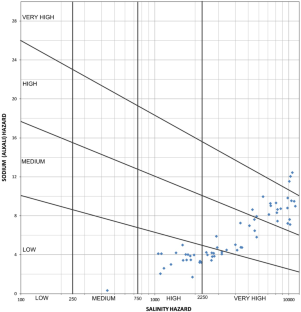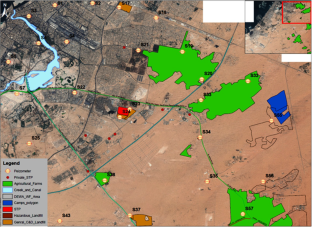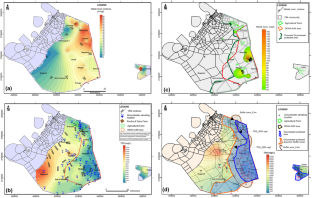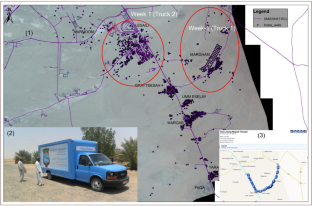 References
Al-Homidy AA, Dahim MH, El Aal AKA (2017) Improvement of geotechnical properties of Sabkha soil utilizing cement kiln dust. J Rock Mech Geotech Eng 9:749–760

Al-Katheeri ES, Howari FM, Murad AA (2009) Hydrogeochemistry and pollution assessment of quaternary–tertiary aquifer in the Liwa area, United Arab Emirates. Environ Earth Sci 59:581–592. https://doi.org/10.1007/s12665-009-0056-y

APHA (2005) Standard Methods for the examination of water and wastewater, 20th edn. APHA, Washington

Asadi P, Ataie-Ashtiani B, Beheshti A (2016) Vulnerability assessment of urban groundwater resources to nitrate: the case study of Mashhad. Iran Environ Earth Sci 76(1):41–76. https://doi.org/10.1007/s12665-016-6357-z

BIS (2012) Drinking water specification, 2nd edn. Bureau of Indian Standard, New Delhi

Cummingham WP (2005) Environmental science: a global concern, 8th edn. McGraw Hill, New York

DM (2014) Development of a Groundwater Protection Policy for the Emirate of Dubai. Technical Report, (N/07/2014), Dubai Municipality, Emirate of Dubai, 2014, p 31

DM (2016) Dubai Municipality Strategic Plan (2016–2021). 2016, 5 strategic pillars and 20 strategic objectives, advertisement poster

DMO (2009) Dubai Meteorological Office. Information. https://services.dubaiairports.ae/dubaimet/met/climate.aspx

DoW (2016) Land use compatibility tables for public drinking water source areas, Water quality protection note no. 25, Department of Water, Government of Western Australia. P47

Farrant AR, Price SJ, Arkley SLB, Finlayson A, Thomas RJ, Leslie A (2012) Geology of the Al Lisaily 1:100 000 map sheet, United Arab Emirates

Gibbs RJ (1970) Mechanisms controlling world water chemistry. Science 17:1088–1090

Hussain Y, Ullah SF, Hussain MB, Aslam AQ, Akhter G, Martinez-Carvajal H, Cárdenas-Soto M (2017) Modelling the vulnerability of groundwater to contamination in an unconfined alluvial aquifer in Pakistan. Environ Earth Sci 76(2):76–84

Jankowski J, Acworth RI, Beck P (1997) Vertical heterogeneity in The Botany sands aquifer, Sydney, Australia: implications for chemical variations and contaminant plume delineation. In: Chilton J, Hiscock K, Morris B (eds) Proceedings of the xxvii international association of hydrogeologists congress on groundwater in the urban environment: problems, processes and management, Nottingham, UK, 1, p 445–450

Jeffrey L, Jan S, Malin H, Bo S (2013) The Swedish model for groundwater policy: legal foundations, decision-making and practical application. Hydrogeol J V21(4):751–760

Jerome C, Pius A (2010) Evaluation of water quality index and its impact on the quality of life in an industrial area in Bangalore, South India. Am J Sci Ind Res 1(3):595–603

Kelley WP, Brown SM, Leibig GI (1940) Chemical effects of saline irrigation water on soils. Soil Sci 49:95–107

Klitoliya RK (2004) Environmental science, 2nd edn. New Central Agency Ltd, India. Recovered on April 23, 2007 from http://www.lenntech.com/heavymetals.html

Lakshmanan E, Kannan R, Kumar MS (2003) Major ion chemistry and identification of hydrogeochemical processes of ground water in a part of Kancheepuram district, Tamil Nadu, India. Environ Geosci 10:157–166

MOEW (2010) United Arab Emirate water conservation strategy. Final report, Ministry of Environment and Water, p 240

MOEW (2012) Assessment of groundwater resources in Hatta, Masfout and Masafi. Final report, Ministry of Environment and Water, p 264

Mohamed MAM, Hassane AB (2016) Hydrochemistry assessment of groundwater quality in Al-Ain city. UAE Environ Earth Sci 75:343–353

Mrazovac S, Vojinovic-Miloradov M, Matic I, Maric N (2012) Multivariate statistical analyzing of chemical parameters of groundwater in Vojvodina. Chemie der Erde-Geochemistry 73(2):217–225

Nazzal Y, Ahmed I, Al-Arifi NS, Ghrefat H, Zaidi FK, El-Waheidi MM, Batayneh A, Zumlot T (2014) A pragmatic approach to study the groundwater quality suitability for domestic and agricultural usage, Saq aquifer, northwest of Saudi Arabia. Environ Monit Assess 186(8):4655–4667

Oze C, Bird DK, Fendorf S (2007) Genesis of hexavalent chromium from natural sources in soil and groundwater. PNAS 104(16):6544–6549

Piper AM (1944) A graphical procedure in the geochemical interpretation of water analyses. Trans Am Geophys Union 25:914–928

Raghunath HM (1987) Ground water: hydrogeology, ground water survey and pumping tests, rural water supply and irrigation systems, 2nd edn. New Age International (p) ltd. Publishers, New Delhi

Raju NJ, Shukla UK, Ram P (2011) Hydrogeochemistry for the assessment of groundwater quality in Varanasi: a fast-urbanizing center in Uttar Pradesh, India. Environ Monit Assess 173:279–300

Ramakrishnaiah CR et al (2009) Assessment of water quality index for the groundwater in Tumkur Taluk, Karnataka State, India. J Chem 6(2):523–530

Rawat KS, Jeyakumar J, Singh SK, Tripathi VK (2018) Appraisal of groundwater with special reference to nitrate using statistical index approach. Groundw Sustain Dev 8:49–58

Richards LA (1954) Diagnosis and improvement of saline and alkali soils 160. USDA, Handbook, p 60

Rizk ZS, Al-Sharhan AS (2003) Water resources in the United Arab Emirates. In: Alsharhan AS, Wood WW (eds) Water resources perspectives: evaluation, management and policy. Elsevier, Amsterdam, pp 245–264

Saeedi M, Abessi O, Sharifi F, Meraji H (2010) Development of groundwater quality index. Environ Monit Assess 163(1–4):327–335

Stoner JD (1978) Water-quality indices for specific water uses, US Geological Survey, p 35

Szabolcs I, Darab C (1964) The influence of irrigation water of high sodium carbonate content of soils. In: Proceedings of 8th ISSS, Trans vol. II, 802–812

Tebbutt C (1992) Sustainable water development: opportunities and constraints. Water Int 13:189

Umar R, Ahmed I, Alam F, Khan MA (2009) Hydrochemical characteristics and seasonal variations in groundwater quality of an alluvial aquifer in parts of Central Ganga Plain, Western Uttar Pradesh, India. Environ Geol 58:1295–1300

USDH (2010) Washington State Well Head Protection Program guidance document. Washington State Department of Health, p 111

USEPA (2013) Groundwater Sampling operating procedures. United States Environmental Protection Agency, Athenes, p 34

USSL (1954) Diagonosis and improvement of salinity and alkaline soils. US Soil Laboratory, U.S. Department of Agriculture, Hand Book No. 60, p 160

WHO (2004) Water for health: guidelines for drinking-water quality, 4th edn. World Health Organization, Geneva, p 541

Wick K, Heumesser C, Schmid E (2012) Groundwater nitrate contamination: factors and indicators. J Environ Manag 111:178–186

Zarabi M, Jalali M (2012) Leaching of nitrogen from calcareous soils in western Iran: a soil leaching column study. Environ Monit Assess 184:7607–7622
Acknowledgements
Author wish to thank the Director, Environment Department, Dubai Municipality, for the necessary assistance and constant encouragement in carrying out this study. The funding received for the implementation of groundwater policy is highly acknowledged.
Ethics declarations
Conflict of interest
The author declares no conflict of interest.
Additional information
Publisher's Note
Springer Nature remains neutral with regard to jurisdictional claims in published maps and institutional affiliations.
About this article
Cite this article
Ahmed, I., Tariq, N. & Al Muhery, A. Hydrochemical characterization of groundwater to align with sustainable development goals in the Emirate of Dubai, UAE. Environ Earth Sci 78, 44 (2019). https://doi.org/10.1007/s12665-018-8030-1
Received:

Accepted:

Published:
Keywords
Groundwater quality

Piper's diagram

GIS techniques

Sustainable groundwater management

Dubai emirate