Abstract
The total mercury content of the surface layer (0–5 cm) of different types of bottom sediment in Gorky and Cheboksary reservoirs was determined. The content of mercury in bottom sediments varied within a wide range, 0.001–0.234 mg/kg. In spite of large industrial enterprises near the watersheds, which are potential sources of mercury in the environment, the content is comparable to background values. Depending on the sediment type, the metal concentration rises within a sequence: sand and loamy sand > sandy loams > clay and silt. The content of mercury positively correlates with the amount of organic matter in bottom sediments (r = 0.49–0.86, p ≤ 0.001) and the proportion of clay silt particles (r = 0.55–0.76, p ≤ 0.001). This relationship indicates the presence of two forms of mercury: sorbed on fine particle surfaces and as part of complex compounds. A negative correlation between Hg concentration and the flow velocity in the reservoir was revealed (r = − 0.40 to − 0.58, p ≤ 0.05). This relationship is due to the effect of pulsating discharge and wind currents on sedimentation conditions, and thus on the accumulation of mercury. The rate of accumulation was calculated as 15 kg/year in Gorky reservoir and 9 kg/year in Cheboksary, with average concentrations of 0.057 and 0.046 mg/kg, respectively, in the surface layer of bottom sediments.
Access options
Buy single article
Instant access to the full article PDF.
USD 39.95
Price excludes VAT (USA)
Tax calculation will be finalised during checkout.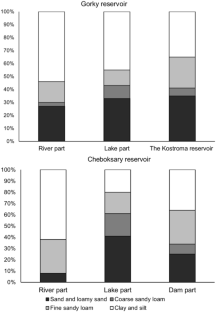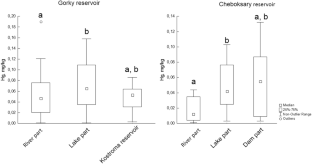 References
Bełdowski J, Miotk M, Bełdowska M, Pempkowiak J (2014) Total, methyl and organic mercury in sediments of the Southern Baltic Sea. Mar Pollut Bull. https://doi.org/10.1016/j.marpolbul.2014.07.001

Boening DW (2000) Ecological effects, transport, and fate of mercury: a general review. Chemosphere. https://doi.org/10.1016/S0045-6535(99)00283-0

Bolanos-Alvares Y, Alonso-Hernandens CM, Morabito R, Diaz-Asencio M, Pinto V, Gomez-Batista M (2016) Mercury contamination of riverine sediments in the vicinity of a mercury cell chlor-alkali plant in Sagua River, Cuba. Chemosphere. https://doi.org/10.1016/j.chemosphere.2016.03.025

Boszke L, Kowalski A, Siepak J (2004) Grain size partitioning of mercury in sediments of the middle Odra River (Germany/Poland). Water Air Soil Pollut. https://doi.org/10.1023/B:WATE.0000049171.22781.bd

Brigham ME, Wentz DA, Aiken GR, Krabbenhoft DP (2009) Mercury cycling in stream ecosystems. 1. Water column chemistry and transport. Environ Sci Technol. https://doi.org/10.1021/es802694n

Butorin NV, Ziminova NA, Kurdin VP (1975) Donnye otlozhenia verkhnevolzhskikh vodokhranilisch [Bottom sediments of Upper Volga's reservoirs]. Nauka, Moscow (in Russian)

Chakraborty P, Sarkar A, Vudamala K, Naik R, Nagender N (2015) Organic matter—a key factor in controlling mercury distribution in estuarine sediment. Mar Chem. https://doi.org/10.1016/j.marchem.2014.10.005

Chen C, Zheng B, Jiang X, Zhao Z, Zhan Y, Yi F, Ren J (2013) Spatial distribution and pollution assessment of mercury in sediments of Lake Taihu, China. J Environ Sci. https://doi.org/10.1016/S1001-0742(12)60033-3

Covelli S, Acquavita A, Piani R, Predonzani S, De Vittor C (2009) Recent сontamination of mercury in an estuarine environment (Marano lagoon, Northern Adriatic, Italy). Estuar Coast Shelf Sci. https://doi.org/10.1016/j.ecss.2009.01.021

Dobrovolsky GV (2005) Pochvy rechnyh poim centra Russkoy ravniny [Floodplain soils in Central Russian Plain]. MSU, Moscow (in Russian)

Driscoll CT, Mason RP, Chan HM, Jacob DJ, Pirrone N (2013) Mercury as a global pollutant: sources, pathways, and effects. Environ Sci Technol. https://doi.org/10.1021/es305071v

Edelstein KK (1995) Hydrology peculiarities of valley reservoirs. Int Rev Hydrobiol. https://doi.org/10.1002/iroh.19950800105

Fedorov YA, Ovsepyan AE, Dotsenko IV, Lisitzin AP, Novigatskii AN, Shevchenko VP (2011) Patterns of mercury distribution in bottom sediments along the Severnaya Dvina-White Sea section. Dokl Earth Sci 1:51–54 (in Russian)

Fergusson JE (1990) The heavy elements—chemistry, environmental impact and health effects. Pergamon press, Oxford

Fernandes-Martines R, Larios R, Gomes-Pinilla I, Gomes-Mancebo B, Lopez-Andres S, Loredo J, Ordonez A, Rucandio I (2015) Mercury accumulation and speciation in plants and soils from abandoned cinnabar mines. Geoderma. https://doi.org/10.1016/j.geoderma.2015.04.005

Fitzgerald WF, Lamborg CH (2005) Geochemistry of mercury in the environment. In: Lollar BS (ed) Environmental geochemistry, treatise on geochemistry, vol 9. Elsevier, Oxford, pp 107–149

Folk R (1951) Stages of textural maturity in sedimentary rocks. J Sediment Res 21:127–130

Gosar M, Pirc S, Bidovec M (1997) Mercury in the Idrijca River sediments as a reflection of mining and smelting activities of the Idrija mercury mine. J Geochem Explor. https://doi.org/10.1016/S0375-6742(96)00064-7

Hamelin S, Amyot M, Barkay T, Wang Y, Planas D (2011) Methanogens: principal methylators of mercury in lake periphyton. Environ Sci Technol. https://doi.org/10.1021/es2010072

Heiri O, Lotter AF, Lemcke G (2001) Loss-on-ignition as a method for estimating organic and carbonate content in sediments: reproducibility and comparability of results. J Paleolimnol. https://doi.org/10.1023/A:1008119611481

Hermanns YM, Biester H (2013) Anthropogenic mercury signals in lake sediments from southernmost Patagonia, Chile. Sci Total Environ. https://doi.org/10.1016/j.scitotenv.2012.12.034

Hsu MJ, Selvaraj K, Agoramoorthy G (2006) Taiwan's industrial heavy metal pollution threatens terrestrial biota. Environ Pollut. https://doi.org/10.1016/j.envpol.2005.11.023

Ilyin I, Rozovskaya O, Sokovyh V, Travnikov O, Varygina M, Aas W, Uggerud HT (2010) Heavy metals: transboundary pollution of the environment. In: EMEP Status Report 2/2010. Moscow, Russia (in Russian)

Jirsa F, Pirker D, Krachler R, Keppler B (2014) Total mercury in sediments, macrophytes, and fish from a shallow steppe Lake in Eastern Austria. Chem Biodivers. https://doi.org/10.1002/cbdv.201400172

Kabata-Pendias A (2010) Trace elements in soils and plants, 4th edn. CRS Press, New York

Koniarz T, Tarnawski M, Baran A, Florenska N (2015) Mercury contamination of bottom sediments in water reservoirs of southern Polland. Geol Geophys Environ 41:169–175

Kot FS, Bakanov KG, Goryachev NA (2010) Mercury in bottom sediments of the Amur river, its floodplain lakes and estuary, Eastern Siberia. Environ Monit Access. https://doi.org/10.1007/s10661-009-1097-0

Lipatnikova OA, Grichuk DV, Grigorieva IL, Khasanova AI, Shestakova TV, Bychkov AY, Il'ina SM, Pukhov VV (2014) Features of different forms of trace elements in bottom sediments of Ivankovskoe water reservoir. Geologia, inzhenernaya geologia, gidrogeologia, geokriologia 1:37–48 (in Russian)

Litvinov AS, Zakonnova AV, Roschupko VF (2001) Obschie svedenia about vodokhranilischakh (Main information about reservoirs). In: Kopylov AI (ed) Ecological problems of the Upper Volga. YaSTU Publishing, Yaroslavl, pp 5–7 (in Russian)

Liu G, Cai Y, O'Driscoll N, Feng X, Jiang G (2012) Overview of mercury in environment. In: Lui G (ed) Environmental chemistry and toxicology of mercury. Wiley, Hoboken, pp 1–13

Liu Y, Chai X, Hao Y, Gao X, Lu Z, Zhao Y, Zhang J, Cai M (2015) Total mercury and methylmercury distributions in surface sediments from Kongsfjorden, Svalbard, Norwegian Arctic. Environ Sci Pollut Res. https://doi.org/10.1007/s11356-014-3942-0

Martínez-Mena M, Castillo V, Albaladejo J (2002) Relations between interrill erosion processes and sediment particle size distribution in a semiarid Mediterranean area of SE of Spain. Geomorphology. https://doi.org/10.1016/S0169-555X(01)00158-1

Mason RP, Choi AL, Fitzgerald WF, Hammerschmidt CR, Lamborg CH, Soerensen AL, Sunderland EM (2012) Mercury biogeochemical cycling in the ocean and policy implications. Environ Res. https://doi.org/10.1016/j.envres.2012.03.013

Mast MA, Manthorne DJ, Roth DA (2010) Historical deposition of mercury and selected trace elements to high-elevation National Parks in the Western U.S. inferred from lake-sediment cores. Atmos Environ. https://doi.org/10.1016/j.atmosenv.2010.04.024

Mergler D, Anderson HA, Chan LHM, Mahaffey KR, Murray M, Sakamoto M, Stern AH (2007) Methylmercury exposure and health effects in humans: a worldwide concern. Ambio. https://doi.org/10.1579/0044-7447(2007)36%5B3:MEAHEI%5D2.0.CO;2

Nemr A, El-Said GF, Khaled A, Ragab S (2016) Distribution and ecological risk assessment of some heavy metals in coastal surface sediments along the Red Sea, Egypt. Int J Sediment Res. https://doi.org/10.1016/j.ijsrc.2014.10.001

Oliveri E, Manta DS, Bonsignore M, Cappello S, Tranchida G, Bagnato E, Sabatino N, Santisi S, Sprovieri M (2016) Mobility of mercury in contaminated marine sediments: biogeochemical pathways. Mar Chem. https://doi.org/10.1016/j.marchem.2016.07.002

Penedo-Hernandez J, Marrugo-Negrete J, Diez S (2015) Speciation and biovailability of mercury in sediments impacted by gold mining in Colombia. Chemosphere. https://doi.org/10.1016/j.chemosphere.2014.09.044

Polyakov DM, Aksentov KI, Ivanov MV (2008) Mercury in the bottom sediments of the marginal filter of the Razdol'naya River, Amur Bay. Geochem Int 6:614–621 (in Russian)

Rice KM, Walker EM Jr, Wu M, Gillette C, Blough ER (2014) Environmental mercury and its toxic effects. J Prev Med Public Health. https://doi.org/10.3961/jpmph.2014.47.2.74

Sarasiab AR, Hosseini M, Mirsalari Z (2014) Mercury distribution in contaminated surface sediments from four estuaries, Khuzestan Shore, North Part of Persian gulf. Bull Environ Contam Toxicol. https://doi.org/10.1007/s00128-014-1354-y

Scheuhammer A, Braune B, Chan HM, Frouin H, Krey A, Letcher R, Loseto L, Noel M, Ostertag S, Ross P, Waylamd M (2015) Recent progress on our understanding of the biological effects of mercury in fish and wildlife in the Canadian Arctic. Sci Total Environ. https://doi.org/10.1016/j.scitotenv.2014.05.142

Selin NE (2009) Global biogeochemical cycling of mercury: a review. Ann Rev Environ Resour. https://doi.org/10.1146/annurev.environ.051308.084314

Sholupov S, Pogarev S, Ryzhov V, Mashyanov N, Stroganov A (2004) Zeeman atomic absorption spectrometer RA-915+ for direct determination of mercury in air and complex matrix samples. Fuel Process Technol. https://doi.org/10.1016/j.fuproc.2003.11.003

Stein ED, Cohen Y, Winer AM (1996) Environmental distribution and transformation of mercury compounds. Crit Rev Environ Sci Technol. https://doi.org/10.1080/10643389609388485

Tansel B, Rafiuddin S (2016) Heavy metal content in relation to particle size and organic content of surficial sediments in Miami River and transport potential. Int J Sediment Res. https://doi.org/10.1016/j.ijsrc.2016.05.004

Udodenko YG, Komov VT, Zakonnov VV (2018) Long-term dynamics of total mercury in surficial bottom sediments of the Volga River's reservoir in central Russia. Environ Monit Assess. https://doi.org/10.1007/s10661-018-6575-9

Ullrich SM, Ilyushchenko MA, Uskov GA, Tanton TA (2007) Mercury distribution and transport in a contaminated river system in Kazakhstan and associated impacts on aquatic biota. Appl Geochem. https://doi.org/10.1016/j.apgeochem.2007.07.005

Ulrich SM, Tanton TW, Abdrashitova SA (2010) Mercury in the aquatic environment: a review of factors affecting methylation. Crit Rev Environ Sci Technol. https://doi.org/10.1080/20016491089226

UNEP Global Mercury (2013) Sources, emissions, releases and environmental transport. UNEP Chemicals Branch, Geneva

Vilhena M, Costa M, Berredo JF (2013) Accumulation and transfer of Hg, As, Se and other metals in the sediment-vegetation-crab-human food chain in the coastal zone of the northern Brazilian state of Para (Amazonia). Environ geoichim health. https://doi.org/10.1007/s10653-013-9509-z

Zakonnov VV, Zakonnova AV (2008) Geographicheskaya zonal'nost osadkonakoplenia v sisteme vodochranilisch Volgi [Geographic zonality of sedimentation in system of Volga reservoirs] Izvestia RAN. Seria geographicheskaya 2:105–111 (in Russian)

Zakonnov VV, Poddubnyi SA, Zakonnova AV, Kasyanova VV (2010) Sedimentation in variable-backwater zones of Volga chain reservoirs. Water Resour 4:462–470. (in Russian)

Zaval'tseva OA, Konovalova LV, Svetukhin VV, Il'in KI (2016) Physicochemical state and assessment of technogenic geochemical anomalies in bottom sediments of the Kyibyshev Reservoir near Ulyanovsk City. Water Resour 5:803–808. (in Russian)
Acknowledgements
This research was performed in the framework of the state assignment of The Federal Agency for Scientific Organizations (FASO Russia) (Theme no. 0122-2014-001). Support is from the Program on Biological Resources of Russian Federation RAS. Dr. Christopher Robinson has helped with the English version of the manuscript.
About this article
Cite this article
Udodenko, Y.G., Komov, V.T. & Zakonnov, V.V. Total mercury in surficial bottom sediments of Volga River's reservoirs in Central Russia. Environ Earth Sci 77, 692 (2018). https://doi.org/10.1007/s12665-018-7876-6
Received:

Accepted:

Published:

DOI: https://doi.org/10.1007/s12665-018-7876-6
Keywords
Organic matter

Grain size composition

Gorky reservoir

Cheboksary reservoir