Abstract
The effects of rainfall infiltration and hysteresis on the settlement of shallow foundations in unsaturated soil were numerically investigated. Numerical solutions were verified against experimental data. Rainfall intensities and groundwater table positions, factors that contribute to an additional settlement of shallow foundations, were investigated through a series of parametric studies. The effect of hysteresis on the settlement behavior of shallow foundations was considered by incorporating hysteretic soil–water characteristic curves (SWCC) that were obtained from the laboratory. A Reasonably good agreement of load-settlement response and matric suction distribution was obtained between the numerical analysis results and the field measurements. The parametric study showed that a reduction of matric suction due to rainfall infiltration induced the additional settlement of shallow foundations in unsaturated soil. The groundwater table position appeared to affect the wetting-induced settlement during rainfall due to the changes in matric suction. In addition, wetting SWCC analysis produced a slight larger settlement, up to 5% more than that produced by drying SWCC. Therefore, appropriate SWCCs (i.e., drying or wetting) should be used in numerical analysis in accordance with the conditions of the soils underneath the shallow foundations.
This is a preview of subscription content, log in to check access.
Access options
Buy single article
Instant access to the full article PDF.
US$ 39.95
Price includes VAT for USA
Subscribe to journal
Immediate online access to all issues from 2019. Subscription will auto renew annually.
US$ 199
This is the net price. Taxes to be calculated in checkout.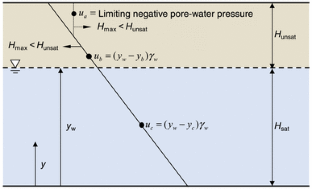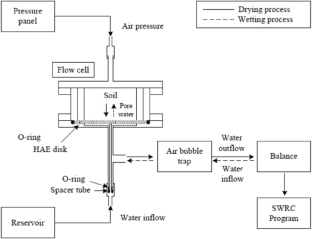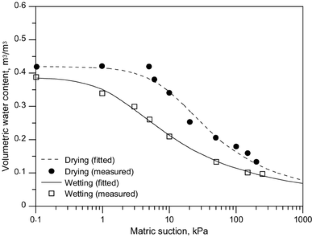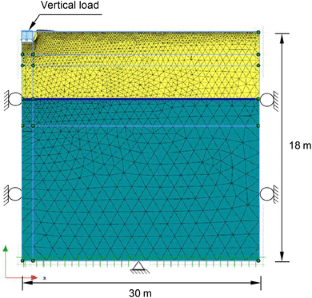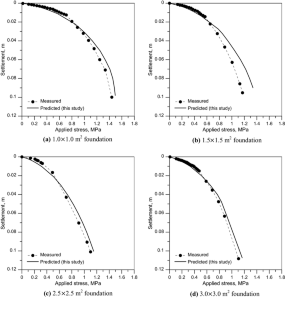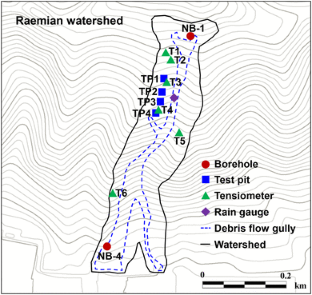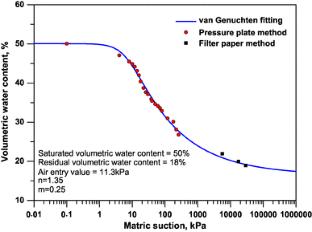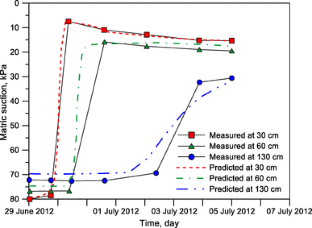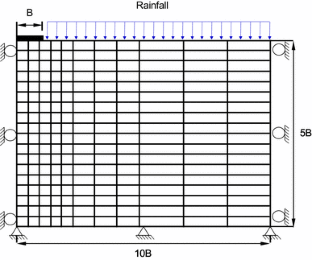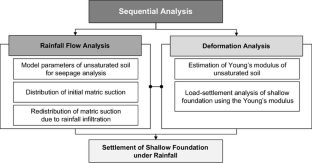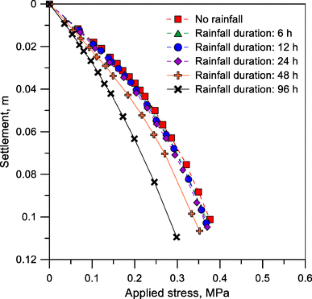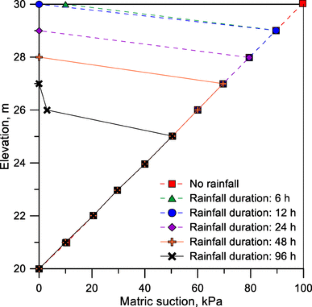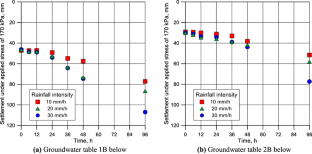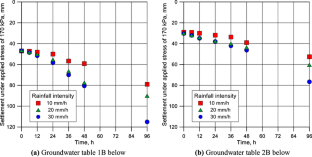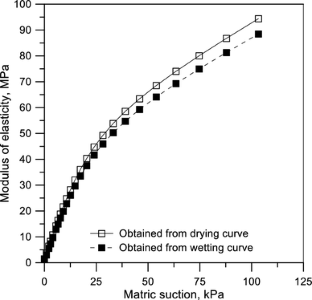 References
Abed AA, Vermeer PA (2009) Numerical simulation of unsaturated soil behaviour. Int J Comput Appl Technol 34(1):2–12

Bolton MD (1986) The strength and dilatancy of sands. Géotechnique 36(1):65–78

Briaud JL (2007) Spread footings in sand: Load settlement curve approach. J Geotech Geoenviron Eng 133:905–920

Briaud JL, Gibbens R (1997) Large scale load tests and data base of spread footings on sand. Technical report, FHWA–RD–068, US Department of Transportation Federal Highway Administration

Briaud JL, Gibbens R (1999) Behavior of five large spread footings in sand. J Geotech Geoenviron 125(9):787–796

Consoli NC, Schnaid F, Milititsky J (1998) Interpretation of plate load tests on residual soil site. J Geotech Geoenviron Eng 124:857–867

Fredlund DG, Rahardjo H (1993) Soil mechanics for unsaturated soils. John Wiley and Sons Inc., New York

Goh SG, Rahardjo H, Leong EC (2013) Shear strength of unsaturated soils under multi-cycles of drying and wetting. J Geotec Geoenviron Eng 140(2):1–5

Hossain MA, Yin JH (2010) Shear strength and dilative characteristics of an unsaturated compacted completely decomposed granite soil. Can Geotech J 47(10):1112–1126

Jeong S, Kim J, Lee K (2008) Effect of clay content on well-graded sands due to infiltration. Eng Geol 102:74–81

Kim Y, Jeong S, Kim J (2016) Coupled infiltration model of unsaturated porous media for steady rainfall. Soils Found 56(6):1073–1083

Mohamed FMS (2014) Bearing capacity and settlement behaviour of footings subjected to static and seismic loading conditions in unsaturated sandy soils. Dissertation, University of Ottawa

Nuth M, Laloui L (2008) Advances in modelling hysteretic water retention curve in deformable soils. Comput Geotech 35:835–844

Oh WT, Vanapalli SK (2011) Modelling the applied vertical stress and settlement relationship of shallow foundations in saturated and unsaturated sands. Can Geotech J 46(8):903–914

Oh WT, Vanapalli SK, Puppala AJ (2009) Semi-empirical model for the prediction of modulus of elasticity for unsaturated soils. Can Geotech J 48:425–438

Park HD (2017) Rainfall induced load-settlement behavior of shallow foundations on unsaturated soil. M.Sc. Thesis, Yonsei University, Seoul, Korea

PLAXIS 2D (2012) PLAXIS 2D user manual, version 2012, Brinkgreve, Swolfs RB, W.M., PLAXIS Inc

Poulos HD, Davis EH (1974) Elastic solutions for soil and rock mechanics. Wiley, New York

Rahardjo H, Melinda F, Leong EC, Rezaur RB (2011) Stiffness of a compacted residual soil. Eng Geol 120:60–67

Rahardjo H, Satyanaga A, Leong EC (2013) Effect of flux boundary conditions on pore-water pressure distribution in slope. Eng Geol 165:133–142

Rojas JC, Salinas LM, Sejas C (2007) Plate-load tests on an unsaturated lean clay. Experimental unsaturated soil mechanics. Springer, Berlin Heidelberg, pp 445–452

van Genuchten MT (1980) A closed-form equation for predicting the hydraulic conductivity of unsaturated soils. Soil Sci Soc Am J 44(5):892–898

Vanapalli SK, Mohamed FM (2007) Bearing capacity of model footings in unsaturated soils. Experimental unsaturated soil mechanics. Springer, Berlin Heidelberg, pp 483–493

Vanapalli SK, Fredlund DG, Pufahl DE, Clifton AW (1996) Model for the prediction of shear strength with respect to soil suction. Can Geotech J 33(3):379–392

Wang Q, Pufahl DE, Fredlund DG (2002) A study of critical state on an unsaturated silty soil. Can Geotech J 39(1):213–218

Wayllace A, Lu N (2012) A transient water release and imbibitions method for rapidly measuring wetting and drying soil water retention and hydraulic conductivity functions. Geotech Test J 35(1):103–117

Wu LZ, Selvadurai APS (2016) Rainfall infiltration-induced groundwater table rise in an unsaturated porous medium. Environ Earth Sci 75(2):1–11
About this article
Cite this article
Jeong, S., Kim, Y., Park, H. et al. Effects of rainfall infiltration and hysteresis on the settlement of shallow foundations in unsaturated soil. Environ Earth Sci 77, 494 (2018). https://doi.org/10.1007/s12665-018-7690-1
Received:

Accepted:

Published:
Keywords
Infiltration

Shallow foundation

Settlement

Unsaturated soil

Numerical analysis