Abstract
In this study, the first groundwater recharge map for United Arab Emirates (UAE) was developed using the recharge potential and water table fluctuation methods. Recharge potential estimates were made using information about infiltration rate, soil type, ground slope, geological and hydrogeological factors, and the availability of rainfall harvesting infrastructure and were validated by measurements of water table rise in alluvial aquifers in wadis. Based on this information, the total recharge in the UAE is estimated to be about 133 million cubic meters per year (MCM/year). Annual recharge rates are calculated to vary between 1 and 28% of precipitation in the different regions of UAE depending on several natural and manmade parameters including, among others, recharge enhancing infrastructure. Estimates from the two methods are 98% in agreement; which suggests that the recharge potential method is suitable for estimating aquifer's recharge in UAE and arid regions. The water table fluctuation method was found to be more suitable for assessing recharge through gravel plains and wadis in mountainous areas.
Access options
Buy single article
Instant access to the full article PDF.
USD 39.95
Price excludes VAT (USA)
Tax calculation will be finalised during checkout.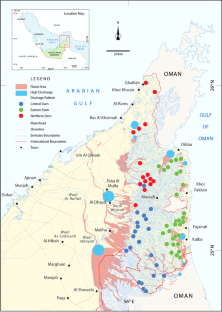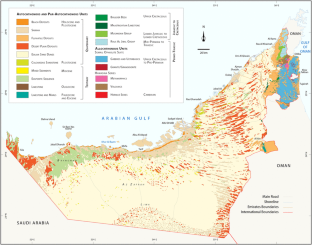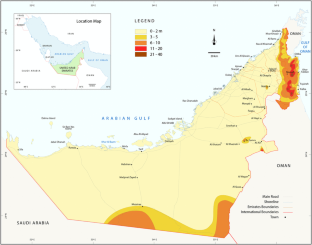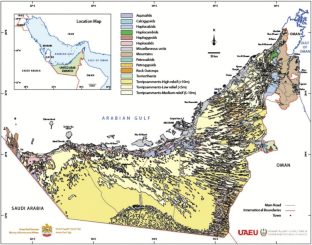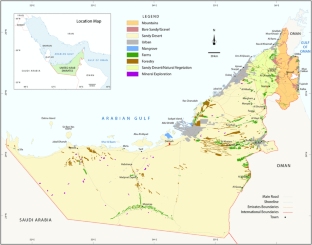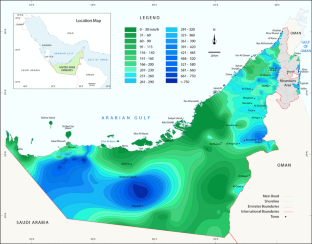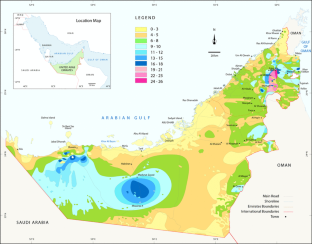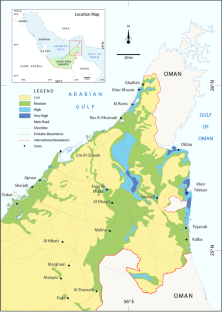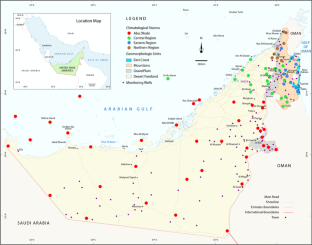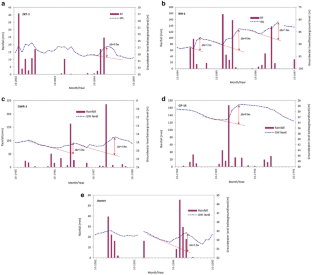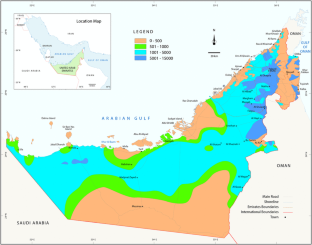 References
British Geological Survey, UAE Ministry of Energy (2006) Geological Map of Northern UAE. Internal Report, Ministry of Energy, Abu Dhabi

Chenini I, Ben MM (2010) Groundwater recharge study in arid region: an approach using GIS techniques and numerical modeling. Comput Geosci 36:801–817

Crosbie RS, James L, McCallum, Glenn A, Harringto (2001) Estimation of groundwater recharge and discharge across northern Australia. In: 18th World IMACS/MODSIM Congress, Cairns, Australia 13–17 July 2009. Integrated Water Resources Management. IAHS. Public No. pp 272–2001

CRS SEWA (2006) Use of space images for groundwater exploration in the Northern United Arab Emirates. Internal Report. Sharjah Electricity and Water Authority (SEWA), Sharjah

De Silva RP (1998) A review of the methods of estimating groundwater recharge in relation to the dry zone of Sri Lanka. Open Univ Rev Eng Technol J 4(2): 3–12 (Open University of Sri Lanka)

EAD (2012) Soil Survey of UAE, internal report, Abu Dhabi Environmental Agency, Abu Dhabi

El Baz F (1998) The Arab World and space research: where do we stand. The Emirates Center for Strategic Studies and research, Abu Dhabi

Elmahdy SI, Mohamed MM (2012) Geological lineament detection, characterization and association with groundwater contamination in carbonate rocks of Musandam peninsular using digital elevation model (DEM). Open Hydrol J 6(Suppl 1-M3):45–51

Elmahdy SI, Mohamed MM (2013) Influence of geological structures on groundwater accumulation and groundwater salinity in Musandam Peninsula, UAE and Oman. J Geocarto Int 28(5):453–472

ESCWA (2003) Water scarcity in the Arab World. Population and development report, Beirut, Lebanon

Halcrow SW, Partners Ltd (1969) Report on the water resources of the Trucial States: Trucial States Council, Water Resources Survey, Internal Report, Ministry of Energy & Water, Dubai, UAE

Healy RW, Cook PG (2002) Using groundwater levels to estimate recharge. Hydrogeol J 10:91–109

Imes JL, Signor DC, Woodward DG (1993) Hydrology and water quality; in Maddy, D.V.,ed. In: 1993. Ground-water resources of Al Ain area, Abu Dhabi Emirate: U.S. Geological Survey Administrative Report 93 – 001. Prepared for the National Drilling Company, Abu Dhabi, pp 168–283

IWACO (1986) Ground water study, Drilling of Deep Water Wells at Various locations in the UAE, Groundwater Development in the Northern Agricultural Region. Internal Report, Ministry of Environment and Water, Dubai

JICA (1996) The master plan study on the groundwater resources development for agriculture in the vicinity of Al Dhaid, UAE. Japan International cooperation Agency (JICA). Internal report, Ministry of Environment & Water, UAE

Kinzelbach W, Aeschbach W, Alberich C, Goni IB, Beyerle U, Brunner P, Chiang WH, Rueedi J, Zoellmann K (2002) A survey of methods for groundwater recharge in Arid and Semi-arid regions. Early warning and assessment report Series, UNEP/DEWA/RS.02–2. United Nations Environment Programme, Nairobi. ISBN 92-80702131-3

Machiwal D, Jha MK (2015) GIS-based water balance modeling for estimating regional specific yield and distributed recharge in data-scarce hard-rock regions. J Hydrol Environ Res Vol 9(4): 554–568

MOEW IAEA (2005) Assessment of groundwater recharge in Wadi Al Wurryah, Al Taween, and Al Bih using environmental isotopes. Internal report, MOEW, Dubai

Moon SK, Woo NC, Lee KS (2004) Statistical analysis of hydrograph and water-table fluctuation to estimate groundwater recharge. J Hydrol 292: 198–209

Nagarajan M, Singh S (2009) Assessment of groundwater potential zones using GIS technique. J Indian Soc Remote Sens 37:69–77

Risser DW, Gburek WJ, Folmar GJ (2005) Comparison of Methods for Estimating Ground-Water Recharge and Base Flow at a Small Watershed Underlain by Fractured Bedrock in the Eastern United States, USGS, Scientific Investigations Report 2005–5038

Sami K, Hughes DA (1996) A comparison of recharge estimates to a fractured sedimentary aquifer in South Africa from a chloride mass balance and an integrated surface-subsurface model. J Hydrol Vol 179 (1–4): 111–136

Scanlon BR, Healy RW, Cook PG (2002) Choosing appropriate techniques for quantifying groundwater recharge. Hydrogeol J 10(1):18–39

Sharda VN, Kurothe RS, Sena DR, Pande VC, Tiwari SP (2006) Estimation of groundwater recharge from water storage structures in a semi-arid climate of India. J Hydrol 329: 224–243

Sherif MM, Al Mahmoudy A, Garamoon H, Kasimov A, Akram S, Ebraheem AM, Shetty A (2005) Assessment of the effectiveness of Al Bih,Al Tawiyean and Ham Dams in groundwater recharge using numerical models. Internal Report. Ministry of Agriculture and Fisheries, Dubai

Sherif MM, Mohamed M, Shetty A, Almulla M (2011) Rainfall-runoff modeling of three wadis in the Northern Area of UAE. J Hydrol Eng ASCE 16(1):10–20

Sophocleous MA (1992) Groundwater recharge estimation and regionalization: the Great Bend Prairie of central Kansas and its recharge statistics. J Hydrol 137:113–140

Sophocleous MA, McAllister JA (1987) Basinwide water-balance modeling with emphasis on spatial distribution of groundwater recharge. Water Resour Bull 23:997–1010

Subagunasekar M, Sashikkumar MC (2012) GIS for the assessment of the groundwater recharge potential zone in Karunkulam block, Thoothukudi district, Tamil Nadu, India. Int J Curr Sci 1: 159–162

Taylor RG, Howard KWF (1996) Groundwater recharge in the Victoria Nile basin of east Africa: support for the soil moisture balance approach using stable isotope tracers and flow modelling. J Hydrol 180: 31–53

Wood WW, Imes JL (1995a) How wet is wet? Precipitation constraints on late Quaternary climate in the southern Arabian Peninsula. J Hydrol 164:263–268

Wood WW, Imes JL (1995b) What's wrong with the sabkha dolomitization model? In: Groundwater! [abs.]: Abstracts of the International Conference on Quaternary Deserts and Climatic Change, December 9–11, Al Ain, United Arab Emirates, p. 41

Xu Y, Beekman HE (eds) (2003) Groundwater recharge estimation in Southern Africa. UNESCO IHP Series No. 64, UNESCO Paris, pp 149–164 (ISBN 92-9220-000-3)
About this article
Cite this article
Sherif, M.M., Ebraheem, A.M., Al Mulla, M.M. et al. New system for the assessment of annual groundwater recharge from rainfall in the United Arab Emirates. Environ Earth Sci 77, 412 (2018). https://doi.org/10.1007/s12665-018-7591-3
Received:

Accepted:

Published:

DOI: https://doi.org/10.1007/s12665-018-7591-3
Keywords
Groundwater recharge

Recharge potential

Water table fluctuation

GIS

Water management