Abstract
The present study fills a gap in the knowledge in regards to the occurrence of banned pesticides at both coastal and inland locations at the Southwest Buenos Aires region, Argentina. Superficial sediment and soil samples were collected from different sites along the Bahia Blanca Estuary and surrounding sites to assess the concentration levels and spatial distribution of 12 selected organochlorine pesticides (OCs); 13 spatial locations including inland and shore-coast were sampled to evaluate occurrence and concentration levels of hexachlorocyclohexanes α-HCH, β-HCH, δ-HCH, γ-HCH, dichlorodiphenyltrichloroethane and its degradation products (DDXs: p,p′-DDT, o,p′-DDT, p,p′-DDE, o,p′-DDE, p,p′-DDD, o,p′-DDD) and the polychlorobenzenes PeCB (pentachlorobenzene) and HCB (hexachlorobenzene). After cleaning and extractions steps, samples were analyzed by means of gas chromatography/mass spectrometry. ∑OCs (sum of all studied compounds) ranged between 0.206 and 1040 ng g−1 dw (mean = 82.4 and SD = 277 ng g−1 dw). Total HCHs (sum of α-HCH, β-HCH, γ-HCH and δ-HCH) ranged from 0.0858 to 0.876 ng g−1 dw (mean = 0.43 and SD = 0.23 ng g−1 dw), DDXs (sum of p,p′and o,p′ isomers) from 0.080 to 1040 ng g−1 dw (mean = 81.3 and SD = 277 ng g−1 dw). Lower concentrations were found for PeCB (mean = 0.095 and SD 0.17 ng g−1 dw) and HCB (mean = 0.56 and SD 1.7 ng g−1 dw). Principal component analysis (PCA) permitted the extraction of underlying information about common factors, providing an overview of the distribution of pesticides and allowing the characterization of sites in regards to the major pesticide signature.
Access options
Buy single article
Instant access to the full article PDF.
USD 39.95
Price includes VAT (USA)
Tax calculation will be finalised during checkout.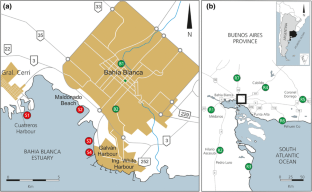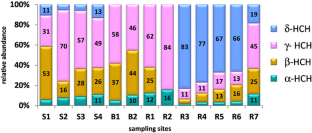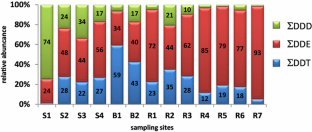 References
Alamdar A, Syed JH, Malik RN, Katsoyiannis A, Liu J, Li J, Zhang J, Jones KC (2014) Organochlorine pesticides in surface soils from obsolete pesticide dumping ground in Hyderabad City, Pakistan: contamination levels and their potential for air–soil exchange. Sci Total Environ 470:733–741

Andrade ML, Reyzábal ML, Fernandez Covelo E, Vega FA (2005) Organochlorine pesticides in soils of the horticultural belt of Bahía Blanca (Argentina). Can J Soil Sci 85:273–282

ANMAT (National Administration of Medicines, Food and Medical Technology of Argentina) (2011) http://www.anmat.gov.ar/webanmat/legislacion/medicamentos/Disposicion_617-2011.pdf. Accessed 7 Jul 2017

Arias AH, Spetter CV, Freije RH, Marcovecchio JE (2009) Polycyclic aromatic hydrocarbons in water, mussels (Brachidontes sp., Tagelus sp.) and fish (Odontesthes sp.) from Bahía Blanca Estuary, Argentina. Est Coast Shelf Sci 85:67–81. https://doi.org/10.1016/j.ecss.2009.06.008

Arias AH, Pereyra MT, Marcovecchio JE (2011) Multi-year monitoring of estuarine sediments as ultimate sink for DDT, HCH, and other organochlorinated pesticides in Argentina. Environ Monit Assess 172:17–32. https://doi.org/10.1007/s10661-010-1315-9

Bidleman TF, Leone AD (2004) Soil–air exchange of organochlorine pesticides in the Southern United States. Environ Pollut 128:49–57

Booij P, Holoubek I, Klánová J, Kohoutek J, Dvorská A, Magulová K, Al-Zadjali S, Čupr P (2016) Current implications of past DDT indoor spraying in Oman. Sci Total Environ 550:231–240

EEA (European Environmental Agency) (2005) Sources of HCB emissions. https://www.eea.europa.eu/publications/EMEPCORINAIR5/Sources_of_HCB_emissions.pdf/view. Accessed 7 Jul 2017

Farrington JW, Tripp BW (1995) International mussel watch project: initial implementation phase, final report. NOAA NOS ORCA (U.S. Dept. of Commerce, National Oceanic and Atmospheric Administration, National Ocean Service, Office of Ocean Resources Conservation and Assessment) Technical memorandum

Gutierrez MA, Martinez GA (2008) Trends in the faunal human exploitation during the Late Pleistocene and Early Holocene in the Pampean region (Argentina). Quat Int 191:53–68. https://doi.org/10.1016/j.quaint.2007.09.024

INDEC (Instituto Nacional de Estadística y Censos de la República Argentina) (2017). http://www.indec.gob.ar/nivel4_default.asp?id_tema_1=2&id_tema_2=41&id_tema_3=135. Accessed 27 Jun 2017

Jolliffe IT (1986) Principal component analysis. Springer, New York

Kim SK, Oh JR, Shim WJ, Lee DH, Yim UH, Hong SH, Shin YB, Lee DS (2002) Geographical distribution and accumulation features of organochlorine residues in bivalves from coastal areas of South Korea. Mar Pollut Bull 45:268–279

Klánová J, Matykiewiczová N, Máčka Z, Prošek P, Láska K, Klán P (2008) Persistent organic pollutants in soils and sediments from James Ross Island, Antarctica. Environ Pollut 152:416–423

Kumar B, Kumar S. Gaur R, Goel G, Mishra M, Singh SK, Prakash D, Sharma SC (2011) Persistent organochlorine pesticides and polychlorinated biphenyls in intensive agricultural soils from North India. Soil Water Res 6:190–197

Manz M, Wenzel KD, Dietze U, Schuurmann G (2001) Persistent organic pollutants in agricultural soils of central Germany. Sci Tot Environ 277:187–198

Matanguihan JB, Murphy KM, Jones SS (2011) Control of common bunt in organic wheat. Plant Dis 95:92–103

MAyDS (Ministerio de Ambiente y Desarrollo Sustentable de la República Argentina) (2016a) Informe del Estado 2016. http://ambiente.gob.ar/wp-content/uploads/MAYDS_IEA_2016_baja.pdf. Accessed 19 Jun 2017

MAyDS (Ministerio de Ambiente y Desarrollo Sustentable de la República Argentina) (2016b) Aportes para una estrategia federal en manejo costero integrado. http://ambiente.gob.ar/wp-content/uploads/Libro_Manejo_Costero_Web.pdf. Accessed 19 Jun 2017

MBB (Municipalidad de Bahía Blanca) (2017) https://www.bahia.gob.ar/ Accessed 21 Jun 2017

Meng J, Wang TY, Wang P, Giesy JP, Lu YL (2013) Perfluorinated compounds and organochlorine pesticides in soils around Huaihe River: a heavily contaminated watershed in Central China Environ. Sci Pollut Res 20:3965–3974

Miglioranza KS, Aizpún de Moreno JE, Moreno VJ (2003a) Dynamics of organochlorine pesticides in soils from a southeastern region of Argentina. Environ Toxicol Chem 22:712–717

Miglioranza KS, Moreno JEA, Moreno VJ (2003b) Trends in soil science: Organochlorine pesticides in Argentinean soils. J Soils Sediments 4:264–265. https://doi.org/10.1007/BF02988686

Mishra K, Sharma RC, Kumar S (2012) Contamination levels and spatial distribution of organochlorine pesticides in soils from India. Ecotoxicol Environ Saf 76:215–225

Mukaj M, Mai S, Cara M, Düring RA (2016) Status of soil organic matter and levels of DDT residues in some agricultural soils in Albania. Glob J Agric Res 4:39–47

Orta-García ST, Ochoa-Martinez AC, Carrizalez-Yáñez L, Varela-Silva JA, Pérez-Vázquez FJ, Pruneda-Álvarez L, Torres-Dosal A, Guzmán-Mar JL, Pérez-Maldonado IN (2016) Persistent organic pollutants and heavy metal concentrations in soil from the Metropolitan Area of Monterrey, Nuevo Leon, Mexico. Arch Environ Contam Toxicol 70:452–463

Piccolo MC, Perillo GME (1990) Physical characteristics of the Bahía Blanca estuary (Argentina). Est Coast Shelf Sci 31:303–317. https://doi.org/10.1016/0272-7714(90)90106-2

Pimentel D (1995) Amounts of pesticides reaching target pests: environmental impacts and ethics. J Agric Environ Ethics 8:17–29

POPRC (Persistent Organic Pollutants Review Committee) of the Stockholm Convention on Persistent Organic Pollutants (2006) Beta-hexachlorocyclohexane

Qu C, Albanese S, Chen W, Lima A, Doherty AL, Piccolo A, Arienzo M, Qi S, De Vivo B (2016) The status of organochlorine pesticide contamination in the soils of the Campanian Plain, southern Italy, and correlations with soil properties and cancer risk. Environ Pollut 216:500–511

Rajendran RB, Imagawa T, Tao H, Ramesh R (2005) Distribution of PCBs, HCHs and DDTs, and their ecotoxicological implications in Bay of Bengal, India. Environ Int 31:503–512. https://doi.org/10.1016/j.envint.2004.10.009

Rodrigues AO, de Souza LC, da Silva Rocha CC, da Costa ACG, de Alcântara Mendes R (2017) Assessment of DDT and metabolites in soil and sediment of potentially contaminated areas of Belém, Amazon Region, Brazil. Bull Environ Contamin Toxicol 99:125–130

SAGPA (2000) Agriculture, stockbreeding, fisheries and food secretary, Argentina. Resolution Number 750/00 https://www.boletinoficial.gob.ar/#!DetalleNormaBusquedaAvanzada/7209490/20001102. Accessed 7 Jul 2017

SENASA (National Animal Health and Agri-food Quality Service of Argentina) (1968) Decree 2143/1968. http://www.senasa.gov.ar/printpdf/1413. Accessed 24 May 2018

Sericano JL, Pucci AE (1984) Chlorinated hydrocarbons in the seawater and surface sediments of Blanca Bay, Argentina. Estuar Coast Shelf S 19:27–51. https://doi.org/10.1016/0272-7714(84)90051-9

Sericano J, Zubillaga HV, Pucci AE (1984) Behaviour of hexachlorocyclohexane isomers and Zn, Cu and Cd in the freshwater-seawater mixing area. Mar Pollut Bull 15:288–294. https://doi.org/10.1016/0025-326X(84)90196-6

Shen L, Wania F, Lei YD, Teixeira C, Muir DCG, Bidleman TF (2004) Hexachlorocyclohexanes in the North American atmosphere. Environ Sci Technol 38:965–975

Sun H, Qi Y, Zhang D, Li QX, Wang J (2016a) Concentrations, distribution, sources and risk assessment of organohalogenated contaminants in soils from Kenya, Eastern Africa. Environ Pollut 209:177–185

Sun JT, Pan L, Tsang DCW, Li Z, Zhu LZ, Li XD (2016b) Phthalate esters and organochlorine pesticides in agricultural soil and vegetable from fast-growing economies: a case study from eastern China. Environ Sci Pollut Res 25:34–42

Tack FMG, Verloo MG (2001) Guidelines for sampling in Flanders (Belgium). Sci Total Environ 264:187–191

Tombesi NB, Pozo K, Harner T (2014) Persistent Organic Pollutants (POPs) in the atmosphere of agricultural and urban areas in the Province of Buenos Aires in Argentina using PUF disk passive air samplers. Atmos Pollut Res 5:170–178. https://doi.org/10.5094/APR.2014.021

UNEP (United Nations Environment Programme) (2017). Stockholm convention on persistent organic pollutants (POPs). http://chm.pops.int/default.aspx. Accessed 27 Jun 2017

Vecchi L, Aliotta S, Ginsberg S, Giagante D (2013) Morphodynamic behavior and seismostratigraphy of a sandbank: Bahía Blanca estuary. Argent Geomorphol 189:1–11. https://doi.org/10.1016/j.geomorph.2013.01.003

Viglizzo EF, Pordomingo AJ, Castro MG, Lertora FA, Bernardos JN (2004) Scale-dependent controls on ecological functions in agroecosystems of Argentina. Agric Ecosyst Environ 101:39–51. https://doi.org/10.1016/S0167-8809(03)00229-9

Zhang Q, Chen Z, Li Y, Wang P, Zhu C, Gao G, Xiao K, Sun H, Zheng S, Liang Y, Jiang G (2015) Occurrence of organochlorine pesticides in the environmental matrices from King George Island, west Antarctica. Environ Pollut 206:142–149

Zhang Q, Huang W, Zhu X, Song Q, Fan Z (2018) Residues and sources of organochlorine pesticides in soils of elementary schools and communities in Wenchuan 5.12 Earthquake-affected areas. Environ Geochem Health. https://doi.org/10.1007/s10653-017-0060-1

Zubillaga HV, Sericano JL, Pucci AE (1986) Organochlorine pesticide contents of tributaries into Blanca Bay, Argentina. Water Air Soil Pollut 32:43–53. https://doi.org/10.1007/BF00227682
Acknowledgements
To Universidad Nacional del Sur, PGI MAyDS (24/MA20) project (Principal investigator, PI: N. Tombesi), Fondecyt 1161673 project (PI: K. Pozo) and FONCYT PICT-0709 Proyect (PI: A.Arias). Part of this work was carried out with the support of core facilities of RECETOX Research infrastructure; project number LM2015051, funded by the Ministry of Education, Youth and Sports of the Czech Republic under the activity "Projects of Major Infrastructures for Research, Development and Innovations".
Additional information
This article is a part of Topical Collection in Environmental Earth Sciences on IV RAGSU—Advances in Geochemistry of the Surface in Argentina, edited by Dr. Americo Iadran Torres and Dr. Pablo Jose Bouza.
About this article
Cite this article
Tombesi, N., Pozo, K., Arias, A. et al. Records of organochlorine pesticides in soils and sediments on the southwest of Buenos Aires Province, Argentina. Environ Earth Sci 77, 403 (2018). https://doi.org/10.1007/s12665-018-7582-4
Received:

Accepted:

Published:
Keywords
Soils

Sediments

Organochlorine pesticides

DDT

HCHs

PeCB