Abstract
With the constant deforestation observed in the Amazon region in recent decades, changes in local climates are unavoidable. Therefore, the aim of this study is to understand such climate changes by evaluating differences in precipitation (PRP), evapotranspiration (ET) and potential evapotranspiration (PET) between forested and deforested areas in the Brazilian Amazonia. Eight areas (four forested and four deforested) that maintained their land cover over a period of 15 years (2000–2014) were selected using PRODES (Legal Amazon Deforestation Monitoring Project) Digital's remote sensing database. The PRP data were retrieved from the Tropical Rainfall Measurement Mission (TRMM, resolution of 0.25°), and the data of ET and PET were obtained from the moderate-resolution imaging spectroradiometer sensor (MODIS, resolution of 0.05°). The differences among PRP, ET and PET in each area were calculated using a regression model. The results show that ET was the only variable which presented a statistically significant difference between forested and deforested areas, mainly due to an intense decrease at the deforested sites during the dry season. Regarding PRP, a modest increase was observed on small areas, probably due to changes in local atmospheric dynamics, but on large areas decrease in PRP was noted. Nevertheless, in both cases there were no statistically significant differences between forested and deforested areas. PET presented a slightly increase value over deforested areas during the dry season, but not statistically significant as well.
Access options
Buy single article
Instant access to the full article PDF.
USD 39.95
Price excludes VAT (USA)
Tax calculation will be finalised during checkout.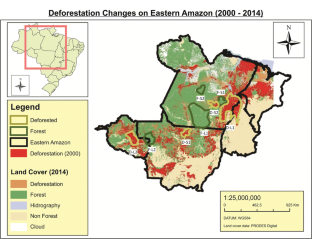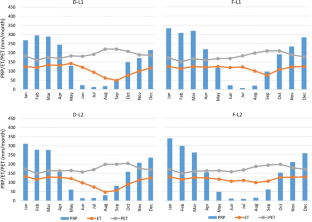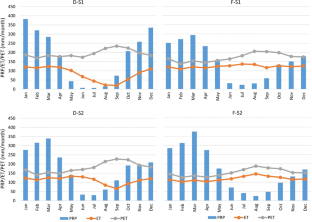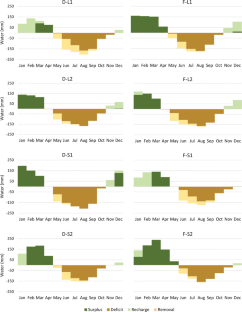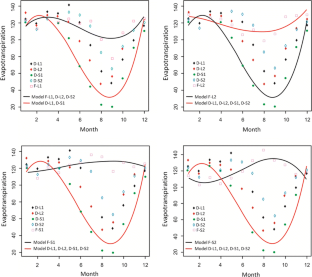 References
Ângelo H, Sá SPP (2007) O desflorestamento na Amazônia Brasileira. Ciência Florestal 17:217–227

Avissar R, Silva Dias PL, Silva Dias MAF, Nobre C (2002) The Large-Scale Biosphere-Atmosphere Experiment in Amazonia (LBA): insights and future research needs. J Geophys Res 107:8086

Bagley JE, Desai AR, Harding KJ, Snyder PK, Foley JÁ (2014) Drought and deforestation: Has land cover change influenced recent precipitation extremes in the Amazon? J Clim 27:345–361

Balvanshi A, Tiwari HL (2014) A comprehensive review of runoff estimation by the Curve Number method. Int J Innov Res Sci Eng Technol 3:17480–17485

Barker JL, Harden MK, Anuta EA, Smid J, Hougt D (1992) MODIS spectral sensivity study: requirements and characterization, 1st edn. NASA, Washington, p 1992

Becker BK (2001) Modelos e cenários para a Amazônia: o papel da ciência. Revisão das políticas de ocupação da Amazônia: é possível identificar modelos para projetar cenários? Parcerias Estratégicas 12:135–159

Becker BK (2005) Geopolítica da Amazônia. Estud Avançados 19:71–86

Brazilian Institute of Geography and Statistics. IBGE [Internet]. http://downloads.ibge.gov.br/downloads_geociencias.htm. Accessed 18 Feb 2016

Buarque DC, Paiva RCD, Clarke RT, Mendes CAB (2011) A comparison of Amazon rainfall characteristics derived from TRMM, CMORPH and the Brazilian rain gauge network. J Geophys Res 116:D19105-1–D19105-12

Chen G, Weil RR, Hill RL (2014) Effects of compaction and cover crops on soil least limiting water range and air permeability. Soil Till Res 136:61–69

Chyba J, Kroulík M, Kristof K, Misiewicz PA, Chaney K (2014) Influence of soil compaction by farm machinery and livestock on water infiltration rate on grassland. Agron Res 1:59–64

Coe MT, Costa MG, Soares-Filho BS (2009) The influence of historical and potential future deforestation on the stream flow of the Amazon River–Land surface processes and atmospheric feedbacks. J Hydrol 369:165–174

Cohen JCP, Fitzjarrald DR, D'Oliveira FAF, Saraiva I, Barbosa IRS, Gandu AW, Kuhn PA (2014) Radar-observed spatial and temporal rainfall variability near the Tapajos-Amazon confluence. Rev Bras Meteorol 29:23–30

Costa MH, Foley JA (1999) Trends in the hydrologic cycle of the Amazon Basin. J Geophys Res 104:14189–14198

D'Almeida C, Vörösmarty CJ, Hurtt GC, Marengo JA, Dingman SL, Keim BD (2007) The effects of deforestation on the hydrological cycle in Amazonia: a review on scale and resolution. Int J Climatol 27:633–647

El Maayar M, Chen JM (2006) Spatial scaling of evapotranspiration as affected by heterogeneities in vegetation, topography, and soil texture. Remote Sens Environ 102:33–51

Exbrayat J, Williams M (2015) Quantifying the net contribution of the historical Amazonian deforestation to climate change. Geophys Res Lett 42:2968–2976

Fan Y, Miguez-Macho G (2010) Potential groundwater contribution to Amazon evapotranspiration. Hydrol Earth Syst Sci 14:2039–2056

Fearnside P (2016) Brazil's Amazonian forest carbon: the key to Southern Amazonia's significance for global climate. Res Environ Change. https://doi.org/10.1007/s10113-016-1007-2

Ferreira AMM, Salati E (2005) Forças de transformação do ecossistema amazônico. Estudos Avançados 19(54):25–43

Ferreira DBS, De Souza EB, De Moraes BC, Meira Filho LGM (2015) Spatial and temporal variability of rainfall in Eastern Amazon during the rainy season. Sci World J. https://doi.org/10.1155/2015/209783

Fisch G, Marengo JA, Nobre CA (1998) Uma revisão geral sobre o clima da Amazônia. Acta Amazônica 28:101–126

Fitzjarrald DR, Sakai RK, Moraes OLL et al (2008) Spatial and temporal rainfall variability near the Amazon-Tapajós confluence. J Geophys Res Biogeosci 113:G00B11-1–G00B11-17

Foley JA, Botta A, Coe MT, Costa MH (2002) El Niño-Southern oscillation and the climate, ecosystems and rivers of Amazonia. Glob Biogeochem Cycles 16:79-1–79-20

Gentry AH, Lopez-Parodi J (1980) Deforestation and increased flooding of the upper Amazon. Science 210:1354–1356. https://doi.org/10.1126/science.210.4476.1354

Gholami V (2013) The influence of deforestation on runoff generation and soil erosion (Case study: Kasilian Watershed). J For Sci 59:272–278

Gholzom EH, Gholami V (2012) A Comparison between natural forests and reforested lands in terms of runoff generation potential and hydrologic response (case study: Kasilian Watershed). Soil Water Res 7:166–173

Guimerteau M, Ciais P, Ducharne A, Boisier JP, Aguiar APD, Biemans H, Deurwaerder H, Galbraith D, Kruijt B, Langerwisch F, Poveda G, Ramming A, Rodriguez DA, Tejada G, Thonicke K, von Randow C, von Randow RCS, Zhang K, Verbeeck H (2017) Impacts of future deforestation and climate change on the hydrology of the Amazon Basin: a multi-model analysis with a new set of land-cover change scenarios. Hydrol Earth Syst Sci 21:1455–1475

Harper A, Baker IT, Denning AS, Randal DA, Dazlich D, Branson M (2014) Impact of evapotranspiration on dry season climate in the Amazon forest. J Clim 27:574–591

Hasler N, Avissar R (2007) What controls evapotranspiration in the Amazon Basin? J Hydrometeorol 8:380–395

Huffman GJ, Adler RF, Bolvin DT, Gu G, Nelkin EJ, Bowman KP, Hong Y, Stocker EF, Wolff DB (2007) The TRMM multisatellite precipitation analysis (TMPA): quasi-global, multiyear, combined-sensor precipitation estimates at fine scales. J Hydrometeorol 8:38–55

Juárez RIN, Hodnett MG, Fu R, Golden ML, von Randow C (2007) Control of dry season evapotranspiration over the Amazonian forest as inferred from observations at a southern Amazon forest site. J Clim 20:2827–2839

Kim J, Hogue TS (2008) Evaluation of a MODIS-based potential evapotranspiration product at the point scale. J Hydrometeorol 9:444–460

Lima LS, Coe MT, Filho BSS, Cuadra SV, Dias LCP, Costa MH, Lima LS, Rodrigues HO (2014) Feedbacks between deforestation, climate and hydrology in Southwestern Amazon: implications for the provision of ecosystem services. Landsc Ecol 29:261–274

Lu J, McNulty SG, Amatya DM (2005) A comparison of six potential evapotranspiration methods for regional use in the Southeastern United States. J Am Water Resour Assoc 41:621–633

Margulis S (2003) Causes of deforestation of the Brazilian Amazon. World Bank Working Papers (22):100

Martínez LJ, Zinck JA (2002) Temporal variation of soil compaction and deterioration of soil quality in pasture areas of Colombian Amazonia. Soil Till Res 75:3–18

Miguez-Macho G, Fan Y (2012) The role of groundwater in the Amazon water cycle: 2. Influence on seasonal soil moisture and evapotranspiration. J Geophys Res Atmos 117:D15114-1–D15114-27

MODIS (2017) MODIS global evapotranspiration project (MOD16) [Internet]. http://www.ntsg.umt.edu/project/mod16. Accessed 01 Feb 2017. Soil Till Res 75:3–17

Moraes JM, Schuler AE, Dunne T, Figueiredo RO, Victoria RL (2006) Water storage and runoff processes in plinthic soils under forest and pasture in Eastern Amazonia. Hydrol Process 20:2509–2526

Mu Q, Heinsch FA, Zhao M, Running SW (2007) Development of a global evapotranspiration algorithm based on MODIS and global meteorology data. Remote Sens Environ 111:519–536

Mu Q, Zhao M, Running SW (2011) Improvements to a MODIS global terrestrial evapotranspiration algorithm. Remote Sens Environ 115:1781–1800

Nadzri MI, Hashim M (2014) Validation of MODIS Data for localized spatio-temporal evapotranspiration mapping. IOP Conf Ser Earth Environ Sci. https://doi.org/10.1088/1755-1315/18/1/012183

Neter J, Wasserman W, Kutner MH (1990) Applied linear statistical models. McGraw-Hill/Irwin, Boston

Nobre CA, Sellers PJ, Shukla J (1991) Amazonian deforestation and regional climate change. J Clim 4:957–988

Nogueira EM, Yanai AM, Vasconcelos SS, Graça PMLA, Fearnside PM (2017) Carbon stocks and losses to deforestation in protected areas in Brazilian Amazonia. Reg Environ Change. https://doi.org/10.1007/s10113-017-1198-1

Oldham CD (2014) A soilmoisture accounting-procedure with a Richards' equation-based soil texture-dependent parameterization. Water Resour Res 44:506–523

Oliveira JV, Vitorino MI, de Abreu Sá LD (2015) Implication of Madden–Julian Oscillation phase on the Eastern Amazon climate. Atmos Sci Lett 16:318–323

Pereira Filho AJ, Carbone RE, Janowiak JE, Arkin P, Joyce R, Hallak R, Ramos CGM (2010) Satellite estimates over South America—possible applicability to the water management of large watersheds. J Am Water Resour Assoc 46:344–360

PRODES (2015) Projeto PRODES—Monitoramento da floresta amazônica brasileira por imagem de satélite [Internet]. http://www.obt.inpe.br/prodes/index.php. Accessed 16 Dec 2015

Richards P, Van Wey L (2015) Where deforestation leads to urbanization: how resource extraction is leading to urban growth in the Brazilian Amazon. Nat Soc 105:803–823

Rocha HR, Goulden ML, Miller SD, Menton MC, Pinto LDVO, Freitas HC, Figueira AMS (2004) Seasonality of water and heat fluxes over a tropical forest in eastern Amazonia. Ecol Appl 14:22–32

Ruhoff AL, Paz AR, Aragao LEOC, Mu Q, Malhi Y, Collishonn W, Rocha HR, Running SW (2013) Assessment of the MODIS global evapotranspiration algorithm using eddy covariance measurements and hydrological modelling in the Rio Grande basin. Hydrol Sci J 58:1658–1676

Saad I, Rocha HR, Silva Dias MAF, Rosolem R (2010) Can the deforestation breeze change the rainfall in Amazonia? A case study for the BR-163 Highway region. Earth Interact 14:1–25

Sampaio G, Nobre C, Costa MH, Satyamurty P, Soares-Filho BS, Cardoso M (2007) Regional climate change over eastern Amazonia caused by pasture and soybean cropland expansion. Geophys Res Lett. https://doi.org/10.1029/2007GL030612

Santos WLS, Augustin HRR (2015) Water and sediment loss through runoff in areas of forest and pasture cover in southwestern Amazonia–Acre–Brasil. Z Geomorphol 59:023–039

Sartori A, Neto FL, Genovez AM (2005) Classificação hidrológica de solos brasileiros para estimativa da chuva excedente com o método do Serviço de Conservação do Solo dos Estados Unidos parte 1: Classificação. Rev Bras Recur Hídricos 10:05–18

Saxton K, Rawls W (2006) Soil water characteristic estimates by texture and organic matter for hydrologic solutions. Soil Sci Soc Am J 70:1569–1578

Saxton KE, Rawls WJ, Romberger JS, Papendick RI (1986) Estimating generalized soil-water characteristics from texture. Soil Sci Soc Am J 50:1031–1036

Shukla J, Nobre C, Sellers P (1990) Amazon deforestation and climate change. Science 247:1322–1325

Silva Dias MAF, Silva Dias PL, Longo M, Fitzjarrald DR, Denning AS (2004) River breeze circulation in eastern Amazonia: observations and modelling results. Theor Appl Climatol 78:111–121

Sorribas MV, Paiva RCD, Melack JM, Braco JM, Jones C, Carvalho L, Beighley E, Forsberg B, Costa MH (2016) Projection of climate change effects on discharge and inundation in the Amazon basin. Clim Change 136:555–570

Souza EB, Kayano MT, Ambrizzi T (2004) The regional precipitation over the eastern Amazon/northeast Brazil modulated by tropical Pacific and Atlantic SST anomalies on weekly timescale. Rev Bras Meteorol 19:113–122

R Core Team (2014) R: a language and environment for statistical computing. R Foundation for Statistical Computing, Vienna, Austria. http://www.r-project.org

Thornthwaite CW, Mather JR (1957) Instructions and tables for computing potential evapotranspiration and the water balance. Pub Climatol 10:183–243

Villar JCE, Ronchail J, Guyot JL, Cochonneau G, Naziano F, Lavado W, Oliveira E, Pombosa R (2009) Spatio-temporal rainfall variability in the Amazon Basin countries (Brazil, Peru, Bolivia, Colombia and Ecuador). Int J Climatol 29:1574–1594

von Randow C, Manzi AO, Kruijt B et al (2004) Comparative measurements and seasonal variations in energy and carbon exchange over forest and pasture in South West Amazonia. Theor Appl Climatol 78:4–26

Weinstein B (1983) The Amazon Rubber Boom 1850–1920, 1st edn. Stanford California Press, Stanford, p 356

Werth D, Avissar R (2002) The local and global effects of Amazon deforestation. J Geophys Res 107:LBA 55-1–LBA 55-8

Werth D, Avissar R (2004) The regional evapotranspiration of the Amazon. Bull Am Meteorol Soc. https://doi.org/10.1175/JHM-393.1

Williams M, Malhi Y, Nobre AD et al (1998) Seasonal variation in net carbon exchange and evapotranspiration in a Brazilian rain forest: a modelling analysis. Plant Cell Environ 21:953–968
Acknowledgements
The authors would like to thank Instituto Tecnológico Vale (ITV) for providing financial and structural support in this study.
Electronic supplementary material
Below is the link to the electronic supplementary material.
About this article
Cite this article
de Oliveira, J.V., Ferreira, D.B.d., Sahoo, P.K. et al. Differences in precipitation and evapotranspiration between forested and deforested areas in the Amazon rainforest using remote sensing data. Environ Earth Sci 77, 239 (2018). https://doi.org/10.1007/s12665-018-7411-9
Received:

Accepted:

Published:

DOI: https://doi.org/10.1007/s12665-018-7411-9
Keywords