Abstract
Marbles have been used by human beings for the creation of buildings, monuments and art since antiquity. Impressive architecture and art all over the world are still being constructed from marble today. The Portuguese Estremoz marble is one of the important marble varieties used for these objects. The name Estremoz is used for many of the varieties, exploited and sold from this region. The present study gives an updated summary on the geological, mineralogical and rock physical characteristics with special attention to the potential physical weathering behaviour. Ten representative marble varieties extracted and sold in this region were chosen for analysis with regard to their mineralogical composition, microfabric and their thermal, thermohygric and bowing behaviour. Experimental bowing tests, carried out on selected samples, have been analysed and compared to the results measured at the State Theatre in Darmstadt. The mineralogical composition is similar for all samples, even though the colours range from white, to pinkish and dark grey. Monochromatic colours are seldom. Randomly distributed veins and spots in different colours determine the aesthetic properties. The main component is calcite (87–98%), while two samples show a lower amount of dolomite (3 and 11%). The microfabric of the studied marbles are quite different, with grain sizes ranging between 40 µm and 2.5 mm. Distribution of grain sizes are equi- and inequigranular to seriate. The grain boundary geometry ranges from polygonal to amoeboid. All samples show a preferred orientation of the grain shape, often most pronounced in the XZ-plane. Measurements of texture showed, that the maximum c-axis densities of the marbles are similar and with 2.09–3.64 mrd moderately to strongly pronounced. In some cases, a weakly to moderate girdle-like shape of the intensity distribution could be observed. The thermal dilatation coefficient α varies between 0.16 and 12.97 × 10−6 K−1 and shows a strong directional dependence. All samples showed an irreversible length change after repeated heating cycles under dry and wet conditions that ranges between 0.05 and 0.59 mm/m. Marble panels used for the bowing test showed a maximum bowing intensity of 0.5 mm/m. The State Theatre in Darmstadt, Germany, is one example of the exterior application of Estremoz marble. The façade is cladded with panels of 3 cm in thickness. They show weathering phenomena like fractures and concave and convex bowing. Bowing intensities have been measured up to more than 9 mm/m. Weathering phenomena are influenced by the rock physical properties which can be seen in the results of the thermal and thermohygric behaviour as well as for the bowing tests. By comparing these results, the residual permanent length change can be used as a measure of the vulnerability to thermal weathering.
Access options
Buy single article
Instant access to the full article PDF.
USD 39.95
Price excludes VAT (USA)
Tax calculation will be finalised during checkout.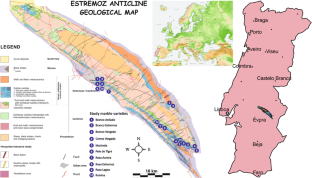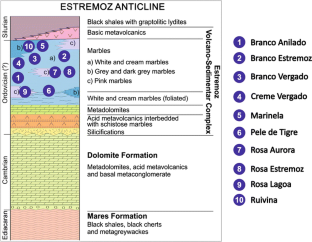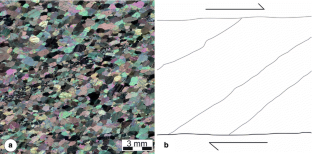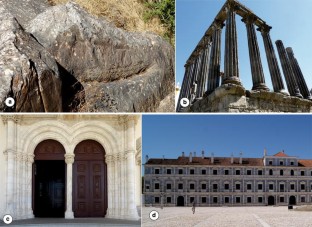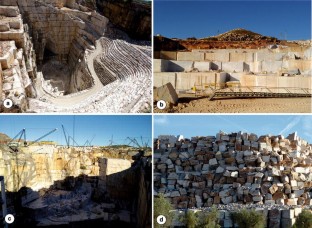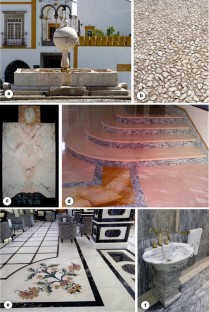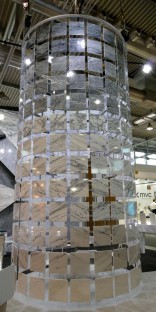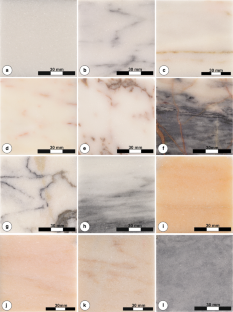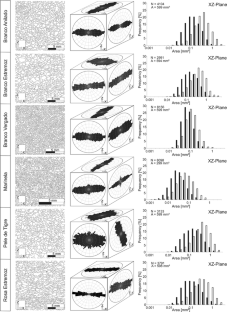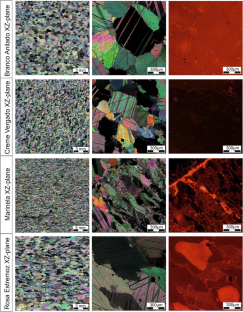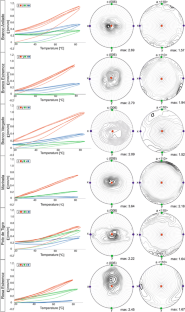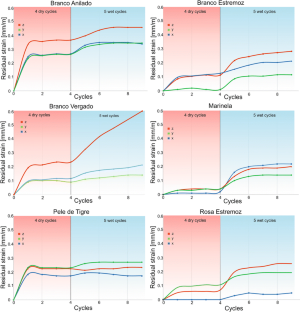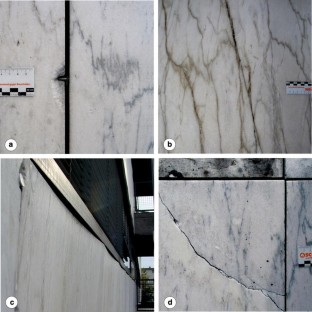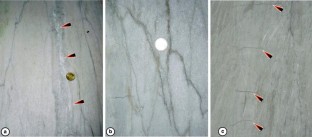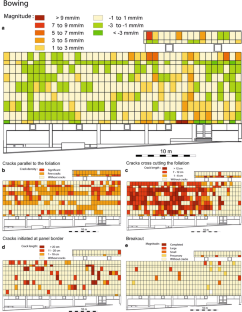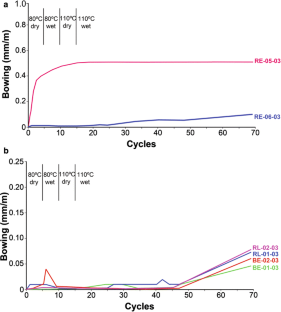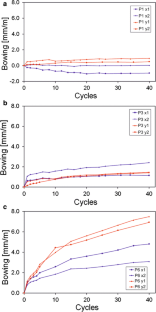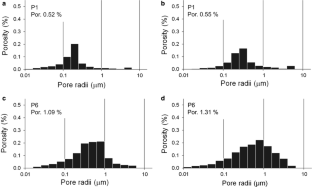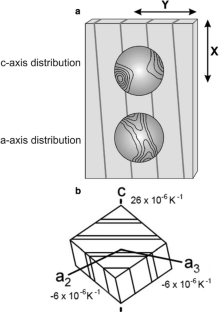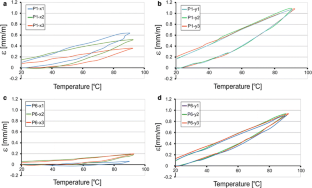 References
Anselmo AJ (1984) O Concelho de Borba: Topografia e História, 2nd edn. Camara Municipal, Borba, p 53

Antonelli F, Lazzarini L, Cancelliere S, Dessandier D (2009) Volubilis (Meknes, Morocco): archaeometric study of the white and coloured marbles imported in the Roman age. J Cult Herit 10(1):116–123

Cabral JP, Vieira MCR, Carreira PM, Figueiredo MO, Pena TP, Tavares A (1992) Preliminary study onthe isotopic and chemical characterization of marbles from Alto Alentejo (Portugal). In: Waelkens M, Herz N, Moens L (eds) ASMOSIA II. Ancient stones: quarrying, trade and provenance. Acta Archaeologica Lovaniensia, Monographiae, vol 4, 191–198

Carvalho JMF (2008) Cartografia Temática do Anticlinal-Zona dos Mármores. Éter, Évora

Casal Moura A, Carvalho C et al (2007) Mármores e calcários Ornamentais de Portugal. INETI (National Institute of Engineering, Technology and Innovation), Gestão de Artes Gráficas SA, Amadora

Fitzner B, Heinrichs K (2004) Photo atlas of weathering forms on stone monuments. http://www.stone.rwth-aachen.de

Gonçalves F (1972) Observações sobre o anticlinório de Estremoz. Alguns aspectos geológico-económicos dos mármores. Est Not Trab Serv Fom Min Porto 22(1):121–132 (Matérias- primas minerais não metálicas, no 17)

Gonçalves F, Coelho AP (1974) Carta Geológica de Portugal na Escala de 1:50 000: Notícia Explicativa da folha 36-B, Estremoz. Serviços Geológicos de Portugal, Lisbon

Gonçalves F, Oliveira V (1986) Alguns aspectos do precâmbrico da Zona de Ossa-Morena em Portugal. O proterozóico superior de Estremoz. Mem Acad Ciênc Lisbon 27:111–117

Gross CJ, Weber K, Vollbrecht A, Siegesmund S (1999) Cathodoluminescence and electron microprobe study of dolomitic marbles from Namibia: evidence for hydrothermal alteration. Z Dtsch Geol Ges 150(2):333–357

Hammes DM, Peternell M (2016) FAME: software for analysing rock microstructures. Comput Geosci 90:24–33

Kessler DW (1919) Physical and chemical tests on the commercial marbles of the United States. Technologic papers of the Bureau of standards no. 123, Government Print Office, Washington

Kleber W (1990) Einführung in die Kristallographie. VEB Verlag Technik, Berlin

Koch A (2006) Deformation von Fassadenplatten aus Marmor: Schadenskartierungen und gesteintechnische Untersuchungen zur Verwitterungsdynamik von Marmorfassaden. Dissertation, University Göttingen

Koch A, Siegesmund S (2004) The combined effect of moisture and temperature on the anomalous expansion behaviour of marble. Environ Geol 46(3–4):350–363

Leiss B, Ullemeyer K (1999) Texture characterisation of carbonate rocks and some implications for the modeling of physical anisotropies, derived from idealized texture types. Z Dtsch Geol Ges 150(2):259–274

Lopes JLG (2003) Contribuição para o conhecimentoTectono: Estratigráfico do Nordeste Alentejano transversal Terena – Elvas. Implicações económicas no aproveitamento de rochas ornamentais existentes na regiaõ (Mármores e Granitos). Unpublished dissertation, University Évora

Lopes L (2007) O triângulo do Mármore. Estudo Geológico. Rev Monum 27:158–167

Lopes L, Martins R (2015) Global Heritage Stone: estremoz Marbles, Portugal. Geol Soc Lond Spec Publ 407(1):57–74

Luque A, Leiss B, Alvarez-Lloret P, Cultrone G, Siegesmund S, Sebastian E, Cardell C (2011) Potential thermal expansion of calcitic and dolomitic marbles from Andalusia (Spain). J Appl Cryst 44(6):1227–1237. https://doi.org/10.1107/S0021889811036910

Luz LMNBD (2005) Análise Crítica ao Modelo de Desenvolvimento do Sector das Pedras Naturais: o Caso dos Mármores no Triângulo de Estremoz-Borba-Vila Viçosa 1980–2003. Mestrado em Economia e Estudos Europeus; Universidade Técnica de Lisboa, Instituto Superior de Economia e Gestão

Marshall DJ (1988) Cathodoluminescence of geological materials. Unwin Hyman, Boston

Martins R, Lopes L, Bilou F (2015) As Pedreiras de Mármore ao Longo dos Tempos. Câmara Municipal de Vila Viçosa Callípole. Rev Cult 22:83–100

Meccheri M, Molli G, Conti P, Blasi P, Vaselli L (2007) The Carrara Marbles (Alpi Apuane, Italy): a geological and economical updated review [Der Carrara-Marmor (Apuaner Alpen, Italien): geologischer und wirtschaftsgeologischer Überblick]. Z Dtsch Geol Ges 158(4):719–736

Moreira J, Vintém C (1997) Carta Geológica do Anticlinal de Estremoz, escala 1:25.000. Dept. Prospecção de Rochas e Minerais Não Metálicos, Instituto Geológico e Mineiro, Lisboa

Oliveira JT, Oliveira V, Piçarra JM (1991) Traços gerais da evolução tectono-estratigráfica da Zona de Ossa-Morena, em Portugal: síntese crítica do estado actual dos conhecimentos. Comun Serv Geol Port 77:3–26

Pereira MF, Solá AR, Chichorro M, Lopes L, Gerdes A, Silva JB (2012) North-Gondwana assembly, break-up and paleogeography: U-Pb isotope evidence from detrital and igneous zircons of Ediacaran and Cambrian rocks of SW Iberia. Gondwana Res 22(3):866–881

Piçarra JM (2000) Estudo Estratigráfico do Sector de Estremoz-Barrancos, Zona de Ossa-Morena, Portugal. Vol. II: Bioestratigrafia do Intervalo Ordovícico-Devónico Inferior. Dissertation, University de Évora

Rüdrich JM (2003) Gefügekontrollierte Verwitterung natürlicher und konservierter Marmore. Dissertation, University of Göttingen

Scheffzük C, Siegesmund S, Nikolayev DI, Hoffmann A (2007) Texture, spatial and orientation dependence of internal strain in marble: a key to understand the bowing of marble panels? Spec Publ Geol Soc Lond 271:237–249

Shushakova V, Fuller ER, Siegesmund S (2013a) Microcracking in calcite and dolomite marble: microstructural influences and effects on properties. Environ Earth Sci 69:1263–1279

Shushakova V, Fuller ER, Heidelbach F, Mainprice D, Siegesmund S (2013b) Marble decay induced by thermal strains: simulations and experiments. Environ Earth Sci 69(4):1281–1297

Siedel H, Siegesmund S (2014) Characterization of Stone deterioration on buildings. In: Siegesmund S, Snethlage R (eds) Stone in architecture, 5th edn. Springer, Berlin, pp 349–414

Siegesmund S, Dürrast H (2014) Physical and mechanical properties of rocks. In: Siegesmund S, Snethlage R (eds) Stone in architecture, 5th edn. Springer, Berlin, pp 97–224

Siegesmund S, Weiss T, Vollbrecht A, Ullemeyer K (1999) Marble as a natural building stone: rock fabrics, physical and mechanical properties. Z Dtsch Geol Ges 150(2):237–257

Siegesmund S, Ullemeyer K, Weiss T, Tschegg EK (2000) Physical weathering of marbles caused by anisotropic thermal expansion. Int J Earth Sci 89(1):170–182

Siegesmund S, Rüdrich J, Koch A (2008) Marble bowing: comparative studies of three different public building façades. Environ Geol 56(3–4):473–494

Silva JM, Camarinhas MVF (1957) Calcários cristalinos de Vila Viçosa – Souzel. Estudos, Notas e Trabalhos do Serviço de Fomento Mineiro XII:66–139

Steiger M, Charola E, Sterflinger K (2014) Weathering and deterioration. In: Siegesmund S, Snethlage R (eds) Stone in architecture, 5th edn. Springer, Berlin, pp 225–316

Strohmeyer D (2003) Naturwerksteine: Gefuege und gesteinstechnische Eigenschaften. Dissertation, University of Goettingen

Taelman D, Elburg M, Smet I, De Paepe P, Lopes L, Vanhaecke F, Vermeulen F (2013) Roman marble from Lusitania: petrographic and geochemical characterisation. J Archaeol Sci 40(5):2227–2236. https://doi.org/10.1016/j.jas.2012.12.030

Weiss T, Siegesmund S, Fuller ER (2002) Thermal stresses and microcracking in calcite and dolomite marbles via finite element modelling. Geol Soc Lond Spec Publ 205(1):89–102

Zeisig A, Siegesmund S, Weiss T (2002) Thermal expansion and its control on the durability of marbles. Geol Soc Lond Spec Publ 205(1):65–80
Acknowledgements
The authors gratefully acknowledge A. Koch for his support regarding the STB Darmstadt. We thank S. Löbens for his help with experimental data and C. Gross for his supply, as much as A. Hoffmann for the careful and constructive review, which helped to improve the paper. We are grateful to the following companies for the marble supply: A. Bento Vermelho, Lda; António Galego and Filho—mármores, S.A.; Bentel, Sociedade Extrativa de Mármores, Lda.; Bloco B—Mármores, Inertes e Construção, Lda.; ETMA—Empresa Transformadora de Mármores do Alentejo, S.A.; Ezequiel Francisco Alves, Lda.; Granoguli, Lda.; Marbrito, Indústrias Reunidas de Mármores, Lda.; Margaça, Transformação de Mármores, Lda.; Marmetal, Mármores e Materiais de Construção, S.A.; Plácido José Simões, S.A. The study on the Estremoz marbles has been supported by the BMBF (Marmorbild FKZ: 03VP00292), the PPP-project from the DAAD (Az. 57213019) and CRUP (Project A-50/16) what we grateful acknowledge.
Additional information
This article is part of a Topical Collection in Environmental Earth Sciences on "Stone in the Architectural Heritage: from quarry to monuments—environment, exploitation, properties and durability", guest edited by Siegfried Siegesmund, Luís Sousa and Rubén Alfonso López-Doncel.
About this article
Cite this article
Menningen, J., Siegesmund, S., Lopes, L. et al. The Estremoz marbles: an updated summary on the geological, mineralogical and rock physical characteristics. Environ Earth Sci 77, 191 (2018). https://doi.org/10.1007/s12665-018-7328-3
Received:

Accepted:

Published:

DOI: https://doi.org/10.1007/s12665-018-7328-3
Keywords
Estremoz marble

Regional geology

Rock fabric

Depositional characteristics

Lattice preferred orientation

Thermal dilatation

Thermohygric dilatation

Bowing behaviour