Abstract
Ten surface and ten groundwater samples were collected from the middle part of Subarnarekha River basin, Jharkhand, India, during the pre-monsoon, monsoon and post-monsoon periods in the year 2008 (n = 60) in order to outline the hydrogeochemical signatures and to assess their overall quality. The study area was selected for their significance to diverse physiographic characteristics, mining and cultivation practices. Samples were analyzed for totally 21 parameters, including of physicochemical properties (pH, electrical conductivity and total dissolved solids), major and minor ions (Na+, K+, Ca2+, Mg2+, F−, Cl−, SO42− and NO3−) and trace elements (Cd, Co, Cr, Cu, Fe, Mn, Ni, Pb, Sr and Zn). Results suggest that quality status, in general, is acceptable with few exceptions; however, issues related to the mining and imposed cultivation were identified which in turn could potentially lead to environmental degradation. The geogenic factors and anthropogenic influences are affecting the hydrogeochemical characteristics of water resources in the study area. The results were confirmed by numerical index Poseidon index (PoS) which has classified the samples according to their quality status. The PoS provides a generic water quality assessment through a single score that is representative of the overall hydrogeochemical characteristics of water, regardless of the processes involved, specific goals and characterization. Overall, the geological setup, hydrogeological regime, unmanaged cultivation practices and overexploitation of groundwater have adverse impacts on water resources of the region. Environmental protection and production optimization may be achieved through the implementation of custom actions and appropriate management measures in the region.
Access options
Buy single article
Instant access to the full article PDF.
USD 39.95
Price excludes VAT (USA)
Tax calculation will be finalised during checkout.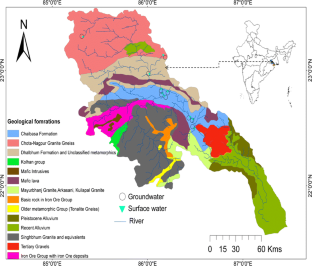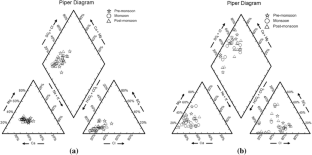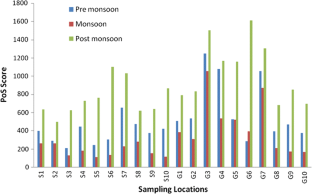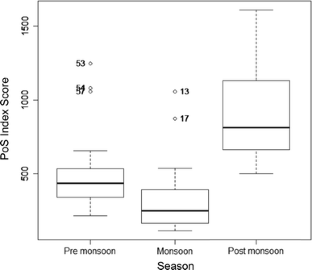 References
Alphan H, Yilmaz KT (2005) Monitoring environmental changes in the Mediterranean coastal landscape: the case of Cukurova, Turkey. Environ Manag 35:607–619

APHA (American Public Health Association) (2005) Standard methods for the examination of water and wastewater, 21st edn. American Public Health Association, Washington

ATSDR (2011) Detailed data table for the 2011 priority list of hazardous substances. Agency for Toxic Substances and Disease Registry. http://www.atsdr.cdc.gov/spl/. Accessed 20 Nov 2011

Barzegar R, Asghari Moghaddam A, Tziritis E, Sajjad Fakhri M, Soltani S (2017) Identification of hydrogeochemical processes and pollution sources of groundwater resources in the Marand plain, northwest of Iran. Environ Earth Sci 76:297. https://doi.org/10.1007/s12665-017-6612-y

Berlage L, Terweduwe D (1988) The classification of countries by cluster and by factor analysis. World Dev 16(12):1527–1545

Bharose R, Singh SK, Srivastava PK (2013) Heavy metals pollution in soil–water–vegetation continuum irrigated with ground water and untreated sewage. Bull Environ Sci Res 2:1–8

De Rosemond S, Duro DC, Dubé M (2009) Comparative analysis of regional water quality in Canada using the water quality index. Environ Monit Assess 156:223–240

EC (European Council) (1998) Council Directive 98/83/EC of 3 November 1998 on the quality of water intended for human consumption

Gautam SK, Sharma D, Tripathi JK, Ahirwar S (2013) A study of the effectiveness of sewage treatment plants in Delhi region. Appl Water Sci 3:57–65

Gautam SK, Maharana C, Sharma D, Singh AK, Tripathi JK, Singh SK (2015) Evaluation of groundwater quality in the Chotanagpur Plateau region of the Subarnarekha River Basin, Jharkhand State, India. Sustain Water Qual Ecol 6:57–74. https://doi.org/10.1016/j.swaqe.2015.06.001

GHS (2013) GHS classification manual. http://www.meti.go.jp/policy/chemical_management/GHS/GHS_Classification_Manual.htm. Accessed 12 Feb 2013

Gupta LN, Avtar R, Kumar P, Gupta GS, Verma RL, Sahu N, Sil S, Jayaraman A, Roychowdhury K, Mutisya E, Singh SK (2014) A multivariate approach for water quality assessment of river Mandakini in Chitrakoot, India. J Water Resour Hydraul Eng 3:22–29

Holt MS, Fox K, Grießbach E, Johnsen S, Kinnunen J, Lecloux A, Murray-Smith R, Peterson DR, Schröder R, Silvani M, Ten Berge WFJ, Toy RJ, Feijtel TCM (2000) Monitoring, modeling and environmental exposure assessment of industrial chemicals in the aquatic environment. Chemosphere 41:1799–1808

House MA (1990) Water quality indices as indicators of ecosystem change. Environ Monit Assess 15:255–263

Hurley T, Sadiq M, Mazumder A (2012) Adaptation and evaluation of the Canadian Council of Ministers of the Environment Water Quality Index (CCME WQI) for use as an effective tool to characterize drinking source water quality. Water Res 46:3544–3552

ITER (2012) Toxicology Data Network. International Toxicity Estimates for Risk. http://toxnet.nlm.nih.gov/cgi-bin/sis/htmlgen?iter.htm. Accessed 30 Nov 2012

Jacintha TGA, Rawat KS, Mishra A, Singh SK (2016) Hydrogeochemical characterization of groundwater of peninsular Indian region using multivariate statistical techniques. Appl Water Sci. https://doi.org/10.1007/s13201-016-0400-9

Kaiser HF (1960) The application of electronic computers to factor analysis. Educ Psychol Meas 20:141–151

Kim J, Kim R, Lee J, Chang H (2003) Hydrogeochemical characterization of major factors affecting the quality of shallow groundwater in the coastal area at Kimje in South Korea. Environ Geol 44:189–478

Kumar RP, Ranjan RK, Ramanathan AL, Singh SK (2015) Geochemical modeling to evaluate the mangrove forest water. Arab J Geosci 8:4687–4702

Li W, Zhang HT, Zhu Y, Liang ZW, He B, Hashmi MZ, Chen ZL, Wang YS (2015) Spatiotemporal classification analysis of long-term environmental monitoring data in the northern part of Lake Taihu, China by using a self-organizing map. J Environ Inform 26:71–79

Liu S, Yen ST, Kolpin DW (1996) Pesticides in groundwater: do atrazine metabolites matter? Water Resour Bull 32:845–853

Liu CW, Lin KH, Kuo YM (2003) Application of factor analysis in the assessment of groundwater quality in a Blackfoot disease area in Taiwan. Sci Total Environ 313:77–89

Lokhande RS, Bhave RP (2003) Environmental monitoring of water resources at Alibag. Indian J Environ Prot 23:834–838

Maharana C, Gautam SK, Singh AK, Tripathi JK (2015) Major ion chemistry of the Son River, India: weathering processes, dissolved fluxes and water quality assessment. J Earth Syst Sci 124:1293–1309

Nasrulin AB (2000) Experience of hydroenvironmental monitoring in the Aral Sea basin for ensuring environmental safety. Water Res 27:98–101

Négrel Ph, Lemière B, de Grammont HM, Billaud P, Sengupta B (2007) Hydrogeochemical processes, mixing and isotope tracing in hard rock aquifers and surface waters from the Subarnarekha River Basin, (East Singhbhum District, Jharkhand State, India). Hydrogeol J 15:1535–1552

Nemčić-Jurec J, Singh SK, Jazbec A, Gautam SK, Kovac I (2017) Hydrochemical investigations of groundwater quality for drinking and irrigational purposes: two case studies of Koprivnica-Krizˇevci County (Croatia) and district Allahabad (India). Sustain Water Resour Manag. https://doi.org/10.1007/s40899-017-0200-x

Nicoletti G, Scarpetta S, Boylaud O (2000) Summary indicators of productive regulation with an extension to employment protection regulation. Organization for Economic Cooperation and Development (OECD), Economics Department Working Papers No. 226, ECO/WKP(99)18, p 86

Panda UC, Sundaray SK, Rath P, Nayak BB, Bhatta D (2006) Application of factor and cluster analysis for characterization of river and estuarine water systems—a case study: Mahanadi River (India). J Hydrol 331:434–445

Papastergiadou ES, Retalis A, Apostolakis A, Georgiadis Th (2008) Environmental monitoring of spatio-temporal changes using remote sensing and GIS in a Mediterranean Wetland of Northern Greece. Water Resour Manag 22:579–594

Piper AM (1944) A Graphical interpretation of water analysis. Trans Am Geophys Union 25:914–928

Ramakrishnan M, Vaidyanadhan R (2008) Geology of India, vol 1. GeolSoc India, Bangalore, pp 210–213

Rao KL (1995) India's water wealth: its assessment, uses and projections. Longman, New Delhi (Reprinted)

Rawat KS, Mishra AK, Singh SK (2017a) Mapping of groundwater quality using Normalized Difference Dispersal Index of Dwarka sub-city at Delhi National Capital of India. ISH J Hydraul Eng. https://doi.org/10.1080/09715010.2016.1277795

Rawat KS, Tripathi VK, Singh SK (2017b) Groundwater quality evaluation using numerical indices: a case study (Delhi, India). Sustain Water Resour Manag. https://doi.org/10.1007/s40899-017-0181-9

Rawat KS, Singh SK, Jacintha TGA, Nemčić-Jurec J, Tripathi VK (2017c) Appraisal of long term groundwater quality of peninsular India using water quality index and fractal dimension. J Earth Syst Sci. https://doi.org/10.1007/s12040-017-0895-y

Reimann C, Bjorvatn K, Frengstad B, Melaku Z, Teklehaimanot R, Siewers U (2003) Drinking water quality in the Ethiopian section of the east African rift valley I—data and health aspects. Sci Total Environ 311:65–80

Reimann C, Filzmoser P, Garrett R, Dutter R (2008) Statistical data analysis explained: applied environmental statistics with R. Wiley, Chichester

Singh SK, Singh CK, Kumar KS, Gupta R, Mukherjee S (2009) Spatial-temporal monitoring of groundwater using multivariate statistical techniques in Bareilly district of Uttar Pradesh, India. J Hydrol Hydromech 57:45–54. https://doi.org/10.2478/V10098-009-0005-1

Singh SK, Srivastava PK, Gupta M, Mukherjee S (2012) Modeling mineral phase change chemistry of groundwater in a rural-urban fringe. Water Sci Technol. https://doi.org/10.2166/wst.2012.338

Singh SK, Srivastava PK, Pandey AC (2013a) Fluoride contamination mapping of groundwater in Northern India integrated with geochemical indicators and GIS. Water Sci Technol Water Supply 13:1513–1523

Singh SK, Srivastava PK, Pandey AC, Gautam SK (2013b) Integrated assessment of groundwater influenced by a confluence river system: concurrence with remote sensing and geochemical modelling. Water Resour Manag 27:4291–4313. https://doi.org/10.1007/s11269-013-0408-y

Singh SK, Srivastava PK, Singh D, Han D, Gautam SK, Pandey AC (2015) Modeling groundwater quality over a humid subtropical region using numerical indices, earth observation datasets, and X-ray diffraction technique: a case study of Allahabad district, India. Environ Geochem Health 37:157–180. https://doi.org/10.1007/s10653-014-9638-z

Singh SK, Singh P, Gautam SK (2016a) Appraisal of urban lake water quality through numerical index, multivariate statistics and earth observation datasets. Int J Environ Sci Technol 13:445–456. https://doi.org/10.1007/s13762-015-0850-x

Singh SK, Srivastava PK, Szabo S, Petropoulos G, Gupta M, Islam T (2016b) Landscape transform and spatial metrics for mapping spatiotemporal land cover dynamics using Earth Observation data-sets. Geocarto Int. https://doi.org/10.1080/10106049.2015.1130084

Singh H, Singh D, Singh SK, Shukla DN (2017) Assessment of river water quality and ecological diversity through multivariate statistical techniques, and earth observation dataset of rivers Ghaghara and Gandak, India. Int J River Basin Manag. https://doi.org/10.1080/15715124.2017.1300159

Skariyachan S, Mahajanakatti AB, Grandhi NJ, Prasanna A, Sen B, Sharma N, Vasist KS, Narayanappa R (2015) Environmental monitoring of bacterial contamination and antibiotic resistance patterns of the fecal coliforms isolated from Cauvery River, a major drinking water source in Karnataka, India. Environ Monit Assess 187:279. https://doi.org/10.1007/s10661-015-4488-4

Soltani S, Moghaddam AA, Barzegar R, Tziritis E (2017) Hydrogeochemistry and water quality of the Kordkandi-Duzduzan plain, NW Iran: application of multivariate statistical analysis and PoS index. Environ Monit Assess 189(9):455. https://doi.org/10.1007/s10661-017-6171-4

Srivastava PK, Mukherjee S, Gupta M, Singh SK (2011) Characterizing monsoonal variation on water quality index of River Mahi in India using geographical information system. Water Qual Expo Health 2:193–203

Srivastava PK, Singh SK, Gupta M, Thakur JK, Mukherjee S (2013) Modeling impact of land use change trajectories on groundwater quality using remote sensing and GIS. Environ Eng Manag J 12:2343–2355

Tanabe S, Ramu K (2012) Monitoring temporal and spatial trends of legacy and emerging contaminants in marine environment: results from the environmental specimen bank (es-BANK) of Ehime University, Japan. Mar Pollut Bull 64:1459–1474

Thakur J, Singh P, Singh SK, Baghel B (2013) Geochemical modelling of fluoride concentration in hard rock terrain of Madhya Pradesh, India. Acta Geol Sin (Engl Ed) 87:1421–1433

Thakur JK, Diwakar J, Singh SK (2015) Hydrogeochemical evaluation of groundwater of Bhaktapur Municipality, Nepal. Environ Earth Sci 74:4973–4988. https://doi.org/10.1007/s12665-015-4514-4

Tziritis E (2010) Assessment of NO3 contamination in a karstic aquifer, with the use of geochemical data and spatial analysis. Environ Earth Sci 60:1381–1390

Tziritis E (2014) Environmental monitoring of Micro Prespa Lake basin (Western Macedonia, Greece): hydrogeochemical characteristics of water resources and quality trends. Environ Monit Assess 186:4553–4568

Tziritis E, Panagopoulos A, Arampatzis G (2014) Development of an operational index of water quality (PoS) as a versatile tool to assist groundwater resources management and strategic planning. J Hydrol 517:339–350

Tziritis E, Arampatzis G, Hatzigiannakis E, Panoras G, Panoras A, Panagopoulos A (2016a) Quality characteristics and hydrogeochemistry of irrigation waters from three major olive groves in Greece. Desalin Water Treat 57:11582–11591

Tziritis E, Tzamos E, Vogiatzis P, Matzari C, Kantiranis N, Filippidis A, Theodosiou N, Fytianos K (2016b) Quality assessment and hydrogeochemical status of potable water resources in a suburban area of northern Greece (Thermi Municipality, central Macedonia). Desalin Water Treat 57:11462–11471

Valko M, Morris H, Cronin MTD (2005) Metals, toxicity and oxidative stress. Curr Med Chem 12:1161–1208

Voutsis N, Kelepertzis E, Tziritis E, Keleprtsis A (2015) Assessing the hydrogeochemistry of groundwaters in ophiolite areas of Euboea Island, Greece, using multivariate statistical methods. J Geochem Explor 159:79–92. https://doi.org/10.1016/j.gexplo.2015.08.007

WGK (2013) Germany-substances hazardous to water-water hazard classes (WGK). https://www.umweltbundesamt.de/wgs-e/. Accessed 30 Mar 2013

WHO (2011) Guidelines for drinking-water quality, 4th ed, Geneva, Switzerland

WHO (2012) Guidance for immunotoxicity risk assessment for chemicals (IPCS harmonization project document; no. 10), Geneva, Switzerland

Yeomans K, Golder P (1982) The Guttman–Kaiser criterion as a predictor of the number of common factors. J R Stat Soc Ser D 31:221–229

Zhu GF, Li ZZ, Su YH, Ma JZ, Zhang YY (2007) Hydrogeochemical and isotope evidence of groundwater and recharge in Minqin Basin, Northwest China. J Hydrol 333:239–251
Acknowledgements
We are thankful to anonymous reviewers and Editor in Chief for their valuable suggestions and recommendation. SKG thanks the Council of Scientific and Industrial Research (CSIR), New Delhi, India, for providing the financial support [09/263 (0703)/2008-EMR-I] and DST N-PDF [File No: PDF/2017/002820] and altogether acknowledges the technical and administrative staff of School of Environmental Sciences, JNU of their technical support. Corresponding author (SKS) express sincere thanks to University Grants Commission, New Delhi, India, for financial support (F.N.-42-74/2013 (SR). The authors are also grateful to Dr. Anup Kumar, Assistant Professor, Department of Biostatistics, and Health Informatics, SGPGIMS, Lucknow-226014, India helps in performing the Paired Sample Wilcoxon Test.
About this article
Cite this article
Gautam, S.K., Evangelos, T., Singh, S.K. et al. Environmental monitoring of water resources with the use of PoS index: a case study from Subarnarekha River basin, India. Environ Earth Sci 77, 70 (2018). https://doi.org/10.1007/s12665-018-7245-5
Received:

Accepted:

Published:

DOI: https://doi.org/10.1007/s12665-018-7245-5
Keywords
Anthropogenic influences

Groundwater

Geogenic factors

Hydrogeological regime

Trace elements

PoS index