Abstract
Lubango is a fast-growing city of Angola, with a very deficient water distribution public system. The majority of the population uses groundwater from shallow, rudimentary dug wells and also surface water from the Mapunda River, which crosses the city. The city has very poor systems for collecting domestic sewage and household wastes. The majority of domestic sewage is dumped directly into the Mapunda River or in pit latrines. In this study, the surface water quality and groundwater quality were assessed. In surface water, the low oxygen contents are related to the high temperature (T) in the warm rainy season and with high contents of oxygen-consuming organic pollution and nutrients, as shown by PCA, in both seasons. Anoxic conditions, with negative ORP values (− 55.7 mV), are caused by oxygen-consuming organic pollution, added with low flow regime during the dry, cold season. The very low ecological quality of the surface water is also indicated by the high contents of PO4 and Clt (up to 2.00 and 0.44 mg L−1, respectively). The phosphate contamination is higher in the warm rainy season, due to higher run-off and higher T, as expressed by PCA, both in river water and groundwater. Most groundwater sampling points are contaminated with nitrate (contents up to 132 mg L−1). The pH, total dissolved solids (TDS), alkalinity, Clt and K, determined in the surface water reflect the anthropic contribution to the river water. The variations in water bulk parameters (T, TDS, alkalinity, ORP, DO) and chemical species are indicative of pollution by diffuse sources (N-species, phosphates). The PCA shows that non-point sources such as the free discharge of household wastewater, intense laundering in the river, agriculture and animal grazing are the main contributors to low water quality, associated with seasonality and low contents of dissolved oxygen due to its consumption by organic matter. The multivariate analysis allows the evaluation of the changes in water quality, in fast-growing cities where the climate has a clear seasonality.
This is a preview of subscription content, log in to check access.
Access options
Buy single article
Instant access to the full article PDF.
US$ 39.95
Price includes VAT for USA
Subscribe to journal
Immediate online access to all issues from 2019. Subscription will auto renew annually.
US$ 199
This is the net price. Taxes to be calculated in checkout.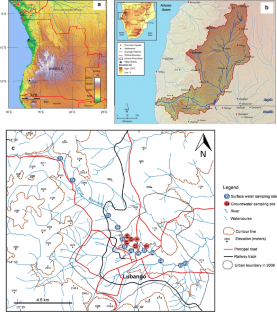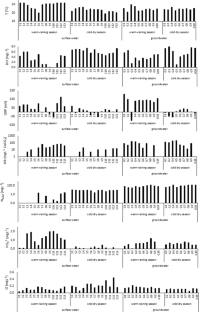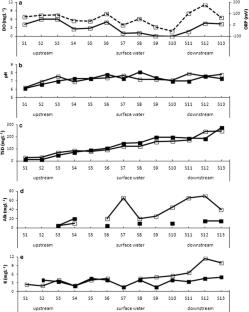 References
AHT GROUP AG (2010) Source: http://www.kunene.riverawarenesskit.com/ KUNENERAK_COM/EN/RIVER.HTM. Accessed in October 2017

Ako AA, Jun S, Takahiro H, Kimpei I, Nkeng GE, Fantong WY, Eyong GET, Ntankouo NR (2011) Evaluation of groundwater quality and its suitability for drinking, domestic, and agricultural uses in the Banana Plain (Mbanga, Njombe, Penja) of the Cameroon Volcanic. Environ Geochem Health 33:559–575

Ako AA, Eyong GET, Shimada J, Koike K, Hosono T, Ichiyanagi K, Richard A, Tandia BK, Nkeng GE, Roger NN (2014) Nitrate contamination of groundwater in two areas of the Cameroon Volcanic Line (Banana Plain and Mount Cameroon area). Appl Water Sci 4:99–113

Andrews JE, Brimblecombe P, Jickells TD, Liss PS, Reid B (2003) An introduction to environmental chemistry, 2nd edn. Wiley-Blackwell, New York

António FPL (2014). Caracterização hidrogeoquímica das águas subterrâneas nas regiões do Lubango e Palanca (Humpata). Unpublished M.Sc. thesis, Coimbra University

Baumann T, Fruhstorfer P, Klein T, Niessner R (2006) Colloid and heavy metal transport at landfill sites in direct contact with groundwater. Water Res 40:2776–2786

Bernhard A (2010) The nitrogen cycle: processes, players, and human impact. Nat Educ Knowl 3(10):25

Carpenter SR, Caraco NF, Smith VH (1998) Nonpoint pollution of surface waters with phosphorus and nitrogen. Ecol Appl 8:559–568

Carroll JJ, Slupsky JD, Mather AE (1991) The solubility of carbon dioxide in water at low pressure. J Phys Chem Ref Data 20:1201–1209

Cavantchane BMN (2013) Caracterização hidroquímica das águas subterrâneas nas zonas rural e urbana na região do Lubango-Angola. Unpublished M.Sc. thesis, Coimbra University

CCKP (2017) Climate change knowledge portal. http://sdwebx.worldbank.org/climateportal/index.cfm?page=country_historical_climate&ThisRegion=Africa&ThisCCode=AGO. Accessed in October 2017

CCME (1999a) Canadian Council of Ministers of the Environment. Canadian water quality guidelines for the protection of aquatic life. Dissolved Oxygen

CCME (1999b) Canadian Council of Ministers of the Environment. Canadian water quality guidelines for the protection of aquatic life. Reactive chlorine species

CCME (2004) Canadian Council of Ministers of the Environment. Canadian water quality guidelines for the protection of aquatic life. Phosphorus

CENSO (2014). Resultados Preliminares do Recenseamento Geral da População e da Habitação de Angola 2014. INE, Angola. http://censo.ine.gov.ao/xportal/xmain?xpid=censo2014&xpgid=relatorios-censo2014&actualmenu=8377701. Accessed in July2016

Chenje M, Johnson P (eds) (1996) Water in Southern Africa. A report by SADC, IUCN and SARDC. Print Holdings, Harare

Chidya RCG, Sajidu SMI, Mwatseteza JF, Masamba WRL (2011) Evaluation and assessment of water quality in Likangala River and its catchment area. Phys Chem Earth 36:865–871

CPCB (2007–2008) Guidelines for water quality monitoring. Central Pollution Control Board. Ministry of Environment & Forest

DWAF (1996) Department of Water Affairs and Forestry. South African water quality guidelines, v. 7: aquatic ecosystems

EPA (1986) Quality criteria for water. EPA:440/5-86-001. United State Environmental Protection Agency, Office of Water Regulations and Standard. Washington, DC. https://www.orau.org/ptp/PTP%20Library/library/EPA/miscelaneous/goldbook.pdf. Accessed in October 2017

EPA (2016). https://www.epa.gov/nutrientpollution/sources-and-solutions. Accessed in October 2017

Hem DJ (1985) Study and interpretation of the chemical characteristics of natural water, 3rd ed. US Geological Survey Water-Supply Paper 2254

Isaías M (2010) Caracterização físico-química e avaliação de impactes antrópicos na água do rio Caculuvar na região do Lubango-Angola. Unpublished M.Sc. thesis, Coimbra University

Islam MS, Ahmed MK, Raknuzzaman M, Mamun MH, Islam MK (2015) Heavy metal pollution in surface water and sediment: a preliminary assessment of an urban river in a developing country. Ecol Indic 48:282–291

Jebastina N, Arulraj GP (2016) Contamination analysis of groundwater in Coimbatore district, India: a statistical approach. Environ Earth Sci 75:1447. https://doi.org/10.1007/s12665-016-6253-6

Jeong CH (2001) Effect of land-use and urbanization on hydrochemistry and contamination of groundwater from Taejon area, Korea. J Hydrol 253(1):194–210

Khan MYA, Gani KM, Chakrapani GJ (2017) Spatial and temporal variations of physicochemical and heavy metal pollution in Ramganga River—a tributary of River Ganges, India. Environ Earth Sci 76:231

Kim H, Park S (2016) Hydrogeochemical characteristics of groundwater highly polluted with nitrate in an agricultural area of Hongseong, Korea. Water 8:345. https://doi.org/10.3390/w808034

Koçak F, Aydin-Önen S, Açik S, Kücüksezgin F (2017) Seasonal and spatial changes in water and sediment quality variables in Bafa Lake. Environ Earth Sci 76:617

Kuroda K, Fukushi T (2008) Groundwater pollution in urban areas. In: Takizawa S (ed) Groundwater management in Asian cities, vol 2. cSUR-UT series: library for sustainable urban regeneration. Springer, Tokyo, pp 125–149

Lapworth DJ, Nkhuwa DCW, Okotto-Okotto J, Pedley S, Stuart ME, Tijani MN, Wright J (2017) Urban groundwater quality in sub-Saharan Africa: current status and implications for water security and public health. Hydrogeol J 25:1093–1116

Li S, Gu S, Liu W, Han H, Zhang Q (2008) Water quality in relation to land use and land cover in the upper Han River Basin, China. CATENA 75:216–222

Lopes SP, Silva MMVG, Gomes EMC, Carvalho PCS, Neiva AMR (2016) Seasonal contamination of surface waters close to an abandoned Sn-W mine, northeast Portugal. Environ Earth Sci 75:1438. https://doi.org/10.1007/s12665-016-6243-8

Manjusree TM, Joseph S, Petitta M, Thomas J (2017) Integrated approach for identifying the factors controlling groundwater quality of a tropical coastal zone in Kerala, India. Environ Earth Sci 76:486

Marques ED, Silva-Filho EV, Souza GVC, Gomes OVO (2016) Seasonal variations of water quality in a highly populated drainage basin, SE Brazil: water chemistry assessment and geochemical modelling approaches. Environ Earth Sci 75:1498. https://doi.org/10.1007/s12665-016-6297-7

Merkel BJ, Planer-Friedrich B (2008) Groundwater geochemistry. A practical guide to modelling of natural and contaminated aquatic systems, 2nd edn. Springer, Berlin

Miller NJ, Miller JC (2000) Statistics and chemometrics for analytical chemistry, 6th edn. Pearson Education, London

Mustapha A, Abdu A (2012) Application of principal component analysis and multiple regression models in surface water quality assessment. J Environ Earth Sci 2:16–24

Nazeer S, Hashmi MZ, Malik RN (2014) Heavy metals distribution, risk assessment and water quality characterization by water quality index of the River Soan, Pakistan. Ecol Indic 43:262–270

Ndegwa PM, Wang L, Vaddella VK (2007) Potential strategies for process control and monitoring of stabilization of dairy wastewaters in batch aerobic treatment systems. Process Biochem 42:1272–1278

Odoh BI, Utom AU, Ezeh HN, Egboka CE (2012) Hydrogeochemical properties of groundwater in parts of Abakaliki City, southeastern Nigeria. Environ Geosci 19:53–61

Olsen K (2007) Clear waters and a green gas: a history of chlorine as a swimming pool sanitizer in the United States. Bull Hist Chem 32(2):129–140

Patel P, Raju NJ, Reddy BCSR, Suresh U, Sankar DB, Reddy TVK (2017) Heavy metal contamination in river water and sediments of the Swarnamukhi River Basin, India: risk assessment and environmental implications. Environ Geochem Health. https://doi.org/10.1007/s10653-017-0006-7

Paul MJ, Meyer JL (2001) Streams in urban landscape. Annu Rev Ecol Syst 32:333–365

Silva EMMS (2014) Variações sazonais e espaciais na hidroquímica no rio Mapunda, Lubango (Angola). Unpublished Ms.S. thesis, Coimbra University

Simeonov V, Stratis JA, Samara C, Zachariadis G, Voutsa D, Anthemidis A, Sofoniou M, Kouimtzis T (2003) Assessment of the surface water quality in Northern Greece. Water Resour 37:4119–4124

Singh KP, Malik AD, Mohan S, Sinha S (2004) Multivariate statistical techniques for the evaluation of spatial and temporal variations in water quality of Gomti River (India)—a case study. Water Resour 38:3980–3992

Singh B, Jain V, Mohan A (2013) Monitoring of groundwater chemistry in terms of physical and chemical parameters of Gajraula, a semi-urbanized town of North India. Phys Chem Earth 58–60:34–41

Topographic Map of Angola (2015) https://commons.wikimedia.org/wiki/File: Angola_Topography.png#mediaviewer/File:Angola_Topography.png. Accessed in October 2017

Villanueva JD, Le Coustumer P, Denis A, Abuyan R, Huneau F, Motelica-Heino M, Peyraube N, Celle-Jeanton H, Perez TR, Espaldon MVO (2015) Trends of labile trace metals in tropical urban water under highly contrasted weather conditions. Environ Sci Pollut Res 22:13842–13857

Wagh VM, Panaskar DB, Varade AM, Mukate SV, Gaikwad SK, Pawar RS, Muley AA, Aamalawar ML (2016) Major ion chemistry and quality assessment of the groundwater resources of Nanded Tehsil, a part of southeast Deccan Volcanic Province, Maharashtra, India. Environ Earth Sci 75:1418. https://doi.org/10.1007/s12665-016-6212-2

Wakida FT, Lerner DN (2005) Non-agricultural sources of groundwater nitrate: a review and case study. Water Res 39:3–16

Wang JY, Da LJ, Song K, Li BL (2008) Temporal variations of surface water quality in urban, suburban and rural areas during rapid urbanization in Shanghai, China. Environ Pollut 152:387–393

Wang Y, Wang P, Bai Y, Tian Z, Li J, Shao X, Mustavich LF, Li B-L (2013) Assessment of surface water quality via multivariate statistical techniques: a case study of the Songhua River Harbin region, China. J Hydro-environ Res 7:30–40

Wheatherbase (2017) http://www.weatherbase.com/weather/weather.php3?s=9366&cityname=Sa-Da-Bandeira-Angola. Accessed in October 2017

White WM (2013) Geochemistry. Wiley-Blackwell, New York

WHO (2011) Guidelines for Drinking-water Quality, 4th edn. World Health Organization, Geneva

Young CL (1983) IUPAC solubility data series, Vol. 12. Sulphur Dioxide, Chlorine, Fluorine and Chlorine Oxides. Pergamon Press, Oxford

Zeferino B (2011) Caracterização hidrológica e hidrogeológica dos domínios envolventes do cemitério da Mitch, Lubango- Avaliação de impactes nas massas de água locais. Unpublished Ms.S. thesis, Coimbra University

Zhang Q, Li ZW, Zeng GM, Li JB, Fang Y, Yuan QS, Wang YM, Ye FY (2009a) Assessment of surface water quality using multivariate statistical techniques in red soil hilly region: a case study of Xiangjiang watershed, China. Environ Monit Assess 152:123–131

Zhang Y, Guo F, Meng W, Wang XQ (2009b) Water quality assessment and source identification of Daliao river basin using multivariate statistical methods. Environ Monit Assess 152(105):121

Zilberbrand M, Rosenthal E, Shachnai E (2001) Impact of urbanization on hydrochemical evolution of groundwater and unsaturated-area gas composition in the coastal city of Tel Aviv, Israel. J Contam Hydrol 50:175–208
Acknowledgements
We want to thank the Instituto Superior Politécnico da Tundavala (ISPT) in Lubango, Angola, and the Earth Sciences Department, Coimbra University, for material and logistics support.
About this article
Cite this article
Silva, M.M.V.G., Gomes, E.M.C., Isaías, M. et al. Spatial and seasonal variations of surface and groundwater quality in a fast-growing city: Lubango, Angola. Environ Earth Sci 76, 790 (2017). https://doi.org/10.1007/s12665-017-7149-9
Received:

Accepted:

Published:
Keywords
Angola

Groundwater

Quality

Surface water

Seasonality