Abstract
This study aimed to (1) investigate microrubbers (MRs) for the first time and identify microplastics (MPs) in street dust, (2) determine the physicochemical and mineralogical characteristics and morphology of dust particles, (3) understand the concentration and the possible source(s) of heavy metals/metalloids, (4) identify the chemical speciation and mobility potential of trace metals in urban street dusts, and (5) determine adverse health effects of street dust on children and adults living in the city of Bushehr in southwestern Iran. Generally, twenty four street dust samples were collected and analyzed. Calculated enrichment factors indicate high levels of contamination. Statistical analysis reveals that the two main sources of trace elements include road traffic emissions (Cu, Zn, Sb, Hg, Pb, Mo) and re-suspended soil particles (Al, Mn, Ni, Ti, Cd, Co). BCR sequential extraction results indicated that As, Zn, Cu, and Pb mainly occur in the exchangeable fraction and hence are highly bioavailable. X-ray powder diffraction analysis revealed the presence of calcite, dolomite, quartz, and magnetite. The size distribution of dust particles was also investigated using a scanning electron microscope (SEM), while elemental distribution was analyzed using an attached energy dispersive X-ray spectrometer (SEM–EDS) unit. Dust particles from heavy traffic areas are much finer compared with other investigated areas. MPs and MRs, mostly fibers and fragments, were detected in all samples [ranging from 210 to 1658 (MPs) and 44 to 782 (MRs) items/10 g dust] using fluorescence microscopy. The hazard index for As is higher than 10−4 for children and adults indicative of high risk. According to the calculated potential ecological risk index, Hg indicated moderate ecological risk in the street dust of the study area.
Access options
Buy single article
Instant access to the full article PDF.
US$ 39.95
Tax calculation will be finalised during checkout.
Subscribe to journal
Immediate online access to all issues from 2019. Subscription will auto renew annually.
US$ 119
Tax calculation will be finalised during checkout.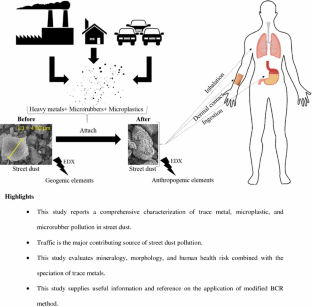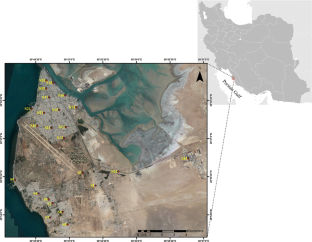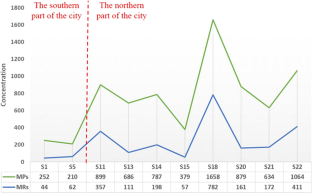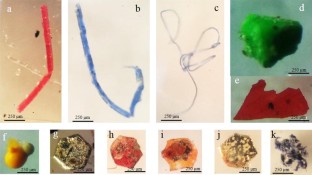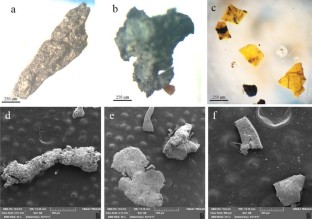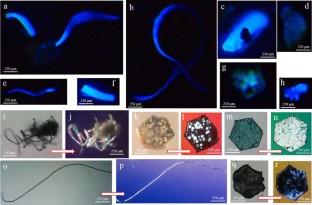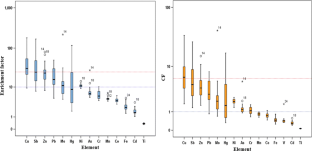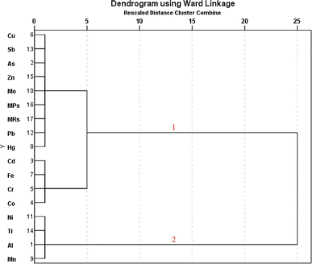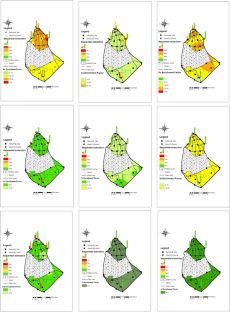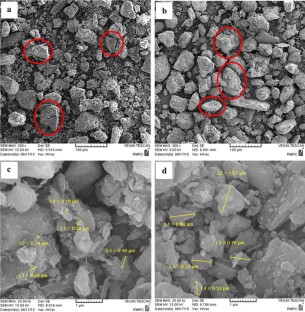 References
Adachi K, Tainosho Y (2004) Characterization of heavy metal particles embedded in tire dust. Environ Int 30:1009–1017

Al-Khashman OA (2007) Determination of metal accumulation in deposited street dusts in Amman, Jordan. Environ Geochem Health 29(1):1–10

Al-Radady AS, Davis BE, French MJ (1994) Distribution of lead inside the home: case studies in the north of England. Sci Total Environ 145:143–156

Andrady AL (2011) Microplastics in the marine environment. Mar Pollut Bull 62(8):1596–1605

Arslan H (2001) Heavy metals in street dust in Bursa, Turkey. J Trace Microprobe Tech 19(3):439–445

Arthur C, Baker J, Bamford H (2009) Proceedings of the international research workshop on the occurrence, effects and fate of microplastic marine debris, p 49 (NOAA Technical Memorandum NOS-OR&R-30)

Banaei MH, Bybordi M, Moameni A, Malakouti MJ (2005) The soils of Iran: new achievements in perception, management and use. Agricultural Research and Education Organization and Soil and Water Research Institute, Tehran (in Persian)

Banerjee ADK (2003) Heavy metal levels and solid phase speciation in street dusts of Delhi, India. Environ Pollut 123:95–105

Barboza LGA, Gimenez BCG (2015) Microplastics in the marine environment: current trends and future perspectives. Mar Pollut Bull. https://doi.org/10.1016/j.marpolbul.2015.06.008

Belzunce-Segarra MJ, Bacon JR, Prego R, Wilson MJ (1997) Chemical forms of heavy metals in surface sediments of the San Simon inlet, Ria de Vigo, Galicia. Environ Sci Health A32(5):1271–1292

Bruemer GW, Gerth J, Tiller KG (1988) Reaction kinetics of the adsorption and desorption of nickel, zinc and cadmium by goethite: 1. Adsorption and diffusion of metals. J Soil Sci 39:37–52

Camatini M, Crosta GF, Dolukhanyan T, Sung C, Giuliani G, Corbetta GM, Cencetti S, Regazzoni C (2001) Microcharacterization and identification of tire debris in heterogeneous laboratory and environmental specimens. Mater Charact 46:271–283

Carpenter EJ, Smith KL (1972) Plastics on the Sargasso sea surface. Science 175(4027):1240–1241

Chen CW, Kao CM, Chen CF, Dong CD (2007) Distribution and accumulation of heavy metals in sediments of Kaohsiung Harbor, Taiwan. Chemosphere 66(8):1431–1440

Chon HT, Kim KW, Kim JY (1995) Metal contamination of soils and dusts in Seoul metropolitan city, Korea. Environ Geochem Health 17(3):139–146

Christoforidis A, Stamatis N (2009) Heavy metal contamination in street dust and roadside soil along the major national road in Kavala's region, Greece. Geoderma 151(3):257–263

Cincinelli A, Scopetani C, Chelazzi D, Lombardini E, Martellini T, Katsoyiannis A, Corsolini S (2017) Microplastic in the surface waters of the Ross Sea (Antarctica): occurrence, distribution and characterization by FTIR. Chemosphere 175:391–400

Claessens M, De Meester S, Van Landuyt L, De Clerck K, Janssen CR (2011) Occurrence and distribution of microplastics in marine sediments along the Belgian coast. Mar Pollut Bull 62:2199–2204

Cole M, Lindeque P, Halsband C, Galloway TS (2011) Microplastics as contaminants in the marine environment: a review. Mar Pollut Bull 62(12):2588–2597

Costa MF, Ivar do Sul JA, Silva-Cavalcanti JS, Araujo MC, Spengler A, Tourinho PS (2010) On the importance of size of plastic fragments and pellets on the strandline: a snapshot of a Brazilian beach. Environ Monit Assess 168:299–304

Cowherd C, Muleski G, Engelhart P, Gillete D (1985) Rapid assessment of exposure to particulate emissions from surface contamination. Prepared for EPA Office of Health and Environmental Assessment. EPA/600/8-85/002

Davies TC, Mundalamo HR (2010) Environmental health impacts of dispersed mineralisation in South Africa. Earth Sci 58(4):652–666

De Miguel E, Llamas JF, Chacón E, Berg T, Larssen S, Røyset O, Vadset M (1997) Origin and patterns of distribution of trace elements in street dust: unleaded petrol and urban lead. Atmos Environ 31(17):2733–2740

De Sá LC, Luís LG, Guilhermino L (2015) Effects of microplastics on juveniles of the common goby (Pomatoschistus microps): confusion with prey, reduction of the predatory performance and efficiency, and possible influence of developmental conditions. Environ Pollut 196:359–362

Dehghani S, Moore F, Akhbarizadeh R (2017) Microplastic pollution in deposited urban dust, Tehran metropolis, Iran. Environ Sci Pollut Res. https://doi.org/10.1007/s11356-017-9674-1

Dris R, Gasperi J, Mirande C, Mandin C, Guerrouache M, Langlois V, Tassin B (2016) A first overview of textile fibers, including microplastics, in indoor and outdoor environments. Environ Pollut. https://doi.org/10.1016/j.envpol.2016.12.013

Duis K, Coors A (2016) Microplastics in the aquatic and terrestrial environment: sources (with a specific focus on personal care products), fate and effects. Environ Sci Eur 28:1–25

Duzgoren-Aydin NS, Wong CSC, Song ZG, Song ZG, Aydin A, Li XD, You M (2006) Fate of heavy metal contaminants in road dusts and gully sediments in Guangzhou, SE China: a chemical and mineralogical assessment. Hum Ecol Risk Assess 12(2):374–389

Fendall LS, Sewell MA (2009) Contributing to marine pollution by washing your face: microplastics in facial cleansers. Mar Pollut Bull 58(8):1225–1228

Ferreira-Baptista L, De Miguel E (2005) Geochemistry and risk assessment of street dust in Luanda, Angola: a tropical urban environment. Atmos Environ 39:4501–4512

Filella M (2015) Questions of size and numbers in environmental research on microplastics: methodological and conceptual aspects. Environ Chem. https://doi.org/10.1071/EN15012

Filgueiras AV, Lavilla I, Bendicho C (2002) Chemical sequential extraction for metal partitioning in environmental solid samples. J Environ Monit 4(6):823–857

Gallagher A, Rees A, Rowe R, Stevens J, Wright P (2016) Microplastics in the Solent estuarine complex, UK: an initial assessment. Mar Pollut Bull 102:243–249

Gee GW, Bauder JW (1986) Particle-size analysis. In: Methods of soil analysis: part 1—physical and mineralogical methods, (methodsofsoilan1), pp 383–411

Guerranti C, Cannas S, Scopetani C, Fastelli P, Cincinelli A, Renzi M (2017) Plastic litter in aquatic environments of Maremma Regional Park (Tyrrhenian Sea, Italy): contribution by the Ombrone river and levels in marine sediments. Mar Pollut Bull. https://doi.org/10.1016/j.marpolbul.2017.02.021

Hakanson L (1980) An ecological risk index for aquatic pollution control. A sedimen-tological approach. Water Res 14:975–1001

Healy M, Harrison P, Aslam M, Davis S, Wilson C (2008) Lead sulphide and traditional preparations: routes for ingestion, and solubility and reactions in gastric fluid. J Clin Pharm Ther 7:169–173

Hidalgo-Ruz V, Gutow L, Thompson RC, Thiel M (2012) Microplastics in the marine environment: a review of the methods used for identification and quantification. Environ Sci Technol 46:3060–3075

Iqbal J, Shah MH (2011) Distribution, correlation and risk assessment of selected metals in urban soils from Islamabad, Pakistan. J Hazard Mater 192:887–898

Kabata-Pendias A, Pendias H (2001) Trace elements in soils and plants. CRC Press Inc, Boca Raton

Keshavarzi B, Tazarvi Z, Rajabzadeh MA, Najmeddin A (2015) Chemical speciation, human health risk assessment and pollution level of selected heavy metals in urban street dust of Shiraz, Iran. Atmos Environ 119:1–10

Keshavarzi B, Abbasi HS, Moore F, Delshab H, Soltani N (2017) Polycyclic aromatic hydrocarbons in street dust of Bushehr city, Iran: status, source, and human health risk assessment. Polycycl Aromat Compd. https://doi.org/10.1080/10406638.2017.1354897

Kreider ML, Panko JM, McAtee BL, Sweet LI, Finley BL (2010) Physical and chemical characterization of tire-related particles: comparison of particles generated using different methodologies. Sci Total Environ 408(3):652–659

Li H, Qian X, Hu W, Wang Y, Gao H (2013a) Chemical speciation and human health risk of trace metals in urban street dusts from a metropolitan city, Nanjing, SE China. Sci Total Environ 456–457:212–221

Li Z, Feng X, Li G, Bi X, Zhu J, Qin H, Dai Z, Liu J, Li Q, Sun G (2013b) Distributions, sources and pollution status of 17 trace metal/metalloids in the street dust of a heavily industrialized city of central China. Environ Pollut 182:408–416

Liu CH, Cen K (2007) Chemical composition and possible sources of elements in street dusts in Beijing. Acta Sci Circum Stantiae 27(7):1181–1188

Manasreh WA (2010) Assessment of trace metals in street dust of Mutah city, Kurak, Jordan. Carpath J Earth Environ 5(1):5–12

Marin B, Valladon M, Polve M, Monaco A (1997) Reproducibility testing of a sequential extraction scheme for the determination of trace metal speciation in a marine reference sediment by inductively coupled plasma-mass spectrometry. Anal Chim Acta 342(2):91–112

McGoran AR, Clark PF, Morritt D (2017) Presence of microplastic in the digestive tracts of European flounder, Platichthys flesus, and European smelt, Osmerus eperlanus, from the River Thames. Environ Pollut 220:744–751

Moore F, Nematollahi MJ, Keshavarzi B (2015) Heavy metals fractionation in surface sediments of Gowatr bay-Iran. Environ monit assess 187(1):4117

Opher T, Friedler E (2010) Factors affecting highway runoff quality. Urban Water J 7(3):155–172

Ordonez A, Loredo J, De Miguel E, Charlesworth S (2003) Distribution of heavy metals in the street dusts and soils of an industrial city in Northern Spain. Arch Environ Contam Toxicol 44(2):0160–0170

Pan Y, Wang Y, Sun Y, Tian S, Cheng M (2013) Size-resolved aerosol trace elements at a rural mountainous site in Northern China: importance of regional transport. Sci Total Environ 18(461–462):761–771

Possatto FE, Barletta M, Costa MF, Ivair do Sul JA, Dantas DV (2011) Plastic debris ingestion by marine catfish: an unexpected fisheries impact. Mar Pollut Bull 62(5):1098–1102

Prabhakar G, Sorooshian A, Toffol E, Arellano AF, Betterton EA (2014) Spatiotemporal distribution of airborne particulate metals and metalloids in a populated arid region. Atmos Environ 92:339–347. https://doi.org/10.1016/j.atmosenv.2014.04.044

Qi L, Gregoire DC (2000) Determination of trace elements in twenty-six Chinese geochemistry reference materials by inductively coupled plasma-mass spec trometry. Geostand Geoanal Res 24:51–63

Ram SS, Kumar RV, Chaudhuri P, Chanda S, Santra SC, Sudarshan M, Chakraborty A (2014) Physico-chemical characterization of street dust and re-suspended dust on plant canopies: an approach for finger printing the urban environment. Ecol Ind 36:334–338

Rasmussen PE, Subramanian KS, Jessiman BJ (2001) A multi-element profile of house dust in relation to exterior dust and soils in the city of Ottawa, Canada. Sci Total Environ 267(1):125–140

Rastegari Mehr M, Keshavarzi B, Moore F, Sacchi E et al (2016) Contamination level and human health hazard assessment of heavy metals and polycyclic aromatic hydrocarbons (PAHs) in street dust deposited in Mahshahr, Southwest of Iran. Hum Ecol Risk Assess Int J. https://doi.org/10.1080/10807039.2016.1219221

Rauret G, López-Sánchez J-F, Sahuquillo A, Barahona E, Lachica M, Ure A et al (2000) Application of a modified BCR sequential extraction (three-step) procedure for the determination of extractable trace metal contents in a sewage sludge amended soil reference material (CRM 483), complemented by a three-year stability study of acetic acid and EDTA extractable metal content. J Environ Monit 2(3):228–233

Rocha-Santos T, Duarte AC (2015) A critical overview of the analytical approaches to the occurrence, the fate and the behavior of microplastics in the environment. TrAC Trends Anal Chem 65:47–53

Rodríguez L et al (2009) Heavy metal distribution and chemical speciation in tailings and soils around a Pb–Zn mine in Spain. J Environ Manag 90(2):1106–1116

Rudnick RL, Gao S (2003) Composition of the continental crust, vol 3. Elsevier, Amsterdam, pp 1–64

Ryan J, Estefan G, Rashid A (2007) Soil and plant analysis laboratory manual. ICARDA, Beirut

Saeedi M, Li LY, Salmanzadeh M (2012) Heavy metals and polycyclic aromatic hydrocarbons: pollution and ecological risk assessment in street dust of Tehran. J Hazard Mater 227–228:9–17

Schwarz TL, Tempel BL, Papazian DM, Jan YN, Jan LY (1988) Multiple potassium-channel components are produced by alternative splicing at the Shaker locus in Drosophila. Nature 331(6152):137–142

Selinus O (2005) Essentials of medical geology impacts of the natural environment on public health. Academic Press, London

Shi GT, Chen ZL, Xu SY, Zhang J, Wang L, Bi CJ et al (2008) Potentially toxic metal contamination of urban soils and roadside dust in Shanghai, China. Environ Pollut 156:251–260

Shi G, Chen Z, Bi C, Li Y, Teng J, Wang L, Xu S (2010) Comprehensive assessment of toxic metals in urban and suburban street deposited sediments (SDSs) in the biggest metropolitan area of China. Environ Pollut 158:694–703

Shi G, Chen Z, Bi C, Wang L, Teng J, Li Y, Xu S (2011) A comparative study of health risk of potentially toxic metals in urban and suburban road dust in the most populated city of China. Atmos Environ 45:764–771

Soltani N, Keshavarzi B, Moore F, Tavakol T, Lahijanzadeh AR, Jaafarzadeh N, Kermani M (2015) Ecological and human health hazards of heavy metals and polycyclic aromatic hydrocarbons (PAHs) in road dust of Isfahan metropolis, Iran. Sci Total Environ 505:712–723. https://doi.org/10.1016/j.scitotenv.2014.09.097

Sorooshian A, Csavina J, Shingler T, Dey S, Brechtel FJ, Sáez AE, Betterton EA (2012) Hygroscopic and chemical properties of aerosols collected near a copper smelter: implications for public and environmental health. Environ Sci Technol 46:9473–9480

Stolte A, Forster S, Gerdts G, Schubert H (2015) Microplastic concentrations in beach sediments along the German Baltic coast. Mar Pollut Bull 99:216–229

Sun Y, Zhou Q, Xie X, Liu R (2010) Spatial, sources and risk assessment of heavy metal contamination of urban soils in typical regions of Shenyang, China. J Hazard Mater 174:455–462

Tanner PA, Ma HL, Yu PK (2008) Fingerprinting metals in urban street dust of Beijing, Shanghai, and Hong kong. Environ Sci Technol 42:7111–7117

Thompson RC, Olsen Y, Mitchell RP, Davis A, Rowland SJ, John AWG, McGonigle D, Russel AE (2004) Lost at sea: Where is all the plastic? Science 304(5672):838

Tokalıoglu S, Kartal S (2005) Multivariate analysis of the data and speciation of heavy metals in street dust samples from the Organized Industrial District in Kayseri (Turkey). Atmos Environ 40:2797–2805

Tomasevic M, Anicic M (2010) Trace element content in urban tree leaves and SEM-EDAX characterisation of deposited particles. Phys Chem Technol 8(1):1–13

Tomlinson DL, Wilson JG, Harris CR, Jeffrey DW (1980) Problems in the assessment of heavy-metal levels in estuaries and the formation of a pollution index. Helgoländer Meeresuntersuchungen 33:566–575

Tüzen M (2003) Investigation of heavy metal levels in street dust samples in Tokat, Turkey. J Trace Microprobe Tech 21(3):513–521

UNESCO (1977) Map of world distribution of arid regions. Centre national de la recherche scientifique, Paris

Ure A, Davidson C (2008) Chemical speciation in the environment. Wiley, Hoboken

U.S. Environmental Protection Agency (1986) Superfund public health evaluation manual. EPA/540/1–86/060

US Environmental Protection Agency (1991) Risk assessment guidance for superfund: volume I—human health evaluation manual (part B, development of risk-based preliminary remediation goals). EPA/540/R-92/003

US Environmental Protection Agency (1996) Soil screening guidance: technical background document. EPA/540/R95/128

US Environmental Protection Agency (2001) Supplemental guidance for developing soil screening levels for superfund sites. OSWER, 9355.4-24

US Environmental Protection Agency (2002) Supplemental guidance for developing soil screening levels for superfund sites. OSWER, 9355.4-24

US Environmental Protection Agency (2011) Exposure factors handbook: 2011, edition. National Center for Environmental Assessment, Office of Research and Development, Washington, DC 20460, EPA/600/R-09/052F

Van Cauwenberghe L, Vanreusel A, Mees J, Janssen CR (2013) Microplastic pollution in deep-sea sediments. Environ Pollut. https://doi.org/10.1016/j.envpol.2013.08.013

Van den Berg R (1995) Human exposure to soil contamination: a qualitative and quantitative analysis towards proposals for human toxicological intervention values. RIVM Report No. 725201011. National Institute of Public Health and Environmental Protection (RIVM), Bilthoven, The Netherlands

Wang HY, Lu SG (2011) Spatial distribution, source identification and affecting factors of heavy metals contamination in urban–suburban soils of Lishui city, China. Environ Earth Sci 64:1921–1929

Wei B, Jiang F, Li X, Mu S (2010) Heavy metal induced ecological risk in the city of Urumqi, NW China. Environ Monit Assess 160:33–45

Wong CSC, Li X, Thornton I (2006) Urban environmental geochemistry of trace metals. Environ Pollut 142:1–16

Xia X, Chen X, Liu R, Liu H (2011) Heavy metals in urban soils with various types of land use in Beijing, China. J Hazard Mater 186:2043–2050

Yan C, Li Q, Zhang X, Li G (2010) Mobility and ecological risk assessment of heavy metals in surface sediments of Xiamen Bay and its adjacent areas, China. Environ Earth Sci 60(7):1469–1479

Yongming H, Peixuan D, Junji C, Posmentier ES (2006) Multivariate analysis of heavy metal contamination in urban dusts of Xi'an, Central China. Sci Total Environ 355:176–186

Yuan GL, Sun TH, Han P, Li J, Lang XX (2014) Source identification and ecological risk assessment of heavy metals in topsoil using environmental geochemical mapping: typical urban renewal area in Beijing. J Geochem Explor 136:40–47

Zarasvandi A (2009) Environmental impacts of dust storms in the Khuzestan Province. Environmental Protection Agency (EPA), Khuzestan province, p 375. Internal Report

Zhu Y, Hinds WC, Kim S, Sioutas C (2002) Concentration and size distribution of ultrafine particles near a major highway. J Air Waste Manag Assoc 52(9):1032–1042
Acknowledgements
This research was financially supported by Bushehr Environmental Protection Office. The authors wish to express their gratitude to the Research Committee and Medical Geology Center of Shiraz University for logistic help.
Electronic supplementary material
Below is the link to the electronic supplementary material.
About this article
Cite this article
Abbasi, S., Keshavarzi, B., Moore, F. et al. Investigation of microrubbers, microplastics and heavy metals in street dust: a study in Bushehr city, Iran. Environ Earth Sci 76, 798 (2017). https://doi.org/10.1007/s12665-017-7137-0
Received:

Accepted:

Published:
Keywords
Microrubbers

Microplastics

Heavy metals

Bushehr

Risk assessment

SEM–EDS