Abstract
Levels of naturally occurring radioactivity in sediment samples of Beni Haroun dam have been investigated. The activity concentrations of 238U and 232Th decay chains and 40K primordial radionuclide have been measured using high-resolution HPGe detector. Activity concentrations of 226Ra, 232Th, and 40K radionuclides were found in the ranges 9–66, 14–37, and 177–288 Bq/kg with the mean values 24.67, 25.98, and 208.10 Bq/kg, respectively. Radiological hazard parameters were estimated based on the activity concentrations for 226Ra, 232Th, and 40K to find out any radiation hazard associated with the sediments. Correlation studies between pairs of radionuclides were performed and discussed, and the obtained results are compared with international recommended values.
Access options
Buy single article
Instant access to the full article PDF.
US$ 39.95
Tax calculation will be finalised during checkout.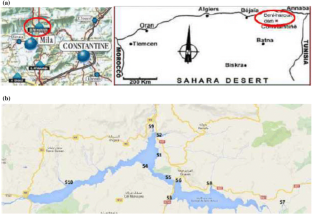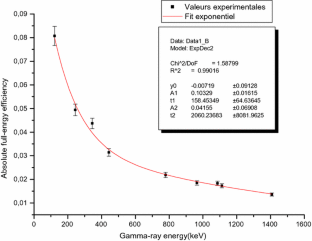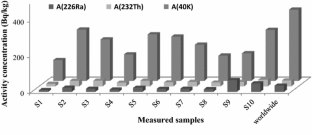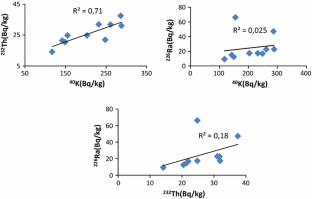 References
Azbouche A, Belgaid M, Mazrou H (2015) Monte Carlo calculations of the HPGe volume environment detector efficiency for radioactivity measurement of large environment samples. J Environ Radioact 146:119–124. doi:10.1016/j.jenvrad.2015.04.015

Bajoga AD, Alazemi N, Shams H, Regan PH, Bradley DA (2015) Radioactivity of NORM samples from southern Kuwait soil using high-resolution gamma-ray spectroscopy. Radiat Phys Chem 116:305–311. doi:10.1016/j.radphyschem.2015.01.041

Beretka J, Matthew PJ (1985) Natural radioactivity of Australian building materials, Industrial wastes and by products. Health Phys 48:87–95. doi:10.1097/00004032-198501000-00007

Darwish SM, El-Bahi SM, Sroor AT, Arhoma NF (2013) Natural radioactivity assessment and radiological hazards in soils from Qarun Lake and Wadi El Rayan in Faiyum, Egypt. OJSS 3:289–296. doi:10.4236/ojss.2013.37034

Diab HM, Nouh SA, Hamdy A, EL-Fiki SA (2008) Evaluation of natural radioactivity in cultivated area around a fertilizer factory. JNRP 3:53–62

El-Hadef El-Okki M, Sahli L, Rached O (2013) Distribution of earthworms in the Kebir-Rhumel Basin (North-East Algeria), Conference Paper in Zoology in the Middle East

Ergül HA, Belivermis M, Kılıç Ö, Topcuoglu S, Çotuk Y (2013) Natural and artificial radionuclide activity in surface sediments of Izmit Bay, Turkey. J Environ Radioact 126:125–132. doi:10.1016/j.jenvrad.2013.07.015

Gilmore G, Hemingway J (1995) Practical gamma-ray spectrometry. John Wiley & Sons, Hoboken, pp 119–124. ISBN 0-471-95150-1

Hamarneh IF, Awadallah MI (2009) Soil radioactivity levels and radiation hazard assessment in the highlands of northern Jordan. Radiat Measurements 44:102–110. doi:10.1016/j.radmeas.2008.11.005

ICRP 60 (1990) Recommendation of the international commission on radiological protection, in ICRP publication 60. Pergamon press Annals of the ICRP, Oxford

Krmar M, Varga E, Slivka J (2013) Correlations of natural radionuclides in soil with those in sediment from the Danube and nearby irrigation channels. J Environ Radioact 117:31–35. doi:10.1016/j.jenvrad.2011.12.023

Mebarki A, Benabbas C, Grecu F (2008) Le système « Béni-Haroun » (Oued Kébir-Rhumel, Algérie): aménagements hydrauliques et contraintes morpho-géologiques. Analele Universitatii Bucuresti: Geografie 57:37–51

Morsy Z, Abd El-Wahab M, El-Faramawy N (2012) Determination of natural radioactive elements in Abo Zaabal, Egypt by means of gamma spectroscopy. Ann Nucl Energy 44:8–11. doi:10.1016/j.anucene.2012.01.003

Narayana Y, Rajashekara KM, Siddappa K (2007) Natural radioactivity in some major rivers of coastal Karnataka on the southwest coast of India. J Environ Radioact 95:98–106. doi:10.1016/j.jenvrad.2007.02.003

NEA-OECD (1979) Exposure to radiation from natural Radioactivity in building materials; report by NEA group of experts. OECD, Paris

Ravisankar R, Chandramohan J, Chandrasekaran A, Prince Prakash Jebakumar J, Vijayalakshmi I, Vijayagopal P, Venkatraman B (2015) Assessment of radioactivity concentration of natural radionuclides and radiological hazard indices in sediment samples from the east coast of Tamilnadu, India with statistical approach. Mar Pollut Bull 97:419–430. doi:10.1016/j.marpolbul.2015.05.058

Saç MM, Ortabuk F, Kumru MN, İçhedef M, Sert Ş (2012) Determination of radioactivity and heavy metals of Bakirçay river in Western Turkey. Appl Radiat Isotopes 70:2494–2499. doi:10.1016/j.apradiso.2012.06.019

Sam AK, Ahamed MMO, El Khangi FA, El Nigumi YO, Holm E (1997) Assessment of terrestrial gamma radiation in Sudan. Radiat Prot Dosim 71:141–145. doi:10.1093/oxfordjournals.rpd.a032041

Sankaran Pillai G, Shahul Hameed P, Mazhar Nazeeb Khan SM (2015) Natural radioactivity levels in the soils and human risk assessment in Tiruchirappalli district (Tamil Nadu, India). J Radioanal Nucl Chem 30:1265–1277. doi:10.1007/s10967-015-4367-z

Santawamaitre T, Malain D, Al-Sulaiti HA, Bradley DA, Matthews MC, Regan PH (2014) Determination of 238U, 232Th and 40K activity concentrations in riverbank soil along the Chao Phraya river basin in Thailand. J Environ Radioact 138:80–86. doi:10.1016/j.jenvrad.2014.07.017

Sivakumar R (2104) An assessment of natural radioactivity levels and radiation hazards in the soil of Coonoor, South India. Environ Earth Sci 72:5063–5071. doi:10.1007/s12665-014-3375-6

Ugur FA, Turhan S, Goren E, Gezer F, Yegingil Z, Sahan H, Sahan M, Tel E, Karahan G (2012) A survey of distribution of terrestrial radionuclides in surface soil samples in and around the Osmaniye province, Turkey. Radiat Prot Dosim 154:483–489. doi:10.1093/rpd/ncs259

United Nations Scientific Committee on the Effects of Atomic Radiation (UNSCEAR) (1982) Sources and effects of ionizing radiation (report to the general assembly). United Nation, New York

United Nations Scientific Committee on the Effects of Atomic Radiation (UNSCEAR) (2000) Sources and effects of ionizing radiation (report to the general assembly). United Nation, New York

Xinwei L (2005) Natural radioactivity in some building materials of Xi'an. China Radiat Measurements 40:94–97. doi:10.1016/j.radmeas.2005.01.003

Yii MW, Zaharudin A, Abdul-Kadir I (2009) Distribution of naturally occurring radionuclides activity concentration in east Malaysian marine sediment. Appl Radiat Isotopes 67:630–635. doi:10.1016/j.apradiso.2008.11.019
About this article
Cite this article
Bouhila, G., Azbouche, A., Benrachi, F. et al. Natural radioactivity levels and evaluation of radiological hazards from Beni Haroun dam sediment samples, northeast Algeria. Environ Earth Sci 76, 710 (2017). https://doi.org/10.1007/s12665-017-7061-3
Received:

Accepted:

Published:
Keywords
Beni Haroun

Gamma spectrometry

Radionuclides activity concentration

Radiological parameters