Abstract
To identify impacts of air pollution, sewage drainage, agricultural production, over-pumping and reservoir storage on groundwater, a field survey was conducted in the Baiyangdian catchment of the North China Plain. Major ions and water isotopes were measured. Results show that hydrological processes and hydrogeochemical evolution of shallow groundwater were greatly disturbed by human activities. Excessive pumping resulted in significant declines of groundwater levels over the study area. This also induced infiltration of surface water into groundwater. A groundwater depression cone was the conflux center of groundwater surrounded by recharge zones including alluvial fans and surface water in alluvial plain. Pumping almost was the only way to discharge groundwater. Emission of SO x and NO x contributed at least 11% of rock weathering by dissolving into infiltrating precipitation. Surface waters containing sewage replenished ambient groundwater with an average mixing ratio of 74 ± 17% due to groundwater level drawdown. As a result, groundwater had elevated concentrations of Na+ and SO4 2− with Na+ exchanged into aquifer sediments. About 29 ± 16% of Na+ was exchanged from groundwater into soil matrix. Agriculture nitrate was high only in the recharge zones. The most important result is that the transformation of the study area from a place rich in water resource into an area lack of water just took several decades with the joint action of the heavily human activities. Our study also indicates that shallow groundwater could sensitively respond to and record environmental changes.
Access options
Buy single article
Instant access to the full article PDF.
US$ 39.95
Tax calculation will be finalised during checkout.
Subscribe to journal
Immediate online access to all issues from 2019. Subscription will auto renew annually.
US$ 119
Tax calculation will be finalised during checkout.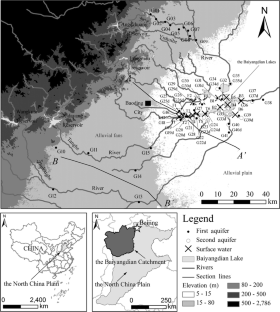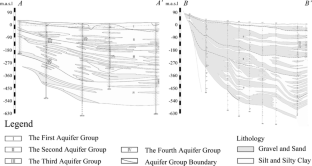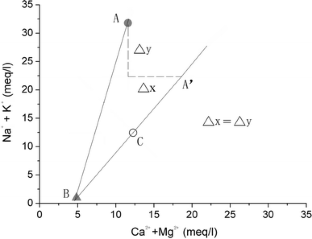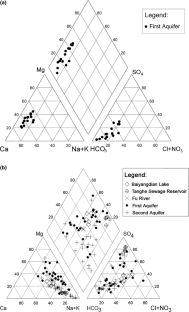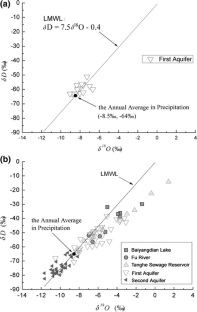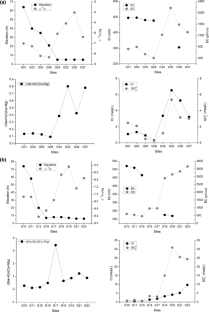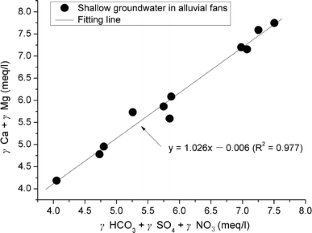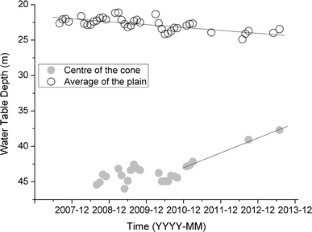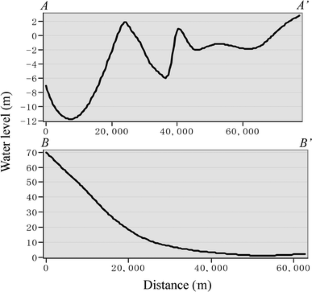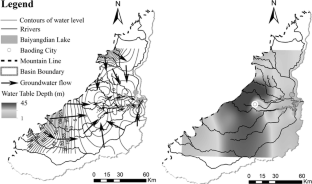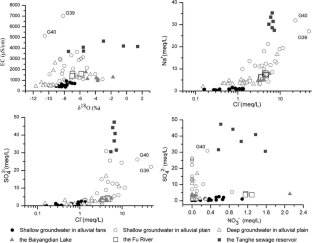 References
Appelo CAJ, Postma D (2005) Geochemistry, groundwater and pollution, 2nd edn. A.A. Balkema Publisher, Delft

Astel A, Biziuk M, Przyjazny A, Namieśnik J (2006) Chemometrics in monitoring spatial and temporal variations in drinking water quality. Water Res 40(8):1706–1716

Boyacioglu H (2010) Detection of seasonal variations in surface water quality using discriminant analysis. Environ Monit Assess 162(1–4):15–20

Cao G, Zheng C, Scanlon BR, Liu J, Li W (2013) Use of flow modeling to assess sustainability of groundwater resources in the North China Plain. Water Resour Res 49(1):159–175

Chen J et al (2004) Spatial geochemical and isotopic characteristics associated with groundwater flow in the North China Plain. Hydrol Process 18:3133–3146

Chen CY, Pickhardt PC, Xu MQ, Folt CL (2008) Mercury and arsenic bioaccumulation and eutrophication in Baiyangdian Lake, China. Water Air Soil Pollut 190(1–4):115–127

Falkenmark M, Widstrand C (1992) Population and water resources: a delicate balance. Popul Bull 47(3):1–36

Han DM, Song XF, Currell MJ, Yang JL, Xiao GQ (2014) Chemical and isotopic constraints on evolution of groundwater salinization in the coastal plain aquifer of Laizhou Bay, China. J Hydrol 508:12–27

Heang-Ping C et al (1995) Computer-aided classification of mammographic masses and normal tissue: linear discriminant analysis in texture feature space. Phys Med Biol 40(5):857–876

Hou J, Zhang P, Tian Y et al (2011) Developing low-carbon economy: actions, challenges and solutions for energy savings in China. Renew Energy 36:3037–3042

Hu K et al (2005) Spatial variability of shallow groundwater level, electrical conductivity and nitrate concentration, and risk assessment of nitrate contamination in North China Plain. Environ Int 31:896–903

Hutton M, Symon C (1986) The quantities of cadmium, lead, mercury and arsenic entering the U.K. environment from human activities. Sci Total Environ 57:129–150

Jamin P et al (2012) A regional flux-based risk assessment approach for multiple contaminated sites on groundwater bodies. J Contam Hydrol 127(1–4):65–75

Kang S et al (2004) The impacts of human activities on the water-land environment of the Shiyang River basin, an arid region in northwest China. Hydrol Sci J 49(3):413–427

Koh D-C, Ko K-S, Kim Y, Lee S-G, Chang H-W (2007) Effect of agricultural land use on the chemistry of groundwater from basaltic aquifers, Jeju Island, South Korea. Hydrogeol J 15(4):727–743

Koh D-C, Mayer B, Lee K-S, Ko K-S (2010) Land-use controls on sources and fate of nitrate in shallow groundwater of an agricultural area revealed by multiple environmental tracers. J Contam Hydrol 118(1–2):62–78

Lachenbruch PA, Goldstein M (1979) Discriminant analysis. Biometrics 35(1):69–85

Larssen T et al (2006) Acid rain in China. Environ Sci Technol 40(2):418–425

Li FC, Shen YF, Wang XH, Kang XJ (2005) Monitoring organochlorine pesticides and polychlorinated biphenyls in Baiyangdian Lake using microbial communities. J Freshw Ecol 20(4):751–756

Li F, Pan G, Tang C, Zhang Q, Yu J (2008) Recharge source and hydrogeochemical evolution of shallow groundwater in a complex alluvial fan system, southwest of North China Plain. Environ Geol 55:1109–1122

Liu C, Zhang X, Zhang Y (2002) Determination of daily evaporation and evapotranspiration of winter wheat and maize by large-scale weighing lysimeter and micro-lysimeter. Agric For Meteorol 111:109–120

Liu J et al (2010) Characteristics of δ18O in precipitation over Eastern Monsoon China and the water vapor sources. Chin Sci Bull 55(2):200–211

Ma H, Allen HE, Yin Y (2001) Characterization of isolated fractions of dissolved organic matter from natural waters and a wastewater effluent. Water Res 35(4):985–996

Mo XG, Liu SX, Lin ZH, Guo RP (2009) Regional crop yield, water consumption and water use efficiency and their responses to climate change in the North China Plain. Agric Ecosyst Environ 134(1–2):67–78

Moiwo JP, Yang Y, Li H, Han S, Yang Y (2010) Impact of water resource exploitation on the hydrology and water storage in Baiyangdian Lake. Hydrol Process 24(21):3026–3039

Nakayama T, Yang Y, Watanabe M, Zhang X (2006) Simulation of groundwater dynamics in the North China Plain by coupled hydrology and agricultural models. Hydrol Process 20:3441–3466

Nasr M, Ogilvie J, Castonguay M, Rencz A, Arp PA (2011) Total Hg concentrations in stream and lake sediments: discerning geospatial patterns and controls across Canada. Appl Geochem 26(11):1818–1831

Rohden VC, Kreuzer A, Chen ZY, Kipfer R, Aeschbach-Hertig W (2009) Groundwater recharge in the North China Plain determined by environmental tracer methods. Geochim Cosmochim Acta 73(13):A1396

Rohden VC, Kreuzer A, Chen Z, Kipfer R, Aeschbach-Hertig W (2010) Characterizing the recharge regime of the strongly exploited aquifers of the North China Plain by environmental tracers. Water Resour Res 46:W05511

Sakizadeh M (2015) Assessment the performance of classification methods in water quality studies, A case study in Karaj River. Environ Monit Assess 187(9):573

Shen Y et al (2013) Energy/water budgets and productivity of the typical croplands irrigated with groundwater and surface water in the North China Plain. Agric For Meteorol 181:133–142

Shrestha S, Kazama F, Nakamura T (2008) Use of principal component analysis, factor analysis and discriminant analysis to evaluate spatial and temporal variations in water quality of the Mekong River. J Hydroinform 10:43–56

Shu Y, Villholth KG, Jensen KH, Stisen S, Lei Y (2012) Integrated hydrological modeling of the North China Plain: options for sustainable groundwater use in the alluvial plain of Mt. Taihang. J Hydrol 464–465:79–93

Simmons FJ, Xagoraraki I (2011) Release of infectious human enteric viruses by full-scale wastewater utilities. Water Res 45(12):3590–3598

Sun H, Shen Y, Yu Q, Flerchinger GN, Zhang Y, Liu C, Zhang X (2009) Effect of precipitation change on water balance and WUE of the winter wheat-summer maize rotation in the North China Plain. Agric Water Manag. doi:10.1016/j.agwat.2009.06.004

Wang S, Tang C, Song X, Yuan R, Han Z, Pan Y (2016) Factors contributing to nitrate contamination in a groundwater recharge area of the North China Plain. Hydrol Process 30(13):2271–2285

Wanner C, Eggenberger U, Kurz D, Zink S, Mäder U (2012a) A chromate-contaminated site in southern Switzerland—part 1: site characterization and the use of Cr isotopes to delineate fate and transport. Appl Geochem 27(3):644–654

Wanner C, Eggenberger U, Mäder U (2012b) A chromate-contaminated site in southern Switzerland—part 2: reactive transport modeling to optimize remediation options. Appl Geochem 27(3):655–662

Xu Z, Liu C-Q (2007) Chemical weathering in the upper reaches of Xijiang River draining the Yunnan-Guizhou Plateau, Southwest China. Chem Geol 239(1–2):83–95

Yuan R et al (2011) Using major ions and stable isotopes to characterize recharge regime of a fault-influenced aquifer in Beiyishui River Watershed, North China Plain. J Hydrol 405:512–521

Yuan R, Song X, Han D et al (2012) Rate and historical change of direct recharge from precipitation constrained by unsaturated zone profiles of chloride and oxygen-18 in dry river bed of North China Plain. Hydrol Process 26(9):1291–1301

Yuan RQ, Song X, Han D, Zhang L, Wang S (2013) Upward recharge through groundwater depression cone in piedmont plain of North China Plain. J Hydrol 500(1–4):1–11

Zhang Z, Hong F, Chen Z et al (2009) Investigation and assessment of sustainable utilization of groundwater resources in the North China Plain. Geological Publishing House, Beijing (In Chinese)

Zhang YZ, Song XF, Kondoh A, Xia J, Tang CY (2011) Behavior, mass inventories and modeling evaluation of xenobiotic endocrine-disrupting chemicals along an urban receiving wastewater river in Henan Province, China. Water Res 45(1):292–302

Zhang D, Li X-D, Zhao Z-Q, Liu C-Q (2015) Using dual isotopic data to track the sources and behaviors of dissolved sulfate in the western North China Plain. Appl Geochem 52:43–56

Zhuang C et al (2011) Impacts of human activities on the hydrology of Baiyangdian Lake, China. Environ Earth Sci 26(7):1343–1350
Acknowledgements
This work was supported by the National Natural Science Foundation of China (No. 41301033) and the "135" strategy of science and technology plan projects (No. 2012ZD003). The authors would like to thank the Water and Soil Conservation Station of Baoding City for giving support to the project. The authors give their sincere thanks to Hedi Liu for his earnest field work. The authors also thank Dr. Bentje Brauns for providing language help.
About this article
Cite this article
Yuan, R., Wang, S., Wang, P. et al. Changes in flow and chemistry of groundwater heavily affected by human impacts in the Baiyangdian catchment of the North China Plain. Environ Earth Sci 76, 571 (2017). https://doi.org/10.1007/s12665-017-6918-9
Received:

Accepted:

Published:
Keywords
Over-pumping

Groundwater depression cone

Air pollution

Ion exchange

Leakage of surface water

North China Plain