Abstract
The deep wells drilled along the eastern escarpment of the Jordan Valley penetrate confined aquifers that produce thermal and mineralized artesian water. Uncontrolled flows from poorly constructed and uncapped artesian wells over the last 30 years have caused the deterioration of the quality of shallow groundwater and surface water. They also have been accelerating the discharge of saline water from deep aquifers and have caused the loss of shallow fresh groundwater resources through the downward percolation of fresh water to replace the extracted deep salty groundwater. A lack of adequate controls on the construction and maintenance of artesian wells is leading to widespread water quality problems in the region, which limits the ability of future generations to access high-quality water, a clear breach of the principle of intergenerational equity.
This is a preview of subscription content, log in to check access.
Access options
Buy single article
Instant access to the full article PDF.
US$ 39.95
Price includes VAT for USA
Subscribe to journal
Immediate online access to all issues from 2019. Subscription will auto renew annually.
US$ 199
This is the net price. Taxes to be calculated in checkout.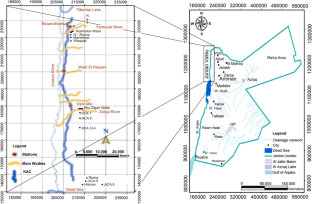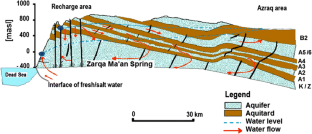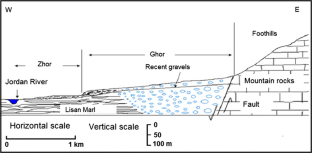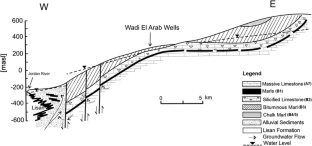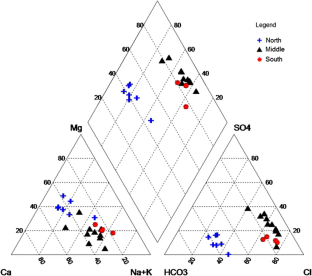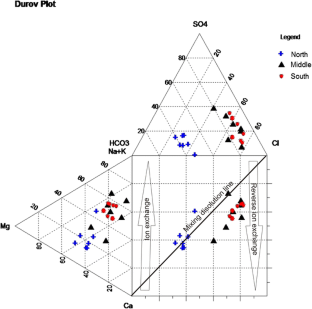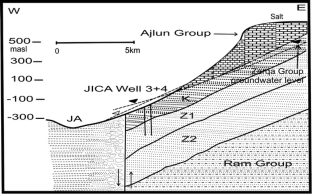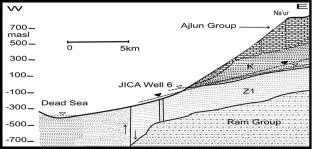 References
Abdurrahman WA (2006) Development and management of groundwater: regional cases. In: Foster S, Loucks D (eds) Non-renewable groundwater resources. UNESCO, IHP-VI Series on Groundwater No 10

Al-Eryani M Appelgren B, Foster S (2006) Social and economic dimensions of non- renewable resources. In: Foster S, Loucks D (eds) Non-renewable Groundwater Resources. UNESCO, IHP-VI Series on Groundwater No 10

AWWA (2009) American Public Health Association: standard methods for the examination of water and waste water. American Public Health Association Inc., New York

Bajjali W, Clark ID, Fritz P (1997) The artesian thermal groundwaters of northern Jordan-Insight into their recharge history and age-. J Hydrol 192:255–382

Bakhbakhi M (2006) Nubian sandstone aquifer system. In: Foster S, Loucks D (eds) Non-renewable groundwater resources. UNESCO, IHP-VI Series on Groundwater No 10

Bandel K, Salameh E (2013) Geologic development of Jordan-evolution of its rocks and life. University of Jordan Press, Jordan

Bender F (1968) Geologie von Jordanien. Gebrüder Bornträger, Berlin

BGR: Budesanstalt fuer Geowissenshaften und Rohstoffe and WAJ (Water Authority of Jordan (1996) Groundwater resources of northern Jordan vol 3 structural features of the main hyrogeological units in northern Jordan. Unpublished Report BGR and WAJ

de Rijke K, Munro P, Zurita MLM (2016) The Great Artesian Basin: a contested resources environment of Subterranean water and coal seam gas in Australia. J Soc Nat Resour 29:6

DIN: Deutsche Einheitsverfahren zur Wasser-Untersuchung 1960 Band I und II with recent updates. VCH Publishers, Weinheim, Germany

Hill J (2011) The Great Artesian Basin sustainability initiative: a decade of success and beyond. Paper presented at the proceedings of the 34th world congress of the international association for hydro-environment research and engineering: 33rd hydrology and water resources symposium and 10th conference on hydraulics in water engineering, Brisbane, Australia

Jacobson CKFD, Hughey AJ, Lynch M, Nursey-Bray M, O'Connell M, Munro K, Vella D, Whiley S, Dovers S, Carter RW (2014) Twenty years of pacifying responses to environmental management. Australas J Environ Manag 21(2):143–174. doi:10.1080/14486563.2014.917594

JICA: Japan International Cooperation Agency (1996) The study on brackish groundwater desalination in Jordan. Yachiyo Engineering Co., Ltd. Mitsui Mineral Development Engineering Co., Ltd. Tokyo, Japan

Lei ECS, Sundaram B, Evans R, Ransley TR, Evans TJ (2016) Summary of the Great Artesian Basin Research Priorities Workshop, Canberra, 27–28 April 2016. Australian Government, Geoscience Australia

Llamas MR, Custodio E (2003) Intensive use of groundwater: challenges and opportunities. Balkema, Rotterdam

McDonald and Partners (1965) East Bank Jordan water resources. Publication of the Central Water Authority of Jordan

Möller P, Dulski P (2006) Sources of mineralisation and salinization of thermal groundwater of Jordan. Acta Hydrochim et Hydrobiol 34:86–100

NWMP (1977) National water master plan, Jordan and updates. Bundesanstalt fuer Geowissenschaften und Rohstoffe. Hannover, Agrar- und Hydrotechnik, Essen and Natural Resources Authority, Amman/Jordan, pp 1–67

Quennell AM (1959) Tectonics of the dead sea rift. In: Proceedings of 20th international geological congress, Mexico, Ass. De Surv. Geol. Africanos, pp 385–403

Salameh E (1996) Water quality degradation in Jordan. Published by Friedrich Ebert Stiftung (FES) and the Royal Society for the Conservation of Nature (RSCN), Amman, pp 1–178

Salameh E (2001) Sources of water salinities in the Jordan Valley area. Acta Hydrochim et Hydrobiola 29(6–7):329–362

Salameh E (2004) Using environmental isotopes in the study of recharge-discharge mechanisms in the Yarmouk catchment area in Jordan. Hydrogeol J 12:451–463

Salameh E, Rimawi O (1997) Curative water in Jordan. Publication of the Ministry of Tourism and Antiquities, Amman

Salameh E, Udluft P (1985) The hydrodynamic pattern of the central part of Jordan. Geol. Jb. C38, Hannover/Germany, pp 35–53

Salameh E, Alraggad M, Tarawneh A (2014) Natural salinity sources in the groundwaters of Jordan—importance of sustainable aquifer management. Chem Erde 2014(74):735–747

Smerdon B (2013) Water in, water out: assessing the future of the Great Artesian Basin, Australia. http://theconversation.com/water-in-water-out-assessing-the-future-of-the-great-artesian-basin-1310

Tarawneh A (2015) Effects of the saline groundwater pumping from the Triassic and Jurassic Formations on the groundwater system in the area downstream of King Talal Dam. M. Sc. Thesis, University of Jordan, Faculty of Science

Wiesemann G (1969) Zur Tektonik des Gebietes ostlich des Grabenabschnittes TotesMeer-Jordantal. Beih Geol Jahrb 81:215–247
About this article
Cite this article
Salameh, E., Tarawneh, A. Assessing the impacts of uncontrolled artesian flows on the management of groundwater resources in the Jordan Valley. Environ Earth Sci 76, 291 (2017). https://doi.org/10.1007/s12665-017-6610-0
Received:

Accepted:

Published:
Keywords
Confined aquifers

Groundwater depletion

Jordan

Uncontrolled artesian flows

Resources deterioration