Abstract
Soil organic matter (SOM) in boreal forest ecosystems can be strongly transformed by fires which, in turn, can affect soil physical and biological properties such as water repellency and nutrient cycling. The article contains the results of a study on SOM content in fire-affected lichen pine forests of the middle taiga subzone of the European part of Russia (Komi Republic). Soils which survived surface fires 2, 10, 16 years ago and unburned area were studied. We investigated changes in SOM composition using 13C NMR spectroscopy, and we measured water-soluble organic carbon (WSOC) content, polycyclic aromatic hydrocarbons (PAHs) concentrations, and contact angles of water droplets on soils. Forest fires increased pyrogenic organic carbon content and also largely transformed SOM composition. 13C NMR spectroscopy showed that the SOM composition of densimetric fractions in pyrogenic and unburned soil greatly differs. Fires increased the aromatic content in SOM composition of light fractions. The highest amount of aromatic carbon probably pyrogenic origin accumulated in fractions of free and occluded organic matter. According to 13C NMR spectroscopy, the aromatic component of organic matter increased in the pyrogenic horizons. The strongest PAHs concentrations occurred in the fractions of free particulate and occluded organic matter, in reference and fire-affected soils. The presence of PAHs in light densimetric fractions may serve as markers of past fire and fire intensity. In the initial years after fire, there was a decrease in the content of WSOC compounds; however, the WSOC content recovered with the recovery of ground vegetation. Our results showed that the greatest changes of contact angles were in upper pyrogenic soil horizons, whereas fires did not modify the contact angle value of lower mineral horizons.
Access options
Buy single article
Instant access to the full article PDF.
USD 39.95
Price includes VAT (USA)
Tax calculation will be finalised during checkout.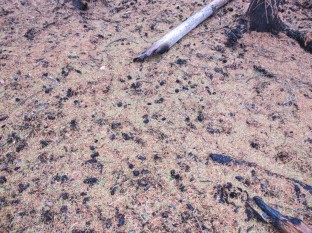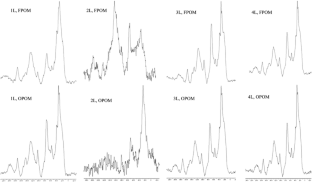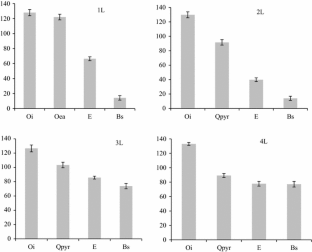 References
Alexis MA, Rumpel C, Knicker H, Leifeld J, Rasse D, Pechot N, Bardoux G, Mariotti A (2010) Thermal alteration of organic matter during a shrubland fire: a field study. Org Geochem 41:690–697. doi:10.1016/j.orggeochem.2010.03.003

Atanassova I, Doerr S (2011) Changes in soil organic compound composition associated with heat-induced increases in soil water repellency. Eur J Soil Sci 62:516–532. doi:10.1111/j.1365-2389.2011.01350.x

Bachmann J, McHale G (2009) Superhydrophobic surface: a model approach to predict contact angle and surface energy of soil particles. Eur J Soil Sci 60:420–430. doi:10.1111/j.1365-2389.2008.01118.x

Bachmann J, Horton R, Van Der Ploeg RR, Woche S (2000) Modified sessile drop method for assessing initial soil–water contact angle of sandy soil. Soil Sci Soc Am J 64:564–567. doi:10.2136/sssaj2000.642564x

Badia D, Marti C, Aguirre A, Aznar JM, González-Pérez JA, Dela Rosa JM, Leon J, Ibarra P, Echeverria T (2014) Wildfire effects on nutrients and organic carbon of a Rendzic Phaeozem in NE Spain: changes at cm-scale topsoil. Catena 113:267–275. doi:10.1016/j.catena.2013.08.002

Bodi MB, Martin DA, Balfour VN, Santin C, Doerr SH, Pereira P, Cerda A, Mataix-Solera J (2014) Wildland fire ash-production, composition and eco-hydro-geomorphic effects. Earth Sci Rev 130:103–127. doi:10.1016/j.earscirev.2013.12.007

Bond-Lamberty B, Peckham S, Ahl D, Gower ST (2007) Fire as the dominant driver of central Canadian boreal forest carbon balance. Nature 450:89–92. doi:10.1038/nature06272

Cerli C, Celi L, Kalbitz K, Guggenberger G, Kaiser K (2012) Separation of light and heavy organic matter fractions in soil-testing for proper density cut-off and dispersion level. Geoderma 170:403–416. doi:10.1016/j.geoderma.2011.10.009

Certini G (2005) Effects of fire on properties of forest soils: a review. Oecologia 143:1–10. doi:10.1007/s00442-004-1788-8

Dlapa P, Simkovic I, Doerr S, Simkovic I, Kanka R, Mataix-Solera J (2008) Application of thermal analysis to elucidate water-repellency changes in heated soils. Soil Sci Soc Am J 72:1–10. doi:10.2136/sssaj2006.0280

Doerr SH, Shakesby RA, Walsh RPD (2000) Soil water repellency: its causes, characteristics and hydro-geomorphological significance. Earth Sci Rev 51:33–65. doi:10.1016/S0012-8252(00)00011-8

Dymov AA, Gabov DN (2015) Pyrogenic alterations of podzols at the North-east European part of Russia: morphology, carbon pools, PAH content. Geoderma 241–242:230–237. doi:10.1016/j.geoderma.2014.11.021

Dymov AA, Dubrovskii YuA, Gabov DN (2014) Pyrogenic changes in iron illuvial podzols in the middle taiga of the Komi Republic. Eurasian Soil Sci 47:47–56. doi:10.1134/S1064229314020045

Dymov AA, Dubrovskii YuA, Gabov DN, Zhangyrov EV, Nizovsev NA (2015) Effects of fire at Spruce forest on soil organic matter (northern taiga of Komi Republic). Rus For Sci 1:52–62. http://elibrary.ru/item.asp?id=23047349 (in Russian)

Egli M, Mastrolonardo G, Seiler R, Raimondi S, Favilli F, Crimi V, Krebs R, Cherubini P, Certini G (2012) Charcoal and stable soil organic matter as indicators of fire frequency, climate and past vegetation in volcanic soils of Mt. Etna, Sicily. Catena 88:14–26. doi:10.1016/j.catena.2011.08.006

Gennadiev AN, Tsibart AS (2013) Pyrogenic polycyclic aromatic hydrocarbons in soils of reserved and anthropogenically modified areas: factors and features of accumulation. Eurasian Soil Sci 46:28–36. doi:10.1134/S106422931301002X

Glaser B, Balashov E, Haumaier L, Guggenberger G, Zech W (2000) Black carbon in density fractions of anthropogenic soils of the Brazilian Amazon region. Org Geochem 31:669–678. doi:10.1016/S0146-6380(00)00008-5

González-Pérez JA, González-Vila FJ, Almendros G, Knicker H (2004) The effect of fire on soil organic matter—a review. Environ Int 30:855–870. doi:10.1016/j.envint.2004.02.003

Grunewald G, Kaiser K, Jahn R, Guggenberger G (2006) Organic matter stabilization in young calcareous soils as revealed by density fractionation and analysis of lignin-derived constituents. Org Geochem 37:1573–1589. doi:10.1016/j.orggeochem.2006.05.002

IUSS Working Group WRB (2014) World Reference Base for Soil Resources (2014) World soil resources reports 106. FAO, Rome

Kawahigashi M, Prokushkin A, Sumida H (2011) Effect of fire on solute release from organic horizons under larch forest in Central Siberian permafrost terrain. Geoderma 166:171–180. doi:10.1016/j.geoderma.2011.07.027

Knicker H (2007) How does fire affect the nature and stability of soil organic nitrogen and carbon? A review. Biogeochemistry 85:91–118. doi:10.1007/s10533-007-9104-4

Knicker H (2011) Pyrogenic organic matter in soil: its origin and occurrence, its chemistry and survival in soil environments. Quat Int 243:251–263. doi:10.1016/j.quaint.2011.02.037

Krasilnikov PV (2015) Stable carbon compounds in soils: their origin and functions. Eurasian Soil Sci 48:997–1008. doi:10.1134/s1064229315090069

Liang BC, Gregorich EC, Schnitzer M, Shulten HR (1996) Characterization of water extract of two manure and their absorption on soils. Soil Sci Soc Am 60:210–216

Maksimova EI, Kudinova AG, Abakumov E (2017) Functional activity of soil microbial communities in post-fire pine stands of Tolyatti, Samara oblast. Eurasian Soil Sci 50(2):239–245. doi:10.1134/S1064229317020119

Mastrolonardo G, Rumpel C, Forte C, Doerr SH, Certini G (2015) Abudance and composition of free and aggregate-occluded carbohydrates and lignin in two forest soils as affected by wildfires of different severity. Geoderma 245–246:40–51. doi:10.1016/j.geoderma.2015.01.006

Masyagina OV, Tokareva IV, Prokushkin AS (2016) Post fire organic matter biodegradation in permafrost soils: case study after experimental heating of mineral horizons. Sci Total Environ 573:1255–1264. doi:10.1016/j.scitotenv.2016.04.195

Miesel JR, Hockaday WC, Townsend PA (2015) Soil organic composition and quality across fire severity gradients in coniferous and deciduous forest of the southern boreal region. J Geophys Res Biogeosci 120:1124–1141. doi:10.1002/2015JG002959

Myers-Pigg AN, Louchouarn P, Amon R, Prokushkin AS, Pierce K, Rubtsov A (2015) Labile pyrogenic dissolved organic carbon in major Siberian Arctic rivers: implications for wildfire-stream metabolic linkages. Geophys Res Lett 42:377. doi:10.1002/2014GL062762

Pereira P, Úbeda X, Martin D (2012) Fire severity effects on ash chemical composition and water-extractable elements. Geoderma 191:105–114. doi:10.1016/j.geoderma.2012.02.005

PND F 16.1:2:2.2:3.39-03 (2007) Quantitative chemical analysis of soils. Determination of the Mass Portion of Benz(a)pyrene in Soils, Rocks, Bottom Sediments, and Solid Wastes by the Method of Liquid Chromatography with the Use of a Lumakhrom Liquid Chromatograph (JSC Lumex). Moscow. (in Russian)

Prokushkin AS, Tokareva IV, Prokushkin SG, Abaimov AP, Guggenberger H (2008) Fluxes of dissolved organic matter in larch forest in the cryolithozone of Central Siberia. Russ J Ecol 39:151–159. doi:10.1134/S1067413608030016

Prokushkin SG, Bogdanov VV, Prokushkin AS, Tokareva IV (2011) Postpyrogenic restoration of vegetation in larch stands of the cryolithozone in Central Evenkia. Biol Bull 38:183–190. doi:10.1134/S1062359011020129

Santín C, Doerr SH (2016) Fire effects on soils: the human dimension. Philos Trans R Soc B Biol Sci 371(1696):20150171. doi:10.1098/rstb.2015.0171

Santin C, Doerr SH, Merino A, Bryant R, Loader NJ (2016) Forest flor chemical transformations in a boreal forest fire and their correlations with temperature and heating duration. Geoderma 264:71–80. doi:10.1016/j.geoderma.2015.09.021

Santín C, Doerr SH, Preston C, Bryant R (2013) Consumption of residual pyrogenic carbon by wildfire. Int J Wildland Fire 22:1072–1077. doi:10.1071/WF12190

Scharlemann JP, Tanner EV, Hiederer R, Kapos V (2014) Global soil carbon: understanding and managing the largest terrestrial carbon pool. Carbon Manag 5:81–91. doi:10.4155/cmt.13.77

Shang J, Flury M, Harsh JB, Zollars RL (2008) Comparison of different methods to measure contact angles of soil colloids. J Colloid Interface Sci 256:299–307. doi:10.1016/j.jcis.2008.09.039

Soucemarianadin LN, Quideau SA, MacKenzie MD (2014) Pyrogenic carbon stocks and storage mechanisms in podzolic soils of fire-affected Quebec black spruce forest. Geoderma 217–218:118–128. doi:10.1016/j.geoderma.2013.11.010

Taskaev AI (1997) Atlas of climate and hydrology of the Komi Republic. DiK, Drofa, Moscow (in Russian)

Tsibart A, Gennadiev A, Koshovskii T, Watts A (2014) Polycyclic aromatic hydrocarbon in post-fire soils of drained peatlands in western Meshchera (Moscow region, Russia). Solid Earth 5:1305–1317. doi:10.5194/se-5-1305-2014

US EPA. Method 8310 (1986) Evaluation and estimation of potential carcinogenic risks of polynuclear aromatic hydrocarbons: carcinogen assessment group. Washington, USA

Vergnoux A, Di Rocco R, Domeizel M, Guiliano M, Doumenq P, Theraulaz F (2011) Effects of forest fires on water extractable organic matter and humic substances from Mediterranean soils: UV–vis and fluorescence spectroscopy approaches. Geoderma 160:434–443. doi:10.1016/j.geoderma.2010.10.014

Wu W (2001) Baseline studies of the clay minerals society source clays: colloid and surface phenomena. Clays Clay Miner 49:446–452. doi:10.1346/CCMN.2001.0490511

Yunker MB, Macdonald RW, Vingarzan R, Mitchell RH, Goyette D, Sylvestre S (2002) PAHs in the Fraser River basin: a critical appraisal of PAH ratios as indicators of PAH source and composition. Org Geochem 33:489–515. doi:10.1016/S0146-6380(02)00002-5
Acknowledgements
This work was supported by the Grant by Ministry of Education and Science of the Russian Federation MK-2905.2015.4. We want to thank Jessica Miesel from Michigan State University for revising the English.
About this article
Cite this article
Dymov, A.A., Gabov, D.N. & Milanovskii, E.Y. 13C-NMR, PAHs, WSOC and water repellence of fire-affected soils (Albic Podzols) in lichen pine forests, Russia. Environ Earth Sci 76, 275 (2017). https://doi.org/10.1007/s12665-017-6600-2
Received:

Accepted:

Published:
Keywords
13C-NMR

Boreal forest

Contact angle

Fire

Forest soil

Hydrophobicity