Abstract
German municipalities and their water utilities are having to react to substantial ecological, economic and social changes that have been brought about by climate change, volatile energy prices and declining numbers of citizens. Innovative technologies and concepts for urban water and wastewater systems already exist, but so far they have only been implemented in pilot projects, mainly as the result of the institutional barriers they face. So how can urban water transformation be encouraged? Qualitative expert interviews, a literature analysis and a series of workshops involving representatives from utilities and stakeholders involved in urban planning were undertaken to identify the key obstacles and encourage action. The current challenges facing the implementation of innovative urban water systems include sector-focused planning approaches, path dependencies (such as technological and "mental" barriers), legal and institutional constraints, and complex structures of responsibilities. New institutional arrangements involving the key players (cooperation models) as well as new processes requiring a reallocation of labour could contribute to a smoother implementation. Innovative water systems present new strategic opportunities for water utilities. Two opportunities that are worthy of consideration in order to fully exploit the benefits of such systems are a strengthening of the water–energy link and an intensification of activities along the "water chain". The findings in this paper reveal that the urban water infrastructure of the future promises new forms of cross-sectoral integration and co-management, and the coexistence of centralised and decentralised systems.
This is a preview of subscription content, log in to check access.
Access options
Buy single article
Instant access to the full article PDF.
US$ 39.95
Price includes VAT for USA
Subscribe to journal
Immediate online access to all issues from 2019. Subscription will auto renew annually.
US$ 199
This is the net price. Taxes to be calculated in checkout.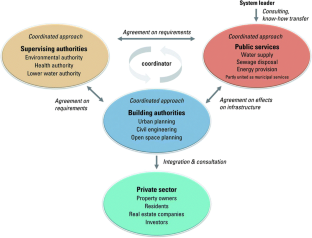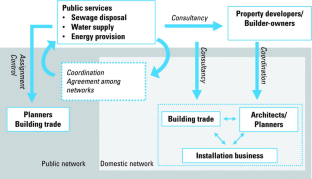 Notes
1.

The following strategic options and business opportunities represent a shortened and modified version of the findings published in Trapp (2015).
References
Anda M, Mohamed RMSR, Mathew K, Dallas S, Ho GE (2010) Decentralized wastewater treatment and recycling in urban villages. Water Pract Technol 5(3):1. doi:10.2166/wpt.2010.047

ATT (Arbeitsgemeinschaft Trinkwassertalsperren e.V.), BDEW (Bundesverband der Energie- und Wasserwirtschaft e.V.), DBVW (Deutscher Bund der verbandlichen Wasserwirtschaft e.V.), DVGW (Deutscher Verein des Gas- und Wasserfaches e. V. – Technisch-wissen-schaftlicher Verein), DWA (Deutsche Vereinigung für Wasserwirtschaft, Abwasser und Abfall e.V.), VKU (Verband kommunaler Unternehmen e.V.) (2015) Profile of the German Water Sector 2015. Bonn. https://www.bdew.de/internet.nsf/res/1EF08743E7477878C1257E1200438C17/$file/Branchenbild_Wasserwirtschaft_2015.pdf http://de.dwa.de/tl_files/_media/content/PDFs/Abteilung_AuG/WEB-Branchenbild-dt-wasserwirtschaft-2011.pdf. Accessed 18 May 2016

Beveridge R, Kern K (2013) Energiewende in Germany: background, developments and future challenges. Renew Energy Law Pol Rev 1:3–12

Beveridge R, Monsees J, Moss T (2012) The IRS Handbook. Analysing Institutional and Political Contexts of Water Resources Management Projects. http://www.irs-net.de/download/publikationen/WarmIn-en.pdf. Accessed 26 Jan 2016

Bieger T, zu Knyphausen-Aufseß D, Krys C (eds) (2011) Innovative Geschäftsmodelle. Konzeptionelle Grundlagen, Gestaltungsfelder und unternehmerische Praxis. Springer, Berlin

Blechschmidt A, Lanzendorf M, Wilde M (2015) Integrierte Stadtentwicklung und die Gestaltung nachhaltiger Mobilität—Zum Stand der Planungspraxis am Beispiel der Stadt Leipzig. Raumforsch Raumordn 73:423–437

BMWi (ed) (2015) Ein Strommarkt für die Energiewende. Ergebnispapier des Bundesministeriums für Wirtschaft und Energie (Weißbuch). http://www.bmwi.de/BMWi/Redaktion/PDF/Publikationen/weissbuch,property=pdf,bereich=bmwi2012,sprache=de,rwb=true.pdf. Accessed 26 Jan 2016

Brown RR, Keath N, Wong THF (2009) Urban water management in cities: historical, current and future regimes. Water Sci Technol 59:847–855

Bundesregierung (2008) Deutsche Anpassungsstrategie an den Klimawandel vom Bundeskabinett am 17. Dezember 2008 beschlossen. http://www.bmub.bund.de/fileadmin/bmu-import/files/pdfs/allgemein/application/pdf/das_gesamt_bf.pdf. Accessed 19 Dec 2016

Bürgow G, Kluge T, Million A, Schramm E, Winker M (2014) Das Memorandum "Klimagerechte Stadt". Ein Aufruf an Politik, Wissenschaft und Akteure aus der Praxis. Planerin 6:45–47

Buth M, Kahlenborn W et al (2015) Germany's vulnerability to Climate Change. Climate Change 24/2015. UBA, Berlin

Cave M (2009) Innovation in the water industry in England and Wales: Final Report. Defra, London

CGI/Trend:research (2013) Strategiewende zur Energiewende? Zukünftige Ausrichtung der Stadtwerke. https://www.de.cgi.com/studie/strategiewende-zur-energiewende. Accessed 5 Nov 2013

Commerzbank (2009) Perspektiven von Stadtwerken. Studie vor dem Hintergrund der Interdependenz von Wettbewerb und Daseinsvorsorge im Fokus eines regulierten Marktumfeldes. Frankfurt am Main

Daigger GT (2009) Sustainable urban water and resource management. Bridge Urb Sust 41:13–18

Di Brenner K (2005) Dienstleister und Partner für die Wasserwirtschaft—Veolia Water arbeitet für Kommunen, Verbände und Industrie. Österr Wass Abfallw 57(7):a18–a19

Dolata U (2009) Technological innovations and sectoral change. Transformative capacity, adaptability, patterns of change: an analytical framework. Res Policy 38:1066–1076

Domènech L (2011) Rethinking water management: from centralized to decentralized water supply and sanitation models. Documents d'anàlisi geogràfica 57:293–310

Dose N (2008) Governance als problemorientierte Steuerung. Steuerung angesichts alter Probleme und neuer Herausforderungen. In: Schuppert G, Zürn M (eds) Governance in einer sich wandelnden Welt. Pol Viertelj Schr Spec, vol 41, pp 77–95. doi:10.1007/978-3-531-91066-6_25

DStGB (2015) Starkregen und Hitzewellen: Die Stadt im Klimawandel fordert die kommunale Wasserwirtschaft heraus. Themen, Projekte und Lösungen aus der BMBF-Fördermaßnahme INIS. Dokumentation No. 133

DWA (2008) Neuartige Sanitärsysteme, DWA-Themen KA 1. Hennef, Deutsche Vereinigung für Wasserwirtschaft, Abwasser und Abfall e.V

DWA (2010) Do we need New Alternative Sanitation Systems in Germany? In plain language. Hennef, Deutsche Vereinigung für Wasserwirtschaft, Abwasser und Abfall e.V

DWA (2013) Positionen zur Energie- und Wasserwirtschaft. Reihe DWA-Positionen, Hennef

DWA (2014) Neuartige Sanitärsysteme: Akteursbezogene Hinweise für die Projektentwicklung und -umsetzung. Korr Abw 61:781–785

EIP Water (European Innovation Partnership on Water) (2014) Barriers and bottlenecks for Innovation in the Water Sector, 1st Stage: Identification of non-technological barriers and definition of priority and intervention measures, Final Report. http://www.eip-water.eu/sites/default/files/DiagnosisBarriersBottlenecks-Final_0.pdf. Accessed 6 Jan 2016

Flick U (2005) Qualitative Sozialforschung. Eine Einführung. Rowohlt, Reinbek bei Hamburg

Geels FW (2002) Technological transitions as evolutionary reconfiguration processes: a multi-level perspective and a case-study. Res Pol 31:1257–1274

Haberkern B, Maier W, Schneider U (2008) Steigerung der Energieeffizienz auf kommunalen Kläranlagen. https://www.umweltbundesamt.de/sites/default/files/medien/publikation/long/3347.pdf. Accessed 26 Jan 2016

Hardy AI, Hård M (2013) Common cause: Public Health and Bacteriology in Germany, 1870–1895. East Central Europe 40:319–340. doi:10.1163/18763308-04003002

Haus M (2010) Governance-Theorien und Governance-Probleme: Diesseits und jenseits des Steuerungsparadigmas. Pol Viertelj Schr 51:457–479. doi:10.1007/s11615-010-0023-y

Hering JG, Waite TD, Luthy RG, Drewes JE, Sedlak DL (2013) A changing framework for urban water systems. Environ Sci Technol 47:10721–10726. doi:10.1021/es4007096

Hiessl H, Stemplewski J, Toussaint D, Hetschel M, Geisler S, Kersting M (2007) Abwasserentsorgung einer Streusiedlung mit MBR-Kleinkläranlagen im Rahmen eines Contracting-Modells. Korr Abw 54(12):1238–1245

Hoffjan A, Müller NA, Di Frederico V, Liserra T (2014) Advice to water management practitioners on competition, efficiency and new business opportunities. https://riunet.upv.es/bitstream/handle/10251/46621/Advice_to_water_management_practitioners_on_ccompetitio__efficiency__and_new_business_opportunities%20%281%29.pdf?sequence=1&isAllowed=y. Accessed 11 Feb 2015

Kerber H, Giese T, Schramm E (2015) Governing future water services: new institutional arrangements to improve the implementation of system innovations. In: IWA/TRUST proceedings. Cities of the Future Conference. Transitions to the Urban Water Services of Tomorrow (TRUST), 28–30 April 2015 in Mühlheim/Ruhr, pp 134–136

Kiparski M, Sedlak DL, Thompson BH, Truffer B (2013) The innovation deficit in urban water: the need for an integrated perspective on institutions, organizations, and technology. Environ Eng Sci 30:395–408. doi:10.1089/ees.2012.0427

Kluge T, Libbe J (2010) Transformationsmanagement für eine nachhaltige Wasserwirtschaft. Handreichung zur Realisierung neuartiger Infrastrukturlösungen im Bereich Wasser und Abwasser. Difu, Berlin

Krozer Y, Hophmayer-Tokich S, van Meerendonk H, Tijsma S, Vos E (2010) Innovations in the water chain—experiences in the Netherlands. J Clean Prod 18:439–446. doi:10.1016/j.clepro.2009.11.013

Lazarova V, Choo KH, Cornel P (eds) (2012) Water-energy interactions in water reuse. IWA Publishing, London

Lazarova V, Asano T, Bahri A, Anderson J (eds) (2013) Milestones in water reuse: the best success stories. IWA Publishing, London

Libbe J (2015) Transformation städtischer Infrastruktur—Perspektiven und Elemente eines kommunalen Transformationsmanagements am Beispiel Energie. Dissertation, Leipzig University

Litschel J, Schramm E (2011) Konzeption und Durchführung eines Stakeholder-Involvements in BiK-F. BiK-F Knowledge Flow Paper No 9. http://www.isoe.info/ftp/bik_f/kfp_nr-9.pdf. Accessed 26 Jan 2016

Mayring P (2007) Qualitative Inhaltsanalyse. Grundlagen und Techniken, Beltz

Mikat H (2009) Aquiferbewirtschaftung heute und morgen—Einflussfaktoren und Lösungsansätze. bbr 7/8: 38-43

Miller WG (2006) Integrated concepts in water reuse: managing global water needs. Desalination 187:65–75. doi:10.1016/j.desal.2005.04.068

Mitchell RB (2003) Of course international institutions matter: but when and how? In: Breit H, Engels A, Moss T, Troja M (eds) How Institutions change. Perspectives on social learning in global and local environmental contexts. Leske + Budrich, Opladen, pp 35–52

Monstadt J, Schmidt M, Wilts H (2012) Regionale Zusammenarbeit in der Ver-und Entsorgung des Rhein-Main-Gebiets. In: Monstadt J et al (eds) Die diskutierte Region: Probleme und Planungsansätze der Metropolregion Rhein-Main. Campus, Frankfurt am Main, pp 185–210

Moss T (2011) Intermediaries and the governance of urban infrastructures in transition. In: Guy S, Marvin S, Medd W, Moss T (eds) Shaping urban infrastructures. intermediaries and the governance of socio-technical networks. Taylor & Francis, London, pp 17–35

Müller K, Cornel P, Kluge T (2016) Integrated systemic approach. In: Liehr S, Kramm J, Jokisch A, Müller K (ed) Integrated water resources management in water-scarce regions: water harvesting, groundwater desalination and water reuse in namibia. IWA Publishing, London (in print)

Nickel D, Schönfelder W, Medearis D, Dolowitz DP, Keeley M, Shuster W (2014) German experience in managing stormwater with green infrastructure. J Environ Plan Manag 57:403–423. doi:10.1080/09640568.2012.748652

Nolde E (2000) Greywater reuse systems for toilet flushing in multi-storey buildings: over ten years experience in Berlin. Urban Water 1:275–284

Nolde E (2013) Water and energy recycling in a residential passive house. SB13 Graz, Sustainable: 1353-1360. http://www.irbnet.de/daten/iconda/CIB_DC27882.pdf. Accessed 26 Jan 2016

OECD (2015) Principles on water governance. http://www.oecd.org/gov/regional-policy/OECD-Principles-on-Water-Governance-brochure.pdf. Accessed 26 Jan 2016

Oldenburg M, Rohde R, Wuttke M, Kuck W (2015) Handbuch Unterdruckentwässerung—Ein Leitfaden für die Installation in Gebäuden. Hamburg Wasser, Hamburg

Ostrom E (1990) Governing the commons. The evolution of institutions for collective action. Cambridge University Press, Cambridge

Otterpohl R, Albold A, Oldenburg M (1999) Source control in urban sanitation and waste management: ten systems with reuse of resources. Water Sci Technol 39:153–160

Parsons D, Cabrera E, Jeffrey P (2012) Carbon sensitive urban water futures. https://riunet.upv.es/bitstream/handle/10251/35723/Report_on_carbon_sensitive_urban_water_futures.pdf?sequence=1. Accessed 26 Jan 2016

Partzsch L (2007) Nachhaltige innovative Wasserwirtschaft—deutsche Governance-Struktur im internationalen Vergleich. Ifo Schnelld 60:16–26

Rogers P, Hall AW (2003) Effective water governance. TEC background papers No 7. http://www.gwp.org/Global/ToolBox/Publications/Background%20papers/07%20Effective%20Water%20Governance%20%282003%29%20English.pdf. Accessed 26 Jan 2016

Roy AH, Wenger SJ, Fletcher TD, Walsh CJ, Ladson AR, Shuster WD, Thurston HW, Brown RR (2008) Impediments and solutions to sustainable, watershed-scale urban stormwater management: lessons from Australia and the United States. Environ Manag 42:344–359. doi:10.1007/s00267-008-9119-1

Rygaard M, Binning PJ, Albrechtsen HJ (2011) Increasing urban water self-sufficiency: new era, new challenges. J Environ Manag 92(1):185–194

Saleth RM, Dinar A (2005) Water institutional reforms: theory and practice. Water Pol 7:1–19

Schott D (2014) Europäische Urbanisierung (1000–2000): Eine umwelthistorische Einführung. Wien, Köln, Weimar

Schramm E (2008) Energierückgewinnung aus Abwasser—Technologien für die Zukunft. ISOE-Diskussionspapiere 30. Frankfurt am Main. http://www.isoe.de/publikationen/publikation-detail/?tx_refman_pi1[refman]=507%24tx_refman_pi1[controller]=Refman%24tx_refman_pi1[action]=detail%24cHash=a74934b29cfd8c57d84d4d9290e3febd

Schramm E, Giese T, Kluge T, Kuck W, Völker C (2016) Verändertes Kooperationsmanagement für neuartige Sanitärsysteme in Umsetzung und Betrieb. Folgerungen aus dem Beispiel Jenfelder Au in Hamburg. gwf Wasser Abw 157(2):148–155

Science for Environment Policy (2015) Innovation in the European water sector. Future Brief 10. http://ec.europa.eu/environment/integration/research/newsalert/pdf/innovation_european_water_sector_FB10_en.pdf. Accessed 26 Jan 2016

Sehring J (2009) Path dependencies and institutional bricolage in post-soviet water governance. Water Altern 2:61–81

Skambraks AK, Augustin K, Meinzinger F, Hartmann M (2014) Hamburg`s lead on water and energy: implementing resource-oriented sanitation using the Hamburg Water Cycle. Water 21(4):15–18

smm Managementberatung, Kompetenzzentrum öffentliche Wirtschaft und Daseinsvorsorge, Universität Leipzig (2010) Strategien von Stadtwerken—Status quo und Perspektiven. https://www.uni-leipzig.de/fiwi/Kompetenzzentrum/pdf/smm.pdf. Accessed 26 Jan 2016

Speight VL (2015) Innovation in the water industry: barriers and opportunities for US and UK utilities. WIREs Water 2:301–313. doi:10.1002/wat2.1082

Tauchmann H, Hafkesbrink J, Nisipeanu P et al (2006) Innovationen für eine nachhaltige Wasserwirtschaft: Einflussfaktoren und Handlungsbedarf. Physica, Heidelberg

Thomas D, Ford R (2005) The crisis of innovation in water and wastewater. Edward Elgar, Cheltenham

Trapp JH (2015) Innovative de- and semi-centralized water infrastructures—opportunities for water supply and wastewater companies. In: Institut für Siedlungswasserwirtschaft, Technische Universität Braunschweig (ed) Conference proceedings 5th international symposium "RE-Water Braunschweig" (2–3 Nov 2015), Braunschweig, pp 22–34

Weigert B (2014) Vom Klärwerk zum Kraftwerk. gwf Wasser Abw 11:1164

Williamson OE (1996) The mechanisms of governance. Oxford University Press, Oxford
Acknowledgements
The netWORKS 3 project "Intelligent integrated water management solutions in Frankfurt am Main and Hamburg" is funded by the German Federal Ministry of Education and Research (BMBF) as part of the funding measure "Smart and multifunctional infrastructural systems for sustainable water supply, sanitation and stormwater management" (INIS).
Additional information
This article is part of a Topical Collection in Environmental Earth Sciences on "Water in Germany", guest edited by Daniel Karthe, Peter Chifflard, Bernd Cyffka, Lucas Menzel, Heribert Nacken, Uta Raeder, Mario Sommerha¨user and Markus Weiler.
About this article
Cite this article
Trapp, J.H., Kerber, H. & Schramm, E. Implementation and diffusion of innovative water infrastructures: obstacles, stakeholder networks and strategic opportunities for utilities. Environ Earth Sci 76, 154 (2017). https://doi.org/10.1007/s12665-017-6461-8
Received:

Accepted:

Published:
Keywords
Water infrastructure

Urban water

Innovation

Governance structure

Business model

Germany